A Conversation With a Castle: The Elusive "Kiss Goodnight"
by Mike Scopa
AllEars® Feature Writer
Feature Article
This article appeared in the September 22, 2009 Issue #522 of ALL EARS® (ISSN: 1533-0753)
I've always had this fantasy of being a talk show host. If that ever comes to be I already have the perfect guest to start off my show. As you can well guess, it would be a guest we all associate with Disney. However, would you ever guess it would happen like this?
Fanfare! A delightful tune starts playing and the stage lights up. I walk in from the side and sit down in front of a huge curtain.
I then greet everyone by saying, "Good evening everyone and welcome to this, the first of what I hope will be many shows with exciting guests and interesting topics. As this is our first show we wanted to be different. We have gone to great lengths to bring you a special guest. We are quite certain that we are the first to have such a special guest appear on a talk show like this and are thrilled to have this guest join us. So without further ado, let me introduce to you, the Cinderella Castle from Walt Disney World's Magic Kingdom Theme Park."
(The curtain draws back to a rousing musical rendition of "When You Wish Upon a Star" to reveal that the stage is actually set in front of the Cinderella Castle at Walt Disney World's Magic Kingdom.)
MS: Welcome Castle — May I call you Castle?
CC: Please do.
MS: I understand that this October you are celebrating your 38th year. I must say you're looking good for 38.
CC: Thank you; it's been an interesting 38 years.
MS: We are here tonight to discuss several topics, the first of which is your origin. Let's start by asking you about your roots. Am I right in saying that you were designed after several famous castles?
CC: Yes, I've been told that I am sort of a combination of the Chateau de Pierrefonds and the Chateau d'Usse in France, as well as the Neuschwanstein Castle in Bavaria. I guess you could say I am one of a kind.
MS: Well, you certainly have a unique and fairytale look about you. There is a trivia question that has been going around for years and I'd like to ask the studio audience out there if they can answer this question. How many bricks do you think it took to construct the Cinderella Castle?
(We hear answers being yelled out: "A million!" "Three hundred thousand!" and off to the side we hear "None!")
MS: Who said none? You are right, young lady. Isn't that true, Castle?
CC: Why yes, I am constructed from a combination of steel, concrete, and fiberglass, but not one brick was used in my construction.
MS: You could have certainly fooled me. Now tell me what it's like to be one of the most photographed objects on the planet.
CC: Well, for one thing that means I always have to be the best that I can be. I cannot have a bad day, because the family taking their picture in front of me may be doing so for the only time in their lives. That photo may be a keepsake that they treasure forever. I make sure I never relax from the moment the turnstiles open until the last guest leaves. You never know where there is a camera taking your picture.
MS: I'm sure you have some interesting memories over the last 38 years. Would you like to share these with our studio audience?
CC: Wow, there are so many, but I'll try. Of course Opening Day, October 1, 1971 will always have a special place in my heart. I'll never forget the thrill I got when the first swell of guests ran up Main Street USA to cheer at me and to take my picture. The honeymoon with my guests is still going on.
For my 25th year I was turned into a cake. That was received with mixed feelings. Some people even called me a "Cakestle" and I must admit I felt very special for about a year. Still some guests were upset at that transformation. Remember, some guests may come to Walt Disney World only once in their lives and if it was during our 25th celebration then they saw me in my cake costume and not how I really am (sigh). I still feel badly about that.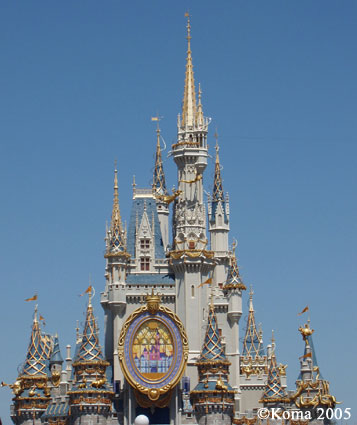 Sometimes I feel I'm being asked to do too much. Like in November 2004. It was quite embarrassing for guests to come into the park that morning and find me draped with toilet paper. Stitch's Great Escape was opening that day and apparently someone thought it was a good idea to use me as an announcement. Needless to say, I was relieved that evening when I was put back to normal.
One of my proudest times was when I was given a gilded look during Disneyland's 50th Anniversary. I had gold trim and gold statues all over me and a huge "magic mirror" over my archway. It was wonderful.
MS: Yes, there are some very fond memories there. I'd like to ask you about the recent announcements made at the D23 EXPO in California. Are you free to comment?
CC: I will do my best.
MS: Great. We only have time to talk about a few things so let's get right to it. First, how do you feel about the Fantasyland expansion that was recently announced?
CC: Honestly, I have some mixed feelings. I have grown to love Mickey's Toontown and because of this expansion I will be saying goodbye to some wonderful landmarks I have enjoyed for such a long time, but that is progress, I guess. Cindy… er… Cinderella is going to get a cottage or what do they call it? Oh yeah, a chateau. That's nice and guests will be able to see how things were before she moved in with me. I guess my good friend Aurora, a.k.a. Sleeping Beauty will also be part of this expansion. With everyone helping her celebrate her 16th birthday… over and over again.
One thing I am a little confused about is that I'm hearing that there is another castle being planned for the Magic Kingdom. This castle, apparently it belongs to the Beast, will have, among other things, a decent-sized restaurant. Well, as long as the Wishes fireworks focus on me then I'm cool with this new "castle" coming in.
The new Ariel attraction sounds interesting. I guess it will give new meaning to the phrase "Under the Sea," so it should be real popular. I like Ariel. She's quiet. Fish are friends. The last thing I can comment on is this news of a new Dumbo area. All I can say is that it's about time Dumbo got some attention around here. I am excited for all the Dumbo fans.
MS: Well, it sounds like your home is going to see some changes over the next several years.
CC: Yes, and I hope that along with these changes the rest of my home is not affected too much. There are so many memories here. I just don't want my guests to come back to something entirely different than what they are used to.
MS: I guess we'll all hold our breath and wait and see. Now I know there was something special you wanted to discuss tonight with our audience, so I'd like to turn the show over to you.
CC: Thank you. What I wanted to talk about tonight is a very special "Unheralded Treasure" that most of my Magic Kingdom guests are unaware of. It's important to me to tell them about it. It's called "Kiss Goodnight" and for many it's known as "The Elusive Kiss Goodnight." The Kiss Goodnight has been around for almost 20 years now and interestingly enough there are guests who have been coming to see me for 15, 20, 25, and as many as 35 years and have never seen it.
MS: What is Kiss Goodnight?
CC: Kiss Goodnight is best described as our park nightly signoff. It represents our saying, "Thank you for visiting us, drive home safely, and come back and see us soon."
MS: How do guests experience Kiss Goodnight?
CC: That is the difficult part to explain. You see, Kiss Goodnight is unlike any other attraction in the theme park. It is not shown every evening and is not shown at the same time every evening that it is shown.
MS: OK, I'm confused. Please explain.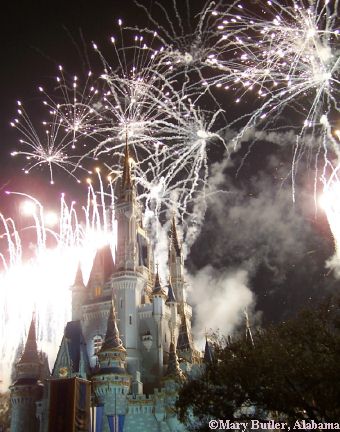 CC: Every night the Magic Kingdom will show our nighttime spectacular "Wishes." On certain nights during the year at any time from 20 minutes to as much as an hour after Wishes is over guests may find themselves in the midst of the Kiss Goodnight. It begins with a fanfare and the entire Main Street USA area comes alive with Disney music. As it is normal for guests to do when they hear this music they immediately glance up at me. What they will see is me covered with sparkles and changing colors. They will hear "When You Wish Upon a Star" and a chorus of singers. I have noticed some guests start slowly walking toward me, even if they were near the train station at the front of the park. It is kind of exciting for everyone to focus on me. At a certain point a voice will talk to the guests and say something like, "Ladies and gentlemen; boys and girls. On behalf of everyone here at the Magic Kingdom, we thank you for joining us today. We hope that your magical journey with us has created wonderful memories that will last a lifetime. Walt Disney said the Magic Kingdom is the world of imagination hopes and dreams. In this timeless land of enchantment, magic and make-believe are reborn and fairy tales come true. The Magic Kingdom is a place for the young and young at heart; a special place where when you wish upon a star your dreams really do come true. Until we see you again have a safe trip home; thank you and good night.'' We then hear Mickey say, "So long everybody! See you real soon!"
Then the music builds and Eric Kunzell and the Cincinnati Orchestra serenade us with the "When You Wish Upon a Star" finale.
What happens next is what I call the "Pixie Dust Effect."
MS: What is that?
CC: It's hard to explain. It involves me and — you know, rather than spoil it for our guests I'd rather let them see for themselves the next time they come visit me.
MS: So you are going to keep us guessing, eh?
CC: Actually, it's true what I said. It's hard to explain and I cannot do it justice but it's something guests will never forget. It is something I am proud to be a part of every time Kiss Goodnight is shown.
MS: Well, I and lots of our viewers will anxiously be looking forward to seeing Kiss Goodnight and especially you on our next visit to Walt Disney World's Magic Kingdom.
CC: Looking forward to it. And next time Mike, give me a head's up on when you're coming and we'll go over and have a Dole Whip together at Aloha Isle. Wait until you see the look on the Cast Members' faces when they see me in line.
MS: I can hardly wait. Goodnight folks!
AUTHOR'S NOTE: If you want to know whether the Magic Kingdom is showing Kiss Goodnight after Wishes, visit Guest Relations in the City Hall and ask for information.
=============
ABOUT THE AUTHOR:
Mike Scopa has been a huge Disney fan for as long as he can remember. He first visited Walt Disney World in 1975 and has returned many times (how many? he's lost count!) since. Mike is a contributor to the Unofficial Guide to Walt Disney World and Cara Goldsbury's Luxury Guide to Walt Disney World, and has served as keynote speaker for the 2006 and 2007 MagicMeets. He is also co-host of the WDWTODAY Podcast and writes a regular blog, The View from Scopa Towers, for AllEars.Net:
http://land.allears.net/blogs/mikescopa
Other AllEars® articles by Mike Scopa: http://allears.net/btp/mikescopa.htm
-o-o-o-o-o-o-o-o-o-o-o-
Editor's Note: This story/information was accurate when it was published. Please be sure to confirm all current rates, information and other details before planning your trip.