DISCLOSURE: This post may contain affiliate links, which means when you click a link and make a purchase, we receive a commission.
It's okay to admit it: many of us love to take pictures of ourselves at Disney! We want to live in that fantasy world, and the least we can have is a memento or two of us in that gorgeous fairy tale setting looking the part.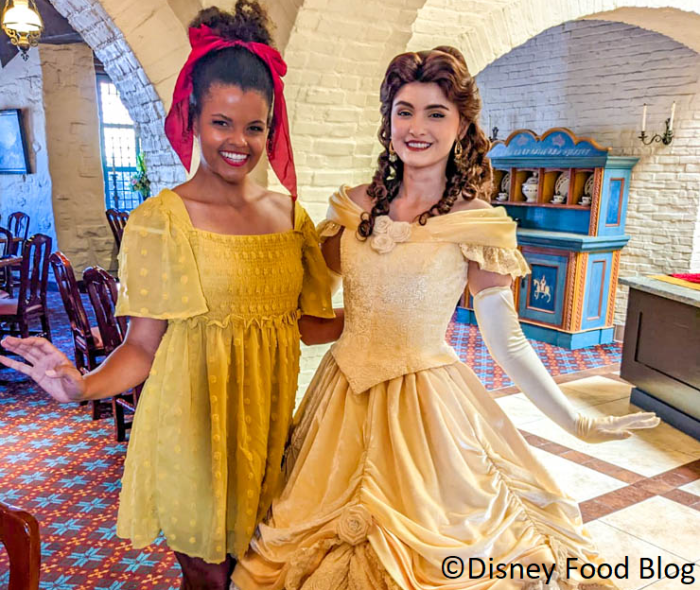 While some guests go all out every time they visit the parks, there are others who tend not to dress up for fear of being uncomfortable. But we're here to debunk that myth!
It is completely achievable to wear a cute outfit (or even dress up like your favorite character!) without sacrificing your comfort level. And, you don't have to stick to the most utilitarian of pieces to avoid blisters and chafing! We put together some Disneybounding outfits modeled after some of our favorite Disney characters that demonstrate you CAN have it all.
If your timbers shiver every time you smell that classic Pirates of the Caribbean ride water, try out this pirate-inspired look that is super easy to put together. Start with an off-white peasant-style base, like this cream dress. You could also opt instead for a blouse and pick a matching pair of trousers or skirt. Being a pirate is all about the layering to show off treasures from your many travels, but you can go for as many accessories as you'd like!
Here we added an underbust vest that looks like a corset, then picked a burgundy sleeveless shawl to add on top. Play with this color palette of cream, brown, and other neutrals while accenting with punches of deep royal colors like deep reds and emeralds to really channel that pirate vibe. Pick your favorite pair of comfy boots, and don't forget to wear tall socks to protect your ankles! Finish off with some accessories to show how adventurous you are, like compass earrings, an octopus necklace, and this skull and crossbones bag. Add your favorite pair of pirate ears or go for a red bandana like Jack, and you're ready to hop aboard, matey!
The genius princess of Wakanda has this cool-girl effortless style that we all wish we could emulate. Here we recreated one of Shuri's outfits from the first Black Panther movie so you too can steal her look! Shuri played with differing levels of formality in this outfit; her shimmery pleated miniskirt was dressed down with a casual raglan long-sleeved tee. We recommend using bike shorts or an anti-chafing stick if you're planning to wear a skirt all day!
She kept the color palette in these same tones, wearing cream ankle boots and a matching belt. Don't skip her cowrie shell necklace! We added some black panther earrings to tie in the franchise, and then of course you can't forget the kimoyo beads! Put your hair up into two space buns and opt for a clean, minimalist makeup look for this outfit.
Anna is a character with such a recognizable color palette you can really play with which pieces in your outfit will be each color. As long as you stick to her main colors of black, fuchsia, cobalt, and mint, most Disney fans will know who you were going for! Here we stuck closely to her original design by combining a blue skirt and black tee with a vibrant scarf.
You can wear boots like Anna or just throw on your favorite pair of black sneakers. If a scarf might be too hot for you, swap it out for a necklace in a similar color, especially if you can find one that has a design similar to the embroidery on Anna's bodice and skirt! Another easy way to stay comfortable but still make it clear who you're dressed as is by relying on your accessories; this backpack is very clearly based on the princess of Arendelle, plus with your hair in two braids there will be no doubt!
Another character with an iconic and instantly recognizable color scheme, Jessie can easily be channeled through a few key pieces. The star of the show in this outfit is definitely this replica hat that looks just like hers! From that down, just make sure you're tying in key colors like yellow and prints like the cow print on her jeans.
While Jessie wears cowgirl boots, those probably aren't the best for long days walking the parks! Instead, opt for a pair of faux leather sneakers that give off the same vibe but won't be harsh on your steppers. Again, accessories are everything, and these adorable boot earrings and Jessie bag are just the things to lasso this outfit all together!
This outfit just might make you practically perfect in every way! Emulating the famous nanny is as simple as creating a modern version of her traveling outfit. All you need is a white top, blue skirt, black hat, and red scarf. Here, this scarf is small and short, and won't be as cumbersome as the larger fluffy scarves we are used to wearing in the winter months.
Don't forget to tuck your shirt into your skirt; you are a prim and proper nanny after all! Because Mary wears a daisy on her hat, we added some adorable daisy earrings. Black shoes are a must, so grab a pair of sneakers or other comfortable walking shoes. Throw on your favorite Mary Poppins bag (unfortunately I don't think this one will hold a lamp!) and head into the parks for a jolly holiday!
Hopefully you were able to find some inspiration from these outfits, and stay tuned for more AllEars Style posts to see more characters featured!
Which character would you want to Disneybound as the most? Let us know in the comments!