We are just a few weeks away from the opening of Disney's Hollywood Studios newest attraction called Toy Story Land. Before we all head online to get our FastPasses, let us remember what is currently available to see and do over the next few weeks at Hollywood Studios.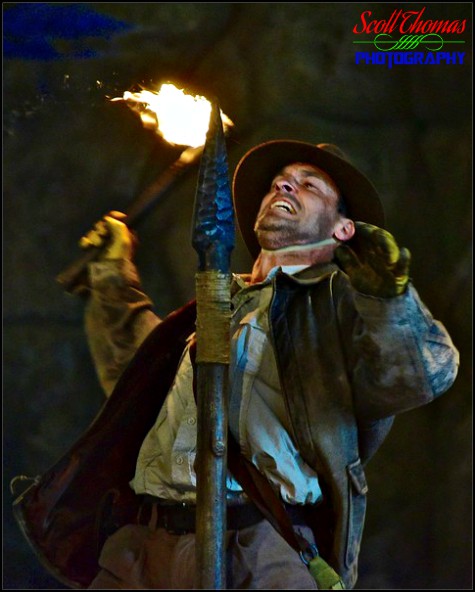 Stunt Double/Actor avoids a spear during the Indiana Jones Epic Stunt Spectacular show.
Nikon D750/28-300VR, 1/250s, f/5.6, ISO 10000, EV +1.0, 300mm Focal Length, Spot Metering.
I am a huge fan of the Indiana Jones movies and am looking forward to the new ones Disney is working on. Having seen various stunt shows over the years, nothing beats the Indiana Jones Epic Stunt Spectacular show for its massive sets, acting, audience participation and fun. Having seen this show numerous times over the years, I find it is just like the movies, anytime I catch one on TV, I watch it.
It is also a show I like to push my photographic equipment and software with. The photo above took an excellent sensor found in my Nikon D750 dSLR camera to capture a usable RAW image at 10,000 ISO, plug-in noise reduction software to Apple Aperture 3 photo management and editing system and the ability to selectively dodge and burn parts of the digital image with Aperture (Note: I have since switched to using Adobe's LightRoom system as Apple dropped Aperture).