Contributing photographer Jason of
disneygeek.com
sends us these photos from his trip to the parks on Friday, October 6, 2017.
Starting off at the Mickey and Friends Parking Structure with a couple of video clips giving an overview of the Star Wars: Galaxy's Edge construction.


The Battle Escape Show Building in Star Wars: Galaxy's Edge. More of the exterior wall has been added to the Battle Escape show building on the side that runs along Disneyland Drive.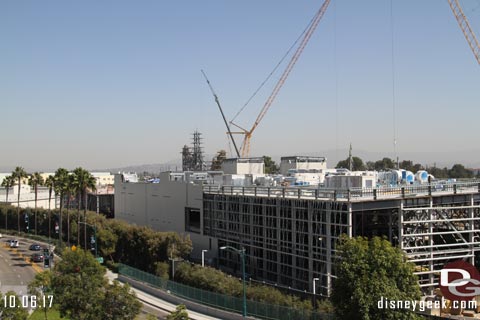 Wire mesh is being added to the steel supports to form the mountains/rock formations.


A closer look. Notice the worker to get a sense of the scale.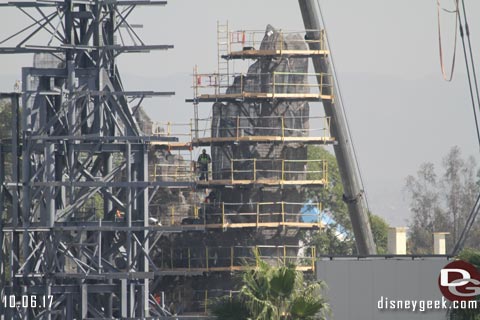 A new, to me at least, traffic pattern at the garage today. The Ball Road overpass was coned to allow two-way traffic.


Downtown Disney has Halloween/Fall decorations in many of the planters this year.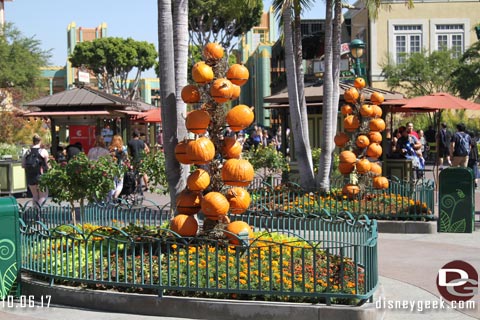 In the Lego store a new Millennium Falcon set is now available. The set retails for $799.99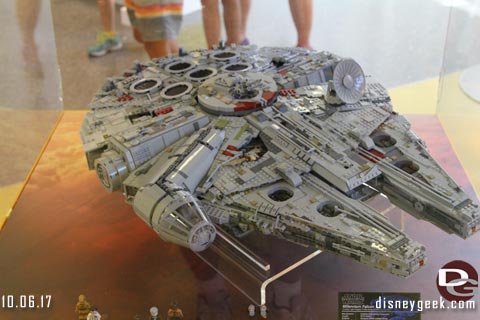 Splitsville is moving along. The exterior walls are being installed.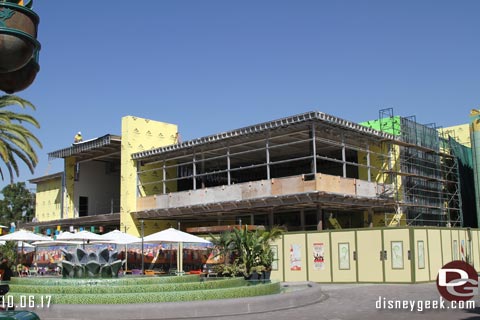 Build-A-Bear remains open and reports are it will be through the Holidays.


The hat store next door is closed now though.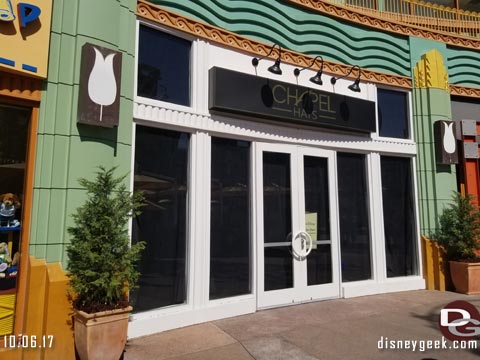 Ridemakerz is still open but on a reduced operating schedule.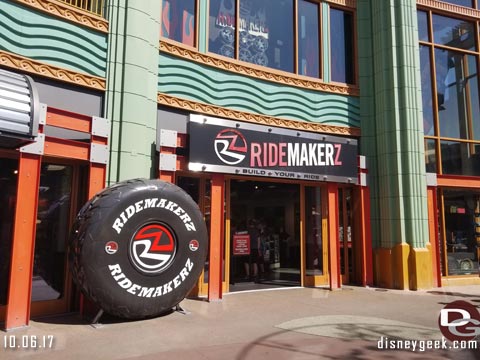 Across the walkway Vault 28 and Fossil are closed to make way for a Star Wars VR experience.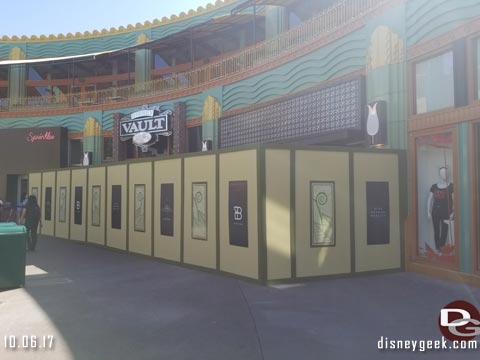 Anna & Elsa are out and a new Dream Boutique is moving in.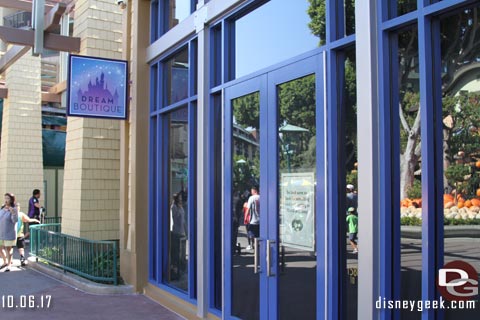 Sephora is receiving a facelift. The store is still open as the exterior is being renovated.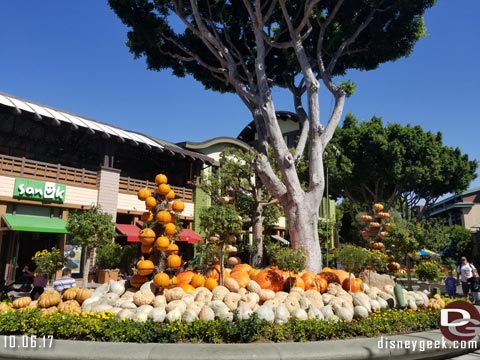 Haagen-Dazs has taken over the information kiosk between the tram stop and ticket booths.



Entering Disneyland.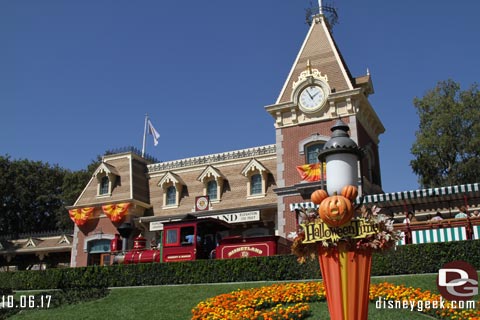 Donald Duck meeting guests in Town Square.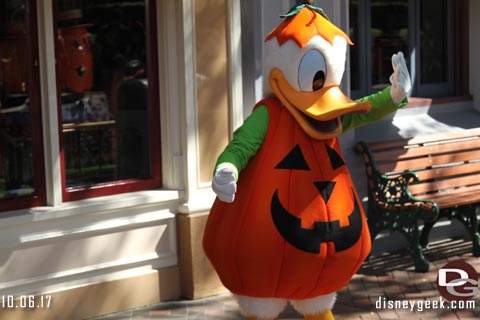 As I walked through Tomorrowland I noticed almost no wait for the Autopia so decided to go for a drive.


A point of view video from my Disneyland Autopia Drive. Be warned, it is not a smooth video.

Goofy out for a stroll in Toon Town.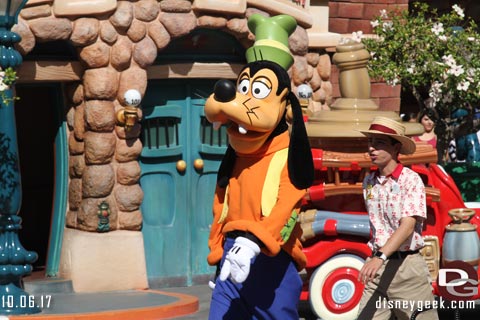 A check of Star Wars: Galaxy's Edge mountains from Toon Town.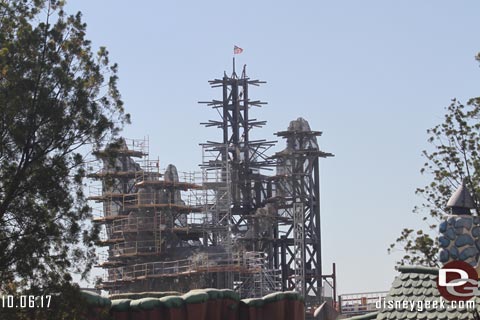 Toon Town from the Miss Daisy.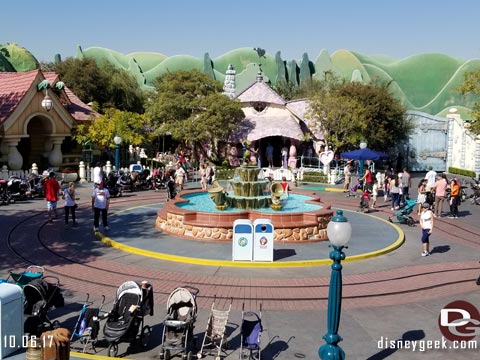 Star Wars: Galaxy's Edge pictures from the Big Thunder Trail entrance. No truck blocking my view this time.


Big Thunder is closed for renovation.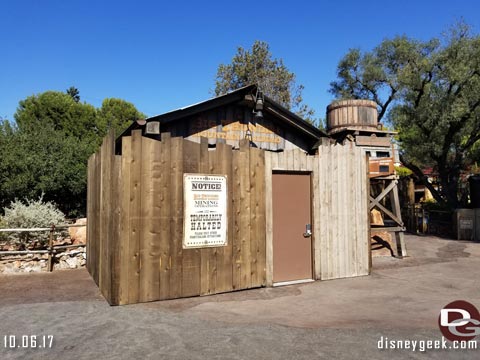 Star Wars: Galaxy's Edge from Tarzan's Tree House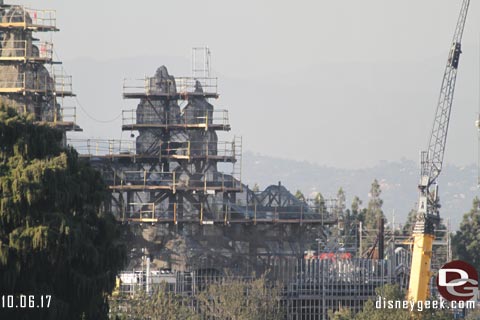 I made my way over to Tomorrowland and encountered Jake the Droid exploring the area, rolling around. He is a prototype of a droid that you may find in Star Wars: Galaxy's Edge and Imagineers have been play-testing him in the park, as well as at the D23 Expo.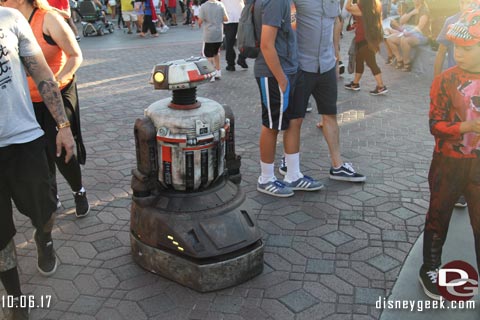 Jake rolled up to the store and encountered a sign saying droids are not allowed.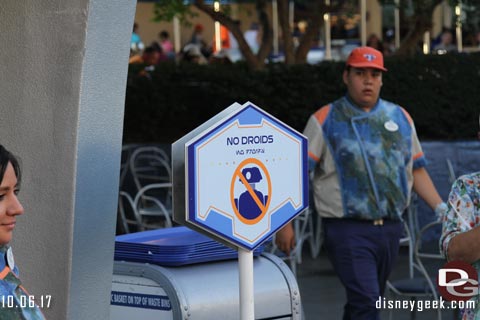 So he rolled off.

Here are a couple video clips of Jake the Droid in Tomorrowland.

There were other signs up throughout Tomorrowland as part of the test.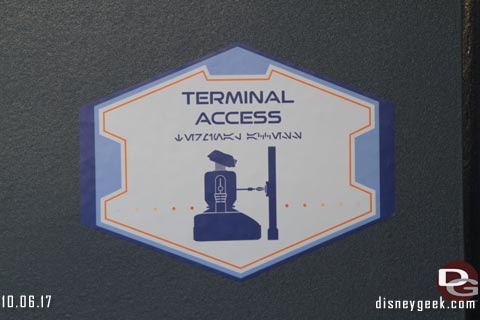 Droids are not welcome at a lot of establishments.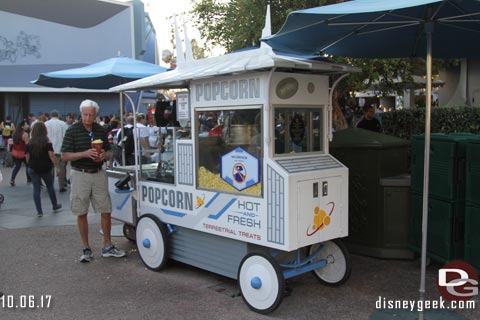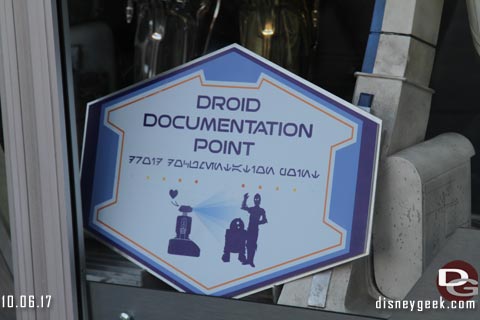 On my way to Disney California Adventure. A preview for the upcoming Thor: Ragnarok film has moved into the Sunset Showcase Theater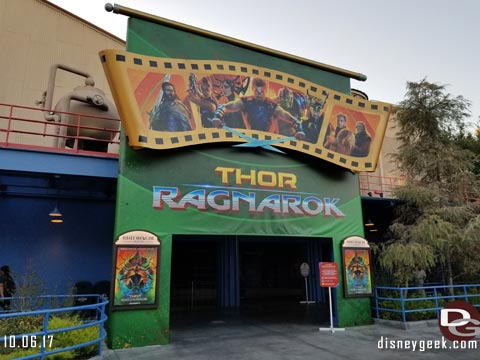 The lobby has some props and costumes from the film.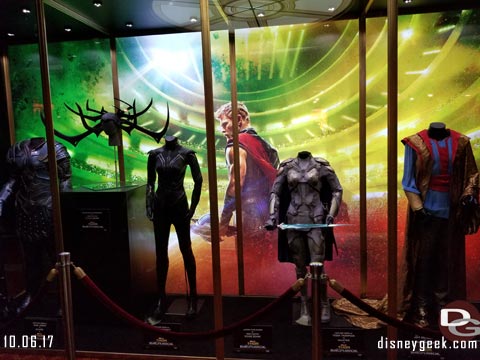 Stopped by Buena Vista Street to catch the lighting moment.

Then out to Paradise Gardens for a Musical Celebration of Coco


Oogie Boogie popcorn buckets available on Paradise Pier, too. The line here was substantially shorter than on Buena Vista Street and at Disneyland.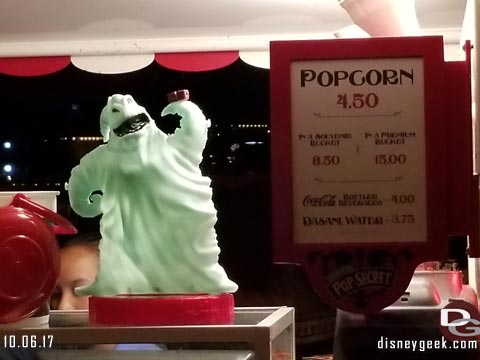 The FastPass return for Toy Story was really backed up. It filled the queue and stretched out to the walkway. I looked at this and decided to skip my FastPass.


Paradise Pier was busy, as is normal on a Friday during Halloween time when Disneyland is closed for a party.


Next stop Cars Land. Ornament Valley this evening.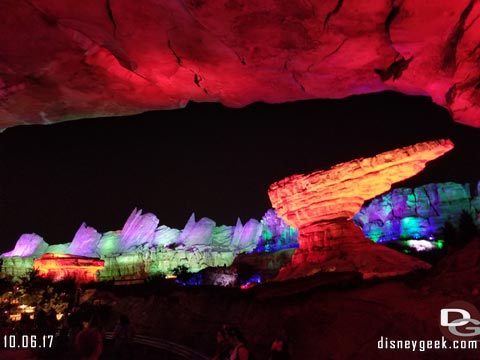 The theme for the rest of the evening was lines of guests everywhere.
The line for Flo's stretched to Route 66.


Happy Haul-O-Ween…


The Carthay Circle Restaurant this evening.


Some lights on at Star Wars: Galaxy's Edge, so a quick look before leaving.


Hope you enjoyed this highlight tour of the Disneyland Resort. For additional photos and details from this trip you can check out the full Disneyland Update I posted on my site, https://disneygeek.com Also be sure to follow me on Twitter @disneygeekcom for pictures from the parks.