Lee and I went to Disneyland on Friday, August 5…here are some thoughts, observations, etc.
It was the first trip to Disneyland for our new Chevy Volt, so we checked out (and used) the Electric Vehicle charging stations that are located on the ground floor of the Mickey & Friends parking garage. I have an entire upcoming blog post on that so I'm not going to say much more now. It worked fine for us.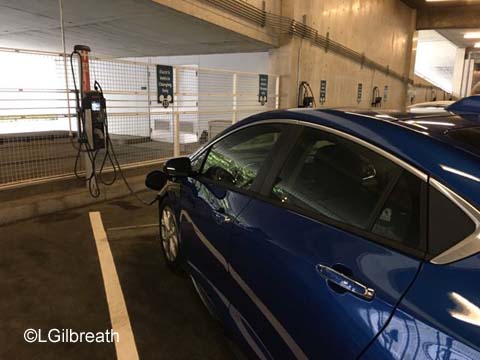 We arrived at the security checkpoint around 10:30. The lines weren't too bad, and moved well. It wasn't looking like it was a really busy day. Really nice weather that day, too – overcast and 70s in the morning, and maybe 82 in the afternoon. Very comfortable.
Our main objectives for the day were the Frozen Lunch Package (blog to come) and to see the Disneyland All-American College Band. We had some time to wander around DCA before lunch. The Paradise Garden Grill restaurant is open again – it had closed for a while. There were several people ordering when we were there, which was good to see. The menu is unchanged – still Mediterranean skewers. That's not a complaint – I like them.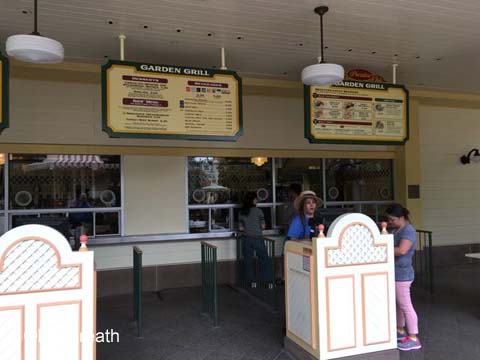 Disney recently announced that the Tower of Terror would be turned into a Guardians of the Galaxy attraction. Guardians of the Galaxy – Mission: BREAKOUT is supposed to open in the summer of 2017. No announcement yet as to when the current ToT attraction will close. Hmmm. I'm not sure how well this fits into the Hollywood Land area, but if DCA is going to become the Pixar/Marvel park, then I guess this is another step along that road. (As a reminder, Captain Marvel and Spider Man moved to DCA from Disneyland earlier this summer.)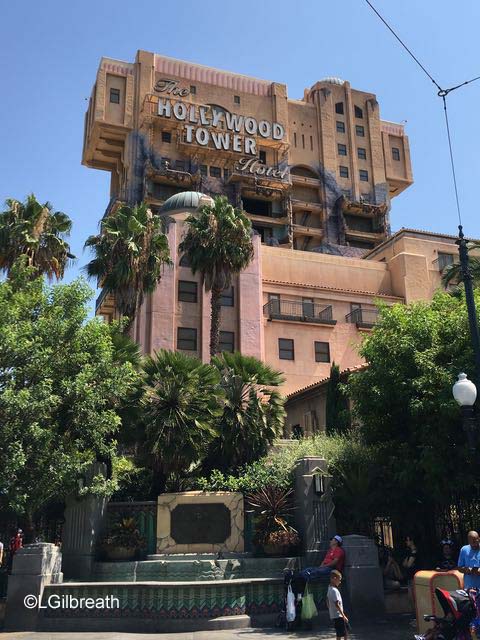 Lucky Fortune Cookery has added a Chicken and Vegetable Potsticker offering to their menu. It's $4.99. Or maybe it never left after the Food and Wine Festival, where it was the Festival item available at Lucky Fortune Cookery.
When we were in the Pacific Wharf area, the Mariachi Divas were performing the Linda Ronstadt song "Blue Bayou". Not what I would expect from a mariachi group, but they did it beautifully.
Award Wieners has a Crush the Turtle souvenir sipper for $12.99. It looks like it would be rather awkward to carry, though. Their current specialty hot dog is named "nacho ordinary chili dog". It's an all beef hot dog with chili, pepper jack cheese, nacho chips and jalapenos, for $8.19.
Clarabelle's has added a mango sorbet bar to their menu in addition to the mixed berry sorbet bar. And of course they still have chocolate and vanilla ice cream bars, too! I keep meaning to have one of those again.
The "confection of the month" in the candy stores is S'Mores. So the specialty caramel apple and crispy treat are topped with graham crackers and marshmallows this month. I had one of the s'mores caramel apples last year – not really impressed. The graham crackers (not surprisingly) were soft.
In anticipation of the release of the upcoming "Pete's Dragon" movie, there is an Elliott apple, too.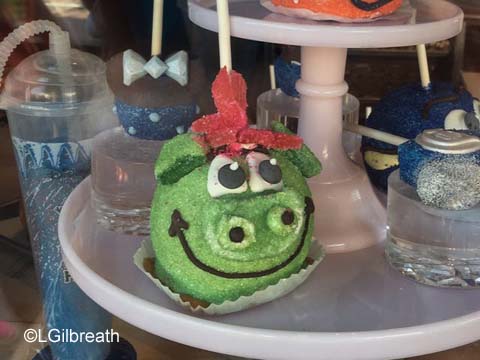 Speaking of Elliott…we went to the sneak peek of the movie in the Sunset Showcase Theater – originally the Muppets theater. Though most recently it hosted the Frozen Sing-a-long, and the waiting area still has a lot of Arendelle elements.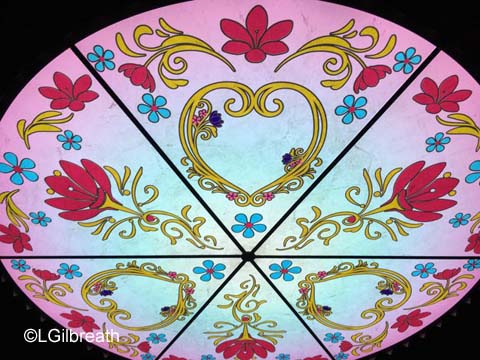 The cast member who gave us all of the usual pre-show warnings was very entertaining. He approached it as though we were viewing footage that proved the existence of creatures like Elliott and Nessie. Fun. As we were leaving, Jason pointed out to me that Elliott made some appearances in the forest projections that were on the walls above the exit doors. The movie itself…not really my thing, I don't think.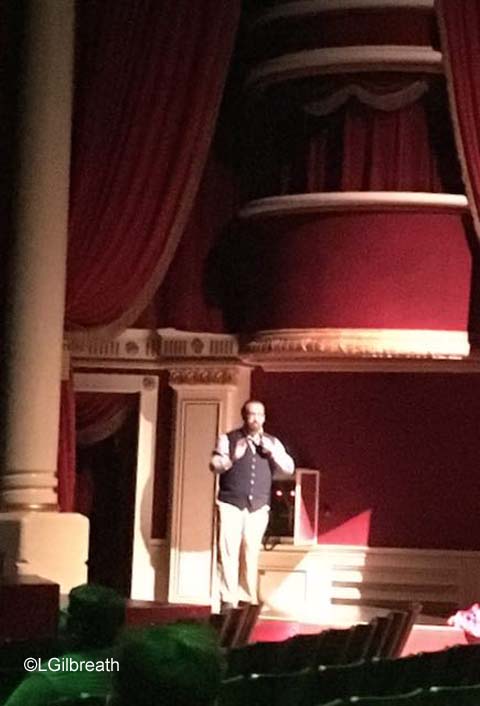 Olaf's greeting spot is just to the right of Stage 17. It's kind of hidden, and there was no line, so we stopped by for a warm hug. 🙂
When we went to check in for our Frozen pre-show they told us that the 4:00 show had been canceled, so we would be seeing the 5:50 show instead. That messed with our plans to see the College Band at 6:15 in Disneyland. 🙁 Our pre-show was still going on as scheduled from 2:40-3:40.
Since the Frozen pre-show is held in Stage 17 we were able to duck out of it at 3:00 to catch a little bit of the College Band's jazz set. They perform that on the Backlot Stage.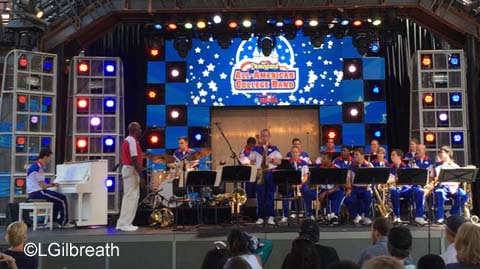 Instead of hanging around DCA waiting for Frozen (we were supposed to return by 5:30) we went over to Disneyland to wander around for a while. We started at the Main Street train station. With the Disneyland Railroad closed because of Star Wars construction (and the re-routing of the tracks), Disney is putting trains out at Main Street and New Orleans Square, with train engineers available to talk to guests about them.
We saw the C.K. Holliday at Main Street, which had just completed a refurbishment and was looking pristine and beautiful. While Lee was talking to the engineer, I sat in the Fireman's seat.
Carlos talked to Lee for quite a while about the controls in the cab and how they work to run the engine. We got a lesson in Disney train history, too. Really very interesting – I highly recommend going up to the train station and taking advantage of this opportunity. We were there for about 20 minutes and only a few other people came up there.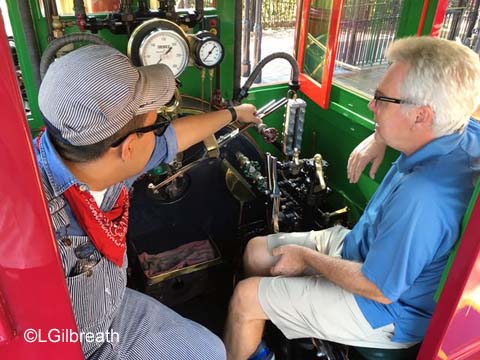 Hyperspace Mountain is still very popular (100 minute standby line at 4:30 in the afternoon) – but enjoy it while you can. The attraction is closed September 6-8 so that the Space Mountain Ghost Galaxy overlay can be applied. No word on whether or not Hyperspace Mountain will return after the Halloween season ends on October 31.
As previously announced, all of the 60th anniversary nighttime shows – Paint the Night, Disneyland Forever, and World of Color – Celebrate – will be ending on September 5. Fantasy in the Sky will be the nighttime fireworks show at Disneyland until the holiday season starts – the assumption being that Believe…in Holiday Magic will return. Mickey's Soundsational Parade will continue to be the afternoon parade, but will add an additional evening performance on busy days starting on September 9. And it's expected that A Christmas Fantasy Parade will return for the holiday season.
But Paint the Night isn't quite done yet – on August 10, Disney announced that it "will return on select nights during the holiday season later this year." Perhaps bigger news in that same announcement was that the Main Street Electrical Parade will be returning to Disneyland next year.
Over at DCA, the "original" World of Color show will return until the holiday season. (Given the public's demand for all things Frozen, I would be shocked if World of Color Winter Dreams was not back during the holidays.) I say "original", because there were a number of versions of the show during its first five years, so it will be interesting to see which version reappears – and if any of the new elements added for Celebrate will be used.
But I digress…we were wandering around Disneyland. We stopped for a look at the newish Star Wars Land artwork on the construction wall near Big Thunder Mountain. It's a full-sized version of the image released last month, and it was nice to get a larger view of it.
The Hungry Bear Restaurant is pretty quiet these days. With all of the construction fence up, it's not nearly so appealing to sit there and enjoy your meal since you can no longer watch the activity on the Rivers of America. And the lower level of the restaurant is a dark cave, since all of the light gets blocked. While that might be appropriate for bears, it doesn't have much charm for humans.
The Country Bear artwork along the exit ramp is nice, though.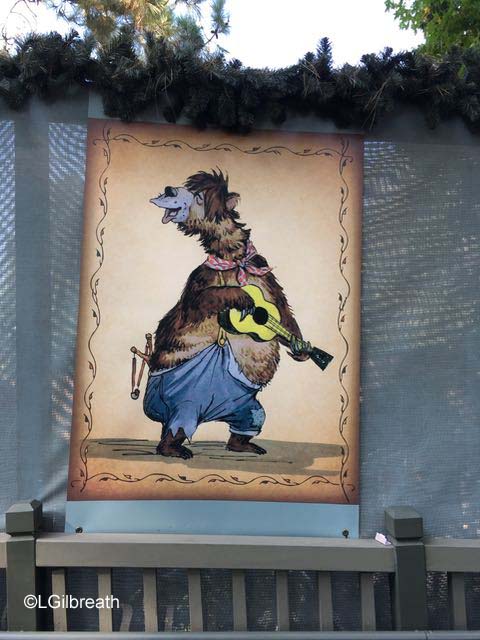 There are a few specials being offered at the Hungry Bear – maybe in an effort to try to bring in more guests? The Churro Funnel Cake looked really good, but we didn't get to try it. There's also a Peach Cobbler Funnel Cake.
And a Country Bears Jug sipper, for $12.99.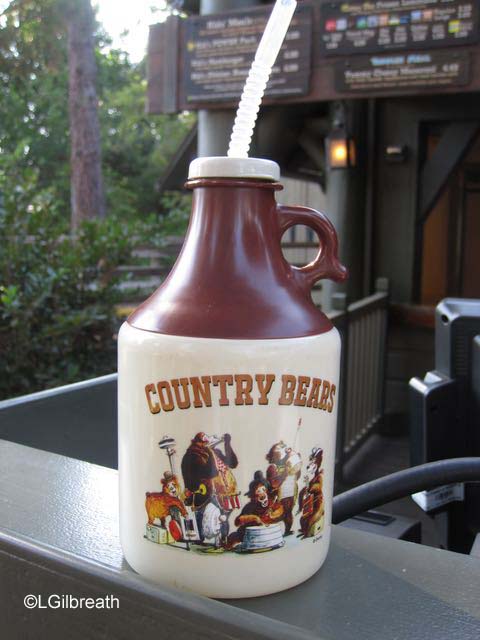 I mentioned the train at the Main Street Station – there was one at the New Orleans Square station, too. And there we could even walk across the tracks to get a close look at the inner workings of a steam boiler which had been opened up so we could see how it works. Engineer Jim was there to answer all of Lee's questions this time and described some of the safety mechanisms. We could have stayed even longer, but we had to get back to DCA to see the Frozen show.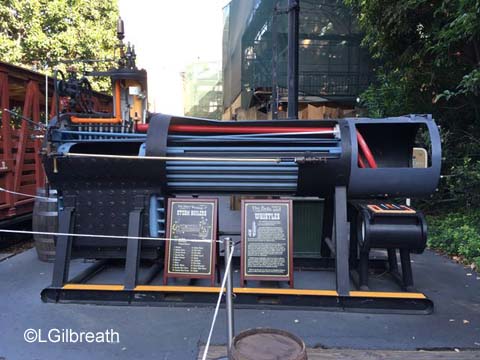 There will be more info on the Frozen show in the other blog – but by getting the package we had our choice of seats on the Orchestra level, and that was quite an advantage. The show went off almost perfectly – just one small sound glitch and the "rolling troll" did not make its appearance, which made that scene change seem longer.
After the show we hustled back to Disneyland to see the College Band perform their 7:15 set at the train station.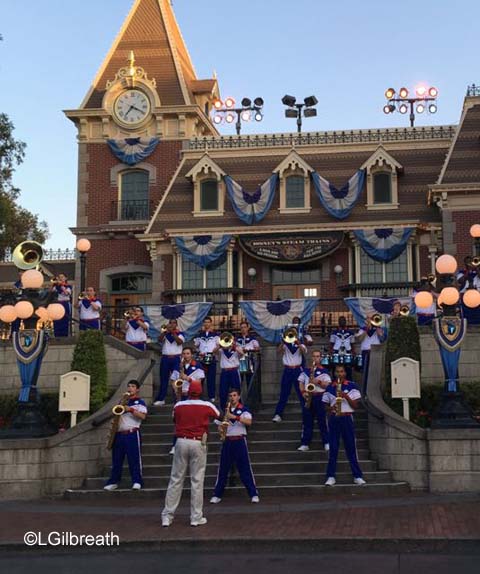 I hadn't seen their new Jungle Book number, and that was excellent. At the 7:15 set they often perform a Michael Jackson medley, but we lucked out and saw their Star Wars medley instead. That was phenomenal. They finished with the Earth, Wind, and Fire set, which we've seen many times over the years. It's always very good, but for me it didn't have nearly the impact of the Star Wars number.
We headed for home after that. If you've noticed, we didn't do any rides at all, but still we had a really good day. We enjoyed our lunch very much, and also enjoyed wandering around the parks, speaking to the train engineers, and watching the College Band.