Contributing photographer Jason of disneygeek.com sends us these photos from his trip to the parks on Friday, June 26, 2015 — he takes a look at Disneyland Forever as viewed from the Small World Mall area.
I posted the full picture set from this trip on my site. I found a spot in the terraced viewing area of the Small World Mall where I could see Paint the Night then Disneyland Forever without having to move.
After Paint the Night guests were cleared out of the area near "it's a small world." Those of us on the terrace side of the parade route were allowed to stay. Guests were pushed back/being held before the main courtyard.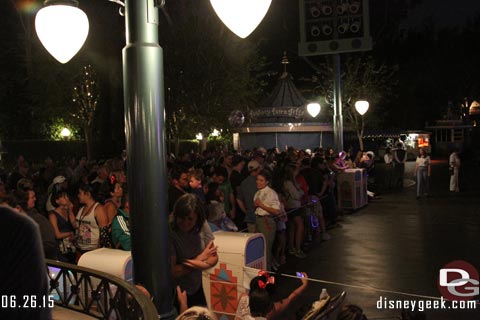 At 9:30 the projectors were turned on and an alignment test was run.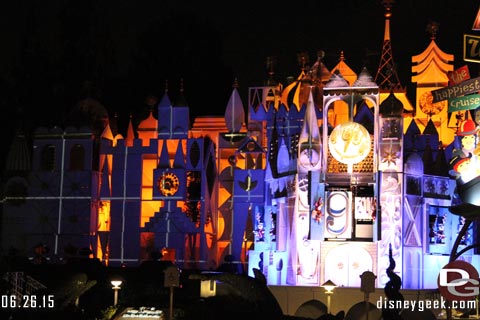 Shortly after Disneyland Forever started.
Video of the opening of Disneyland Forever
Rapunzel from Tangled
Winnie the Pooh
Video clip of the Winnie the Pooh segment
The Lion King – Circle of Life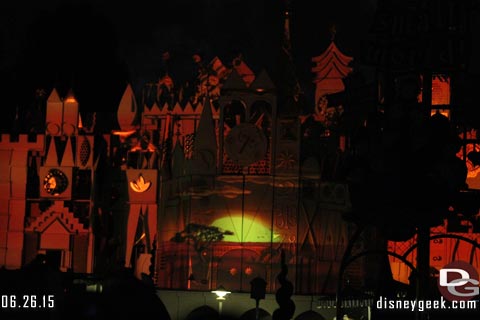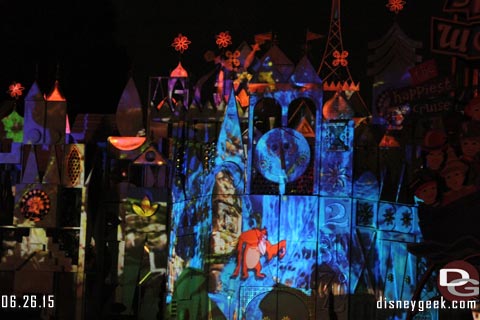 In case you were wondering, there was a fireworks show going on overhead. My focus this evening was the projections so the lens I chose was not wide enough to get both the projections and fireworks. They do not really align, so it would have been fireworks bursting off to the left and projections to the right in the pictures.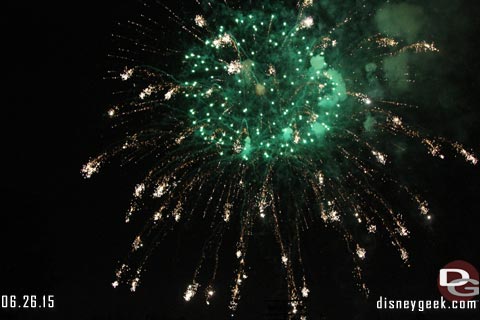 Little Mermaid segment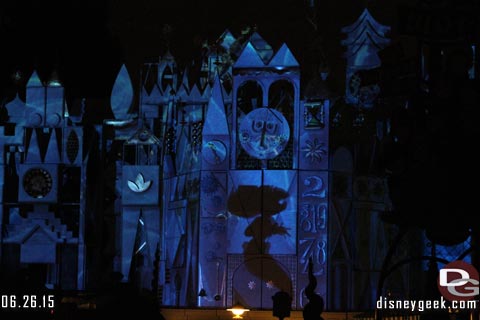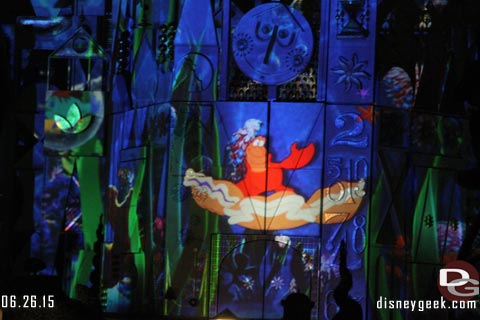 This video features Under the Sea, Finding Nemo and Frozen segments.
The finale to Disneyland Forever
A couple clips comparing the projections from Main Street and its a Small World.
After the show this mob of guests was between me and the exit.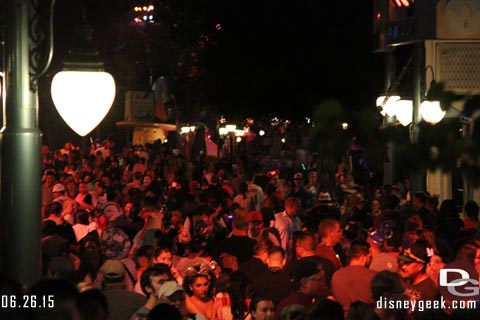 Eventually, I made it to the hub as a Kiss Goodnight was wrapping up. Here is a video clip of the castle as the song ended. After this continued on to the Town Square then exited the park. It took about 15 minutes from when I started walking until I reached Town Square including the stop at Sleeping Beauty Castle.
Hope you enjoyed this look at Disneyland Forever. For additional photos and details from this trip you can check out the full Disneyland Update I posted on my site, http://disneygeek.com Also be sure to follow me on twitter @disneygeekcom for pictures from the parks.