The Wine and Dine Half Marathon is almost my favorite Disney half marathon – second only to Tinker Bell. We first ran it in 2012, and had a wonderful experience. We decided to run it again this year – it was only after we signed up that I found out it was the 5th anniversary, and that there would be special bling. 🙂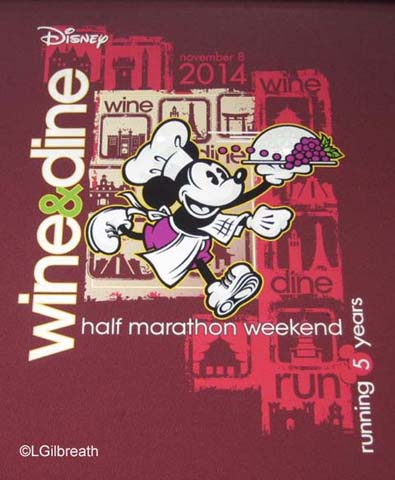 W&D is Disney's only nighttime half marathon. It's a terrific course that starts at Wide World of Sports and goes through three theme parks: Animal Kingdom, Disney's Hollywood Studios, and Epcot. One of the highlights is running through the Osborne Lights. And after finishing at Epcot there's a post-race party until 4:00 a.m.! The food and wine booths are all open, as are some attractions, and there's entertainment as well. The post-race party is included in the registration fee; tickets are also available to the public, and it sells out every year. I have to admit I'm a little envious of those who are just party goers – they get to start at 10:00, whereas the runners have to complete a half marathon first!
This is a much smaller and more compressed event than the other Disney half marathon weekends. The Expo only runs on Friday and Saturday. The Jingle Jungle 5K and Kids Races take place on Saturday morning (at Animal Kingdom and Wide World of Sports, respectively), and then the half marathon starts at 10:00 p.m. on Saturday night. There are also many fewer runners – whereas the WDW and Princess Half Marathons typically have over 25,000 entrants, the W&D Half has less than 13,000 – it was 12,300 this year. I wonder if this is partially due to the logistics of having the start at Wide World of Sports and the finish at Epcot.
Whatever the reason for the smaller field – I like it. 🙂 It makes for a much more pleasant running experience. This course has a few narrow areas too, but I don't think it's nearly as bad as the Epcot->Magic Kingdom->Epcot half marathon course used for the WDW and Princess half marathon. Having fewer runners makes a big difference, too.
Since the race was Saturday night, we chose to arrive on Friday night, since we could get to the Expo to pick up our race bibs and shirts the next day. We had a great dinner at Sanaa with our friends Mike and Christine that evening – we were having so much fun talking that we were the last people in the restaurant! 🙂 But it was a rush to get there for our 8:45 ADR – thanks, Mike, for driving us to/from dinner!
Another thing I love about Wine and Dine – it's one of the only Disney races where being from the west coast is an advantage! The 10:00 start time is only 7:00 to us. 🙂 We consciously make the decision to try to stay on west coast time until after the race is over. Of course this year that wasn't much of a problem, since we arrived on Friday, and only had one night before the race. Still, Friday night we made sure the curtains were closed and attempted to sleep until 8:30-9:00 on Saturday.
After breakfast at the Boardwalk Bakery we headed to the race Expo, at Wide World of Sports. The Boardwalk is one of the "host hotels" for W&D, so there were buses to all race events. Those buses load in front of the Convention Center rather than at the regular bus stop, though. We had to wait about 15 minutes before a bus arrived, though in the meantime we saw a couple of buses return to drop off people who had run the Jingle Jungle 5K that morning. One of these years I want to do that one – it looks like a lot of fun. The course is all at Animal Kingdom, and it sounds like there were a lot of characters out for it – including Santa Goofy!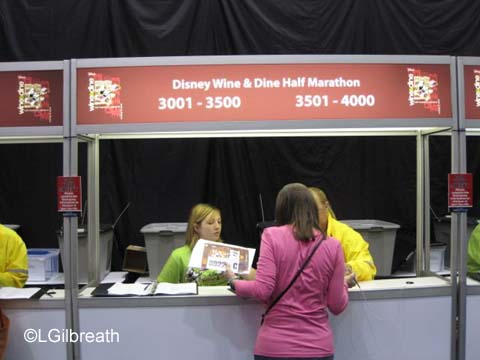 A lot of people had picked up their race materials the day before and the Expo wasn't crowded at all. I walked right up to the counter to pick up my race packet. In addition to my race bib, there was a cork drink coaster shaped like Mickey's hand, a Clif bar, the official race program, my wrist band for post-race party admission, and a Disney gift card with $10 on it. The idea is that the card was to be used at the party, but it can be used any time. I chose not to take it for the race – between my running watch, Magic Band, and Coast-to-Coast and party wristbands, I already had enough on my arms!
There was a runDisney backdrop in the pick-up area, and photographers there, but no one told us that we should get our photo taken. It turned out that if you were Coast-to-Coast, you were supposed to get your picture taken while holding your bib number (your runDisney mug shot, apparently). Then at the end of the half marathon they were verifying that the bib number matched the photo. We didn't know, so we didn't do this, but fortunately we didn't have any problems getting our Coast-to-Coast medals – the cast member told us that it was a new program they were trying out, but since we had our wristbands we were ok.
As usual, packet pickup was in the Field House and the shirt pickup and vendors were in the Josten's Center. I like this year's shirt – and again, can I say that I'm VERY happy that they are now offering a women's cut race shirt???
There seemed to still be plenty of merchandise left, though it wasn't as large a selection as I see for Marathon or Princess weekends. But of course it's also a much smaller race. It was nice to see that there were even a few items for the 5K – like a pin and some kid's Mickey ears. The 5Ks are usually left out of the merchandise game.
At the runDisney booth we admired the medals they will be giving out for Star Wars Half Marathon weekend at Disneyland in January (another Inaugural race). We're both very excited about that one.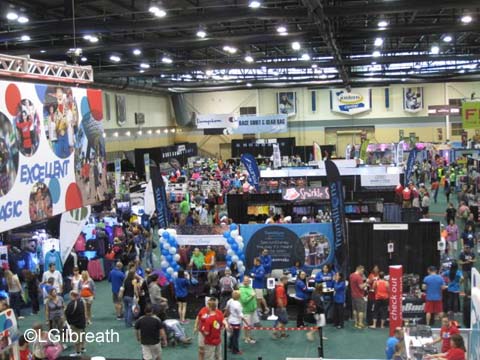 We chatted with a friend of ours who works for RunningSkirts. She said the Expo was super busy on Friday, but had been quiet so far on Saturday. Makes sense, as anyone who ran the 5K needed to pick up their packets on Friday, and lots of people like to visit the Expo the first day, too.
We didn't stay at the Expo very long – wanted to get back in time for the Team AllEars meet at noon! We didn't have much of a wait for the bus on the trip back, which was very nice.
It was great to reconnect with Team AllEars people!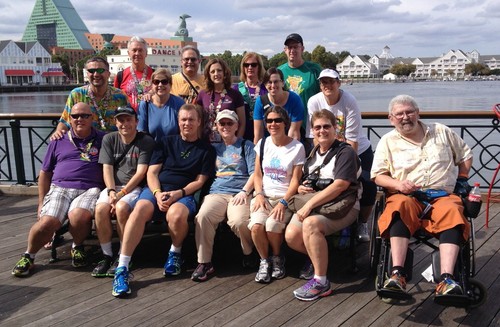 One of the very different things about a nighttime race is figuring out how you are going to fuel your body during the day. You want to eat enough, but not too much, and definitely not too much of the wrong things. The temptations of the Food and Wine Festival make it much more difficult. 🙂 We try to eat a good lunch, and then snack a little bit in the afternoon, and have a light meal, like a sandwich or something, around 6:00. And of course hydrate, hydrate, hydrate.
Speaking of hydration…unfortunately it looked like we were facing the possibility of a lot of external hydration for this race. The weather, which had looked GREAT all week, suddenly had rain showers predicted from 8:00 p.m. until 4:00 a.m., and 100% chance of rain at 11:00. Ugh. It didn't really change what we did, except that we bought a poncho for Lee (I always bring a trusty trash bag from home, just in case).
We tried to stay off our feet, but we took a turn through Epcot in the late afternoon. It was Saturday of the final weekend of the Festival, so it was very crowded. Maybe that was a good thing, since it made us want to get out of there and back to our room. 🙂
The race starts at Wide World of Sports. No one is allowed to park there, so everyone has to take the bus. The buses only run from 7:00 to 8:00, so even though the race doesn't start until 10:00, you still have to get there early and wait around for quite a while before the start. They have to get the traffic off the roads, though, including the bus traffic.
From past experience we've learned to catch the bus as soon as possible, even though technically we should have enough time as long as we arrive before the cutoff. We arrived at the bus stop about 6:45, and there were already 40-50 people in front of us. The first bus did not arrive until 7:10, and there was a huge line behind us by then. But there was a second bus that pulled up right after that, so it looked like things were starting to get moving.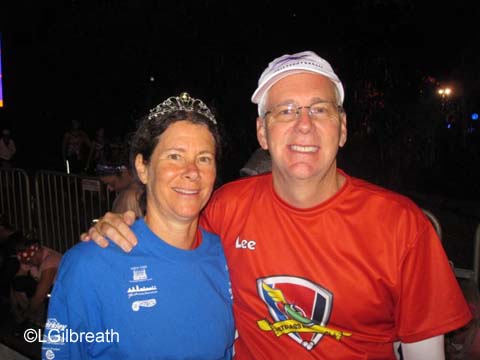 Around 7:30 we arrived at the Wide World of Sports complex – it wasn't too crowded yet. There was a security bag check that we all had to go through, and fortunately those lines weren't long. We also had to check gear bags to pick up after the race – for this race we had a full change of clothes in them, since we knew we'd want warmer (not to mention dry) clothes after the race. Since the race was ending at Epcot, Disney had to transport our bags to Epcot, but that worked just fine.
We met up with friends and hung out while waiting until we could move to our start corrals. There were character greeting areas set up, but the lines were really long. There was also a DJ and musical entertainment. The start corrals didn't open until less than an hour before the race start.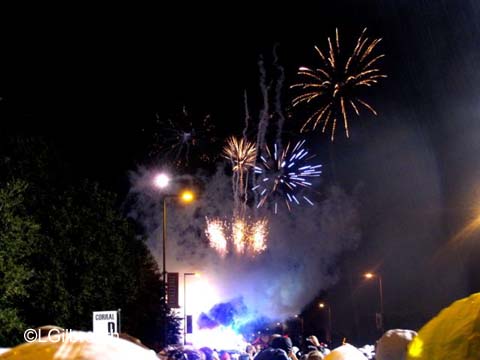 We'd had occasional drizzle, but no real rain thus far – we were grateful that we hadn't had to wait around in the rain. It started to rain lightly after we got into our start corral, about 15 minutes before the race started. We donned our poncho and trash bag, so that we could stay dry for as long as possible. The race started on time, with a burst of fireworks for each corral. The earlier corrals, A-G, went off at about 3 minute intervals. We were in Corral E, so we started about 12 minutes after the official start.
The course leaves Wide World of Sports and then turns left onto Osceola Parkway to head to Animal Kingdom. It was a little crowded until we made the turn, but after that it widened and we were able to spread out a bit. The stricter controls that runDisney has implemented for submitting "Proof of Time" have really helped – the people around us were running about the same pace that we were. So we didn't have (too many) really fast people darting by us, nor really slow people traveling in packs that we had to try to pass.
Before we started we took off our rain gear and rolled it up to carry with us, just in case we had really heavy rain. It wasn't too bad for the first mile, but then it started raining harder, and by mile 3 we were soaked. It rained steadily for the entire race – never a downpour, fortunately, but it never stopped, either. So I'm afraid I have no race pictures at all, since I didn't want to mess with pulling out the camera…and I also didn't want to take the time to stop.
There were fewer character stops, since a lot of them got pulled in because of the rain. In Animal Kingdom where there were some covered areas, they had a few of them. In open areas out on the course we saw a number of empty stages. Sarge was still out on the overpass at mile 9.5, though – those Green Army Men are tough, and not about to let a little rain deter them!
When we first did this race two years ago I was concerned about what the lighting would be like along the course. For the most part it's pretty good. Animal Kingdom is the darkest, and it's also one of the narrower parts of the course, so that was a place I was intentionally much more conscious of my footing.
I really like this course so much more than the half marathon course they use for the WDW and Princess half marathons. It visits three theme parks instead of just two, and it doesn't have all of the narrow parts near the Contemporary and the Grand Floridian. For this course the approach into Animal Kingdom, and the paths inside Animal Kingdom are probably the most constricted, but it's not bad and doesn't go on for that long.
I have to give a huge shout-out to all of the volunteers and Disney cast members who worked this race. They were out there even longer than the runners were, and were just as cold and wet as we were, but I have never seen volunteers who were more enthusiastic and supportive. Their smiles and encouragement really helped keep us going. Thank you all so very much!
By mile 10 we were at the Studios. I was SO ready to be done at this point. Once we entered near the Tower of Terror we knew the Osborne Lights were coming up, but we really took the long way around and through the Studios until we were finally at the end of the street! The lights were beautiful, and we walked down the street rather than running. (Thank you to Charlie Gessner for allowing me to use his photos, since I didn't take any.)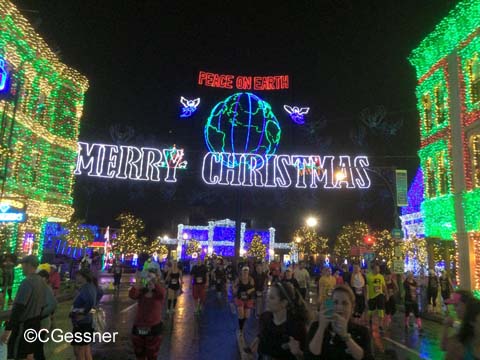 The mile 11 sign was just outside the Studios. I quickened my pace – have I mentioned that I really wanted to just be done? We ran along the waterway between the Studios and Swan/Dolphin, and as we neared the bridge that goes across to the Yacht Club there were several cast members cautioning us to slow down, as the surface was slick where we switched from cement to boardwalk.
There were still some people out cheering along that section, despite the rain – wasn't much fun for them, either. The course didn't take us much inside Epcot – we were backstage until we ran from the gate next to the Imagination Pavilion, past Innoventions West and then past Innoventions East and backstage again out toward the parking lot. And then there was finally the finish line!!! I was very happy to see it. My time was 2:16:13 which is my personal best for a Disney race, and only four minutes off my best half marathon time. I finished 2053 out of 11,941. Disney assigns bib numbers based mostly on estimated finish time, and I think this is the first time my bib number (3256) has ever been higher than my finishing place. So despite the rain it was a pretty good race for me.
Volunteers were handing out mylar sheets and of course our special 5 year Wine and Dine Half Marathon spinner medals. It's a really nice one. We also went to get our Coast-to-Coast medals, where they told us that it was ok that we hadn't had our photo taken, and we got our medals anyway.
Next we went to pick up the bags that we had checked. The lines for this were longer than I'd seen before, but they moved quickly. As we exited the "runners only" area, we had the opportunity to exchange the drink coupons at the bottom of our bibs for a beer or wine. There were several kinds of beer, and a chardonnay in a special sealed plastic glass. I chose the chardonnay, but ended up not actually drinking it, so I can't offer any review on that.
The rain had slowed to a drizzle by this time, so we hoped that it would stop for the party. We started making our way towards the entrance to Epcot – we had to go through bag check again. The lines weren't bad when we went through, but we heard that later they were very long.
Once we were inside we looked for a restroom so we could change clothes! I was starting to get cold, even with the mylar blanket, now that I was no longer running. And I was SO ready to put on some dry clothes! There were changing tents in the finish area, but I didn't see them, and we heard the line were long. We stopped at the first restroom inside Epcot. There was a line, but it moved pretty fast. I can't even tell you how wonderful it felt to pull on a dry shirt and pants. I'd brought dry socks, but not shoes – dry socks were at least a little more comfortable than the wet socks, though.
After that we were ready to hit the food booths and find some FOOD!!! But first we had to get across the race course to go back to World Showcase. Disney cast members were creating the usual "island" crosswalks. This time they set up where they had a pretty wide area to do it, so the process went much more quickly than it has in the past.
Because we'd finished pretty early, there weren't too many people back in World Showcase, and no lines at the food booths. A number of the cast members were dancing to the music – it was fun to watch them. We went to Hawaii first, and we both had the pork slider with tropical slaw. I was starving and wolfed it down without noticing much about it except that it was FOOD. 🙂 We hit a couple more booths, but by then it was starting to rain again. We met up with some friends and hung out in the Odyssey where they have the craft beers. Just sitting on the floor where it was dry felt pretty good.
It was still raining at 2:45 when we decided it was time to head back to our room. We were amazed at the number of people who were still outside at the food booths – the lines were 10-20 deep! And it appeared as though a lot of people hadn't changed out of their running clothes – though at least they were wearing ponchos.
Once we arrived back at the Boardwalk we dumped all our wet clothes in the tub and took a nice hot shower – that felt great. (Our clothes were still soaked the next morning. I was so happy that we had a one bedroom villa with a washer and dryer!)
So…it was kind of a miserable running experience, but we survived. But I can't complain too much – some of my running friends have recently endured marathons and half marathons in even more challenging conditions, and then there was the 2010 WDW Half Marathon in rain and sleet that I know a lot of you did.
The race itself I still really enjoy, and we plan to run it next year – though I hope we'll have better weather. By Disney standards I think you actually get a lot for your registration dollars with this one, since in addition to the race there's the party afterwards – and don't forget that $10 gift card. 🙂
Now we're off for a few days of rest and relaxation aboard the Disney Dream. Then next weekend we'll be back in California where we'll run the Inaugural (there's my favorite word again!) Avengers Half Marathon at Disneyland.