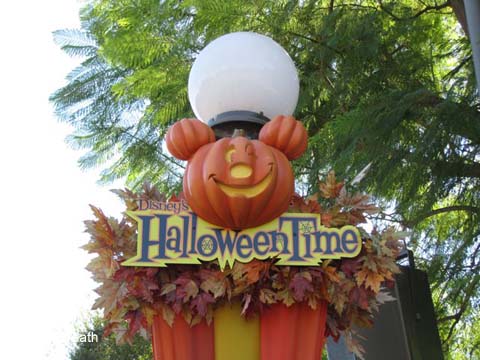 It's Halloween Time at the Disneyland Resort! This is one of my favorite times of year at Disneyland. It's nice to see some significant effort put into a season other than Christmas.
Jason has already provided a lot of great photos of Halloween Time and the decorations in this Halloween Time blog, so I'm going to give more of an overview of what's available, and my experiences this year.
Friday was my first visit to Halloween Time this year in conjunction with a media event. There's going to be some video later in this blog.
My arrival at the resort was decidedly non-magical. I usually park in the Mickey & Friends parking structure, but when I approached it from Disneyland Drive, there was an Anaheim police officer diverting those entering from Disneyland Drive away from the parking structure. However, traffic that was coming south on interstate 5, which has an off-ramp that goes directly to the garage, was still allowed to park there.
And then I got quite a tour. Past the three Disney hotels I made a left turn onto the perimeter road that goes behind DCA. I'm quite familiar with this road because I've run on it a lot, but I'd never driven it before. We crossed Harbor and were on Disney Way. I'd expected to be routed to the Toy Story lot, but instead they had us park in the Anaheim Gardenwalk parking garage. There were Disney parking attendants set up with temporary parking booth machines, and the lines moved slowly. I don't know if my Annual Pass didn't scan or if the guy was having connectivity issues with the remote setup or what, but I sat there at least 5 minutes while he tried to figure that out. And maybe that was distracting to him because he neglected to tell me to keep the parking receipt handy because I would need it when I left. Once inside the garage there wasn't anyone really effectively directing the parking so it was rather chaotic.
It was really poorly organized and a huge waste of time. It was over 30 minutes from the time I was diverted until I was parked. At least the shuttle service from the parking garage to the park entrance was fairly efficient. There were plenty of buses lined up to take all of us who'd had to park over there.
I later talked to a Disney parking attendant who said that it's more efficient for those coming from Orange County and south to park in Toy Story, and for those coming from Los Angeles and north to park in Mickey & Friends. One of the things I prefer about Mickey & Friends is that I will probably get to park my car inside so it doesn't get so hot. There is NO shade whatsoever in the Toy Story lot. Just a lot of black asphalt. But apparently if you come from the south you no longer are allowed that particular perk.
Fortunately, despite the rocky start, my day got better. It's always great to walk down Main Street and see all of the Halloween decor that makes up the Main Street Pumpkin Festival, including all of the carved pumpkins placed above the shops and buildings.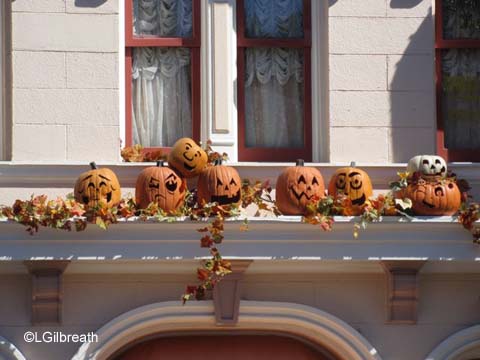 This video piece will tell you a bit more about some of the special events going on at Disneyland and Disney California Adventure during Halloween Time. Disney's media relations people have come up with some really creative interview opportunities for members of the media in the past, but this one might be my favorite. You might even say I had a ball!
The Halloween Carnival at Big Thunder Ranch Jamboree has a lot of activities going on. It's THE place to go if you want to get photos of the Disney characters wearing their Halloween costumes. But the characters wander around and interact with guests, and don't stand in one place for meet-and-greets. That makes it a bit more of a challenge, but they will pose for photos – just be patient. This area is usually not too crowded (especially at its 10:00 opening time), so it's a good place to go for character interaction.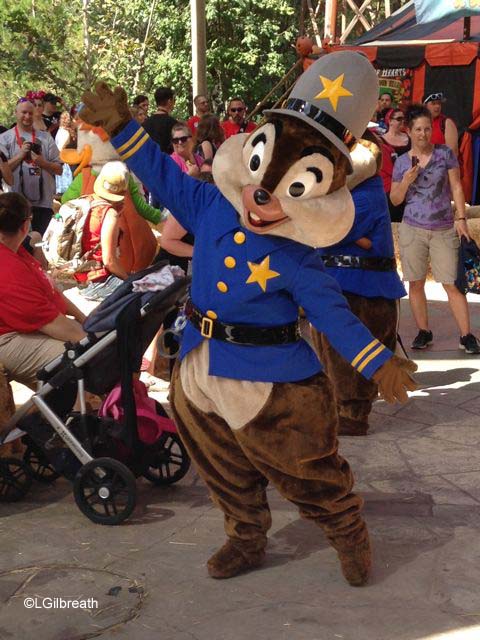 Pirate's League has returned to the Jamboree for the season, so there are opportunities for boys and girls (both young and not-so-young) to get a pirate makeover.
There are ring toss (even Donald was playing) and wheel of fortune games, as well as crafts available, also.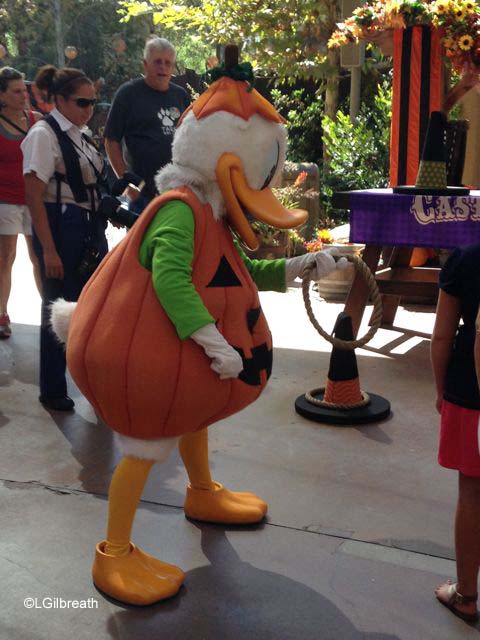 The Pumpkin Carvers are busy carving (and painting) pumpkins. There are different creations on display throughout the Halloween Time run.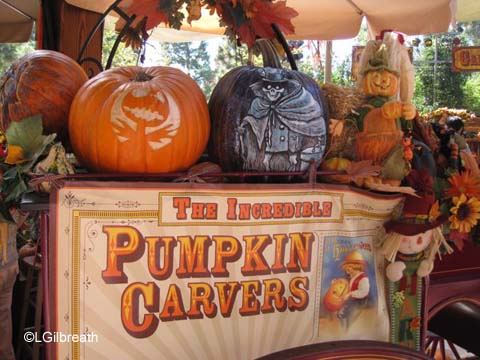 And the popular Conjure a Villain tent has returned. Guests are taken inside the tent in groups of 20 or so. There's some special effects, and a Disney villain appears, and poses for photos with the guests. There's usually a wait for this activity, and this year there's some entertainment for those who are waiting, such as a fortune teller.
No Billy Hill and the Hillbillies this year, but a magic act takes the stage for multiple performances each day.
One of the highlights of Halloween Time for me every year is Haunted Mansion Holiday, where Jack Skellington and the HalloweenTown gang have done their own extreme makeover of the Haunted Mansion.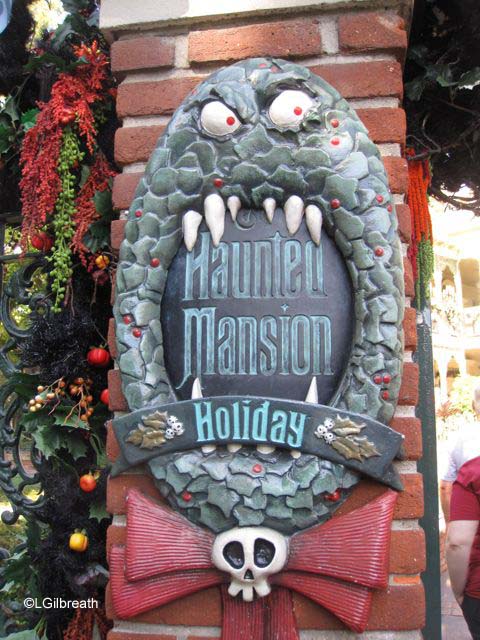 I had the opportunity to speak with the Pumpkin King:
As Jack said, there's a new gingerbread house this year. This photo gives you some idea: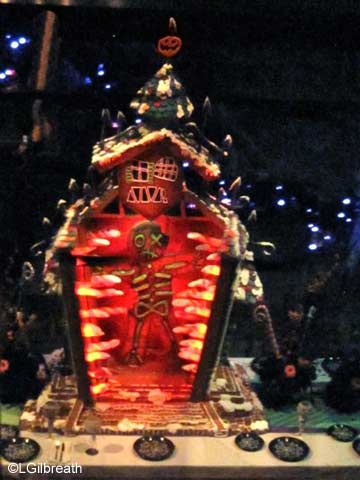 There were also some other changes this year. The singing jack-o-lanterns in the graveyard scene have been re-animated (pun intended) to make them look more three-dimensional and add additional depth, as though we are looking inside the pumpkin mouths. At the end of the ride, when we take the escalator back up to the "living world", "Little Sally" has now been animated: her eyes blink and her mouth moves as she tells us to "Hurry back".
Another attraction that receives a Halloween makeover is Space Mountain Ghost Galaxy. A spooky spine-tingling soundtrack combines with startling images of the "space ghost" that has taken over the attraction. There's scary eyeballs watching you and skeletal arms reaching for you. The images can definitely be unnerving, and this attraction is not recommended for children. But I find it to be an even greater adrenaline rush than the "regular" Space Mountain.
Mickey's Halloween Party is a special hard-ticket Halloween event held at Disneyland on select nights in September and October. Guests of all ages may dress in costumer and enjoy a variety of events throughout the park, including trick-or-treating, dance parties, and character meet-and-greets. Mickey's Costume Party Cavalcade and the Halloween Screams fireworks show are available exclusively to party guests.
I haven't been to this event in several years, but I enjoyed the parties that I attended. I think Halloween Screams is one of Disneyland's best fireworks shows. It originally was shown on all nights of the Halloween season but once the Halloween party moved from DCA to Disneyland it became a Halloween party exclusive. While I understand that approach it doesn't mean I like it.
It wouldn't be Halloween without some special Halloween treats, right? I spoke to Chef Christina Orejel about some of the offerings that are available this year, including the new Pumpkin Twists.
One of my favorites that is back again this year is the Pumpkin Beignets. These can be found at the Mint Julep Bar. Three for $4.19 and six for $7.19. We waited 15 minutes in line to order these, and another 15 minutes before they were ready. But they were SO good! Hot and crispy, with all of that wonderful pumpkin spice flavor.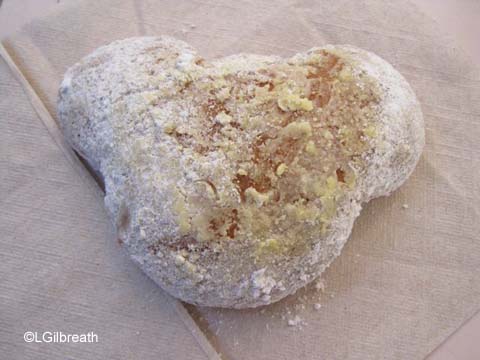 There's also the usual pumpkin muffins, cupcakes, miniature pies and tarts at various locations around the resort. I tried a pumpkin cupcake with cream cheese filling, though it reminded me more of carrot cake. The pumpkin streusel muffins I enjoyed last year are back though I haven't tried one yet.
There are other seasonal treats that don't contain pumpkin, such as the Mickey bat cookies and an Ursula chocolate cupcake.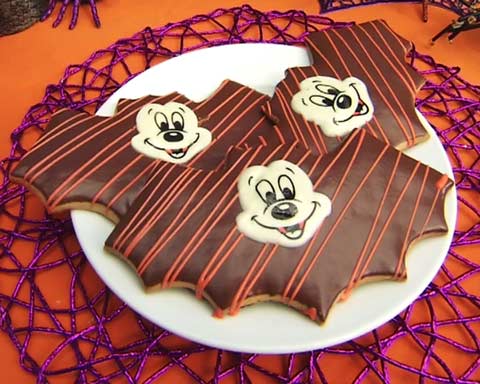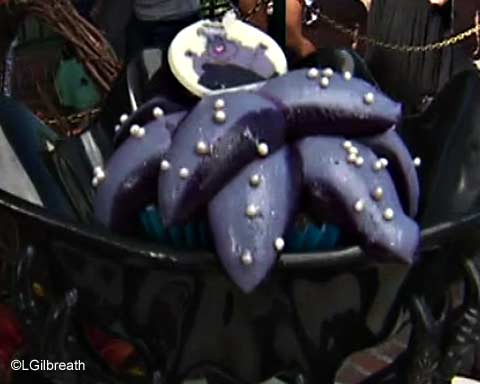 And there's a special pumpkin-shaped loaf of sourdough bread available at DCA.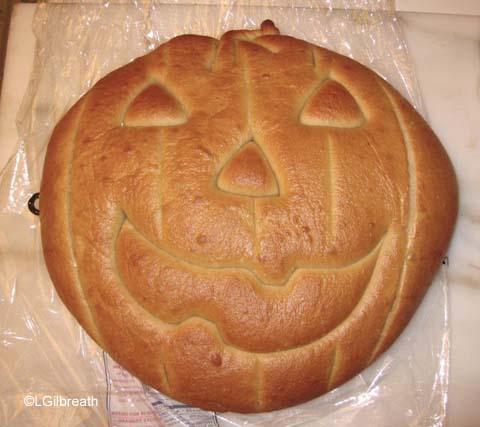 Most of the counter service and table service restaurants are offering a different seasonal entree or treat, too. For example: Anti-Vampire Chicken Pizza at Boardwalk Pizza and Pasta, Mac and Cheese pizza at Red Rockett's, Monster's U Burger at Tomorrowland Terrace, brownie and marshmallow skewer at Bengal BBQ, and Shrimp Po Boy at the French Market. I tried the Pork Tamale and Enchilada combo at Rancho del Zocalo. The tamale was pretty good, but the enchiladas were a bit rubbery. (It normally comes with rice and beans, but I asked for lettuce and salsa instead.)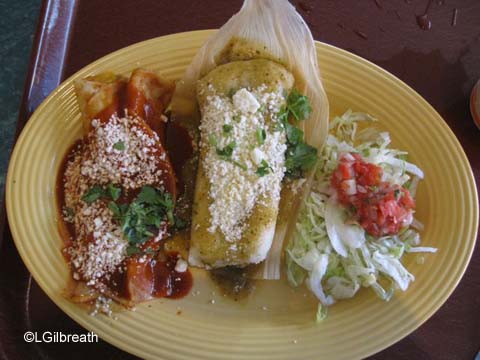 Halloween merchandise is available at locations all around the resort. There's quite a variety of Haunted Mansion and Nightmare Before Christmas items.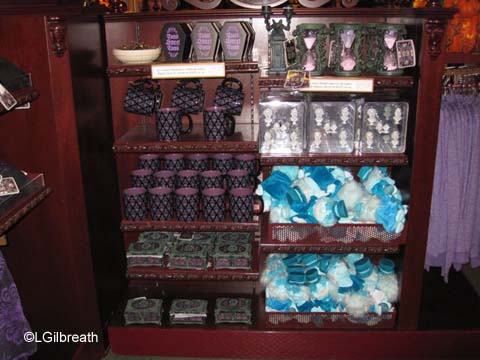 While there's a lot happening at Disneyland, there's very little Halloween presence at DCA. The Mad T Party Band has some Halloween costuming and music, and there are some Halloween food items available, but that's about the extent of it. I miss the Candy Corn Acres display that used to be in Sunshine Plaza, and the decrepit Halloween decorations that were in the lobby of the Tower of Terror. I keep hoping that some year they will do some Halloween decorating in Cars Land – I'm interested in seeing how the cars celebrate Halloween!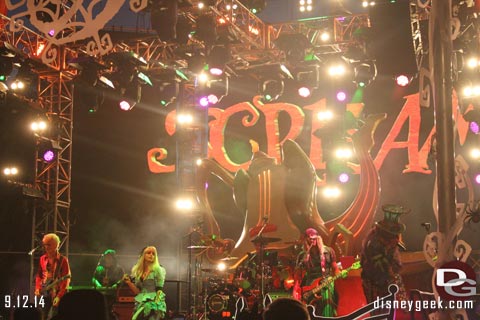 If you haven't visited Disneyland during Halloween Time I highly recommend it – it really offers guests some different experiences.