Great memories come out of the Tickle Trunk . . . but it also has a few surprises in it. Surprises for me that is! You see, Carol and I were not a couple during the years when she took her first fourteen trips to Walt Disney World and some of the things she pulls out of that magical pine box, from those early trips, are things I have never even imagined before.
This blog is about one of those things I never imagined – The Wonders of Walt Disney World seminar series.
In November 1985 Carol and her son Rob booked a 14-night stay at Disney's Polynesian Resort. Sharing the trip with them were Carol's very good friend Judy, and Judy's daughter Jenn.
Several months before they left a package arrived in the mail; it was confirmation of their resort reservation and the envelope included a very handy 16-page 8 ½" X 11″ brochure filled with all sorts of handy information about Walt Disney World. Look at the picture of that brochure below, and check out the index in the lower right corner.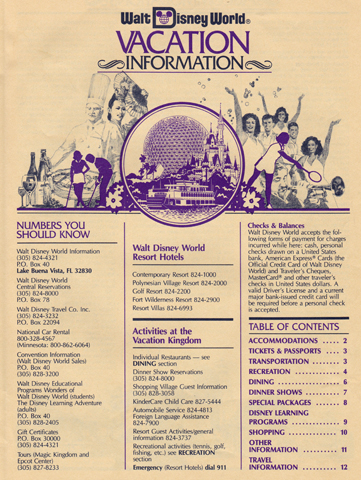 Do you see that reference to Disney Learning Programs on page 9? Carol saw it too. Here's what it said.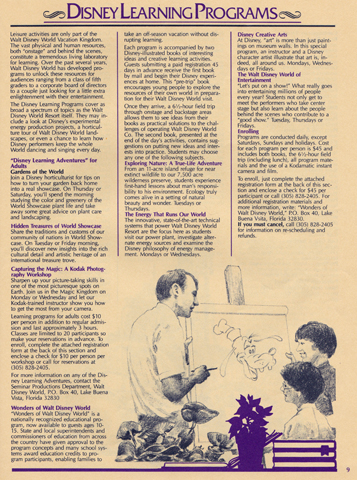 Sounds great doesn't it. What? You can't read it? Oh yeah, the print is pretty small in that picture . . . so here's what it says:
Wonders of Walt Disney World
"Wonders of Walt Disney World" is a nationally recognized educational program, now available to guests ages 10-15. State and local superintendents and commissioners of education from across the country have given approval to the program concepts and many school systems award education credits to program participants, enabling families to take an off-season vacation without disrupting learning.
Each program is accompanied by two Disney-illustrated books of interesting ideas and creative learning activities. Guests submitting a paid registration 45 days in advance receive the first book by mail and begin their Disney experiences at home. This "pre-trip" book encourages young people to explore the resources of their own world in preparation for their Walt Disney World visit.
Once they arrive, a 6 1/2-hour field trip through onstage and backstage areas allows them to see ideas from their books as practical solutions to the challenges of operating Walt Disney World Co. The second book, presented at the end of the day's activities, contains suggestions on putting new ideas and interests into practice. Students may choose any one of the following subjects.
Exploring Nature: A True-Life Adventure
From an 11-acre island refuge for near extinct wildlife to our 7,500 acre wilderness preserve, students experience first-hand lessons about man's responsibility to his environment. Ecology truly comes alive in a setting of natural beauty and wonder. Tuesdays or Thursdays.
The Energy That Runs Our World
The innovative, state-of-the-art technical systems that power Walt Disney World Resort are the focus here as students visit our power plant, investigate alternate energy sources and examine the Disney philosophy of energy management. Mondays or Wednesdays.
Disney Creative Arts
At Disney, "art" is more than just paintings on museum walls. In this special program, an instructor and a Disney character artist illustrate that art is, indeed, all around us. Mondays, Wednesdays or Fridays.
The Walt Disney World of Entertainment
"Let's put on a show!" What really goes into entertaining millions of people every year? Students not only get to meet the performers who take center stage but also learn about the people behind the scenes who contribute to a "good show." Tuesday, Thursdays or Fridays.
Enrolling
Programs are conducted daily, except Saturdays, Sundays and holidays. Cost for each program per person is $45 and includes both books, the 6 1/2-hour field trip (including lunch), all program materials and the use of a Kodamatic instant camera and film.
To enroll, just complete the attached registration form at the back of this section and enclose a check for $45 per participant or call (305) 828-2405. For additional registration materials and more information, write: "Wonders of Walt Disney World," P.O. Box 40, Lake Buena Vista, Florida 32830. If you must cancel, call (305) 828-2405 for information on re-scheduling and refunds.
It sounded good to Carol; she discussed it with Judy and then they asked Jenn and Rob, thirteen and fourteen years old at the time, if they'd like to participate. Naturally they were both die-hard Disney fans and they both said yes. Rob couldn't decide between Exploring Nature: A True-Life Adventure and The Walt Disney World of Entertainment, so he took them both. Carol thinks that Jenn signed up for the Disney Creative Arts session.
It wasn't long before Rob's pre-course material arrived in the mail – two 10″ X 10″ booklets and a covering letter.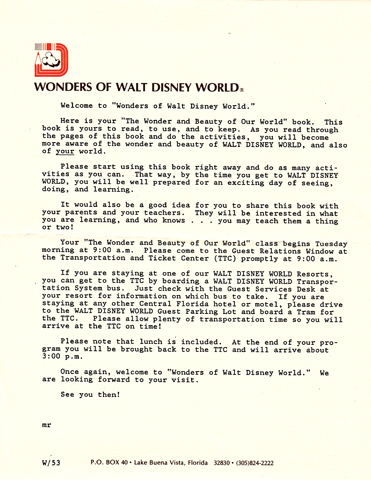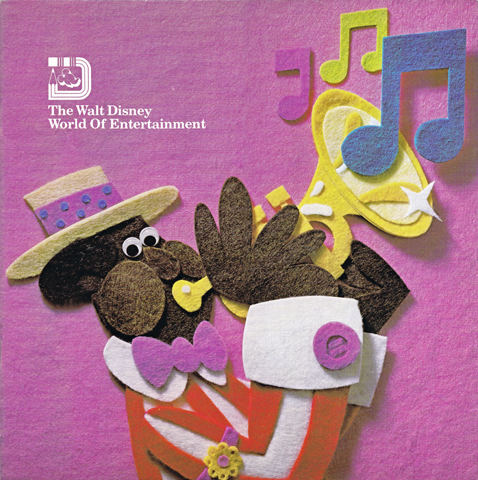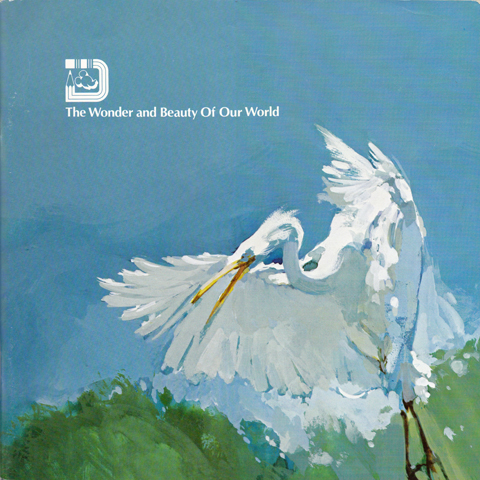 Rob got busy with his pre-course reading and completed a couple of exercises in the booklets before they headed south. A sample exercise from the pre-course book is pictured below.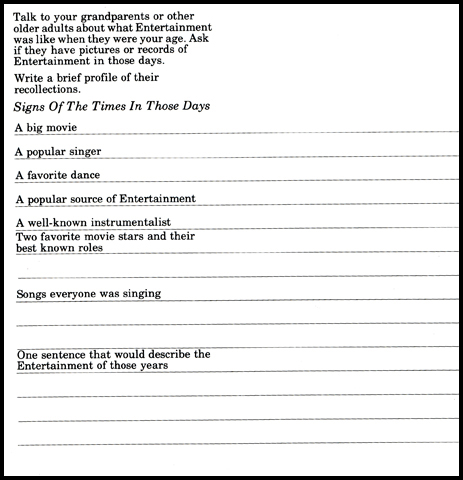 On the appointed days he struck off to meet the instructors and the other children who were participating. Each student was given a Polaroid camera to use for the day and record some of the things they learned. Soon they were off on their backstage adventure.
Rob is a little fuzzy on the details of each day (after all, it was 29 years ago) but he remembers that the seminars were very interactive. The instructors were fun to be with, and the kids had plenty of input. They shared lots of opinions and ideas over the course of each day.
The image below show's Rob's name badge and a few of the Polaroid pictures he took during the Walt Disney World of Entertainment seminar.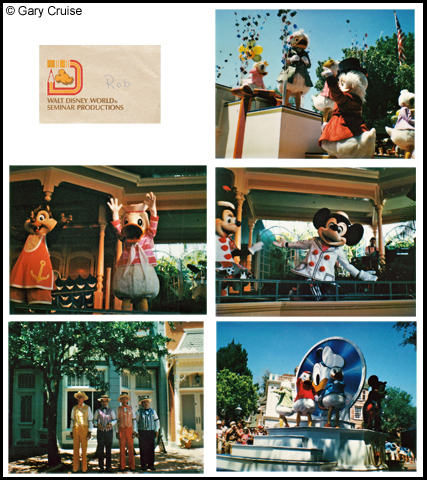 I asked Rob what he liked best about the experience. He said, "We spent a lot of time in the swamp; Florida has a lot of wetlands and we talked a lot about the ecology of the swamp. Discovery Island was great fun. We watched as they fed many of the birds and the cast members explained their diet. I was pretty impressed that they tried so carefully to match what the birds would eat in the wild."
"Later in the day we were taken backstage to watch the horticulturalists make new topiaries. We watched as they built a new wire frame and then saw several partially grown plants, as the cast members explained how they trained the plants to coil around the frame, different textures and colors of plants for different parts of the body. It was painstaking work, but the finished topiaries sure looked good!"
"One of my favorite memories though, was seeing the boats used in the Electric Water Pageant. They took our group to the canal where the fourteen boats docked during the day and we got to see them up close. They looked huge . . . and there were so many light bulbs. What a job changing those bulbs! It was 1985, long before LED lights, and they told us how many bulbs they changed on an average day. I forget the number, but I remember thinking that it was a big job!"
Somewhere during the course of their roving seminar the group stopped to eat a box lunch . . . Rob remembers enjoying his PBJ sandwich. (I'll bet they don't serve PBJ any more)
At the end of the day each student was given a very nice hard covered text book created and produced by The Disney University. It covered all the principles and concepts they had "discovered" during the day. The image below shows a page from Rob's Exploring Nature: A True-Life Adventure text book.
Carol remembers clearly how excited Rob was when he came back to the resort each evening to tell her all about his day. His school teachers probably wouldn't describe him as a model student, but Rob sure enjoyed his schooling at Walt Disney World!
Over the next few years Carol continued to get information about the education programs when she booked a vacation. The program changed a bit over the years. Here are some pages from a flyer she received in 1989.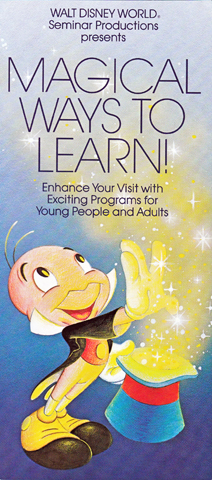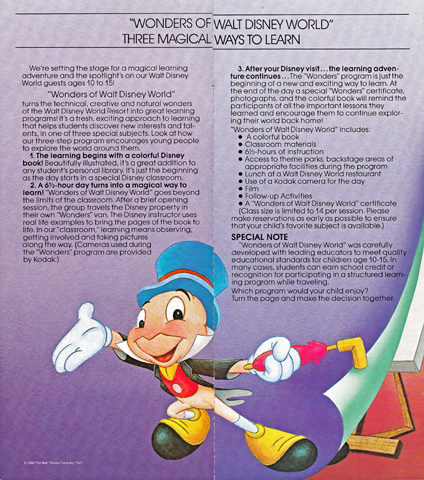 By that time they had dropped The Energy That Runs Our World seminar but the other three were still offered. There were even programs for adults. Of course, Rob was outside the target age group for the youth seminars by 1989 and that was the last flyer Carol received.
Gosh, wouldn't it be nice if Disney still offered educational programs like that?
But wait . . . they do! Yes! They do!
There are sessions at Disneyland and at Walt Disney World. You can select from a number of programs offered at each park.
To see what's available in the Youth Education Series click here.
There's even a Kingdom Keepers Quest, for details click here.
Browse around those links and take a look at the full menu of educational offerings. It looks like there's something there for everyone, even adults!
Want to add a new dimension to your Disney vacation? Try one of the seminars!