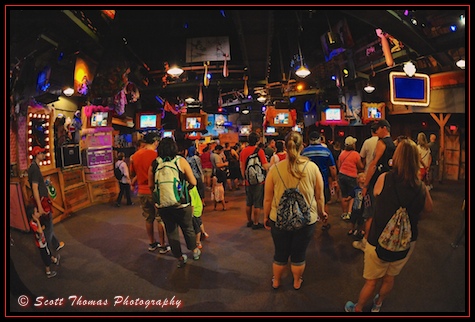 Guests enjoying the Muppet Vision 3-D pre-show entertainment.
Nikon D700/Sigma 15mm, 1/100s, f/2.8, ISO 6400, EV 0.
For those of us who remember The Muppet Show syndicated television show, watching the pre-show to MuppetVision 3-D in Disney's Hollywood Studios is like going back in time with one twist…each bank of televisions are connected into one scene. The Muppet zaniness which happens as guests wait to enter the theater is exactly like what I used to watch in my college dorm room back in the late 1970's.
A nostalgic trip down memory lane for my Disney Pic of the Week about MuppetVision 3-D.