One of the very first events I covered for AllEars on my own was the return of Captain EO to Disneyland's Tomorrowland. I figured I was just going to take a few photos, see the movie, and listen to presentations–instead it turned out to be pretty much solely interview opportunities, which I found paralyzingly intimidating. To compound the situation, the interviews included one with Tony Baxter–TONY BAXTER! The Senior Vice President, Creative Development, Walt Disney Imagineering Tony Baxter! The guy who did Big Thunder! Splash Mountain! Star Tours! Indiana Jones! The 1983 redo of Fantasyland! Disneyland Paris, for gosh sakes!
It all turned out happily, thank goodness, in spite of me. Mr. Baxter was as gracious as anyone could wish, and probably more so than I merited.
/blogs/lauragilbreath/2010/02/captain_eo_returns_to_disneyla_1.html
Last week, Tony Baxter, Senior Vice President, Creative Development, Walt Disney Imagineering, announced his departure from his full-time position at WDI with this letter:
http://mousepad.mouseplanet.com/showthread.php?193041-Tony-Baxter-s-Letter-of-Resignation&p=1781369#post1781369 As is consistent with the rest of his career, it is marked with intelligence, insight, and affection both for his work in the parks and the people who helped him create so many amazing attractions.
While it's beyond my capabilities to give his work with WDI the overview and historical context it deserves, I can say that having started early enough to benefit from working with some of Walt's original Imagineers and having stayed late enough to mentor today's up-and-coming Imagineers, he served as a valuable bridging point. He was able to incorporate the integrity of the older ideals and values as regards Disney's entertainment aspirations with newer technology and methodology to create projects that had both depth and breadth of appeal. Even in times when it seemed others in the company had abandoned all other concerns for the quickest way to cash out, he represented a force that pushed for quality and the Disney Difference which, in the end, is really why I'm here writing (and presumably you're here reading) about Disneyland and not Six Flags.
One of the events where he featured prominently was at last year's 20th Anniversary celebration at Disneyland Paris, where he gave talks to both the NFFC group specifically, and to the park in general.
/blogs/lauragilbreath/2012/06/disneyland_paris_special_event_1.html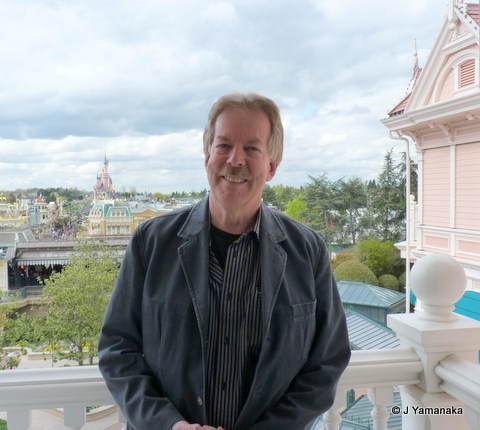 Even more recently, at the last Destination D, he was part of a presentation on some of the original WDI members who worked on the parks, as well as a group interview afterwards, addressing some of the modern-day frustrations today's designers face.
/blogs/lauragilbreath/2012/08/d23s_destination_d_75_years_of.html
While I certainly don't know him personally, I did have the chance to meet and interview him again a few times more over the years, and he never ceased to be as kind and thoughtful to even the hundredth person looking for a signature as he was back at Captain EO.
How Disney will adapt to his absence remains to be seen–I can only hope that they take his espoused philosophies to heart and use them to continue to create the type of attractions that are as meaningful and relevant to future generations as the ones Mr. Baxter gave us. For Mr. Baxter himself, it seems hardly necessary to wish someone luck who has the talent and passion he's always displayed with WDI. Perhaps instead we can simply say "have fun, and come back soon."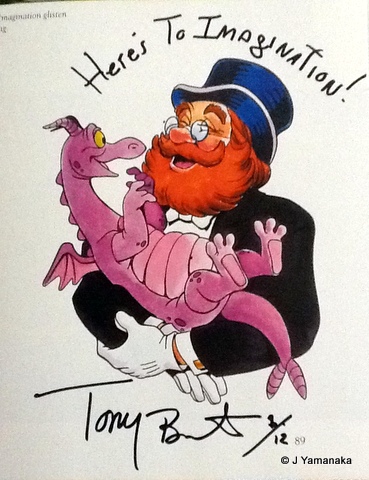 Over at the always informative/entertaining blog Progress City USA, D23's Michael Crawford has his own tribute to Tony Baxter, in which he says he will pass on any comments to Tony Baxter. If you have any well-wishes to express to him, I encourage you to check out http://progresscityusa.com/2013/02/04/full-steam-ahead-mr-baxter/ and leave them there.