To all who come to this photo trivia game, Welcome! Along the way, the photos can make us relive memories and see details Walt's Imagineers put into everything we love in Walt Disney World!
Belated Happy 16th Birthday to Duskin Henard! His family got him a trip to Walt Disney World for his birthday. Isn't that nice? (Not that I'm jealous or anything. Not me…)
Welcome to new Player, Mathieu! We won over another one to our side!

Here was last week's Challenge: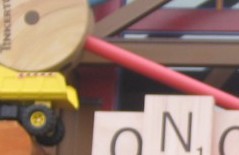 And here's the answer: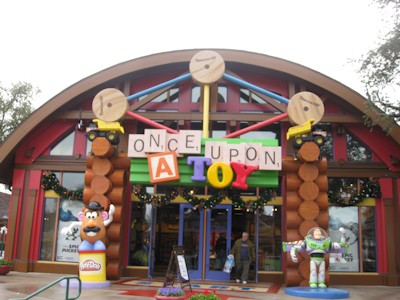 Copyright © 2011 Erin Blackwell, Canon PowerShot ELPH 300 HS, f3.2, 1/80sec, 7mm, ISO-80
Laura Tarbet, you're right (be nice to your mom about it). It's the sign for the Once Upon A Toy store in the Disney Marketplace, Downtown Disney.
You all know those little dump trucks: so cute as they move and their wheels form a Hidden Mickey, and as Mary Virginia Clause, Megan Krainski, and Beth Mcmeekin all pointed out, those beeping sounds! I forget about it between trips and always think a forklift is backing up. Then I start thinking, how many forklifts are coming through? 🙂
And as Clay Anthony said: "my kids favorite place in the 'World'; I have lost weight in this room – from my wallet!"
Heather Hynes, you can build a Mr. Potato Head AND a lightsaber all at once?! Those are some mad skills, girl! 😉
Marcie Soderlund, be careful calling Mr Potato Head your boyfriend. Because his wife is packing those angry eyes, know what I'm saying? 🙂
Danielle Ciotti Harsley was the first to send in the correct answer! Congratulations to Danielle and to all the readers who got the answer right: Evanna Huda, Lorine Landon, Agnes Ciotti, Tricia Petty, Phyllis Masse, Larissa Huda, Stephanie Visco, Emma Poprock, James And Kathy Berry, Hoekzema Family, Paul Dickson, Mike Walter, Stuart Hale, Erin Hammer, Mike and Susan of Team Hill, Kye Layton, Kelly Mager, Scott Greenbaum, Mary Virginia Clause, Anastasia Macneil, Tim Wingfield, Hayden Pronto-hussey, Patrick Broaddus, Tommy Montgomery, Sharon Pierce, Laurie Walker, Laura Tarbet, Mike O'brien, Amanda Campbell, Rebekah Anguish, Debbie Desimone, Al Desimone, Erica Lacey, Jenifer Moyer, Angie Young, Heather Young, Amy Young, Joanna, The Parker Family, Amanda Perkins, Deb Ragno, Callie Conrad, Kerri Coggins, Kerri Hancock, Jesse Tindall, Patti Miller, Allan Tam, Christine Griffin, Dustin Morehead, Dabney Wamsley, Megan Krainski, Cindy O'dell, Jenny Brennan, Joy Mullins, Melissa Mccracken, Chris Black, Jim Williams, Pam Vanaustin, Erin Mihalik, Courtney Payne, Pam Manseau, Paul B Macintyre, Beth Mcmeekin, Toni Smith, Phil Vickers, Veronica Jo, Jill H, Kenny, Brian Miller, Kelly Montgomery, Maureen Handy, Pollyanna Buff, Elaine Tomko-deluca, Danielle Quatrella, Craig, Sharon Dale, Nicole Moscato, The Strukel Family, Julie Wickware, Todd Ritter, Jason Deptula, Michelle Boykin, Michelle Thompson, Karen Ramirez, Duskin Henard, Josh Weiss, Ellie Argaluza, Kelsi B, Krystal Pound, Claire Gregory, Lori Gault, Stephanie Mcnamee, Jason Hocker, Maryann Eckenrode , Patti Mccaffrey, Jeremy Mccaffrey, Kerry A., Kerry Mccaffrey, Matt Martel, Maggie Klotz, Nick Bentz, Alan Mize, Christopher Barnes, Jamie K, Nicole Ruzinski, Bill Mckim, David Matthew Haney, Paula Massarelli, Kristen Mccoy, Rebecca Keenan, Carolyn Como, Vera Williams, Gerald Buford, Brian Haas, Jennifer Harmon, John Sheridan, Laura V., Clay Anthony, Doug Olson Family, Mckenzie Donald, Michael Gainey, Gareth Molyneux, Timothy Hutchinson, Les Stewart, Bob Patterson, Jared Orth, Melesia Love, Jessica Folan, Jeremy Reichelt, Tom Hermes, Andrew Weed, John Paul, Jack Foley, Billie Jean Albolino, Jim Thompson, Allison Caputa, Kristen Carde, Karen Wojnicki, Marie Seilus, Alison Rosenberger, Stephanie Linares, Dan Owens, Carolyn R. Conway, Hailey Gill, Lily-pierre &Mathieu, Michelle Wilinski, Bob Henriksen, Heather Hynes, Nicole Shuler, Lisa Laskowski, John Ames, Angie Messer, Emily Hudson, Karen Smith, Andrea Kruszewski, Teresa Cole, Hobbes And Snorky, Dan Johnston, Austin Oblenis, Ashley, Dee Dee Kenney, Wayne Chadourne, Matt Degrandis, Jennifer Rupert, Sandie Albrecht, Paul Knott, Michelle Bates, Kathryn Willer, Marcie Soderlund, Lauree Little, Paul Newbiggin, Hillary Waldroop, Joy Ousterout, Elyssa H., Richard And Lisa Palmer, Matthew Jadro, Nancy Ahlsen, Kathryn Pietruszka, Katerina, Clinton Dickinson, Patty Norman, Sheila Saey, Dawn, Rebecca Smith, Scott Cullen, Belicia Cullen, Chip Vermette, Dave Carriere, Thomas Higbee, Barclay Bakkum, Les Whitten, Christine Dagney, Erin Dagney, Brian Grabowski, Alan Lichtman, Staci Plunkett, Nancy, Virginia Pierce , Christi Ison, Mary Tackett, Sarah Holodick, Wendy Barney, Ed Elder, and Scott Davis. Each of you are entered in this month's winners' drawing.
_____________________________________________________ _____________________
Challenge #236: Where in the world is this?
We're going back into the parks!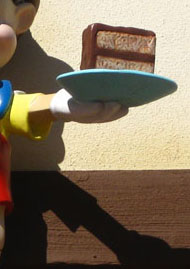 Do you know? Do you have a guess? Please send in your answer, before the end of the day on Thursday, July 5th, by clicking on the blue box below. Please do not post answers using the Feedback Form link at the bottom of this post.
See you next week, Players!



_______________________________________________________________________
Everyone who sends in a correct answer to a Where in the World Challenge this month will be entered in a drawing at the end of the month for some special AllEars® goodies!