Happy Belated 13th Birthday to Toni G, future Imagineer! She also had the PeopleMover answer right, but a glitch sent her answer in late. So congratulations on her birthday and for being part of our winners!
Speaking of Challenge 196, Barrie Brewer who, as you know, is one of the AllEars® photographers and the creator of "Where in the World Photo Fun" (as well as the creator and designer of our trading cards), looked into her records and discovered the numbers of World players has DOUBLED since last year! Thank you so much to everyone: that is great magical news for Barrie and me!
This was Challenge #197: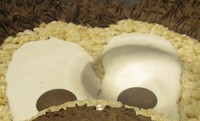 And here's the answer:



Copyright © 2009 Erin Blackwell Canon PowerShot SD890 IS, 7mm, 1/60s shutter, f/3.2, ISO 100
It's a giant Mickey Mouse Rice Krispie treat, the size of a cake, at Goofy's Candy Company in the Disney Marketplace! Becky Norman tells me they have a Minnie Mouse one too! Cool! (And, Becky, thanks for the fantastic note!) In fact, people told me it's a family tradition to get one on their last day as a treat for home.
I took this picture in Goofy's, as I said, but I have found out they have them in a few other locations, so I am putting those in the winners too.
It does look good, doesn't it, Patti McCaffrey? You know, you, your nieces and nephews could get together and have one as a treat!
Danielle Ciotti was the first to send in the correct answer for the challenge! Congratulations to Danielle and to all the readers who got the answer right: Lauren Thomas, Ed Elder, Bill Mckim, Larissa Huda, Kameo Crea, Jessica Gruhlke, Clint Curfman, Kye Layton, Lee Anastasi, Betsy Silvestri, Paula Massarelli, Becky Norman, Karen Adamakis, Double Family, Gabriella Bruxelle, Hillary Waldroop, Mary Beth Tarbet, Sharon Pierce, Brian Miller, Maureen Handy, Sarah Rosser, Sandra Shaw, Kerry A, Julie Wickware, Kris Nixon, Tim Johansen, Sharon Dale, Louise Barton, Jared Orth, Akira Williams, Chris Kelly, Diane C., Susan Thompson, Stacey Htchinson, Claire Gregory, Millie Tenreiro, Erin Dagney, Christopher Barnes, Gretchen Barnes, Madison Reynolds, Walter N. Clark, Elizabeth Macgregor and Son, Heather Pedulla, Jonah Rigby, Jamie K, Anastasia Macneil, Danielle Fitzgerald, Mackenzie D., Steven Bowling, Cara Richards, Matt Cofone, Leslie Stewart, Wade A. Williams, Jennifer Tremley, Kerrie Hogan, Donna Wnchester, Vincent Maltese, Ashley Elizabeth, Melody O'donnell, Pj Popsuj, Melissa Dye, Patti Mccaffrey, Kerry Mccaffrey, Amber Slifer, Theresa Rucando, Freya Schmidt, Chloe Mayhew, Jamie Poynton, Toni G., Zachary Ott, Tom Koval, Mike Hill, Melina Anne Hillis, Danielle Sauthoff, Kelsi B., Melody Salemi, Carrie R., Schuyler Stewart, Hailey Gill, Kristen Carde, Ansley, Matthew Coulson, Ellie Argaluza, Kayla Webb, Colin Buchanan, Nathaniel Clements, Danielle Ciotti, Lauren Thomas, Bill Mckim, Larissa Huda, Kameo Crea, Jessica Gruhlke, Clint Curfman, Kye Layton, Lee Anastasi, and Betsy Silvestri. Each of you are entered in this month's winners' drawing.
__________________________________________________________________________
Challenge #198: Where in the world is this?
We are back in the parks this week. After all, they're celebrating 40 years!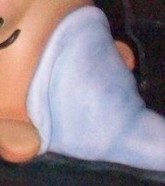 Do you know? Do you have a guess? Please send in your answer, before the end of the day on Thursday, October 13th, by clicking on the blue box below. Please do not post answers using the Feedback Form link at the bottom of this post. Remember to be specific with your answer – just naming a park will not get you into the drawing.
See you next week, Worlders!


_______________________________________________________________________
Everyone who sends in a correct answer to a Where in the World Challenge this month will be entered in a drawing at the end of the month for some special AllEars® goodies!