Aloha!
The big event today was the Grand Opening Ceremony held soon after sunset this evening. It was beautiful, heartfelt, moving, and powerful. It was truly a privilege to be here to experience it.
The video (two parts) is at the end of this blog entry – it's about 22 minutes long. If you don't have time for all of it, watch part 2 – that's where we saw the live performance of "E Ala E" by Hawaiian singer/songwriter Keali'i Reichel, who wrote an original chant for Aulani (which is in part 1 of the video), and also heard Lehua Kalima
sing "When you Wish Upon a Star" in Hawaiian. Just beautiful.
The ceremony was held on a stage they set up down on the beach. As we were waiting before it started, I looked up and saw a rainbow…it started from the ocean side, and then the arc continued to grow until it was over Aulani. I am NOT making this up, nor is this a photo-shopped image. Talk about auspicious beginnings!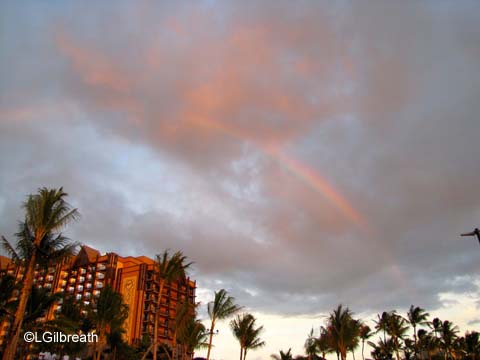 Behind us, the sun was starting to set.
As it got darker we could see more of the colorful light projections on the walls of Aulani.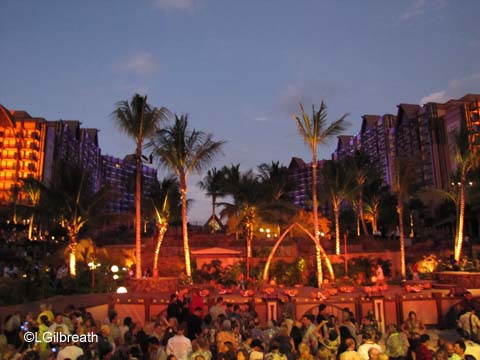 Here's a few still images from the ceremony, which featured Hawaiian music and dancers, including the chant composed for Aulani.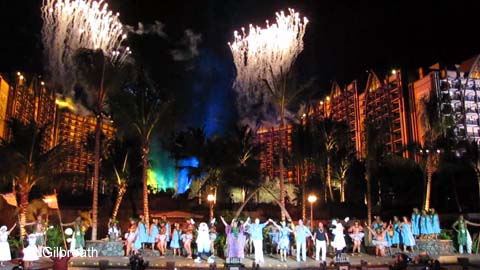 There was a rainbow to end the evening, too.
And some of the Aulani cast members stood on the balconies waving colorful banners.
Mickey, Minnie, Bob Iger, and Tom Staggs posed for photos with Halau Hula Olana, the children's hula group that participated in the ceremony. (Aren't they adorable?)
The light show on the building continued for a while after the ceremony ended.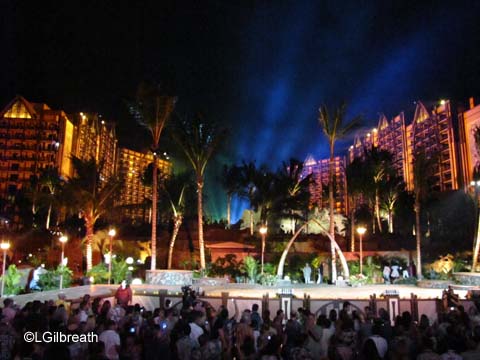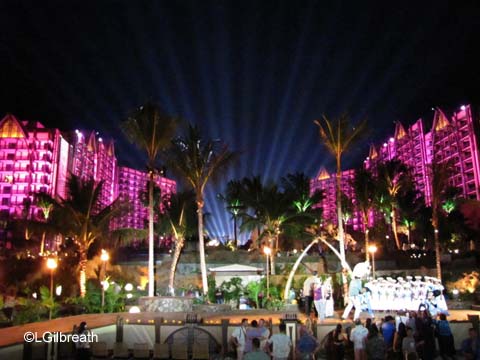 It was a great evening.
(Click on the YouTube logo at the bottom of each video to watch the full-resolution version)
Disclosure: As an invited media guest, AllEars' travel expenses to the Aulani Grand Opening event were paid by the Disney company.