The 2011 Disneyland Half Marathon started bright and early at 6:00 a.m. on Sunday, September 4. The nice thing about the Disneyland race as opposed to the Disney World races is that most of the hotels (certainly all of the Disney hotels) is within walking distance of the start, so you don't have to get there quite as insanely early because you're not depending on the buses. Our wakeup call was 4:15, and we were at the pre-race area at 5:00.
Unfortunately we missed the Team AllEars photo by a few minutes…By 5:00 the DJ was encouraging everyone to start heading to the start corrals. Another nice thing about the Disneyland race is that the start corrals aren't very far away, unlike at Epcot, where it's at least 1/2 mile (I think it's even longer than that).
There were lots of porta-potties, and the lines weren't too long.
Kristine and I said goodbye to Lee – he was in Corral B and we were in E.
We were on one of the road ramps on Disneyland Drive – across from us was Corral G, which was on the ramp that goes the opposite direction.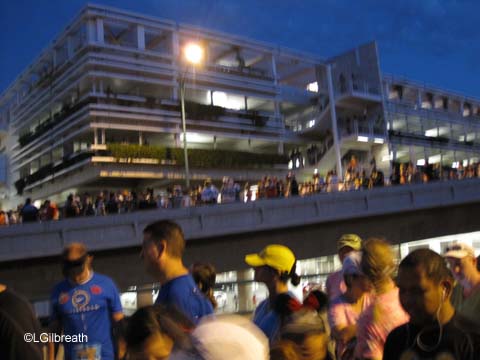 We did get to see a nice sunrise (no the corral didn't have bars – it's the fence along the side of the ramp). It was really a nice morning – still cool, but warm enough that I didn't need to don the very fetching trash bag that I had brought with me. 🙂 It was probably 65 or so.
The race went off right at 6:00. They sent the corrals off 5 minutes apart, so Corral E went off at 6:20. We could hear what was going on at the start though we couldn't see it, and we heard a nice shoutout to Team AllEars when Corral D went off. There were no fireworks for the starts, but each corral got its own "Get Ready, GO" countdown.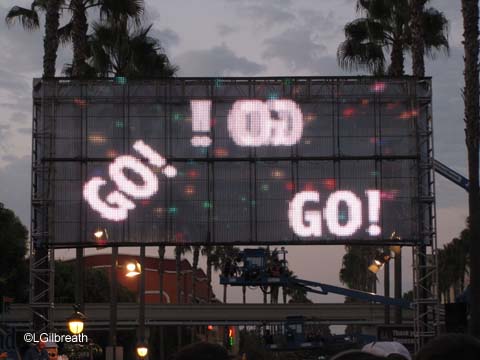 And Mickey and Minnie were there, too.
Kristine and I started off running a nice warm-up pace, but pretty soon went back to a (fast) walk. Mile 1 went pretty quickly, and we went into Disney California Adventure (by the Tower of Terror) not long after.
With all of the construction going on there we didn't spend as much time in DCA as usual – we went down Hollywood Blvd, turned left towards the Golden Vine Winery, then right in front of Ariel's Undersea Adventure, past Grizzly River Run, and out into Downtown Disney near Soarin'. Usually that's where the mile 2 marker is, but it was in Disneyland on Main Street!
It didn't seem to me like there were as many characters out this year, and since I was walking and not running I didn't really want to take the time to stop. The only one I really regret not stopping for was Darth Vader in Tomorrowland. Pretty long line for him, though.
Because of the construction in DCA they had to make the Disneyland part of the course longer so that we'd still get out onto the city streets at about Mile 4. So it was pretty circuitous – we ran up Main Street and into Tomorrowland, then went counter-clockwise around the Matterhorn and turned left into Fantasyland. We ran past the carousel, and then through the castle.
Then we were off into Frontierland and past New Orleans Square and out through Critter Country where we went backstage by Splash Mountain. The Mile 3 mark was back there. We came back into Toon Town by Mickey's house (I think this is the first time the half marathon course has gone through Toon Town), and around "it's a small world" to the parade gate there.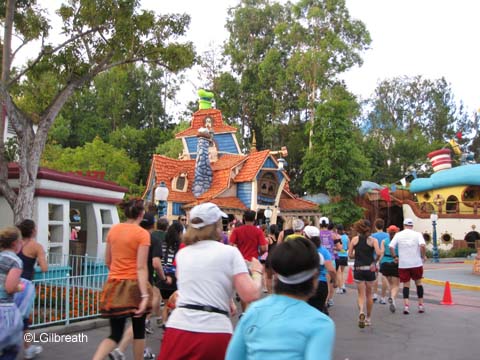 Backstage again for a while until we came out onto Disneyland Drive again – not too far from where we'd started almost an hour before! – near Mile 4.
At that point I told Kristine: "Well, the fun part is over now." There's not very much that's "Disney" about the rest of the race. And it's too bad that all of the park stuff and character interaction takes place so early in the race when everyone is still so bunched together and the lines are so much longer.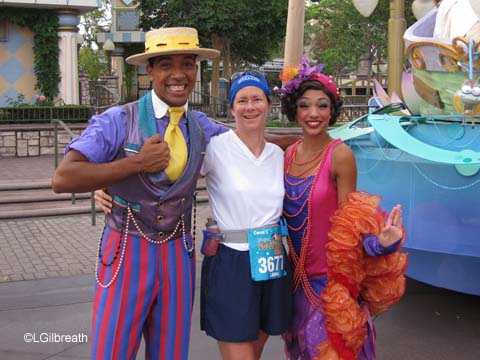 I guess the good part is that all of that makes the first four miles go really fast, and so for me it's like the real race doesn't even start until mile 4. I really enjoyed walking the race with Kristine – because we were walking and not running it was still easy to converse and that made the miles go a lot faster. She started having fun with posing for my mile marker sign photos – she cracks me up.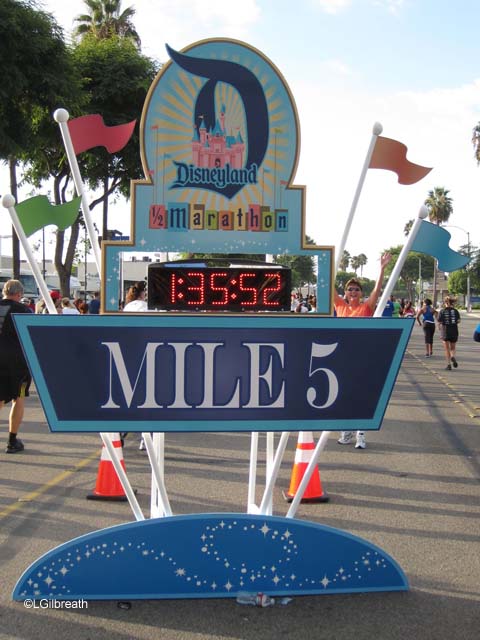 The people of the city of Anaheim really do their best to make our tour of the industrial park a little more entertaining – there are mariachi and Polynesian dancer groups that we see every year, and lots of high school bands and cheerleaders to encourage and motivate us. I think the cheerleaders might burn as much energy as the runners do!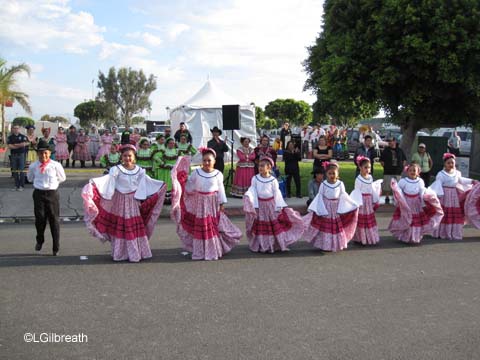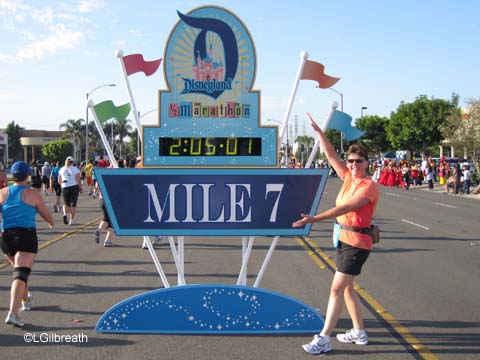 My second favorite part of the race (after running in the parks) is the section near the Honda Center where we drop down onto the Santa Ana Trail and run along the riverbed for a while. The dirt feels really good after all of the asphalt. It's narrower there, though, so that makes it a little more of a challenge when there are so many people. Kristine and I went single file there. (We tried to be considerate to others and do that in places that were narrow.) Lee called me then and told me that he had finished in 2 hours and 16 minutes. I was very happy to hear that because he's had some knee problems recently and hasn't been able to train very much. But he did really well and his knees didn't bother him during the race (and so far, so good afterwards).
We came up out of the riverbed at Mile 9, and then were on to Angel Stadium. This year the course again took us onto the dirt part of foul territory all the way from right field around to left field, and we could see ourselves on the Jumbotron as we got to third base. Running through the stadium like that is always a thrill, and there's always people in the stands cheering us on.
Mile 10 is not far outside the Stadium, and that's always a milestone for me – at 10 miles I KNOW that I am going to be able to do the last 3.1 miles. But it's kind of a slog from there – there's not really anything to see, though there were still lots of bands and cheerleaders. At Mile 12 we went backstage at DCA along the perimeter road that runs behind it. Not much to see there, though they had two of the big puppets out.
But by then we knew we were getting REALLY close! We crossed Disneyland Drive and went behind the Paradise Pier – I was jogging and Kristine was skipping at that point. That last .2 miles has metal railing on either side of us to separate the runners from the cheering crowds, and we smiled and waved at the lady holding the sign saying "Complete stranger, I'm cheering for you, too!" 🙂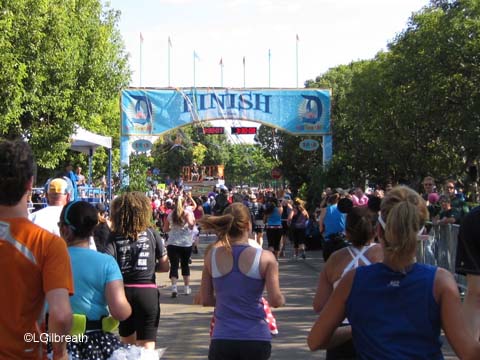 Chip was standing just in front of the finish line greeting runners as we finished. Our time was 3:07:58, which I was very happy with, since we were walking the course and not running. That's a 14:20 min/mile average pace, but includes photo stops (mostly very short ones) and two restroom stops. We trained at a 13:55 pace, knowing that we wouldn't be able to sustain that through a half marathon, given stops and all. I actually expected our overall pace in the race to be closer to 15 minutes/mile, so I was really thrilled about 14:20! We jogged some – not more than a couple minutes at a time, though, and probably not much more than a mile overall. It did help us make up some time.
The sun was out so it felt a lot warmer than it was – we were very grateful for the packages of moist towels that they were handing out to the runners.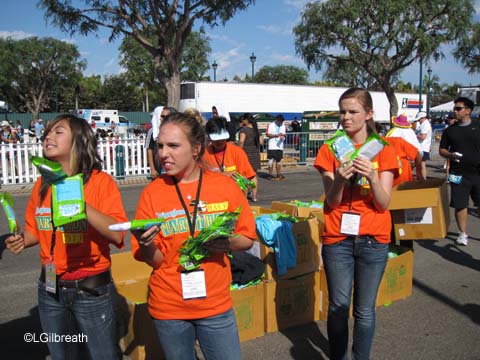 Kristine got her very first medal – and she went from saying "Never again" at the beginning of the race to "Next time…" at the end. 🙂 She did great, and I really enjoyed doing this with her. And yes, I would love to do it again with her!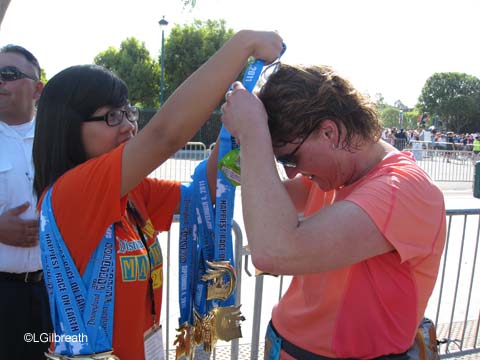 After we'd gotten our half marathon medals I went to get my Coast-to-Coast medal! Quinn Shurian, who was one of the 2010 Disneyland Ambassadors, put it around my neck. It was a great moment! I was a little disappointed that the medal doesn't have the year on it like the previous ones have had.
It was another great Disneyland Half Marathon – this was my fourth. Disneyland, the City of Anaheim, and runDisney put on a terrific event. I wish they could have some Disney character interaction at later points in the race, but that's really the only thing I can think of to improve it.
I have to say that I really enjoyed walking the race instead of running it – yes, it took longer, but I felt so much better during the race (particularly at the end) and after the race than I usually do. I was not nearly as hot and uncomfortable as I would have been if I had run it. I'm seriously considering doing more walking than running in distance races – going to a 4 minute walk/1 minute run rather than vice versa. Being a walker instead of a runner this time gave me a little bit different perspective, too. Going slower I had a chance to see things that I think I would have missed if I had been running. As a walker I tried to be courteous and aware and NOT do the things that walkers do which always drive me crazy when I'm running. For example, Kristine and I stayed mostly to the side (except when passing slower walkers) and we went single file when the course was narrow.
There were 15 of my fellow Team AllEars members who ran the half marathon, too. Congratulations to: Dominic Abram, Jill Bent, Jessica Brach, Dave Dunkowski, Helen Dunn, Dan Fulk, Stan Harris, MaryJean Kancel, Kerry Lenny, Jamison Reynolds, David Schaefer, Mike Scopa, Michelle Scribner-MacLean, Laura Torok, and Tim Tosten. Everyone finished and did great – several personal bests in there. Most of the team posed with their medals in Disneyland later that day (unfortunately Lee and I were in DCA and missed it). This photo courtesy of Helen Dunn: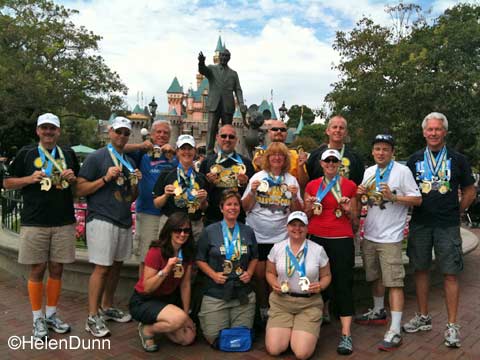 Lee and I are pleased to be part of Team AllEars 2012. For those of you who might not know about Team AllEars, you can read about us here:
Team AllEars 2012.
But the main thing to know is that we support the incredible Deb Wills and her dedication to fighting breast cancer and raising money for the Avon Foundation. We have all pledged to raise at least $500 each and that's where we could really use your help. No donation is too small, and I would ask you to please consider supporting us in this.
If you would like to contribute, please visit Deb's Avon Breast Cancer page and click on the pink "Donate Now" box. On the "Personal Note", please put "Team AllEars Laura and Lee" so they can track our fundraising efforts. If you wish to remain anonymous, just put "Team AllEars Laura and Lee" in the "How would you like your name to appear" box.
Thank you, and I hope you've enjoyed my blogs about the 2011 Disneyland Half Marathon weekend! If you have any questions about running (or walking!) Disney races I'd be happy to try and answer them. Our next race is the Inaugural Chip and Dale Marathon Relay at Walt Disney World on January 8, 2012.