Last fall I spent a few hours with Disney photographer extraordinaire Bob Desmond at Epcot. Bob has been photographing for Disney for over 20 years. After meeting with Bob near Japan in World Showcase, I asked him what he found to photograph after so many years. He gave me a couple of things right off the bat. The first was looking for details most people when vacationing miss. I know when I see photos in Disney brochures and websites, I often see things I have walked by and missed.
With that in mind, we set off in search of such photos. Bob leading with me, the learner, by his side. We first stopped at a location in front of Japan. Bob was patiently waiting for guests to give him a clear shot at Spaceship Earth across the water. I took a slightly different angle and used a tree to naturally frame Spaceship Earth.
Naturally framed Spaceship Earth from World Showcase.
Nikon D700/28-300VR, 1/60s, f/16, ISO 200, EV 0, 34mm focal length.
Bob liked our first attempts but we continued around World Showcase until we came upon the Venetian canals and bridges on the water across from Italy. Here, Bob explained how he liked to get in close using some brightly colored flowers. Get in close is something I have mentioned here a time or two. After Bob was done, I moved in and immediately liked the composition he had found.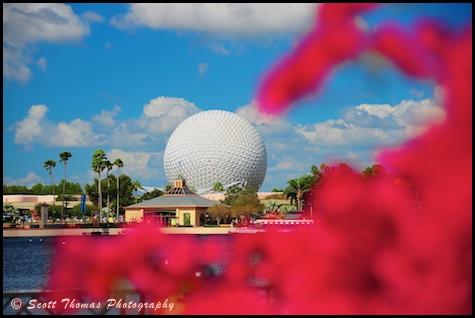 Flower framed Spaceship Earth from World Showcase.
Nikon D700/28-300VR, 1/640s, f/5.6, ISO 200, EV 0, 125mm focal length.
You will notice I decided on a different photographic approach for this photo. I used a long focal length and opened up the aperture to soft focus the foreground flowers as I focused carefully on Spaceship Earth. In both photos I used a circular polarizing filter to enhance the sky.
Next week I will show you the other thing Bob likes to photograph at Epcot.