Reflections at Walt Disney World can be found in mirrors, windows, metal surfaces and in the rivers, lakes, fountains with still water. When using a reflective surface make sure you are not in the photo (unless your intention is to make a self portrait), watch for distortions and over exposed areas. It is hard to find a perfectly still body of water unless the air is very still. Water reflections can still be beautiful even if the water is rippling. Such was the case of the photo of Disney's Hollywood Studios taken at night with a long exposure which smoothed out the water.
Disney's Hollywood Studios water reflection.
Nikon D70/18-200VR, 20s, f/16, ISO 200, EV +0.3, 95mm focal length, tripod
Windows can be a bit tricky. Some are more reflective than others depending on their use. Time of day and angles play a large part so as you walk around the parks, keep your eye out for the windows you see in the buildings and shops. Last December I was invited to watch Lights, Motors, Action! Extreme Stunt Show in Disney's Hollywood Studios from the VIP seating area right behind the show's control room. The top of the control room featured very reflective windows which I used at the end of the show for this photo.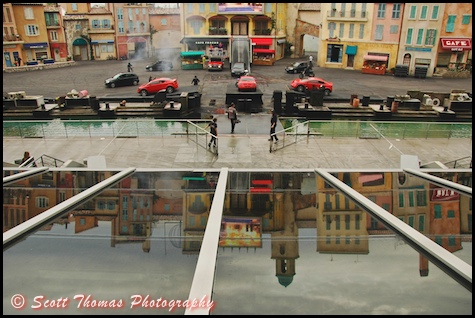 The set of Lights, Motors, Action Extreme Stunt Show reflected in the control room windows.
Nikon D70/18-200VR, 1/400s, f/5, ISO 200, EV 0, 18mm Focal Length
If you search for the word "reflection" in the Search Box for the Picture This! blog you will find other examples of how Barrie, Lisa and myself have use reflective surfaces at Disneyland and Walt Disney World.
Program Note: I will be taking the next two weeks off from blogging for my annual summer break. However, I will be announcing something special for the Labor Day weekend so check in to see what it is.