I give myself self-assignments all the time. On my last trip to Walt Disney World, I wanted to get better photos of the Country Bear Jamboree show than I have in the past. Unfortunately, Lisa had not yet published her excellent guide on how to use a Point and Shoot camera to best photograph the Country Bears.
Armed with my knowledge of other stage shows I had successfully photographed like Beauty and the Beast and the American Idol Experience, I set my camera's file quality to RAW so I could adjust the white balance later in post-processing and used spot metering so the amount of darkness surrounding the bears would not throw off the exposure.
I had another bag of tricks up my sleeve, I now knew how to clean up digital noise in my images with Noise Ninja. This allowed me with confidence to set my camera's ISO to its highest setting of 1600. Even with a high ISO setting, my best shutter speed was 1/25th of a second. Remember, when using such slow shutters with live or animated shows, wait for a time in the performance, the actor or bear, in this case, stops for a second or two. Which is what I did for Big Al, my favorite Country Bear.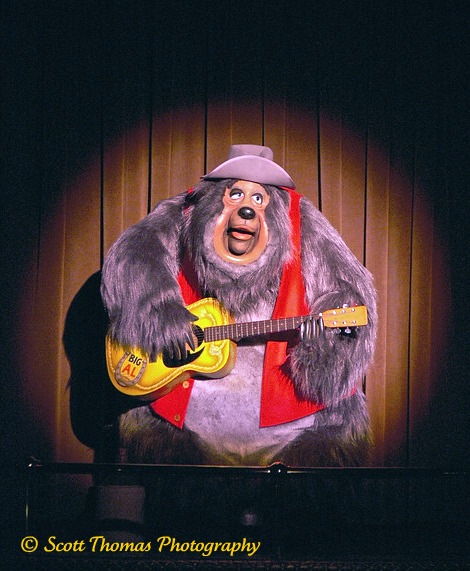 Big Al crons out a song during the Country Bear Jamboree.
Nikon D70/18-200VR, 1/25s, f/5.6, ISO 1600, EV +1.0, 105mm focal length, Noise Ninja
Did you know Big Al is voiced by Tex Ritter? Some good trivia for ya this week.