What happens when you mix a love of Disney, a group of photography fanatics and a time to experience both? You get Pixelmania! The theme for Pixelmania was "A gathering of photography, friends & fun!" Hosted by The Magic In Pixels founder, Tim Devine, at Walt Disney World from December 3 to 6, 2009, Pixelmania was all that and more.
My Pixelmania experience started the night before it's official start. Six of us met up in Disney's Animal Kingdom to photograph during the evening Extra Magic Hours from 5 to 8pm. I had never photographed at Disney's Animal Kingdom at night so I was very excited about this opportunity. We decided to photograph the Tree of Life first. I did a few shots from across the river then one of the photographers decided to go over to one of the Tree of Life trails as he had an idea. I went with him and was so glad I did. The angle and composition he showed me made for a great photograph where I could include the waterfall and the brightly lit Tree of Life in the frame together.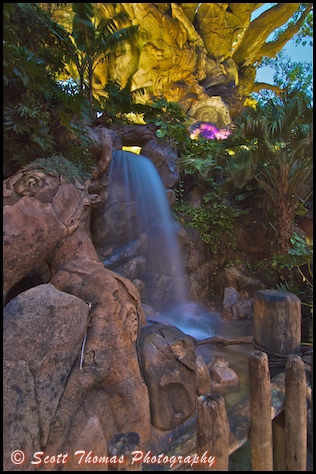 Nighttime photo of a Tree of Life waterfall.
Nikon D70/Tokina 11-16, 30s, f/11, ISO 200, EV +0.7, 11mm Focal Length, tripod
This is the same location I shared with you for the Tree of Life Pic of the Week earlier this year.
If it had not been windy I would have attempted a set of bracketed photos for creating a High Dynamic Range, or HDR, image. More on HDR next week.
This was the time I was going to shoot the full moon rising over Expedition Everest. That was not to be as the sky was heavily overcast. Not to be deterred, we all moved over to photograph the beautiful light Disney baths Everest in at night. One of the photographers mentioned doing a long exposure zoom effect shot and, I thought, why not?
Long exposure nighttime zoomed photo of Expedition Everest.
Nikon D70/18-200VR, 20s, f/16, ISO 200, EV -0.3, Variable Focal Length, tripod
I think you are getting the idea here. With all of us photographing together, we bounced off ideas about techniques, compositions and equipment with each other. It was a fun and creative process which was repeated over and over during the four day Pixelmania! event.
The next morning, I hosted the first official event of Pixelmania! entitled, Panning 101, where I gave tips and demonstrated how to set up and do panning photography. Others chimed in with their tips and suggestions during the meet which was held on the path between Toontown and Tomorrowland in the Magic Kingdom. This location affords a good view of the Tomorrowland Speedway and the guests driving the race cars.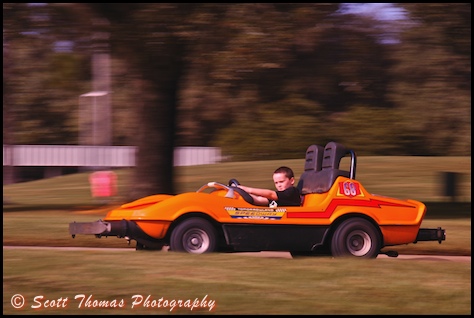 Panned photo of a race car on the Tomorrowland Speedway.
Nikon D70/18-200VR, 1/16s, f/16, ISO 200, EV -0.3, 130mm Focal Length
Later that day, we all convened at Aunt Polly's on Tom Sawyer Island for the Welcome Meet hosted by Tim Devine. He went over what he expected from Pixelmania attendees which was to have fun and use this opportunity to learn from each other in a loose atmosphere. Oh, and while we were on Tom Sawyer's Island, we got some great photos of Tiana's Showboat Jubilee! as it rounded the bend to return to port.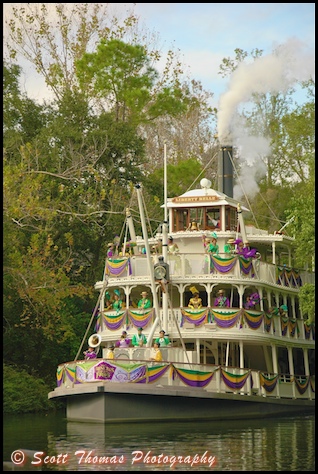 Tiana's Showboat Jubilee comes around the bend in the Magic Kingdom.
Nikon D70/18-200VR, 1/500s, f/5.3, ISO 200, EV +0.3, 95mm Focal Length
Friday's Pixelmania events had to deal with rain…lots of it. However, since we were at Epcot for the day, it didn't effect the World Showcase Tour much as we used tripods, flash and techniques to capture the interiors of Mexico, Norway, China and the American Adventure. Another nice thing about photographing with other photographers is you are not rushed. We took in the American Adventure twice as the crowds were low. The second time we sat close enough so I could use my fastest lens, the Nifty Fifty. Using my tripod as a monopod (legs folded in), I caught this scene of President Theodore Roosevelt discussing conservation issues with John Muir.
President Theodore Roosevelt and John Muir during the American Adventure.
Nikon D70/50mm, 1/30s, f/2.8, ISO 800, EV 0, 50mm Focal Length
The rain just would not stop so the planned Illuminations Fireworks meet was postponed until the next evening. I did not attend as I had a previous dinner reservation elsewhere. I will provide the links to the Pixelmania websites at the bottom of this post so you can see how others photographed the events I did and did not attend.
The next day, Saturday, it was back to Disney's Animal Kingdom for morning and afternoon meets. I skipped the morning Kilimanjaro Safari and Pangani Forest Trail meets as it was still raining and I had done those earlier in the week. I did attend the Maharajah Jungle Trek meet. I even scouted it out beforehand. I don't know if it was the cooler than normal weather but the animals were very active. The tigers were very playful. I caught this tiger just as he was starting to run after another.
A tiger starting to run at another on the Maharajah Jungle Trek.
Nikon D70/70-200VR, 1/250s, f/4, ISO 200, EV +0.3, 200mm Focal Length
With all of us photographing the tigers, there was a lot covered from panned shots of tigers at full speed, head butting, chases and other interesting behaviors.
The last day of Pixelmania brought more fun and surprises. First, Tim had arranged for some Disney Cast Members to give us a photo scavenger hunt in Disney's Hollywood Studios. By luck of the draw, we were put into three teams of four and given envelopes which contained five close up photos of things between Animation Court and Lights, Motors, Action Extreme Stunt Show entrance. Basically, up and down Pixar Place (the old Mickey Avenue). This was an extremely fun event and I was lucky enough to have teammates who knew the location of all but one of the photos. The last one was a toughie which we finally found inside the Walt Disney: One Man's Dream attraction. We only had ninety minutes to complete the task as we needed to get ready for the Lights, Motors, Action meet.
This is where Tim Devine sprung a huge surprise on us. He had arranged for us to sit in the VIP Seating Area for the 1:20pm showing of the Lights, Motors, Action! Extreme Stunt Show. This gave over a dozen Disney loving photographers a front and center view of the entire set. The VIP Seating is right behind the control room for the show and no one sits in front of you. In other words, I did not have to worry about a random head or arm getting in the way as I was shooting. Oh, did I say front and center? How's this?
The explosive finale of the Lights, Motors, Action Extreme Stunt Show.
Nikon D70/18-200VR, 1/400s, f/9, ISO 200, EV 0, 24mm Focal Length
I had to leave right after this event to catch my Magical Express bus back to the airport. To see the rest of the meets and more of the meets I did attend, check out these links:
Pixelmania! board in the Magic In Pixels Forum