Lee and I visited Disneyland and Disney's California Adventure last Saturday evening – I wanted to see the new and updated Electrical Parade and some of the other things that you can only enjoy after dark.
For a Saturday evening in the summer the parks were not too crowded. Splash Mountain had a 75 minute wait, but things like Buzz Lightyear and Star Tours were 10-15 minutes.
We wandered around Disneyland a bit trying to decide what we wanted for dinner. We went by the Celebration BBQ, which had a menu/format/price change in July. The characters are no longer at the meal though there is still entertainment on stage. Lunch is $19.99 for adults and dinner is $24.99 but drinks and dessert are no longer included in the price. (The price for kids 3-9 is $9.99 at either lunch or dinner.) Corn cob wheels and polish sausage are offered at dinner but not lunch, though either way it is still all-you-care-to-eat. Doesn't seem like much of a price decrease to me – at least not for dinner, by the time you pay for your drink. Still too expensive in my book, though I would consider going for lunch. I wish they would go back to the counter service BBQ idea they had there about 10 years ago.
We ended up having and early (5:15) dinner at Rancho del Zocalo. The portions have been slightly reduced in size since we last dined there, but it's still quite a bit of food. We both had the enchiladas – I had the regular cheese enchiladas, and Lee had the cheese enchiladas that came with tortillas and several slices of carne asada.
After dinner we went over to Disney's California Adventure to wander around and wait for night to fall. We did something we'd never done before: went to the Cove Bar (next to Ariel's Grotto) and had a drink. It's a full-service bar, and Lee was impressed by the selection of beers on tap. They also have quite a selection of specialty drinks – like various flavors of Comospolitans, Mojitos, and Margaritas, and drinks that glow. I was hoping they might have some dessert-type items, but they only serve appetizers: nachos, crab cakes, artichoke dip, buffalo wings, fried calamari, and bbq chicken pizza. So I had a Godiva Dark Chocolate Martini instead. It was supposed to come with a chocolate stick, but they were out of those. 🙁 Lee had a beer.
It was a nice way to relax for a while, and it was pleasant to be outside, though it started to cool off quickly once the sun disappeared.
One of the things we had planned to see that night was the lights on Mickey's Fun Wheel, and as it got darker we could start to see them. When Disney re-themed Mickey's Fun Wheel they added a bunch of new LED lighting and at night these are animated in number of different patterns and colors. We'd never seen it before, and I have to say that I was fascinated by all of the different colors and actions that it was able to produce. We must have watched it for about 20 minutes over the course of the evening, and I don't think we ever saw a repeat. Here's a short video that's just a sample of the kind of thing that it can do.
(If you're interested in more, I put up an 8:30 minute clip also, it's HERE.)
With all of the construction walls up around Paradise Pier it is a little more of a challenge to find a spot to see the Electrical Parade. Parade viewing is not allowed at all between the Golden Zephyr and what used to be the entrance to Golden Dreams. But with less than 10 minutes until the parade started we found a spot in front of the Golden Zephyr, where we were standing behind a row of people who were sitting, and that was a fine spot. There was a construction wall on the other side, which meant that there were no people there, so the characters focused all of their attention on our side of the parade route.
What can I say? As far as I'm concerned, Disney's Electrical Parade is still the best nighttime parade ever. The "new" soundtrack didn't sound any different to me – just more crisp and clear, maybe – it's still just a catchy and bouncy as ever. The lighting looks great, and it was nice to see the "new" parade elements: Tinker Bell's float leading it off (though I miss the Blue Fairy!), the Seven Dwarfs' mine (which gives three of the dwarfs something to do besides follow Snow White around), and the two Pleasure Island floats. The latter replaced the Dumbo's Circus floats.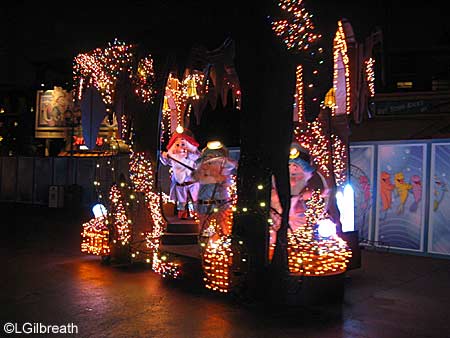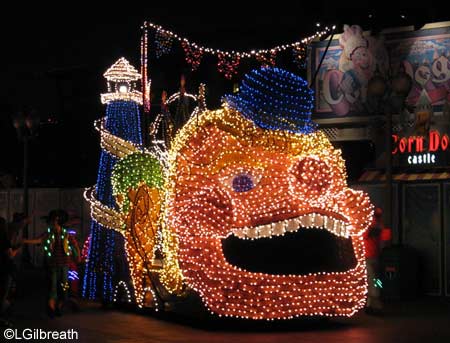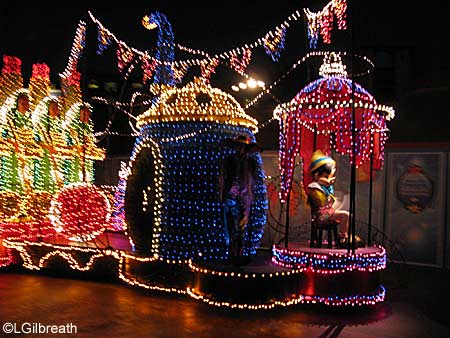 We followed the crowds out of the park who were mostly headed to Disneyland. We weren't trying to see the fireworks, but we did catch a little bit of Magical, including a glimpse of Dumbo flying around the castle. We were trying to get to Pixie Hollow, to see more of the Pixie Hollow Enchantment light/fountain sequences. Unfortunately we had a bit of a wait – they go off about every 15 minutes, but even though the fireworks were over before 9:45, the first Pixie Hollow show wasn't until about 10:00. And then it ended up being the one we'd originally seen in June (which you can see HERE).
So we waited another 15 minutes, and saw this one:
Unfortunately the HD video camera doesn't have a wide enough angle to show you everything that's going on – like all of the jumping fountains and the lights in the trees and on the fountains.
It's really a fun little show – I'll be sorry to see it end, though I hope they will bring it back in the future – maybe for the holidays?
Disneyland AllEars® Meet and Greet!
AllEars® Team members Deb Wills, Laura Gilbreath, Lisa Berton and Cathy Bock invite you to come by and say "Hello!" at 11 a.m. on Sunday, October 11, 2009, at the Carnation Plaza Gardens in Disneyland.
Here's a picture of the entrance to the Plaza Gardens, which is located between Frontierland and the castle.