This was Challenge #60: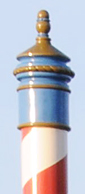 And here's the answer:


Copyright © 2008 Barrie Brewer, Nikon D300, 18-200VR, 1/25s shutter, f22
These colorful gondola mooring poles are in the water of the World Showcase Lagoon, in front of the Italy pavilion in Epcot. Uniquely painted poles were used to designate gondola "parking spaces" for various Venetian families. You can still see these multicolored poles in the canals of Venice, although they are more decorative than functional these days.
Chris Masse was the first to send in the correct answer this week! Congratulations to Chris and all the readers who got the answer right: Neil Taylor, Deb Ragno, Jennifer S., Heather Yjoung, Patrick Albrecht, Sherry Klinefelter, Brittany Irish, Brandy White, Jen Snapp, Jodi Cook, Dawn Bach, Barbie Lawless, Anjanette Tournillon, Marguerite Massett, Debbie Hudson, Lee Anastasi, Leslie Dameron, Sharon Dale, Penny, Ed Aleszczyk, Alyssa Nutter, Hollie Hinton, Becky Terjung, Kris, Jennifer Tremley, Kim Garabed, Elizabeth Akerley, Joyanne Johnston, Lauren Seymour, Amy Wenzel, Linda Mac, Ben Howell, Samuel Shotick, Diane Cripps, Laura, Christina Dominique Cooper, Sharon Pierce, Sharon Powers, Lauren Foss, Jennifer Horst, Julianne Williams, Melea Broekers, Kelley H, Sarah Smee, Hillary W, Michelle Wilinski, Allison Lowry, Tina Roberts, Kellie Carter, Jennifer Rupert, Dan Record, Zach C, Alicia Henderson, Jeremy Hardy, John Agnew, John Dawes, Jill Fogg, Bonnie Smith, Angie, Amy, And Eli Young, Bob Patterson, Anne Hainsworth, Mike Thomson, Jennifer Schwing, Shannon Milair, Elizabeth Scarborough, Patricia Shea, Stephanie Servaites, Karen Schlumpf, Ashley Salters, Tim Rachuba, Judy Koslowski, Noreen Rachuba, Laura Barnes, Amy Miller, Becky Sterusky, Paul Ignudo, Jr., Amanda Diresta, Kye Layton, Allison Burgess, Karen Dresser-smith, Anderson Dun, Cindy Carrigan, Hope Schiemer, Kate Lavoie, Sarah Haas, Chris Bertelmann, Douglas Beasock, Ken Jackson, Jeffrey Dunne, Dina Grassi, Katarina Whitmarsh, Kelli Olthoff, Christine Angelo, Matt Cofone, Dana Hall, Carol Donoghue, Amy Cole, Sherri Pell, Jennifer Bogdan, Katy Robinson, Beth Dye, Michelle Gates, Amy Gamble, Barclay Bakkum, Heather Coursen, Rachele Hawkins, Wendy Snelgrove, Amy Kleinfieldt, Lisa Hoffman, Eric Hoffman, Allison Dibiase, Patti Sturgis, Bethany Mattiuz-king, Heidi Summers, Sue Castanien, Alison, Maryann Mignano, Beth Kandravi, Theresa Rucando, Wendy Cacka, Carinne Kight and Ryan Conway. Each of you will be entered in the November winners' drawing.
_______________________________________________________________________
Challenge #61: Where in the world is this?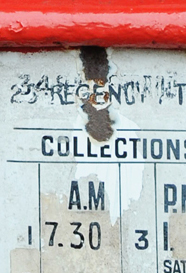 Do you know? Do you have a guess? Send in your answer, before the end of the day on Thursday, November 13, by clicking HERE!
_______________________________________________________________________
Everyone who sends in a correct answer to a Where in the World Challenge this month will be entered in a drawing at the end of the month for some special AllEars® goodies and a cool Disney book!