As they say, variety is the spice of life. It's easy to "spice up" your photographs by simply taking a few minutes to walk around and shoot from different positions. You may find yourself standing on benches, crouching down or leaning over things. Sure you'll garner strange looks from people but you'll have the cooler photos.


I started shooting near the Rock 'N Rollercoaster restrooms.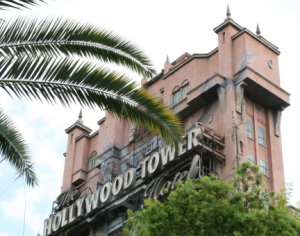 Then I moved closer and stood near the wall and shrubbery between the entrances to Tower of Terror and Rock 'N Rollercoaster.

I moved once more over by the CM exit/entrance by Rock 'N Rollercoaster, walking forward and backwards a bunch while swatting bugs.