As a blog topic, Deb Wills suggested that readers might be interested in
a comparison of attractions at Disneyland and Walt Disney World. It
sounded like an intriguing idea to me…see what you think!
I thought I'd start with one of my favorites: Space Mountain. Which is
at Disneyland in California, and at Magic Kingdom in Florida. Both are
Fastpass attractions, and from the outside they look pretty similar
– both housed in a circular futuristic-looking white building. (Below is
Space Mountain at Disneyland, below that is Space Mountain at Magic
Kingdom.
But once inside, I find they are markedly different. Magic Kingdom's
(MK's) version has two loading areas, and two tracks, whereas
there's only one loading area and track at Disneyland (DL). The
ride vehicles at DL feature three rows of two side-by-side seats,
while those at MK feature a car that looks more like a rocket, with
three single passenger seats. (Each ride has two cars per "train".)
DL's vehicles have a lap bar (every rider has their own bar),
whereas MK's vehicles have a T-shaped bar that goes between the
legs and across the lap. Personally I find MK's vehicles to be
very uncomfortable – you sit so far down in them that with your
legs stretched out in front of you that it's very awkward to get
up out of them! Though they look a lot swoopier than DL's cars. (Below: DL rocket left, MK rocket right.)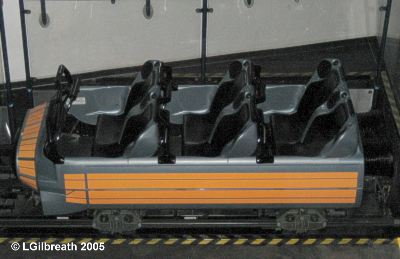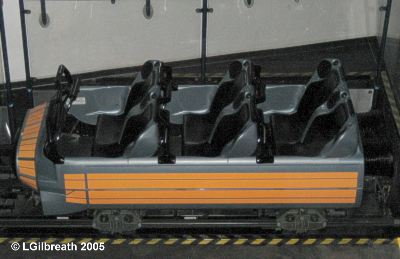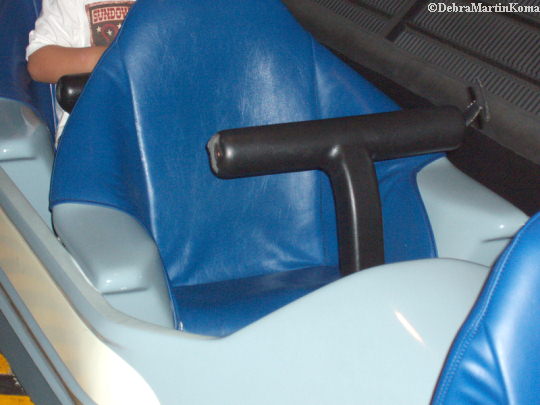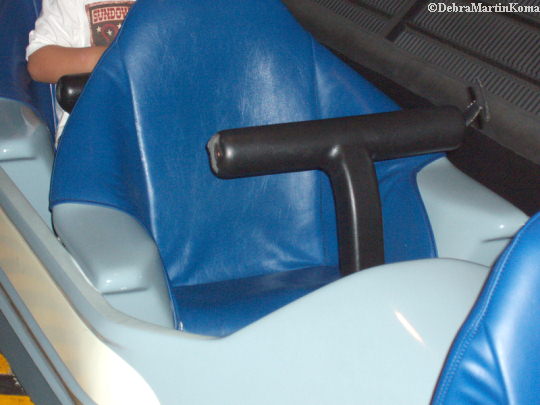 Once the ride begins, I think you might as well consider them to be two
completely different experiences – about all they have in common is that
both are a roller coaster ride in the dark (or in the case of MK, in
the semi-dark).
As you leave the loading area at DL you start hearing futuristic space
music in your ears…while at MK all you hear are the screams of fellow
riders. The music really adds a lot to the experience at DL – the
crescendoes of the music seem to be synchronized with the drops and twists
of the ride. The DL ride is also DARK – quite unlike the MK ride, where
it's light enough to see the track in front of you, and you can see
what's coming. That's my biggest complaint about the MK version of the
ride.
Space Mountain at DL re-opened in 2005 after an almost two-year rehab –
and the improvements really show. Though it was smoother than MK's
attraction even before the rehab, now it's even better, and I think
it's a little faster, too. I find MK's Space Mountain to be
rough and jerky – more like the Matterhorn at DL. I feel pretty beat up
after getting off of Space Mountain at MK, but I feel exhilarated after
a ride on Space Mountain at DL.
Near the end of DL's ride the cameras capture your photo, and you have the
opportunity to see (and purchase) it after the ride. I do have to say that the exit to the attraction is a lot more interesting at MK – at DL you simply climb a set of stairs and go through some space station-y looking hallways, while at MK the escalator passes by various scenes – that whole "lab retriever" thing always cracks me up.
I think it's probably very obvious that I much prefer DL's Space Mountain to MK's…The music makes a huge difference, but even without the music I find it to be a smoother, faster, darker, and better-themed attraction.
To Infinity…and Beyond! (Oops, sorry, wrong attraction…)
Laura