TOURING
AT A GLANCE...
FUTURE WORLD
WORLD SHOWCASE
ENTERTAINMENT
SPECIAL EVENTS
HOLIDAYS
OTHER WALT DISNEY WORLD
THEME PARKS
OTHER DISNEY THEME
PARKS
Epcot Archives

TAPESTRY OF DREAMS
Parade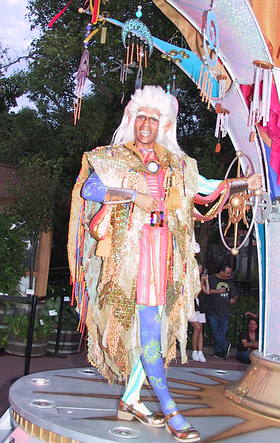 REMINDER: December 15 through December 31 the Tapestry of Dreams Parade will be 3pm and 4:25pm.

IMPORTANT NEWS: OCTOBER 2002 - Tapestry of Dreams now only has one segment that runs during each showing of the parade. To see this wonderful puppetry be sure and locate between Morocco and Germany!
"Tapestry of Dreams," celebrates children, dreams and the legacy of Walt Disney. The parade begins with Dream Seekers dancing alongside the Dream Catcher. The parade is a "visible dream," in which ideas, images and emotions are evoked through the puppets and music.
The Czarina and Czar just happened to catch a performance of Epcot's new Tapestry of Dreams Parade and they say: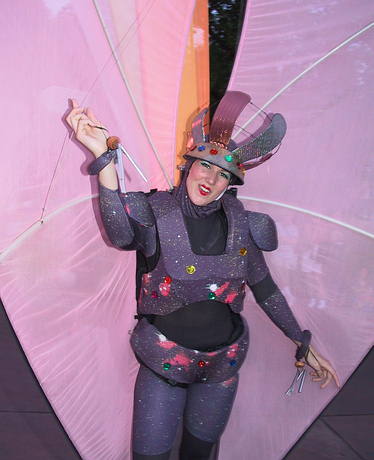 "Tapestry of Dreams is a slightly shorter recycling of the popular Tapestry of Nations Parade from last year's Millennium celebration. It features all-new music, and appears without the Sage of Time figure who used to introduce the old parade. The filmy puppets and circular "clock-drums" are still in place, however. It's a beautiful production and well worth seeing in its new form! "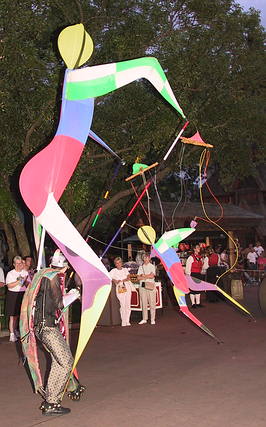 The parade is approximately 20 minutes long (from Mexico to Morocco) and is performed twice a day. During the holidays, the parade is at 4:00pm and 6:10pm, so as not to interfere with the Candlelight Processional. During the remainder of the year, the parade is at 6:30 and 8:10 p.m.
There are eight different types of puppets that are larger than life -- 12 to 19 feet high with wingspans between 8 and 16 feet wide. The oOriginal music was composed by Gavin Greenaway and Jonathon Barr, and recorded in London by members of the London Symphony Orchestra and Royal Philharmonic.
The parade is divided into the Procession and the Celebration.
The Procession blends music with children's voices, each telling their own dream, interspersed with a narrator revealing the power of dreams. There are three Dream Seekers: Elfin (representing nature, magic and emotion) and Cosmo (representing space, the universe and infinity) dance the parade route, interact with guests and "harvest" dreams; Leonardo Columbus (representing discovery, invention and genius) rides the Dream Catcher float, operates its gigantic "wings" and manipulates the float so that chimes and bells ring magically.
The Celebration is a spectacular street festival combining color, music and larger-than-life puppetry that weaves its way through World Showcase. During this joyous celebration, whimsical puppets dance together with guests. Each puppet's specific movements emphasize its distinct character.

The puppets include:
Hammerman -- A futuristic, powerful and mature spiritual warrior that is friendly, with moves similar to a praying mantis.
Discman -- A teenager, class clown, a rag doll who loves people, very interactive, thinks he's a dancer but is uncoordinated.
Reverse Marionette -- A toy-like, fatherly teacher who moves in a tender, gently protective way.
Aztec -- A primitive guardian of the human spirit who moves in a precise, regimented and uplifting manner.
Wiggle Girl -- A flirt, child-like, funny and beautiful, who moves like a dancer in a playful, explosive, interactive and unexpected manner.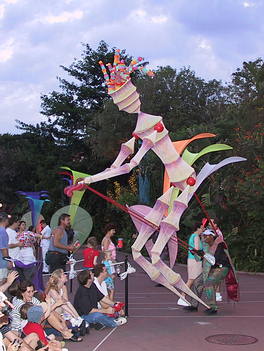 Angel -- A spiritual, uplifting, heavenly puppet whose movement is graceful, inspiring, free and interactive.
Sprite -- A fragile, vulnerable, shy character who moves in a graceful ballet-like manner.
Birdman -- A tribal, eagle-like protector whose movement is majestic, statue-like, slow and commanding.

GUEST COMMENTS:
Have you seen Tapestry of Nations - then you've seen Tapestry of Dreams. You've heard it too, since the music is the same with some new dialogue track layovers. It's one big parade now too - not two sperate ones - so this parade is longer in size, but boy does it clip right along. The puppets barely have time to stop and play with the people. I'll remember Tapestry of Nations fondly. (Kim Ruesch)

Look at Photos from the original Tapestry of Nations Parade