Epcot Archives Shockwave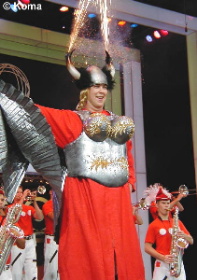 INTRODUCTION
BLAST II: SHOCKWAVE debuted at America Gardens Theatre in Epcot on June 15, 2002. It is the latest production from the creators of last year's popular show, BLAST! SHOCKWAVE is performed four times daily at 4:30, 5:45, 7:10 and 8:15 p.m. and will run through August 24, 2002, at which time a national tour will commence.
What is SHOCKWAVE?
For anyone who has seen the show BLAST!, SHOCKWAVE, which is brought to the stage by BLAST's creators, will come as no surprise. But for the uninitiated, SHOCKWAVE almost defies description. A combination of high-energy precision drills, modern dance moves and popular music, SHOCKWAVE is performed by 40 musicians and dancers who command the entire theater for a half-hour. Not just a drum corps, more than a marching band, the group consists of brass, percussion, and a five-piece saxophone ensemble, as well as baton twirlers, and other performers.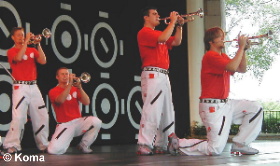 THE SHOW — Shockwave starts with the groups' almost somber entrance to the strains of "God Bless the Child," made popular by singer Billie Holiday. The quiet mood is soon broken, as the performers begin milling about the stage, striking various poses. The selection features an impressive trombone solo.
Pat Metheny's "First Circle" follows, with a baton twirling interlude, as well as some flag work. The show shifts gears with what many may argue is the show's highlight, a whimsical rendition of Queen's "Bohemian Rhapsody," complete with tutus and a Brunhilda who literally ignites the stage with "her" presence.
Once Brunhilda gets her man, the show concludes with jazz great Stan Kenton's "Circle One Suite," featuring extended solo breaks by the percussion and an absolutely incredible saxophonist.
The group exits the stage and mingles with the audience, staying for a few minutes afterward to talk with fans and sign autographs.
TIPS:
Walt Disney World Annual Passholders can get preferred seating for this all-new show by visiting the Epcot Annual Passholder Lounge, located in The Land, on the day of the performance. Priority seating will be held for approximately 100 Passholders per show, so the earlier in the day you can obtain your pass, the better. Passholders will be able to pick up same day priority badges in the Land Passholder Lounge for access to the special seating area. Passholders enter from the Japan side of the pavilion and are seated in the front few rows of the theatre 30 minutes prior to show time.
Dinner packages will not be offered for this year's performances. All seating will be on a free-flow basis into the theater 30 minutes prior to show time.
*****
SHOCKWAVE Sizzles as Epcot Summer Concert Series
LAKE BUENA VISTA, Fla. — What happens after a blast? It's followed with a SHOCKWAVE. The creators of the Tony Award-winning Broadway spectacular "Blast!" return to Epcot this summer to debut their next hit musical production, SHOCKWAVE.
The show makes its world-premiere at America Gardens Theatre on June 15 and can be seen four times daily through Aug. 24. Showtimes are 4:30, 5:45, 7:10 and 8:15 p.m.
SHOCKWAVE will treat Walt Disney World guests to an energetic
exhibition of motion and pageantry. The show's themes of pop
culture and breaking new boundaries are delivered with an
explosion of brass and percussion — plus a five-piece saxophone
section.
"We are excited that our popular summer series is bringing Epcot guests another Broadway-caliber performance," said Epcot vice president Brad Rex. "SHOCKWAVE is certain to entertain guests of all ages."
Four musical sets based on rock tunes, contemporary jazz and world music popularized by legendary artists will immerse guests in the SHOCKWAVE experience. Numbers featured are:
"Bohemian Rhapsody" – by Queen
"First Circle" – by Pat Metheny
"God Bless the Child" – by Billie Holiday
"Channel One Suite" – by Stan Kenton
Jim Mason, the show's creator, said guests should expect a high-energy experience that expands beyond the stage. The 40 performers will not only be displaying musical talent but also interpreting the various musical scenes through movement on and off the stage. The movement is as important to this show as the music.
"It was time to push away the chairs and let the musicians be the actors," Mason said.
Following its world premiere at Epcot this summer, SHOCKWAVE will tour cities around the country.
For more information on Epcot and WDW Live Entertainment, visit Steve Soares WDW Entertainment Website. Steve updates it weekly to give you the latest online information available.