Pandora — The World of Avatar at Disney's Animal Kingdom seeks to fully engage the senses of its guests, and it certainly successfully reaches that goal with Satu'li Canteen. The brand-new quick-service restaurant at Walt Disney World not only offers guests a new way to dine, but it also gives them interesting menu choices that will have widespread appeal.
Satu'li Canteen currently serves breakfast and lunch, and each meal has a separate menu. I sampled some lunch dishes at a media preview with Deb Wills and then others the next day with my family at an annual passholder preview.
Satu'li Canteen's signature dishes are the Create-Your-Own Satu'li Bowls. First, you select a protein: slow-roasted, sliced grilled beef; chopped wood-grilled chicken; sustainable fish fillet; or chili-spiced crispy fried tofu. Then, select your base: quinoa and vegetable salad; red & sweet potato hash; mixed whole grain & rice; or romaine & kale salad. Finally, choose your sauce: Charred onion chimichurri; black bean vinaigrette; or creamy herb dressing.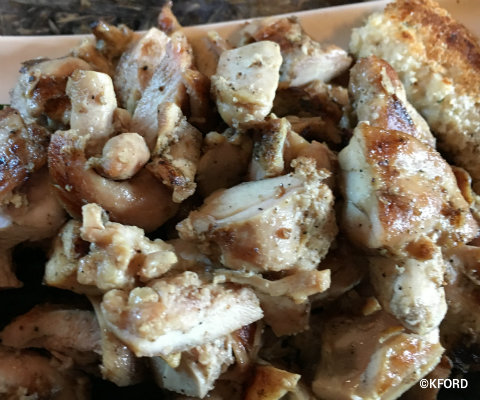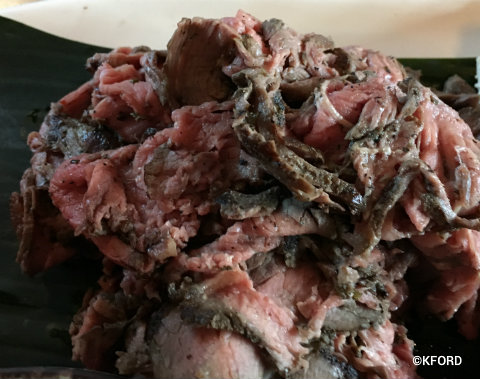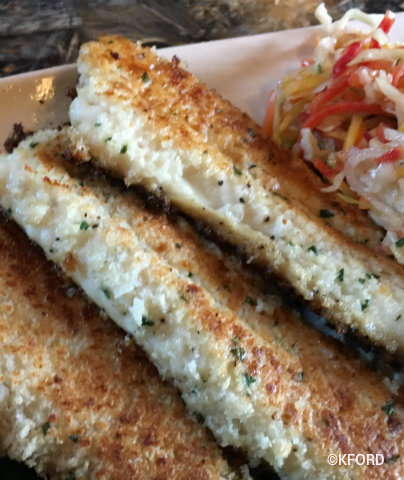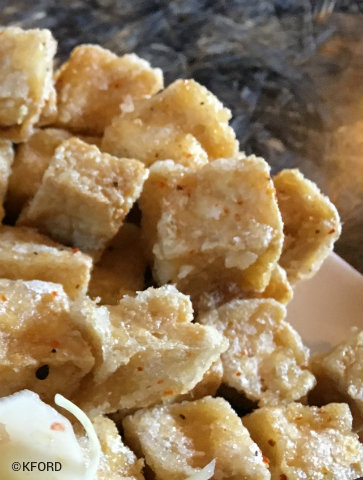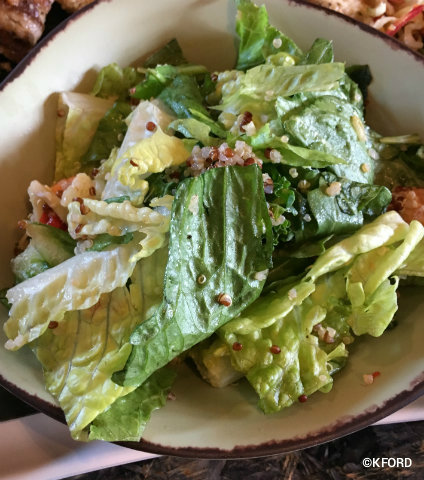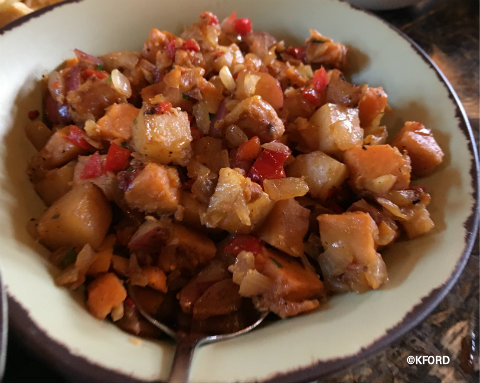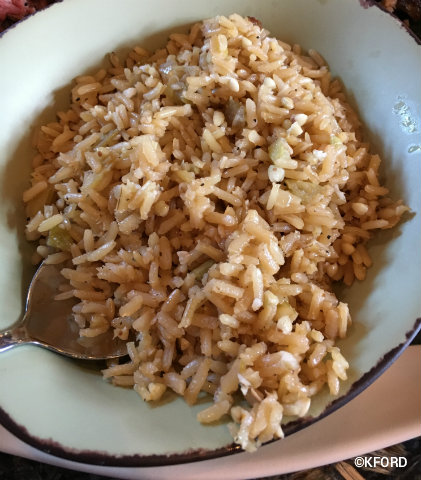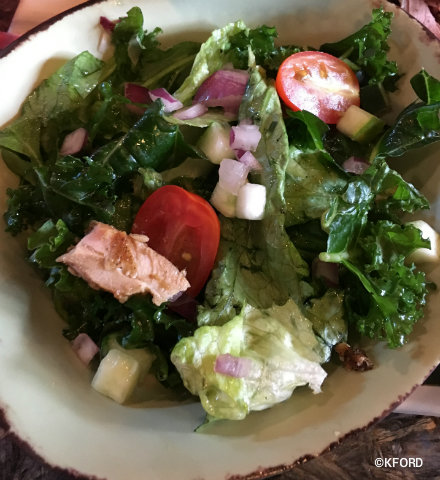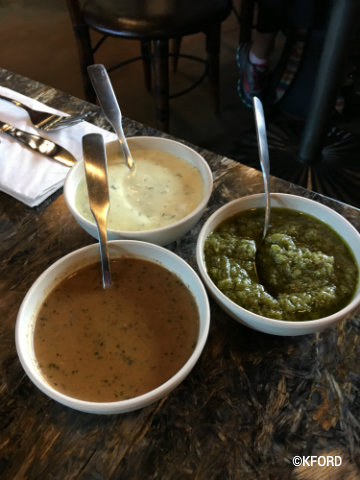 At the media preview, our table was given all the bowl choices to mix and match as our taste buds dictated. And the following day, my 12-year-old daughter tried a bowl with chicken, rice and herb dressing. My husband chose the fish, potato hash and black bean vinaigrette. Honestly, all three of us enjoyed every bowl combination we tried. We liked our meals so much that I'm sure Satu'li Canteen will be our go-to restaurant when we're at Animal Kingdom. (Full disclosure: I did not try the tofu.) One of my good friends tried the beef, potato hash and chimichurri sauce combo and said she found it "filling and flavorful. I appreciated the variety. The steak was perfectly cooked."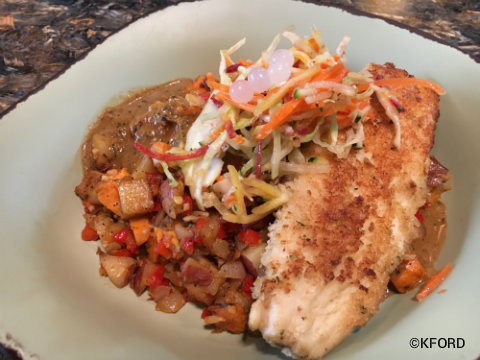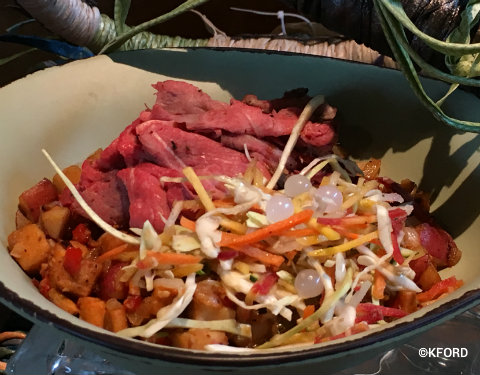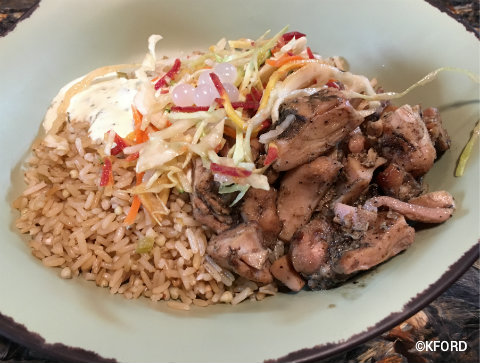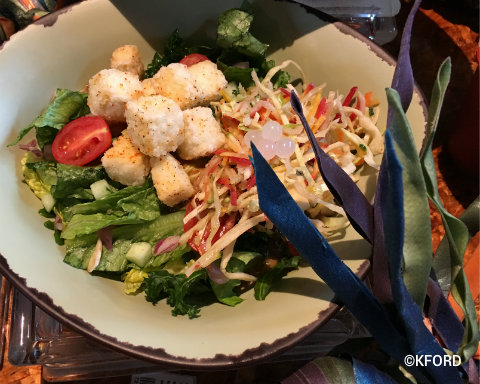 The only component of the Satu'li Bowls that we did not like was the Yogurt Boba Balls. These tiny balls had a strange flavor and left a bitter aftertaste. To be fair, the Boba Balls can easily be removed from the dish if you do not like them.
My 14-year-old son and I sampled the Cheeseburger Pods, which are served with root vegetable chips and crunchy vegetable slaw. The flavor of the burger pods was quite delicious and immediately reminded us of McDonald's Quarter Pounders With Cheese. The "burger" is actually beef crumbles rather than a patty, and the McDonald's flavor probably comes from the ketchup, mustard and pickle already inside the pod. The "pod" is a Bao Bun, which is a fun twist. My son said several times and even wanted to point out for this review that he wished there were other options for sides. He did not like the chips or slaw, and there is nothing that can be substituted. I didn't mind them, though. Guests also can opt for a Vegetable Curry Pod.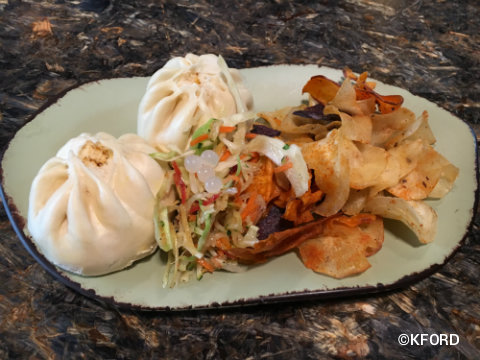 Satu'li Canteen serves a selection of beer and wine, in addition to sodas, coffee and tea. My husband tried the Mo'ara High Country Ale and said it was good but nothing to write home about. My friend opted for the green Hawks' Grog Ale, which she said was lighter and had a fruity aftertaste. Overall, she found it to be more unique flavor-wise. Wines that are available include Banshee Chardonnay, Sonoma; Banshee Pinot Noir, Sonoma; and Dreamwalker Sangria (white sangria with a hint of Blue Curacao). Plus there is a specialty non-alcoholic drink, the Pandoran Sunrise (tropical juices blended with Powerade Melon), which can be purchased with or without the souvenir Na'vi Flute Cup.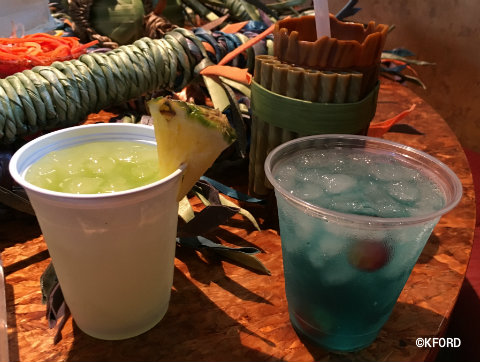 Children ages 9 and younger can choose from four kids meals: Their own version of the create-your-own bowls; cheeseburger steamed pod; Teylu all-beef hot dog wrapped in dough; or a cheese quesadilla. All kids meals (except bowls) are served with chips and a drink.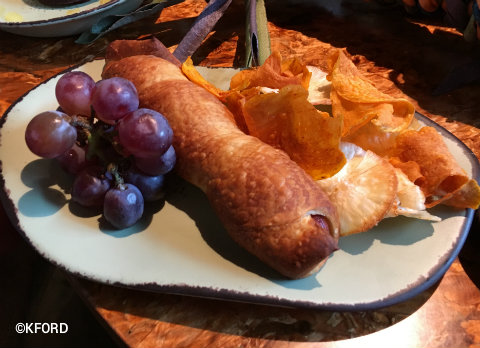 And what would a meal at Walt Disney World be without a beautiful and delectable dessert? My family and I ordered one of each to share: Chocolate Cake with a Crunchy Cake Layer, Banana Cream and Goji Berries and a Blueberry Cream Cheese Mousse with Passion Fruit Curd. Usually, I go for the chocolate dessert, but this one was more bitter than sweet. I definitely liked the blueberry mousse better and cannot wait to try it again.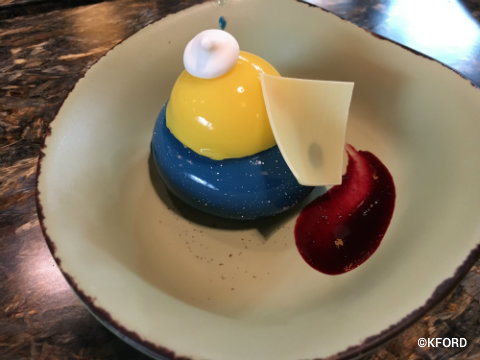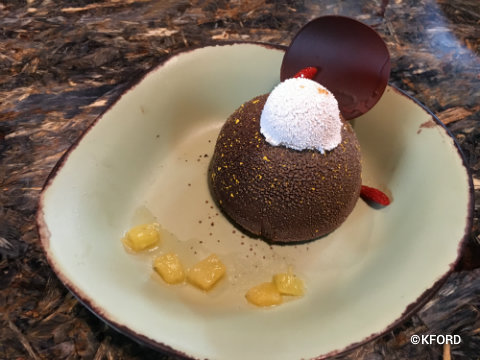 Satu'li Canteen is considered a fast-casual restaurant and is among the first to offer Mobile Order, which allows guests to order and pay for meals on the My Disney Experience app. This means they can bypass the queue to order when they arrive at the restaurant. When they arrive at the restaurant they will tap an "I'm here" button in the app, which will notify the kitchen to prepare the meal. When ready, guests will be alerted through the app to pick up their meal at a designated window.
To read more about the theming of Satu'li Canteen, please see my previous blog post.
Don't forget to tell us about your experience at Satu'li Canteen in the comments below.
DISCLAIMER: I was a guest of Walt Disney World for its media and passholder previews. This did not affect my story; my opinions are my own.