EDITOR'S NOTE: In 2015, the allergy free menu items were moved to the Discovery Island Kiosk, located on the right just past Pizzafari.
I think most of us with food allergies or special dietary concerns would agree that Walt Disney World is more accommodating than most places outside of Mouse World. Now, the folks at Walt Disney World have taken another step to reach out to those with concerns with more accessible information.
Animal Kingdom recently introduced a new kiosk that focuses on Allergy Dining Tips. When I first heard about it, I was quite excited. In addition to having a shellfish allergy, I am also a Type 1 insulin-pumping diabetic, which means I really have to watch what I eat.
So, I made a visit to Animal Kingdom to learn for myself. The kiosk is located to the right of the Tip Board toward Asia, just before the new Mickey and Minnie meet-and-greet location. At park opening, a cast member was standing outside the kiosk. Later in the day, I saw a different cast member inside.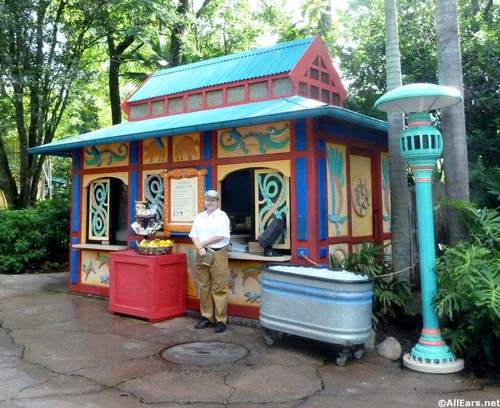 Outside the kiosk is a display of various snacks that you can purchase right there — many gluten-free and some vegetarian. I wonder how many folks see the Allergy Dining Tips sign and stop. While I was there, though, I only saw one family inquire about gluten-free options.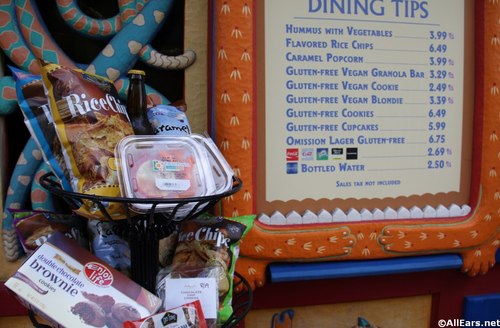 If the words Allergy Dining Tips don't get your attention, perhaps the display of non-typical snacks will. In addition to the fresh fruit, there also are fresh gluten-free and vegan offerings from Downtown Disney's babycakes, packages of gluten-free rice chips, cookies, popcorn, and even beer.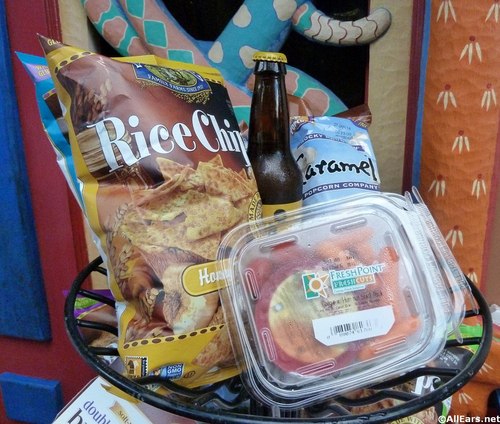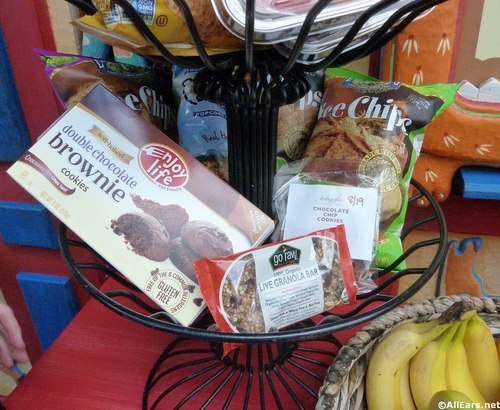 The cast member working at the kiosk was friendly, knowledgeable and eager to answer my questions. I asked if she was a dietician or had nutrition training, but she had not.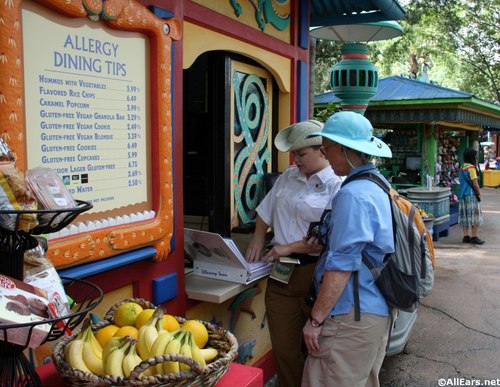 At the kiosk, there is a huge binder for each section of Animal Kingdom. Inside it, each dining location has its own tab.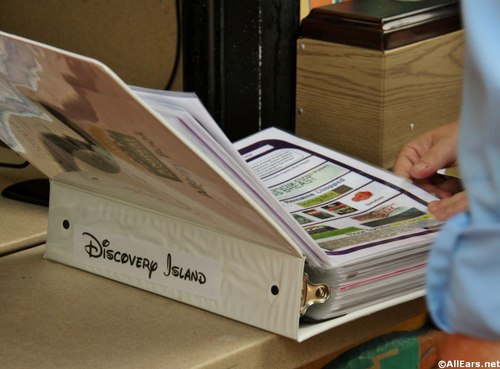 I decided to check out Flame Tree Barbecue, one of my favorite places to enjoy lunch. Usually I order the turkey sandwich on multigrain bread, sometimes with beans and sometimes with cole slaw, so those were the foods I checked out.
Each page is full of information, ingredients and food labels. (Who knew Disney used Ken's Dressings?)
To help you focus on your "need" there are small yellow boxes that highlight "wheat," "corn," "egg," "soy" and other allergens you may want to be aware of.
You can see which products are used and exactly what the ingredients are, even for things like the "dry rub" Flame Tree uses.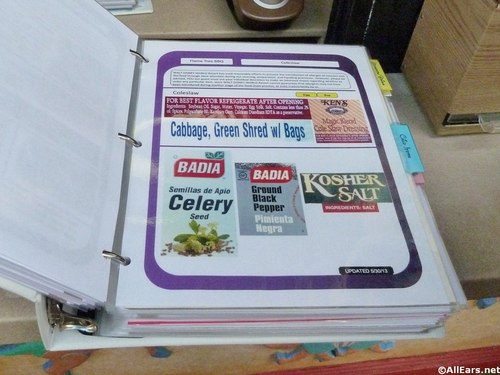 There also is a pamphlet you can take with you called "Allergy Friendly Dining Tips." Inside, three dining locations are highlighted with "allergy-friendly" notes to help guide your decision on what to eat.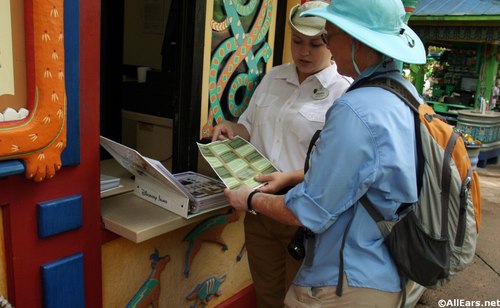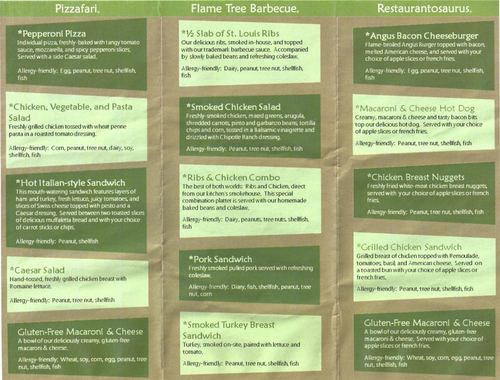 I applaud Disney World's Food and Beverage team for taking the next step in helping folks with food allergies and dietary needs enjoy their dining experiences in the park! As I said in the beginning, there are few regular places that go the extra mile like Disney does. (Try asking for a no-sugar-added or sugar-free dessert sometime!)
I was, however, disappointed to see how many times the words "high fructose corn syrup" jumped out at me. But perhaps that's a conversation for another day!
The one thing I really hoped for, as a diabetic, is to see the actual nutritional information. How many calories, carbs, grams of fat, fiber, etc. make up each item? I realize this is difficult to do for products made from scratch by Disney chefs, but for prepackaged items it would seem to be easy enough to include.
That said, I encourage those of you with allergy or dietary concerns to stop by the kiosk in Animal Kingdom and ask questions. Also let Guest Services know what you think of the information. If all goes well with this Animal Kingdom trial (no idea how long it will be here) the other parks will be getting similar kiosks, too.
Let me know what you think of the new allergy-friendly kiosk and share your experience if you are able to stop by.
(Click on any of the photos for a larger image.)