Step Back: Off Kilter
by
Joan Feder
Feature Article
This article appeared in the December 29, 2020 (#1117) edition of ALL EARS®
Editor's Note: This story/information was accurate when it was published. Please be sure to confirm all current rates, information and other details before planning your trip.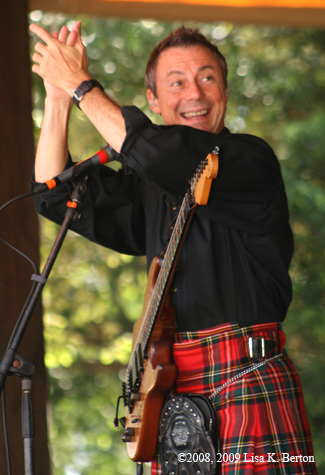 Join us on our monthly journey into the past as we explore the history of Walt Disney World and the Walt Disney Company. This time we look back to January 1997, when Off Kilter started performing at Epcot.
If you visited World Showcase between 1997 and 2014, you probably listened to Off Kilter. During that time, they performed at the Canada Pavilion five times a day, most days of the week. When they were on, you knew it; they could be heard from the Rose & Crown Pub to the Refreshment Port!
Bagpiper and frontman Jamie Holton worked for Disney for years before Off Kilter got its start. In 1990, he performed with the World Showcase's Caledonian Bagpipe Trio. Later, he played at Tokyo Disneyland as the first Fantasyland Bagpiper.
In 1996, Jamie decided to form a band with a world music sound. They would play traditional Celtic music as well as more contemporary rock, but with a Celtic twist.
Luck intervened when he met Mark Weldon, an Irish musician who played bass. Mark's expertise in Celtic music dovetailed with Jamie's plans. Together, they founded Off Kilter.
Their music would be an unlikely blend of bagpipes, fiddle, electric guitars and vocals. Any given set would include classic songs like "Loch Lomond" and more recent tunes like Bachman-Turner Overdrive's "Takin' Care of Business."
The band name was chosen as a nod to both their unique sound and the plaid kilts that the musicians wear.
Disney loved the idea. According to Holton, "As far as I know, we're the first band here that was ever listened to and hired on the same day."
They were a hit with guests as well. Their original stage was located on the World Showcase Promenade. They were so popular that their audiences regularly blocked the walkway. Disney had to build a new stage, set back off of the main drag, in order to make room for the crowd!
On August 28, 2014, it was announced that Off Kilter's 18 year run was coming to an end. They would be replaced in the near future.
The fan backlash was immediate. Thousands signed petitions and objected on social media. Epcot guests protested, waving "Save Off Kilter" signs at their shows during those final weeks. But Disney refused to budge.
Off Kilter made their last appearance at Epcot on September 27, 2014. They performed before hundreds of fans, and played several encores. The evening ended with their version of Steppenwolf's "Born to Be Wild", and the crowd chanting "LET THEM PLAY".
A lumberjack show replaced Off Kilter less than a week later. It was a failure, closing on November 24, 2015. Since then several other acts have tried to fill their boots, but none have succeeded.
All these years later, Off Kilter continues to perform together. Until the pandemic, they toured, playing gigs all over the country. More recently, they did a live show online. Fans can also find them on social media, and on their website, where Off Kilter merchandise and CDs are sold.