Step Back (August/September): The Golden Girls
by
Joan Feder
Feature Article
This article appeared in the August 31, 2021 (#1151) edition of ALL EARS®
Editor's Note: This story/information was accurate when it was published. Please be sure to confirm all current rates, information and other details before planning your trip.
---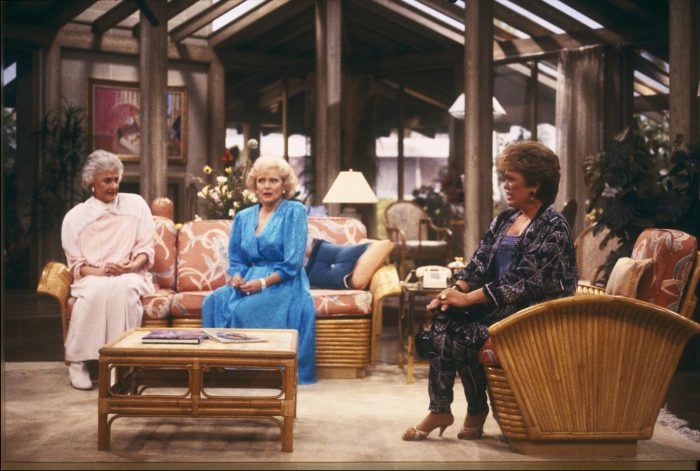 Join us on our monthly journey into the past as we explore the history of Walt Disney World and the Walt Disney Company. This time we look back to 1985 when The Golden Girls made their television debut.
The Golden Girls premiered on NBC on Saturday, September 14, 1985. It was co-produced by the Walt Disney Company under its Touchstone Television banner. It was a huge and immediate hit.
The show starred Beatrice Arthur, Estelle Getty, Rue McClanahan, and Betty White. They played four single, older women who live together in Miami, Florida.
Blanche Devereaux (McClanahan) is a man-hungry Southern belle, who owns the house they all live in. Dorothy Zbonrnak (Arthur) is a sarcastic substitute teacher from Brooklyn. Rose Nylund (White) is a sweet, addlepated native of St. Olaf, Minnesota. Dorothy's mom, Sophia Petrillo (Getty), moves in with them after a fire destroys the nursing home where she lived.
In addition to being very funny, the show was groundbreaking in many ways. It focused on four vibrant, confident women over fifty, which was unique. The sitcom also addressed serious social issues including addiction, assisted suicide, sexual harassment and same-sex marriage.
There were 180 half-hour episodes in all. During that time, The Golden Girls remained extremely popular, ranking in the Nielsen's ratings top 10 for six of its seven seasons.
The last episode aired on May 9, 1992, when Bea Arthur decided to leave the show. Blanche, Rose and Sophia were spun off into their own series, The Golden Palace. It lasted for just one season.
The Golden Girls won 11 Emmys, including one apiece for each of the lead actresses. It also received four Golden Globes. It has been recognized as one of the Best Series of All Time by both TV Guide and the Writers Guild of America.
Fun Facts
Sophia was going to be an occasional guest star. The character proved so popular that she became a regular.
Before he hit the big time, director Quentin Tarantino was on The Golden Girls. He played an Elvis impersonator in "Sophia's Wedding: Part 1", during the fourth season.
Other famous cameos included George Clooney, Burt Reynolds, Alex Trebek, and Mickey Rooney.
There were several foreign versions of the show, including ones in Greece, Russia, the UK, Israel, and the Netherlands.
The lead actresses were all named Disney Legends in 2009.
Only Rue McClanahan was close in age to her character. She was 52, playing 53. Rose and Dorothy were also supposed to be in their 50s, yet both Betty White and Bea Arthur were 63 when the show began.
The age difference was even bigger for Estelle Getty. She was 62 years old when she started playing 79 year old Sophia. It took a lot of time and make-up to help her look the part.
Betty White was originally cast as Blanche and Rue McClanahan as Rose. They switched roles at the last minute and the rest is history!