I Know That Voice: Name That Villain
by
Joan Feder
Feature Article
This article appeared in the November 10, 2020 (#1110) edition of ALL EARS®
Editor's Note: This story/information was accurate when it was published. Please be sure to confirm all current rates, information and other details before planning your trip.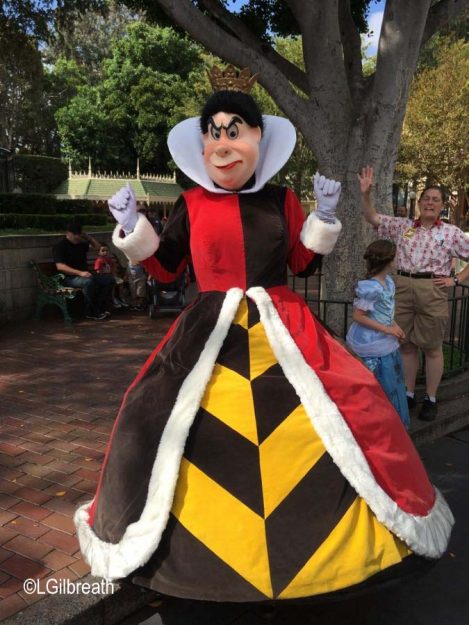 Instead of highlighting the career of one voice actor, we thought it would be fun to test your Disney knowledge. Below are five prolific Disney voice performers. Each one has portrayed a character who is wicked. We are going to tell you a little bit about the actors and their roles. You see if you can name that villain!
Sterling Holloway
Sterling Price Holloway Jr. had a career that spanned from silent films into the mid-1980s. He was a character actor and a voice performer. He appeared in more than 40 television programs and 100 movies.
His first role in animated films was for Disney's Dumbo in 1941. Holloway was the voice of Mr. Stork. Next, he was the adult Flower in Bambi. He played the Cheshire Cat in Alice in Wonderland. Two mice shared Holloway's voice—Amos in Ben and Me, and Roquefort in The Aristocats.
In addition to voicing characters, Holloway was the narrator for many Disney cartoons. He told the tales of The Cold-Blooded Penguin sequence in The Three Caballeros, and Peter and the Wolf in Make Mine Music. He can also be heard in The Pelican and the Snipe, Goliath II, The Little House, Susie the Little Blue Coupe and Lambert the Sheepish Lion (narrating as Mr. Stork).
But of all of Holloway's roles, there is one that everyone knows—Winnie the Pooh. He played the silly old bear for more than 10 years, starting with the very first featurette, Winnie the Pooh and the Honey Tree.
Pooh is not only a fan favorite, he was also Holloway's favorite Disney role.
Now what villain did Sterling Holloway play?
Kaa the snake from 1967's The Jungle Book! This giant python hypnotizes his prey so that he can devour it. He has a taste for Mowgli and is one of the reasons the man-cub must leave the jungle.
When asked how he went from Pooh to python, Holloway said, "Walt came to me, and he's such a stickler for voices, and said, 'When you're finished with what you're doing today on Winnie the Pooh, see what you can do with a snake because I can't find the right voice for it'. I thought, "Wouldn't it be funny to have a snake with an aching back because it would be such a looong ache?"
Trivia:
Holloway was the first voice actor to be named a Disney Legend. At the ceremony, in 1991, he was escorted by his alter ego, Pooh.
After Holloway's death in 1992, most of his Disney roles were inherited by Jim Cummings.
Verna Felton

Verna Felton got her start in show business at an early age. She became a professional when she was 10 years old, and was billed as "Little Verna Felton, the Child Wonder."
While Verna had roles on stage and in films, she was most famous for her performances over the air waves. She appeared on many radio shows during the 40s and 50s, including The Jack Benny Program and December Bride.
Felton did her first voice work for Disney in Dumbo. She played the dual roles of Dumbo's mother, Mrs. Jumbo, and an Elephant Matriarch. She voiced yet another elephant for Disney in The Jungle Book where she played Colonel Hathi's wife, Winifred.
Verna also played two very special magical characters. She was the voice of the Fairy Godmother in Cinderella. Without her, Cindy would never have made it to the ball. In Sleeping Beauty, Felton was Flora, one of the three good fairies.
Felton played someone just as evil as these fairies were good—this character, though, was regal, not magical. Can you name the villain?
The Queen of Hearts from Alice in Wonderland. It is clear that in Wonderland, "all ways are her ways." She is a tyrant, prone to uncontrollable mood swings. Her remedy for any infraction is beheading. Or as she likes to scream, "Off with their heads!"
Trivia:
In Lady and the Tramp, Lady belongs to Jim Dear and Darling. Felton played Jim Dear's Aunt Sarah, owner of Si and Am. Her real-life son, actor John Millar, played Jim Dear.
Bill Thompson
This jack of all theatrical trades was a comedian, actor, and voice performer.
Thompson played many Disney characters, including Alice's White Rabbit, and Prince Philip's dad, King Hubert, in Sleeping Beauty.
In Lady and the Tramp, he played five different roles in five different dialects: Jock the Scottish Terrier, Dachsie the German dachshund, Bill the English bulldog, an Irish policeman and Joe, the Italian cook at Tony's.
Bill Thompson voiced Ranger J. Audubon Woodlore in cartoons with Humphrey the Bear and Donald Duck. He was also the first voice of Scrooge McDuck.
His bad guy is a rascal, scoundrel, villain, and knave—in other words a pirate. Not one from the Caribbean, but from Peter Pan.
Can you name Thompson's claim to bad guy fame?
Captain Hook's first mate, Mr. Smee.
Smee is something of a bumbler. He may not appear to be as evil as some of the other villains on this list, but he is not a good guy.
Above all else, Smee is a pirate. He spends most of the movie trying to get Captain Hook to leave Neverland and get back to plundering the seven seas. He is also is extremely loyal to the wicked Captain Hook. And let's not forget that Smee is the one who kidnapped Tinker Bell!
Trivia:
Thompson was the original voice of Droopy the dog, star of MGM shorts. He also played Droopy's recurring frenemy Spike, (aka Butch), the bulldog.
His last voice for Disney was Uncle Waldo from The Aristocats.
David Ogden Stiers
David Ogden Stiers got his professional start as a Shakespearean actor. He played Major Winchester on the television series M*A*S*H. He also played Reverend Gene Purdy on The Dead Zone.
Stiers did a lot of voice work for many different studios over the years. His first voiceover was for George Lucas' early film THX 1138. Unfortunately, he was incorrectly credited as "David Ogden Steers".
He performed many characters in Disney films. Stiers was both the opening narrator and Cogsworth in Beauty and the Beast. In Lilo & Stitch, he played self-professed evil genius (but actual nice guy), Dr. Jumba Jookiba. He was also the Archdeacon in The Hunchback of Notre Dame, and the narrator for several Winnie the Pooh stories.
Who was the most wicked character that Stiers played?
Governor Radcliffe in Pocahontas. This power-hungry social climber has an insatiable appetite for gold.
He is also cruel and ruthless. As he tells hero John Smith, "This is my land! I make the laws here! And I say anyone who so much as looks at an Indian without killing him on sight, will be tried for treason and hanged!"
Trivia:
Stiers played another character in Pocahontas, Ratcliffe's manservant, Wiggins.
He went to high school with film critic Roger Ebert.
Stiers was a conductor who led 70 orchestras in over 100 appearances. He was the resident conductor of the Newport Symphony Orchestra in Newport, Oregon.
Alan Tudyk
This voice actor was, for a short time, a standup comic. Tudyk performs both in front of and behind the camera.
He played Hoban "Wash" Washburne in both Firefly and Serenity. He also had a supporting role in the Christian Bale/Russell Crowe remake of 3:10 to Yuma.
In cartoons, Tudyk has performed everything from businessmen (Alistair Krei in Big Hero 6) to chickens (Hei Hei in Moana). He also played KnowsMore in Ralph Breaks the Internet.
Tudyk combined his on screen and off-screen skills to play K-2SO, in the Star Wars film, Rogue One. He performed K-2SO via motion capture, and also provided his voice.
Several parts that Tudyk played fall on the villain spectrum. He was the arrogant Duke of Weselton in Frozen—this sleazy diplomat was the first to call Elsa a monster. He also played the similarly named and thoroughly unpleasant Duke Weaselton in Zootopia. But Tudyk has performed a character who is far worse.
What abject villain was voiced by Alan Tudyk?
King Candy in Wreck-It-Ralph. This evil ruler seized leadership of the Sugar Rush arcade game. His failed attempt to delete Vanellope von Schweetz turned her into a glitch. He then banned Vanellope from racing in order to maintain his control of the game.
Tudyk's performance was based on the Mad Hatter in Disney's animated Alice in Wonderland. King Candy looks and sounds like the Hatter's original voice actor, Ed Wynn (who also played Uncle Albert in Mary Poppins).
King Candy was such a convincing baddie that Alan Tudyk won the Annie Award for Voice Acting in a Feature Production for this role.
Trivia:
K-2SO was so tall that Tudyk had to wear stilts during his motion capture performance.
How many villains did you name? We would love to know!