How to Customize Your Disneyland Christmas
by Autumn Hilden
AllEars® Feature Writer
Feature Article
This article appeared in the December 20, 2016 Issue #900 of ALL EARS® (ISSN: 1533-0753)
Editor's Note: This story/information was accurate when it was published. Please be sure to confirm all current rates, information and other details before planning your trip.
One of the best parts about the holidays is that you and your family have special traditions that make the time uniquely yours. Your favorite memories were made with specific food, music, people, and events. Glad tidings! There's no reason to give up what's meaningful to you while visiting the Happiest Place on Earth. Just customize your trip to fit your preferred celebration vibe. Here's how to get exactly what you want for Christmas at Disneyland this year.
Busy Sidewalks
If you're a strong believer in more being merrier, make Disneyland Park your holiday headquarters. This time of year, Walt's original toyland becomes an explosion of lights, music, parades, and unique rides to keep your spirits bright. It's a classic Disney experience and what most visitors expect when they go to Disneyland for the holidays.
Highlights of the events: a nightly snowfall that charms So Cal locals, who faithfully stop and marvel at the faux flakes while a beautiful rendition of "White Christmas" plays in the streets; Disneyland's fleet of horses, clopping along wearing wreaths of beautiful, sonorous jingle bells; giant gourmet candy canes made fresh on the premises (so popular the dates and times of their release are staggered and published in the OC Register); and "it's a small world" Holiday, festooned on the outside with lights enough to make the Osborne family jealous and transformed on the inside with Christmas and winter costumes, music, and sets. Last but not least, there is the unique-to-Disneyland Haunted Mansion Holiday, a "Nightmare Before Christmas"-themed retelling of Jack Skellington's quest for the joy of Christmas. Keep an eye out this year for a brand new Sally animatronic and a Sally-influenced gingerbread house crowning the mansion's feast table! Just beware, when it comes to Christmas at Disneyland, "busy sidewalks" is no understatement.
Heavenly Peace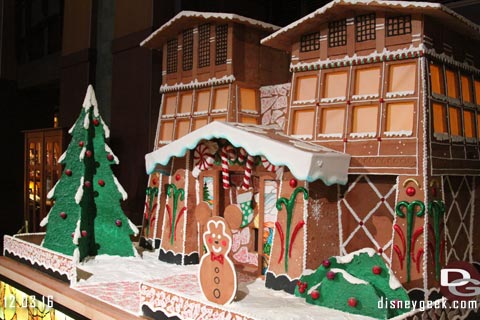 When the holidays mean quietude, time and space to enjoy your loved ones, and a dash of Christmas delight, center yourself outside of the parks to observe the season. Downtown Disney and the hotels of the Disneyland Resort are dusted with just enough magic to give that winter sparkle, but not overwhelm those who like a cozy Christmas. You'll find plenty of shopping opportunities at Downtown Disney, and with much lower crowds than inside the parks. For Disney merch, check out World of Disney (during weekdays if you want to avoid other shoppers), Vault 28 and D-Street for tweens, teens, and young adults; the Marceline Confectionery; and Wonderground Gallery.
You can also hit the gift shops inside the resort's three adjacent hotels, where you'll find a relaxing holiday atmosphere in lobbies and restaurants. For a slow way to savor the season, make reservations for holiday high tea at Steakhouse 55. Or if you like your drinks with a little more spirit, stop in at Trader Sam's for a Red-Nosed Zebra. At the Grand Californian, be sure to bite into a chewy, glazed gingerbread man from the lobby refreshment table. They're the best cookies at Disneyland! And keep your eyes peeled for Santa and a troupe of Dickensian carolers, both of which like to check in with guests who are warming by the hotel's oversized yuletide fire.
Over the Hills and Everywhere
This year, Disney California Adventure is kicking off a brand new Festival of Holidays celebration around the park. Throughout DCA, enjoy the Festive Foods Marketplace kiosks, serving multicultural and international specialties, such as Swedish meatballs, rice pudding, mulled wine, baklava, winter mint milk tea, sweet potato pie, Reuben potato smash with Russian dressing, pork bao, a cardamom and saffron sweet cheese tart with mulled fruit (on my list), and spiced peanut brittle (excellent and actually quite spicy). And of course the tradition continues in the Paradise Pier area with Viva Navidad's Mexican holiday goodies, like tamales, pozole, and cinnamon bunuelos.
As you celebrate the season with food and drink from around the world and around the block, also look for special entertainment. You'll be able to catch traditional Indian (Bollywood-style) folk dancing; a rocking klezmer band; R & B a capella Christmas jams; the Grammy-winning, all-female Mariachi Divas, and more. The Festival of Holidays celebrates goodwill to all!
Auld Lang Syne
A traditional American celebration of Christmastimes gone by is the specialty of DCA's Buena Vista Street. There you'll find the Red Car Trolley all decked out for the season (definitely take a ride), a huge tree with vintage-style ornaments and gold and silver tinsel, and characters who have donned period-appropriate apparel and seem to materialize from among the crowd to meet and sing together. Buena Vista Street's shops and department stores feel especially appropriate at this time of year, with fantastical store windows, mannequins clad in festive finery, and a bustling retro atmosphere that buzzes throughout. The scene is made even more merry by the music floating on the air. It harkens back to the 1920s, '30s and '40s, with arrangements that feature dreamy vocals and red-hot instrumentals from big bands. While you're there, raise a toast to holidays past with a Poinsettia Cocktail from the bar at Carthay Circle Lounge. And we won't tell Santa if you sneak into Starbucks for a sweet treat that is more this-century.
However you celebrate the season, we wish you the merriest, debonair-iest, nothing-can-compariest, bowl-of-cherriest of times with friends and family this year.
= = = = = = = = = = = = =
RELATED LINKS
= = = = = = = = = = = = =
= = = = = = = = = = = = =
ABOUT THE AUTHOR
= = = = = = = = = = = = =
Autumn Hilden is a Los Angeles-based writer and editor. She has worked for Disney Publishing Worldwide and The Jim Henson Company and is currently writing books for young adults. Autumn grew up taking family photos in front of the waterfall pool at the Polynesian Village Resort and selecting "desert" for the final flight on Horizons. She now embraces Disneyland as her happiest place on Earth. You can follow her on Twitter here.
---
LEND US AN EAR
… from AllEars® Editor Deb Koma: This publication marks the 900th issue of the AllEars® Newsletter! We normally would devote an entire feature to this auspicious occasion, but given the busy holiday season, we just have time to say a quick THANK YOU to the following:
— to all of our regular feature and featurette writers: Disney Historian Jim Korkis, Kristin Ford, Autumn Hilden, Al Krombach, Ruth Morehart, and Hidden Mickey Guy Steve Barrett, as well as our friends at Disney Food Blog and DVC News, who supply us with tidbits of news we might not otherwise hear. We also want to acknowledge our many guest columnists, readers who are generous enough to share their stories for publication.
— to our other contributors: They proofread, take and select photos, answer mail, and provide so much support (editorial and moral): Jason of disneygeek.com, Linda Eckwerth, Erin Blackwell, Glo from Miami, Lee Zimmerman, Joan Feder, and Jack Marshall. We also thank regular AllEars.Net bloggers Laura Gilbreath, Jeanine Yamanaka, Scott Thomas, Gary and Carol Cruise and Chuck Schmidt, whose work is sometimes also featured in this newsletter.
— to our advertisers: Their ongoing support permits us to distribute this newsletter to you free of charge. They are a big reason we are able to continue to do what we do, so please join us in thanking them, too.
— to YOU, our wonderful subscribers. Honestly, there would be no 900th issue without the thousands of you. Your continued trust and belief in us, along with your feedback and positive energy, encourage us to go on, as we try to put out a useful publication worthy of your precious time.
Thank you all for the previous 899 weeks. We look forward eagerly to the next 100!
-o-o-o-o-o-o-o-o-o-o-o-
Editor's Note: This story/information was accurate when it was published. Please be sure to confirm all current rates, information and other details before planning your trip.