Here Comes the Sun! Tips for Beating the Heat
by Alice McNutt Miller
AllEars® Feature Writer
Feature Article
This article appeared in the May 20, 2014 Issue #765 of ALL EARS® (ISSN: 1533-0753)
Editor's Note: This story/information was accurate when it was published. Please be sure to confirm all current rates, information and other details before planning your trip.
You've heard the advice: Do NOT visit Walt Disney World during the summer months. It's too hot! It's too crowded! Why would you do something so crazy? Well, it just so happens that the summer months are when most kids don't have school, and when many grown-ups are expected to take their annual vacations. Therefore, summer might be the ONLY time that a family has to visit the World. My advice: plan away! We actually think that summer is a GREAT time to visit Disney World. While the parks might be more crowded, lots of guests mean longer hours and more open attractions, restaurants and outside-the-parks activities. The water parks draw you in, misters are going full blast, and suddenly Kali River Rapids is very appealing. There is, however, no getting around the fact that the summer months in Central Florida can be hot, humid, sticky, and WET (daily afternoon thundershower, anyone?). Following are a few of the Miller Family tips for beating the heat at Disney World during the summer (or any other time of the year, when the mercury climbs):
1. Stay hydrated! Water, water, water. My most important tip for surviving the Florida summer heat is to drink LOTS of water. Know where the drinking fountains are located. Most are near the restrooms, but there are other fountains located throughout the parks. If you see one, use it, even if you are also toting a water bottle. Buying water bottles in the parks can be expensive, but you can buy one early in the day, then refill the bottles at drinking fountains as you move along. Many guests also either bring cases of water with them in their cars, or order them from a grocery delivery service, and have them delivered to their resorts. If you have a refrigerator or freezer in your resort room, chill or freeze the bottles for use later in the day. An even better (and greener!) idea is to bring your own refillable bottles, and fill throughout the day. Guests can also request free cups of water at many counter service locations. If you don't like the taste of Florida tap water, there are water flavoring packets and drops that are portable and come in lots of fun flavors.
Another hydration trick is to snack on fruit throughout the day. Toss a couple of apples in your backpack, and know which refreshment stands sell fruit along with other snacks. Each park has at least one — like the Liberty Square Market in the Magic Kingdom and the Harambe Fruit Market in Animal Kingdom.
2. Gimme shelter! Avoid being outside during the hottest hours of the day. We try to hit the parks right at opening any time of the year that we visit, but this strategy becomes very important during the hot summer months. The sun's rays are strongest between 10 a.m. and 2 p.m. The American Academy of Dermatology (AAD) says that if your shadow appears to be shorter than you are, seek shade. After visiting a park for the first two or three hours after opening, return to your resort for a nap, an afternoon matinee with a Disney movie in the DVR, or a quick dip in the cool pool. Plan to return to a park in the evening hours after things have started to cool down a bit, and you will no longer be in the direct sunlight. Make good use of both the early and late Extra Magic Hours if you are a WDW resort guest.
If you are not leaving the park for the day, consider saving inside attractions and shows for the hottest times of the day. Mickey's Philharmagic in the Magic Kingdom, Muppets 3-D in the Hollywood Studios and It's Tough to be a Bug in the Animal Kingdom are favorite spots for cooling off for my family. In Epcot, the World Showcase movies in Canada, France and China do the trick, and the Innoventions Pavilions are great places to beat the heat, and let the kids blow off steam with some hands-on activities in a fully air-conditioned environment. If you are walking down Main Street in the Magic Kingdom on your way out of the park, walk through the gift shops, rather than in the street.
3. Cover up! The AAD recommends wearing protective clothing, such as a long-sleeved shirt, pants, a wide-brimmed hat, and sunglasses, where possible. If you just can't fathom covering up to this extent in the heat and humidity, at least consider longish shorts and shirts with sleeves, even if they are short. My kids have always hated the fact that I made them wear short-sleeved t-shirts rather than tank tops or tops with thin spaghetti straps, but over the years their burn-free shoulders have thanked me! The AAD also recommends applying a broad-spectrum, water-resistant sunscreen with a Sun Protection Factor (SPF) of 30 or more to all exposed skin. "Broad-spectrum" provides protections from both ultraviolet A (UVA) and ultraviolet B (UVB) rays. Reapply every two hours, even on cloudy days, and after swimming or sweating. If you forget to bring sunscreen, it is available in almost all of the park gift shops and many of the merchandise kiosks. If you are bringing Baby, don't forget to cover or apply sunscreen to those adorable exposed toes sticking out from under the stroller canopy!
4. Let's do lunch! On really hot days, we might decide to do a long, leisurely lunch at a table-service restaurant rather than trying to jockey for one of the few tables in the shade at a counter-service location. If you are on one of the dining plans, consider using your table service allotment at lunch, rather than for dinner. Sitting in a cool restaurant with an icy drink while waiting for your food order sure beats standing in long lines waiting for a counter service order to come up. Our hot weather faves include the Sci-Fi Dine-In Theater at the Hollywood Studios, the Yak and Yeti at the Animal Kingdom, the Crystal Palace at the Magic Kingdom, and Teppan Edo at Epcot.
5. Soak it up! When we visit the World during cooler times of the year, we avoid the "wet" attractions like Splash Mountain at the Magic Kingdom and Kali River Rapids at the Animal Kingdom. However, on a really hot day, those attractions are not only tons of fun, but getting soaked is an easy way to cool down. Water play areas and misters are also big draws on hot days. Remember though, that wet feet are unhappy feet. Bring an extra pair of socks in a zipper-topped bag to change into if your sneakers get wet, or wear water shoes that will dry quickly after getting soaked. Also, be sure to reapply sunscreen after getting wet.
6. Take the plunge! Consider swapping a day in one of the four major theme parks for a day of keeping it cool in one of Disney World's two amazing water parks. When we visit during the summer months, we always try to fit in a least half a day in either Typhoon Lagoon or Blizzard Beach. We still prefer to arrive at opening time, when we can usually hit all of the major slides in the first two hours — even on the busiest days — then spend a couple of hours floating down the lazy rivers and playing in the wave pools. We then grab a quick lunch and some yummy hot mini donuts, and leave the park just as the waves of afternoon visitors are arriving. As you walk through the park, stop at drinking fountains to rehydrate. Sometimes when your outside is wet it is difficult to remember that your insides also need water. Finally, don't forget to reapply the sunscreen at regular intervals!
7. Take up the Quest! DisneyQuest, Disney World's indoor interactive theme park at Downtown Disney is a great place to escape the Central Florida weather and might make a great afternoon activity on a hot day (maybe after a cool morning at a water park). Kids can raft down rivers, battle pirates, and enter the virtual world of comic book heroes, while Mom and Dad play some classic video games or simply find a bench where they can just sit and chill.
8. Hooray for Hollywood! Other good Downtown Disney options for beating the heat are taking in a movie or getting in a set of bowling. The AMC Theatres in the West Side show a full slate of first-run movies, and the Fork and Screen selections will even allow you to have lunch or dinner with your movie. With the recent addition of the Splitsville Luxury Lanes, families can strap on some bowling shoes and test their skills while also avoiding mid-day heat and humidity. Splitsville also offers a wide variety of food options in its restaurant.
9. I scream, you scream, we all scream for ice cream! Mickey Bars, waffle cones, gooey sundaes. Mmm. Summer is definitely the right time for indulging in a sweet, cool treat. Find a shady spot, prop up your tired feet and watch the world go by.
That's how we cope when we're trying to beat the heat. What are your favorite spots to hide out or things to do when it gets "hot in herrrre?"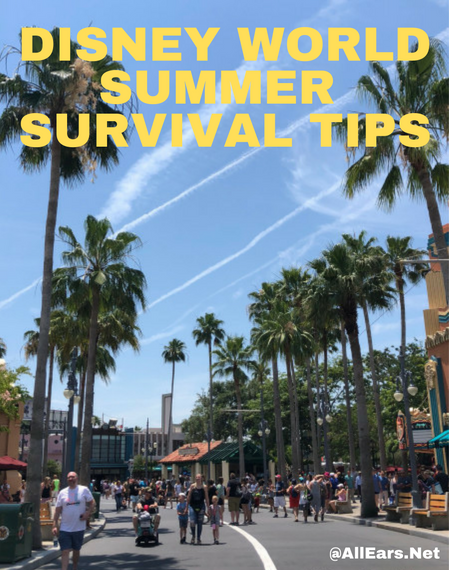 =-=-=-=-=-=-=-=-=-=-=-=-=-=-=-=-=
ABOUT THE AUTHOR:
Alice McNutt Miller is a lifelong Disney fan whose fondest childhood memories include "The Wonderful World of Disney" on Sunday nights and her first trip to Disneyland when she was 10 years old. Alice and her family are Disney Vacation Club members, and have now visited every one of the Disney parks throughout the world. They live in Vienna, Virginia.
=-=-=-=-=-=-=-=-=-=-=-=-=-=-=-=-=
RELATED LINKS
Summer Sun Survival Tips:
http://allears.net/ae/issue292.htm
What to Pack:
http://allears.net/pl/pack.htm
-o-o-o-o-o-o-o-o-o-o-o-
Editor's Note: This story/information was accurate when it was published. Please be sure to confirm all current rates, information and other details before planning your trip.