Don't Let The Rain Dampen Your Spirits
by Debra Martin Koma
AllEars® Editor
Feature Article
This article appeared in the July 19, 2016 Issue #878 of ALL EARS® (ISSN: 1533-0753)
Editor's Note: This story/information was accurate when it was published. Please be sure to confirm all current rates, information and other details before planning your trip.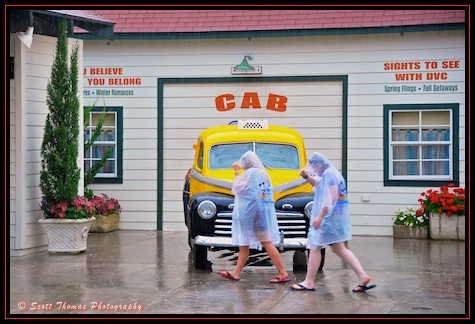 As I was writing this week's feature, it was a beautiful, if beastly hot, summer day. The temp had climbed well into the 90s and the humidity wasn't far behind.
A few minutes ago, however, the room darkened suddenly, so much that I had to turn on some lights. I looked outside to see a sky filled with menacing black clouds. And then it happened. A flash of lightning and a crack of thunder. And it rained. And it rained. The deluge.
As I experienced this moment (brought to you by the former "Living Seas" film in Epcot), I realized that this is pretty much how it happens nearly every summer afternoon at Walt Disney World. You're running around the theme parks, having the time of your life, when all at once you're caught in a sudden, if somewhat predictable, downpour. What to do? Do you let it spoil all your carefully made plans? Or do you just, as Crush the turtle from "Finding Nemo" advises us, "go with the flow"?
I know a lot of you might think it's not worth heading to, or staying in, the parks when it's raining. But I'd like to make a case for taking my friend Crush's advice. In fact, I think if you're well-prepared, there's no reason for you to stay indoors and miss out on the theme park fun you were planning. Consider this: The parks won't be as crowded in the rain, because many people won't be as intrepid travelers as you! Fewer people in the parks means shorter wait times in the attraction queues! That alone is reason enough to brave the bad weather, in my opinion.
This is not to say that the rain won't affect you at all — it probably will, in at least some of the following ways:
— Some rides will close for safety reasons whenever it rains. The most obvious ones are the outdoor thrill rides like Test Track and Big Thunder Mountain Railroad.
— Also, understand that getting from park to park may be a bit more complicated. Boat transportation will be suspended if there's lightning (like I'm experiencing right now – yikes!) in the area.
— If you are going to be walking around in the rain, you're going to get wet, so wear a lightweight poncho or rain slicker. If you think you'll be too hot in those, bring an umbrella, although they are usually more awkward to handle, not to mention more dangerous to those around you. Also consider bringing a change of socks, just in case your feet get soaked. Walking around in squishy, chafing socks is a sure way to grow a blister.
— The weather might get really wild, forcing you to hunker down indoors. If there's a hurricane or electrical storm, DO NOT go out in it. Keep all the "thrills" on the thrill rides!
But once you've taken all that into account, you're ready to commence vacationing ala acqua.
Here are some tips for making the most of your moist meanderings.
EPCOT
I nominate Epcot as the best theme park to spend a rainy day in, with lots of indoor attractions and activities that will minimize your outdoor time. World Showcase is especially conducive to a rainy day visit, as moving from country to country requires only a brief walk outdoors. This might be the perfect opportunity to visit those shops in Japan and Mexico that you never make time for, or for watching the films in China, France and Canada again. And don't forget the American Adventure — you can catch the Voices of Liberty's a cappella set and follow it up with watching the film. That's an hour right there, and by then maybe the outdoor outburst will have passed.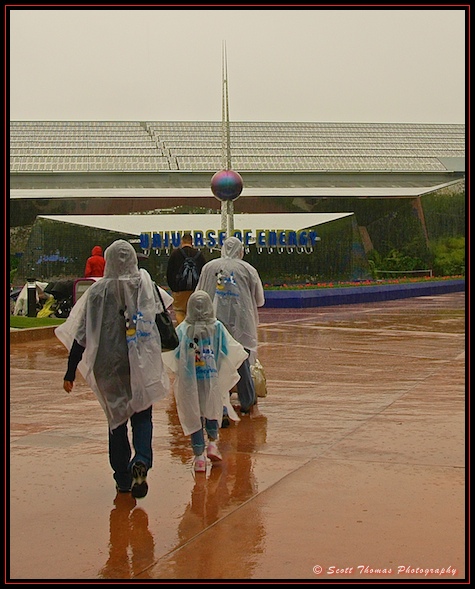 In Epcot's Future World, I find that you can spend quite a bit of time exploring the Land pavilion, which has so much more to offer than just Soarin' Around the World (although I could probably see that new film four or five times in a row, at least). Besides Soarin', don't miss Living with the Land, and the oft-maligned Circle of Life film. And try taking the Behind the Seeds walking tour, an interesting sneak peek at the greenhouses of the pavilion. You'll find the sign-up desk adjacent to the entrance to Soarin'.
Finally, Epcot has some great places to just "hang out" with an adult beverage and some friends — La Cava del Tequila (Mexico pavilion), I'm thinking about you. And also the Rose and Crown Pub in the UK pavilion and Tutto Gusto, the wine bar tucked back in the Italy pavilion. There's also Spice Road Table in Morocco — it's not usually crowded even on a dry day, and its waterside views around World Showcase Lagoon, not to mention some of its tasty small plates, are lovely to behold.
And for heaven's sake, don't leave the park before IllumiNations just because there's a little rain. The show will go on, unless there are heavy winds or lightning, and you'll have your pick of prime viewing locations.
MAGIC KINGDOM
If rain strikes on your designated Magic Kingdom day, don't despair. You may get a little wetter than you would at Epcot, but there are still plenty of ways to stay dry here. First of all, did you know that the shops on the one side of Main Street USA are connected? You can walk from the Emporium all the way up to Casey's Corner almost completely under cover. That's a lot of shopping, while you stay safe and dry.
Many of the new character meet & greets in Magic Kingdom (and in the other parks, too, for that matter) are in enclosed, and air-conditioned, spaces now, making these encounters even more enjoyable on a rainy day. If meeting Tinker Bell and Mickey, the Princesses, and Goofy, Donald, Minnie and Daisy Duck is on your list, then be sure to make your way to Town Square Theater, Princess Fairytale Hall, and Pete's Silly Sideshow at Storybook Circus respectively for some quality facetime.
Lots of other indoor attractions around Magic Kingdom are just as much fun in the rain as they are in the sun — Pirates of the Caribbean, Haunted Mansion, Buzz Lightyear's Space Ranger Spin and others are completely oblivious to the weather conditions, so if you don't mind splashing through puddles to get there, why not enjoy them? And if it's STILL raining once you've ridden everything on your list, you might want to venture into the new Jungle Navigation Co. Ltd. Skipper Canteen to admire the decor and try their yummy version of the Kungaloosh — chocolate cake with caramelized bananas and cashew-caramel ice cream topped with coffee dust. There are worse ways to pass a rainy afternoon.
DISNEY'S ANIMAL KINGDOM
Thinking about spending the day with the animals, but it's pouring? Never fear, Disney's Animal Kingdom is actually not a bad park during foul (not fowl) weather. The rain may keep lots of people away, but the animals don't seem to mind much. In fact, in my experience they seem to come out more when the raindrops help drop the temperature. So don't think twice about taking a ride on Kilimanjaro Safari — I've seen more active animals during rainy rides than almost any other time. The same goes for walking one of the trails. The good thing there is that the dense greenery above shields you from the worst of the rain.
There are a surprising number of indoor activities in this park, too – you can stay nice and dry at Festival of the Lion King, It's Tough to Be a Bug and, my personal favorite, Finding Nemo – The Musical. Don't forget Rafiki's Planet Watch — take the Wildlife Express train and then spend some time perhaps watching an animal medical procedure, or talking to cast members who bring out wild birds and other critters for informative talks. Of course if you're wet anyway, this might be the best time to take that ride on Kali River Rapids that you've been putting off. Another nice way to spend a rainy day in this park — new addition Tiffins restaurant and its adjacent Nomad Lounge. Dining here is a splurge, but just taking the time to examine all the wood carvings and other artifacts in this gorgeously designed new space is worth the effort.
DISNEY'S HOLLYWOOD STUDIOS
Finally, there's Disney's Hollywood Studios. I've heard some complaints from readers lately that there's not much to do in this park these days. Lots of closures have occurred recently, as it prepares for its expansion, which will include both a Toy Story themed land and a Star Wars one. In my opinion, though, this relatively compact park is perfect for a rainy day, with nearly all of its major attractions indoors or under cover.
Wet weather won't affect the indoor Rock 'n' Roller Coaster, nor will it dampen any excursions you might want to take to Naboo or Hoth on Star Tours – The Adventures Continue. Also well protected from the elements are the recently expanded Toy Story Mania, MuppetVision 3D, Voyage of the Little Mermaid, and the First Time in Forever Frozen Sing-along. Even the Indiana Jones Stunt Show and the Beauty and the Beast show are usually unaffected by inclement weather, and walking from one side of this park to the other isn't the squelchy hike that you might have in its three counterparts.
OUT OF THE PARKS
If I still haven't convinced you to brave the elements in the theme parks, I have to concede that there's no better place to weather the storm(s) than a Disney resort. They all have arcades for the kids (and kids at heart) and some shopping areas if either of those activities are up your alley. You can even hop the monorail and visit the resorts along its route, sampling their arcades and shops. Most Disney hotels offer a variety of other activities as well. Animal Kingdom Lodge in particular has plenty of interesting programs for both young and old. Just ask at the hotel's Lobby Concierge. One of my favorite spots to while away the rainy hours is the Belle Vue Lounge off of the lobby at the Boardwalk. Besides having great adult beverages, there are comfy sofas and chairs, or a covered balcony, and board games like checkers.
If you're staying in a Disney Vacation Club resort, I'm sure you know about the Community Hall, which will have a supply of indoor activities — board and video games and the like, maybe even foosball or table tennis. And if you're staying at a deluxe resort, or Coronado Springs, there will be fitness equipment if you're inclined to work out, as well as spa treatments. I mean, what could be better than getting pampered with a relaxing massage on a rainy day? Maybe that's just me.
If you're feeling restless and want to get out of the resort, there's the whole new Disney Springs waiting for you to explore. There's plentiful shopping, but you're bound to get a little damp going from store to store. Instead, you can join the throngs who will be playing games at DisneyQuest, or go bowling over at Splitsville, or see at movie at the AMC Theaters.
And finally, here's a concept — you're on vacation, so why not sleep in and/or indulge in a sweet rainy-day nap? OK, I guess that's even better than the massage.
So, have I "w(h)et" your appetite for taking on the Disney theme parks and more, even when the weather isn't perfectly cooperating? I hope so! There's a whole lot of fun to be had out there, rain or shine.
Be sure to drop us a note to let us know what YOUR favorite "Rainy Day at Disney" tips are!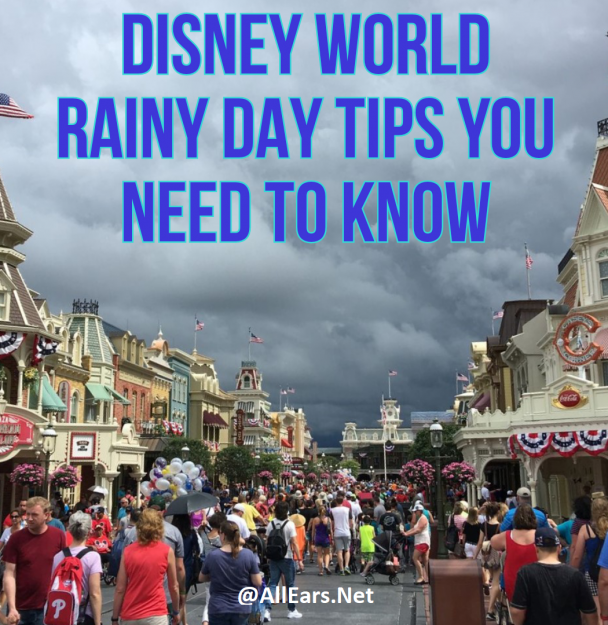 = = = = = = = = = = = = =
RELATED LINKS
= = = = = = = = = = = = =
Rainy Day Tips from the AllEars.Net Tips Database
Raindrops Keep Falling on My Head
-=-=-=-=-=-=-=-=-=-=-
-o-o-o-o-o-o-o-o-o-o-o-
Editor's Note: This story/information was accurate when it was published. Please be sure to confirm all current rates, information and other details before planning your trip.