One of the most memorable parts of any trip to Disney is tasting those delicious treats, right? Well, now you can make a snack that combines two classic Disney treats!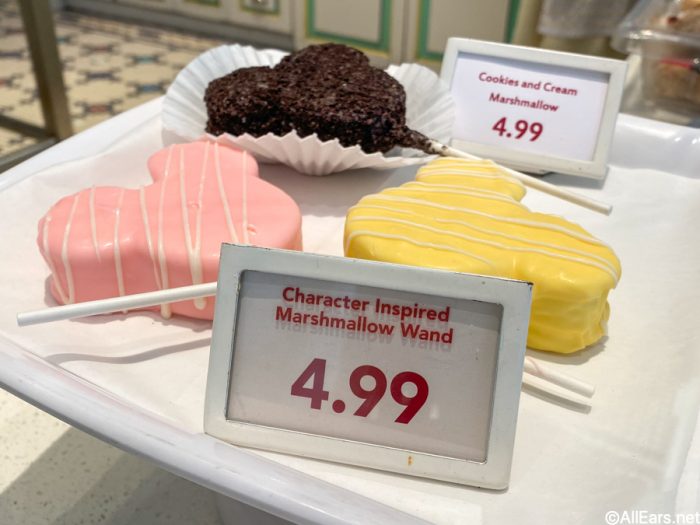 Disney has shared a recipe for their Churro Marshmallow Wand that is served at Marceline's Confectionery in the Downtown Disney District at Disneyland Resort!
Ingredients:
Invite a bunch of your friends, as this Churro Marshmallow Wand and Mickey-Shaped Marshmallow recipe serves 8 people and requires the following ingredients: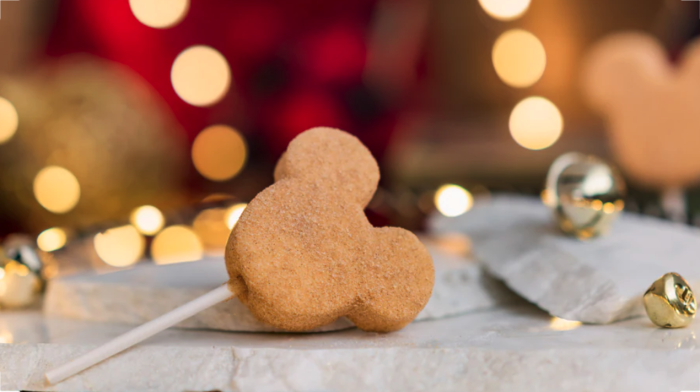 Mickey-Shaped Marshmallows
3/4 ounce unflavored gelatin
1 cup water, divided
2 cups sugar
1/3 cup light corn syrup
Pinch salt
1/2 cup cornstarch
1/2 cup powdered sugar
Churro Marshmallow Wands
8 large lollipop sticks
8 Mickey-shaped marshmallows
1 1/2 teaspoons cinnamon
3/4 cup granulated sugar
1/3 cup graham cracker crumbs
1 pound white melting chocolate
Directions
For Mickey-Shaped Marshmallows:
1. Spray a 9×13 inch pan with non-stick spray
2. Mix gelatin with 1/2 cup of water in the bowl of an electric mixer fitted with a whisk attachment. Set aside.
3. In a medium saucepan, stir the remaining 1/2 cup of water, sugar, and corn syrup.
4. Cook over medium heat for 12-15 minutes, until the mixture reaches 240°F. Remove from heat and allow mixture to rest for 1 minute, until it reaches 230°F
5. Pour sugar mixture into the gelatin and water.
6. Whip on medium speed for 2 minutes, until the mixture begins to thicken. Add salt. Continue to whip 8-10 minutes, until mixture doubles in size.
7. Spray a spatula with non-stick cooking spray. Pour marshmallow mixture into 9×13 inch pan. Smooth using spatula. Marshmallow mixture will be very sticky.
8. Let marshmallows rest for 4 hours, until set.
9. In a small bowl, combine cornstarch and powdered sugar.
10. Once marshmallows are set, spread half of the cornstarch mixture on a large cutting board. Carefully flip marshmallows onto cutting board and cut into 8 Mickey-shaped marshmallows, using a 2 1/2 inch cookie cutter. Dip marshmallows in remaining cornstarch mixture and store in an airtight container.
For Churro Marshmallow Wands:
1. Dip one end of each lollipop stick in 1 inch of water. Skewer Mickey-shaped marshmallows onto each stick, starting at the wet end of the stick.
2. Mix cinnamon, sugar, and graham cracker crumbs in shallow bowl or pie plate. Set aside.
3. Melt white melting chocolate according to package instructions. Keep warm.
4. Dip Mickey-shaped marshmallows into melted white chocolate, gently tapping to remove excess white chocolate. Sprinkle cinnamon, sugar, and graham cracker mixture over all sides of the marshmallows; place on clean parchment paper. Repeat for all wands.
5. Cool at room temperature for 15 minutes, until white chocolate is set.
And for even MORE Disney recipes, make sure you check out our entire database here! As always, stay tuned to AE for all the latest Disney news.
Join the AllEars.net Newsletter to stay on top of ALL the breaking Disney News! You'll also get access to AllEars tips, reviews, trivia, and MORE! Click here to Subscribe!

What Disney recipes have you made at home? Tell us below!