Pixar Fest, a celebration of "friendship and beyond", opened at the Disneyland Resort last week, and will run through September 3. It seemed a little unusual for Disney to get such an early start on what will be the summer celebration (usually starting Memorial Day weekend), but there is a lot going on at both theme parks.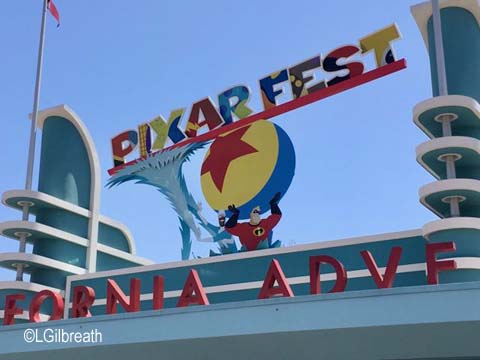 Some of the decor is interesting – for example, the monorail trains received Pixar makeovers.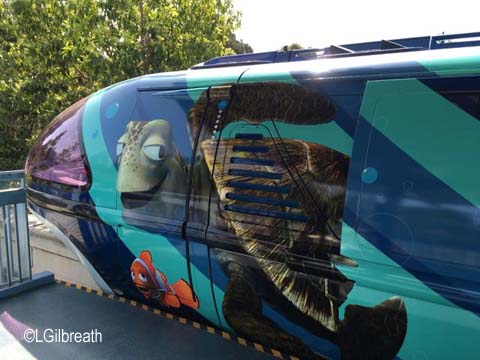 And Downtown Disney got abstract Pixar additions to its planters.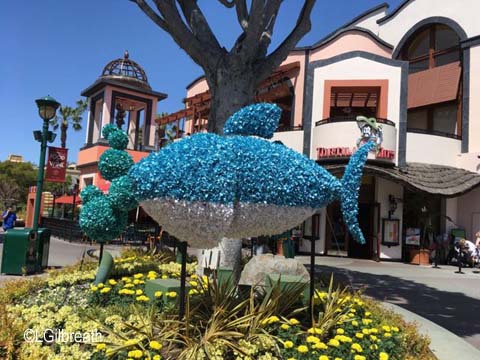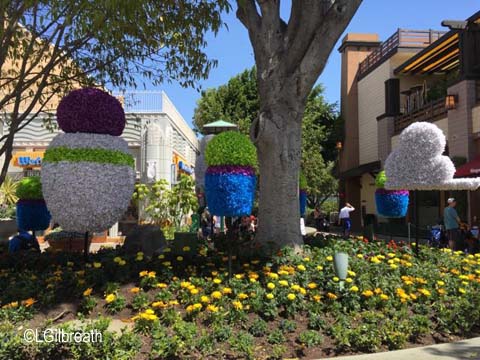 I thought this one with Edna Mode was especially clever.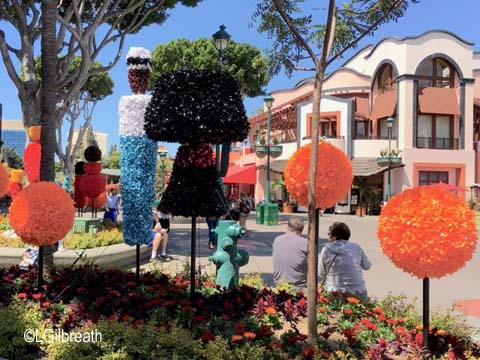 Disneyland has a new fireworks show: Together Forever – A Pixar Nighttime Spectacular. You can read Jeanine's review of the new show HERE. Highlights of the new show include Buzz Lightyear and the house from UP flying around Sleeping Beauty Castle. As with most recent Disneyland fireworks shows, there are lots of projections during the show…and they are slightly different depending on whether you watch the show from Main Street, the front of the castle, "it's a small world" or Rivers of America. I'm happy to have the opportunity to see them from multiple areas, and not have to deal with the crush of people on Main Street.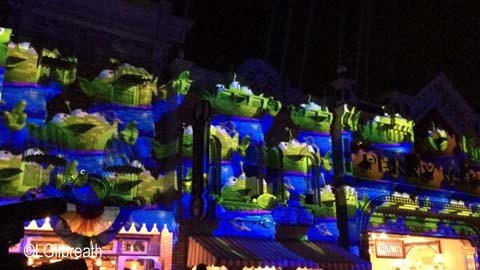 You can watch the show below:

The Pixar Play Parade has moved from Disney California Adventure to Disneyland. Several new Pixar elements were added to the parade: Luxo, Jr., and the Pixar Ball, which lead off the parade; Joy, Sadness, and Bing Bong from Inside Out, and Russell, Kevin, Carl, and Dug from UP. You can see the new elements in this video:
Kevin was my favorite part of the entire parade – and she looks like she also has the most fun. I also enjoyed seeing her babies on the float.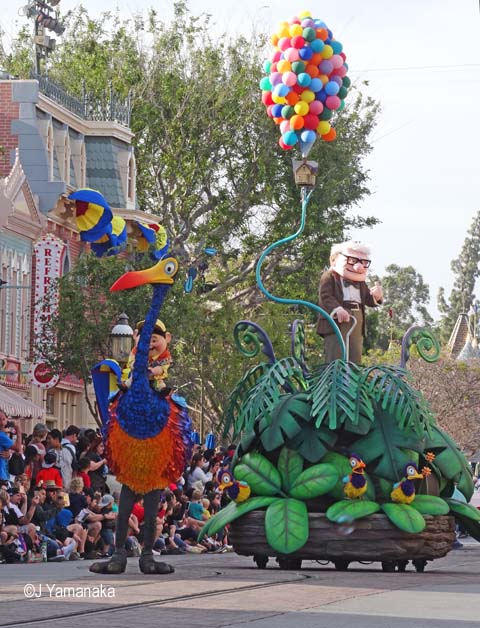 Otherwise I was disappointed in the new additions. The Inside Out and UP floats are rather basic, and don't have any of the interesting design and motion that the previously existing floats have. Luxo, Jr., at least, was capable of some motion. Though one missing feature I was grateful for: none of them spray water. With the other floats I got splashed a little, but the man next to me got a stream of water right into his (very large, very expensive) camera lens.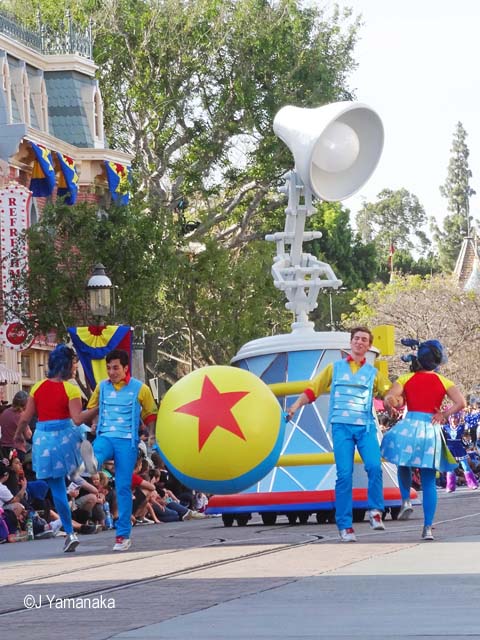 The Paint the Night Parade has moved to Disney California Adventure, which has always seemed like the more fitting home for this parade. The parade is mostly unchanged, except that the Frozen float was removed: it was too tall to fit under the Red Car Trolley overhead lines. The Ariel float had to be slightly modified. (The original Disneyland float is on the left, the current float on the right.)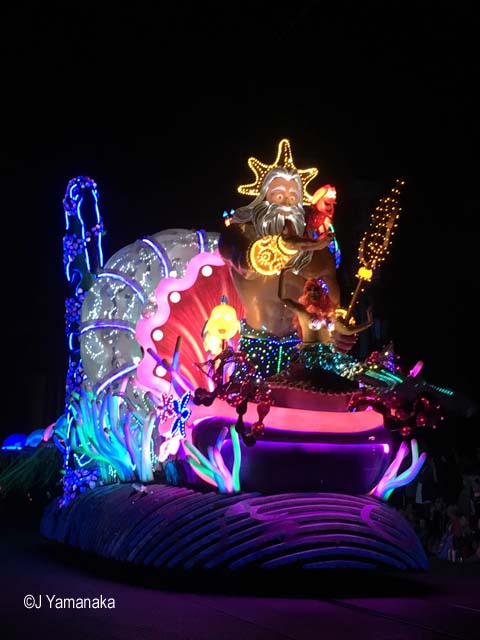 A new Incredibles float will join the parade on June 15 when The Incredibles 2 opens in theaters.
Full parade video:

The Pixarmonic Orchestra, sponsored by TripleDent Gum, performs daily at the Paradise Gardens Bandstand. Their interpretation of Pixar movie music is inspired by Spike Jones, and it's intended to be a little bit silly and fun. In addition to more conventional instruments, they also play things like kazoos, slide whistles, cowbells and duck calls. Show Director Chris Utley also says: "The costumes even have some Pixar 'Easter Eggs!'"
Disneyland musical groups are also performing Pixar music, including the Disneyland Band, Dapper Dans, Strawhatters, Jambalaya Jazz Band, Royal Street Bachelors, and Main Street Piano Player.
On June 8, the Pixar Pals Dance Party will begin at the Tomorrowland Terrace. Guests will be able to dance and mingle with favorite characters such as Russell, Dug, Woody, Jessie, and the Green Army Men.
In Disney California Adventure, the Sunset Showcase Theater is featuring several Pixar shorts. The short films will rotate during the celebration. Currently showing are Piper, Lava, and For the Birds.
Also in Disney California Adventure is the AP Corner for Annual Passholders. Though it's not around for the duration of the Festival – it closes on June 8. It has the usual special photo backdrop. Instead of a button, AP holders receive a set of removable sticker sheets – one for you, and one for a friend. These will change every two weeks. There's also a "Buddy Bank" – either write a note and give it to a friend, or leave it in the bin for someone who needs some encouragement.
This adorable photo op is in front of Cars Land. How cute are they????
On top of the sign is an ad for the Pixcar Film Festival.
Not a part of Pixar Fest per se, but on the opening day of Pixar Fest, the Pixar Pier Preview Center opened in the Blue Sky Cellar. There's a large model of Pixar Pier and a working model of the roller coaster.
Part of the Imagineering video in the Preview Center is on the Re-imagining of Paradise Pier.
A major feature of Pixar Fest is all of the special food and beverage offerings that are available. Many restaurants, from full service to quick service to kiosks, are featuring something new. Everything from a Ratatouille-inspired three-course menu at Cafe Orleans ($40) to Carl Fredericksen's Fried Bologna sandwich, special corn dogs and hot dogs, a habañero meatball cone, and a color-changing noodle salad, just to name a few. And for your sweet tooth there are lots of different churros, as well as doughnuts, funnel cakes, macarons, caramel apples, cake pops, and much more. Karlos Siqueiros Food and Beverage Concept Development Project Manager, told me "you have over five months to try it all!" 🙂
Chef Zack Paulson gave me a video tour of some of the foods.
In Disneyland, the Green Aliens have taken over Redd Rockett's Pizza Port, transforming it into Alien Pizza Planet – "A Better Place". It didn't receive a complete makeover like Red Rose Taverne, but there are some cute additions.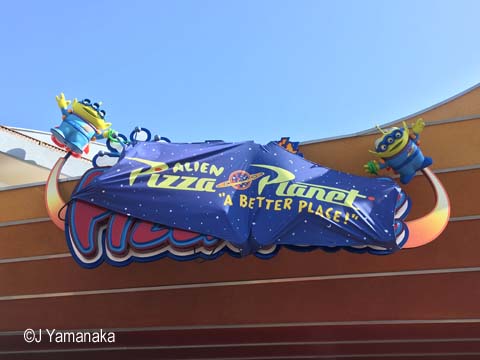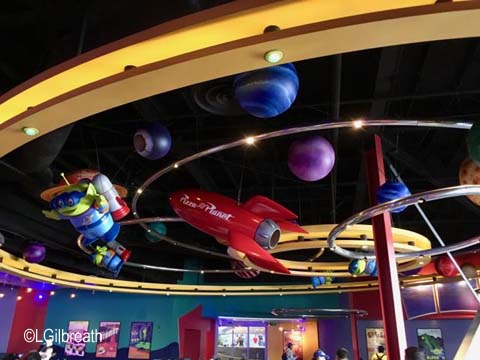 The menu has a few modifications: a Cheeseburger Pizza was added, along with Green Miso Pesto Pasta.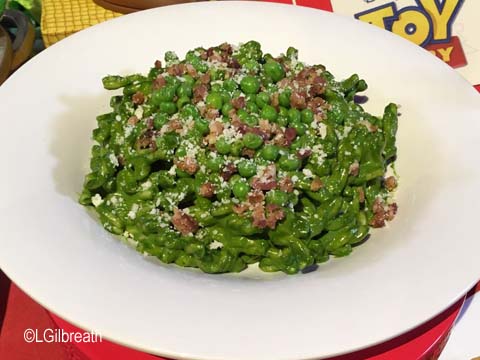 Paradise Garden Grill also has a new Pixar Fest menu – this one inspired by the movie Coco.
There's also a variety of Pixar Fest merchandise available.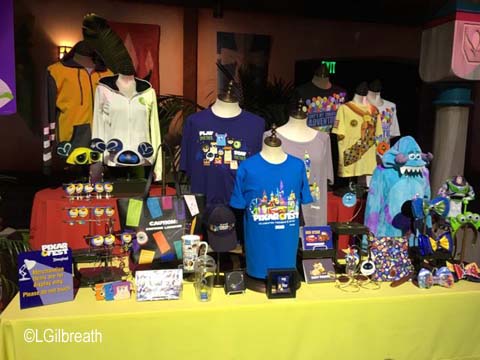 Some of it is exclusive to the Knick's Knacks store across from Ariel's Grotto in Disney California Adventure (formerly Treasures in Paradise).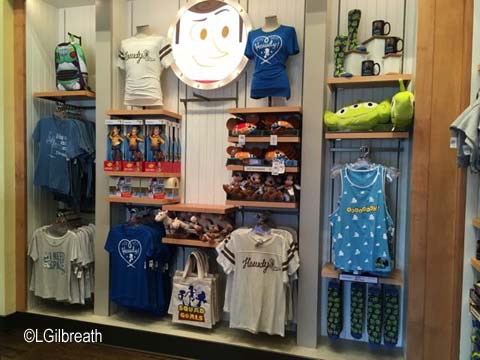 Some items such as t-shirts and hats are available at the Emporium and Elias & Co.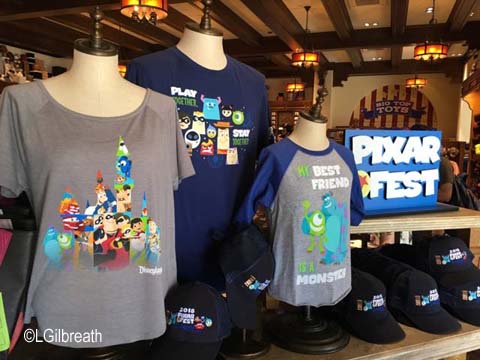 Yes, there are Pixar Fest Dooney & Bourke bags.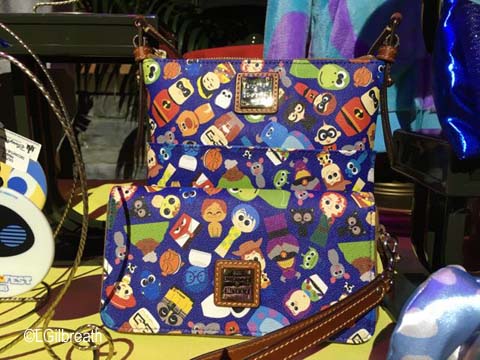 And lots of ears and other headwear.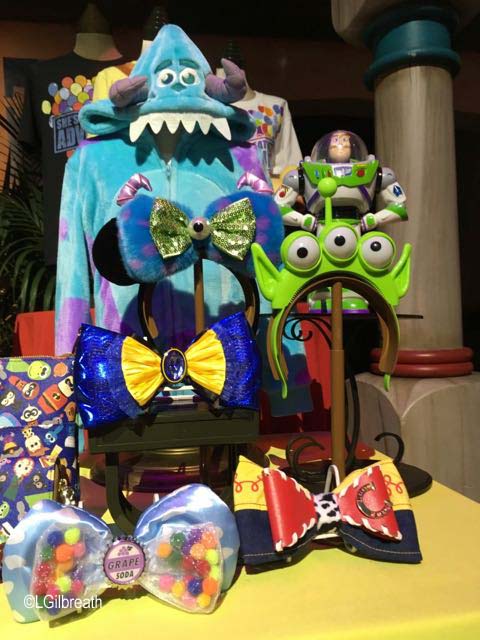 Several light-up tumblers – one with the green alien (Choose me!), one with Dory, and one with Nemo.
I think some of the cutest things are the straws with backpack clips. There's the Pixar lamp and a Green Alien. Maybe others, but those are the ones I've seen so far.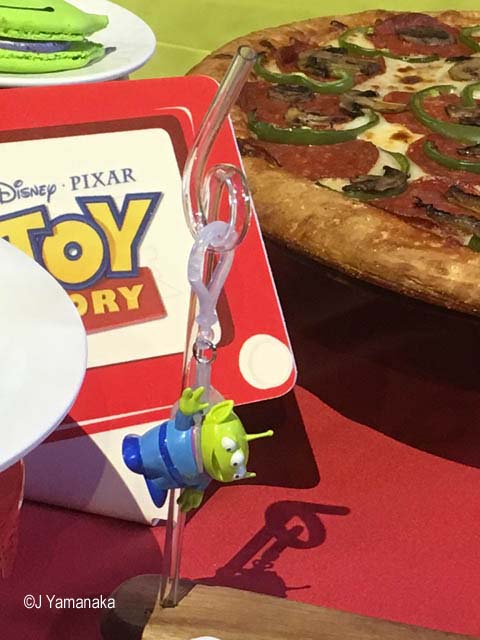 There is AP-exclusive merchandise, also.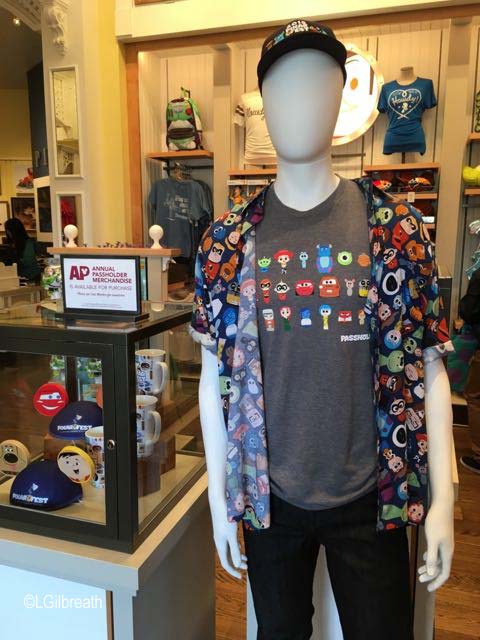 The most popular thing on opening day were the new Sulley and Mike souvenir buckets. Sulley is a popcorn bucket and Mike is a beverage holder. They snap together for display.
Lots to do, lots to eat, lots to buy during Pixar Fest!