Halloween Time is one of my favorite times of year at Disneyland…I might like it even better than the holidays.
But like the holidays, it seems to start earlier every year – this year it began on September 9 – just four days after Labor Day! It runs through October 31. I was there on opening day – Friday, September 9.
At the Mickey and Friends tram stop, I was a little surprised that the large signs there advertise the Tower of Terror closure and not Halloween Time.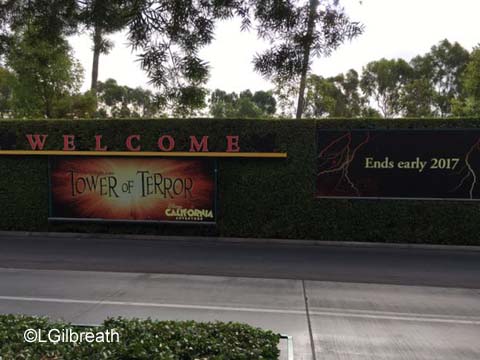 This Halloween display along the tram route is always fun to see. There's a second and longer part on the other side, but I was on the wrong side of the tram to get a photo of it.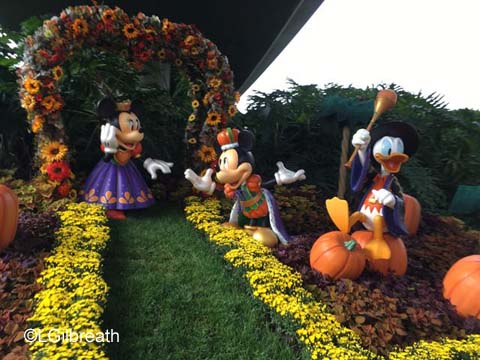 The large character pumpkins above the entrance turnstiles were back.
The Mickey floral and the train station are no longer decorated for the 60th anniversary.
The Mickey pumpkin has returned to Town Square.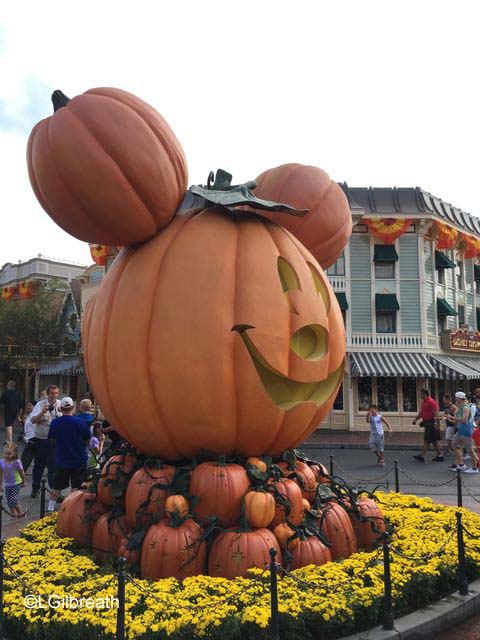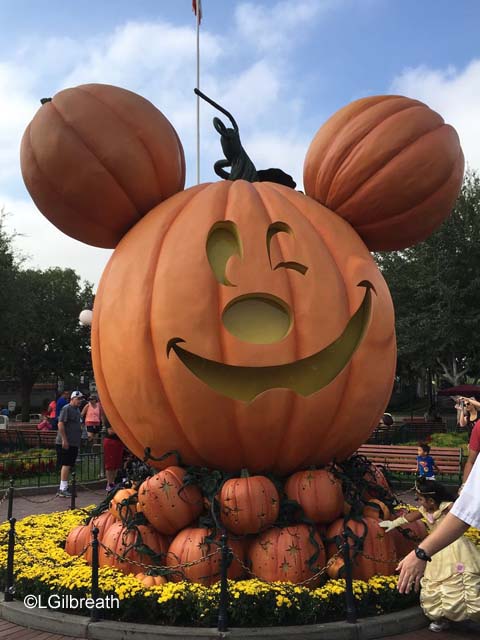 The Main Street Pumpkin Festival includes lots of jack-o-lanterns peeking out from the buildings on Main Street.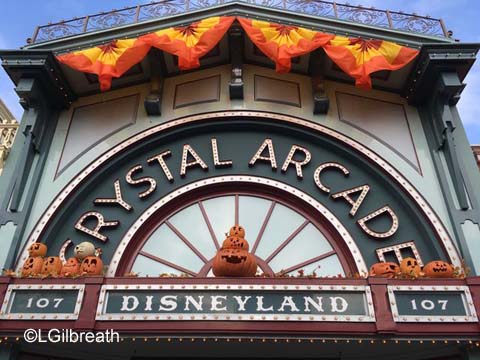 The candy shop has a number of Halloween-themed treats, like Mickey jack-o-lantern krispie treats, Maleficent krispie treats, skull caramel apples, and these Dia de los Muertos krispie treats.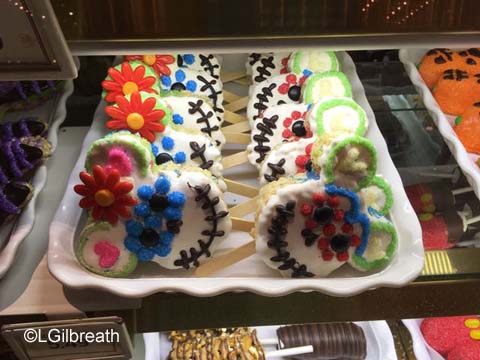 The new map and Times Guide. That night was the first showing of the Fantasy in the Sky fireworks show, which has returned now that Disneyland Forever ended along with the Diamond Celebration. Fantasy in the Sky will run (probably on weekends only) until the Holiday celebration kicks off on November 10 and Believe…in Holiday Magic returns.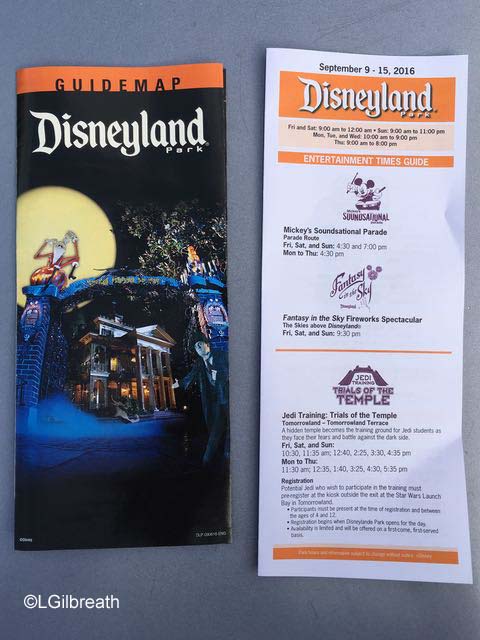 Speaking of the Diamond Celebration…an unadorned castle. It looks rather plain.
I was there at park opening, so I hustled over to Tomorrowland to get a Fastpass for Space Mountain Ghost Galaxy. Hyperspace Mountain seems to be the only piece of the "limited time offerings" of Season of the Force that is no longer around – Path of the Jedi and the Galactic Grill are still there.
I was surprised to see that most of the photo ops from the 60th anniversary celebration are still in place.
The jack-o-lanterns themed to each land surround the Walt and Mickey Partners statue in the Hub.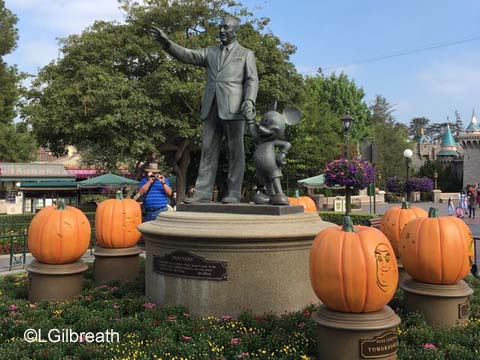 The Vampire Mickey popcorn bucket has been "re-vamped" this year. 🙂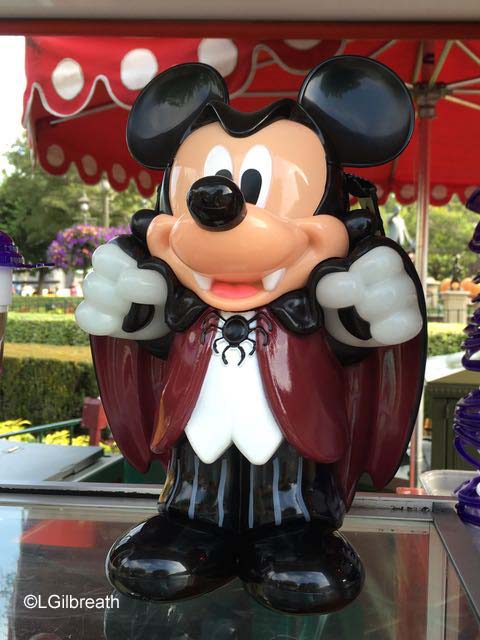 There's a new Halloween-themed bucket, also, with Disney characters drawn in the older style. (I think Daisy looks pretty creepy, personally.)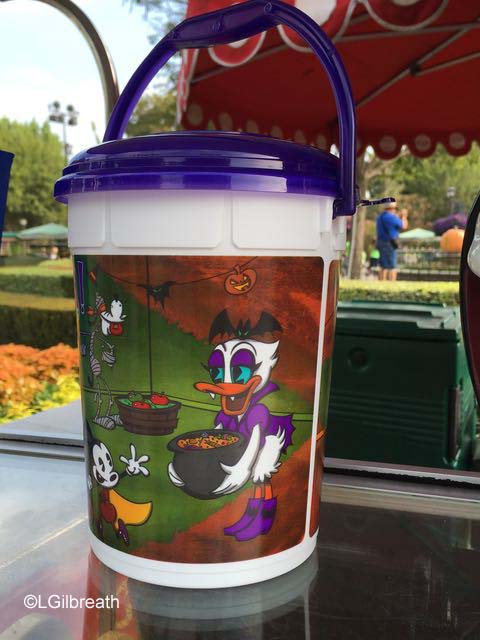 Haunted Mansion Holiday opened for the season, and many of us were eager to see how Jack had "decked the halls" this year. The standby line was posted as 40 minutes, but it was less than 20.
The advances in projection technology have certainly changed the look of a lot of things in the mansion over the years, starting with the Stretch Room. It's always fun to see what happens when two holidays collide…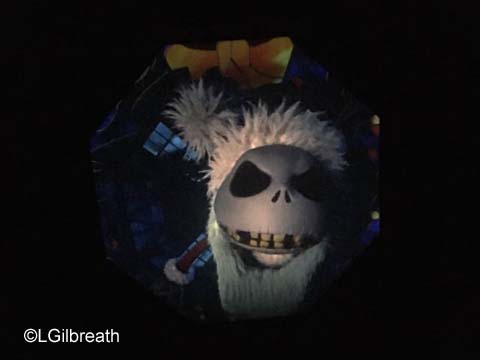 The loading area: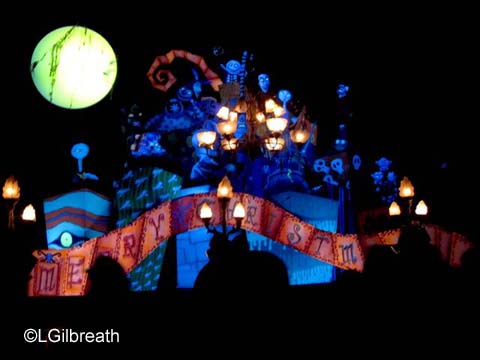 This year's Gingerbread House in the ballroom. I was fortunate to have a brief stop almost right in front of the house.
New this year: a life-size audio-animatronic figure of Sally was added to the graveyard scene. Her eyes blink as she gazes across at Jack Skellington and she kicks her foot up and down.
After exiting Haunted Mansion I was in my Ghost Galaxy Fastpass window so I got a Fastpass for Haunted Mansion Holiday, figuring the line would be longer later. I wandered back to Tomorrowland by way of the Mint Julep Bar, thinking maybe I'd get some beignets. But to my dismay this year there are no pumpkin beignets! The special this year is regular beignets sprinkled with butterscotch sugar. Not very appealing to me.
I also went through Frontierland and the Dia de los Muertos display outside Rancho del Zocalo. It seems the same as previous years. There's a face painting (free) station set up there.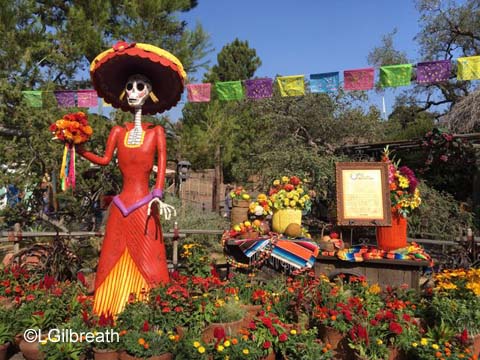 The entrance to the Rancho del Zocalo restaurant is also decorated.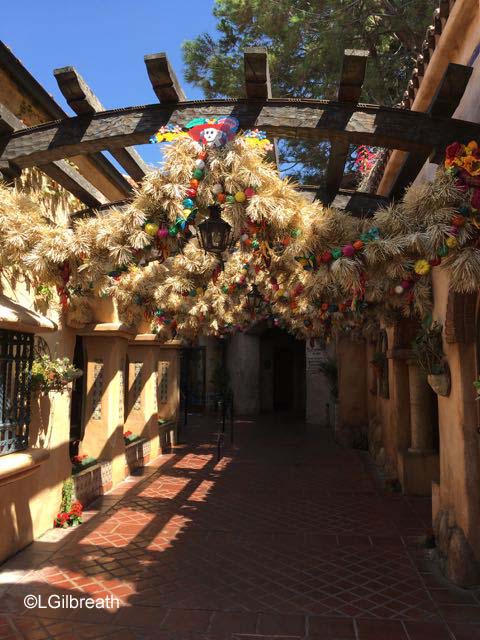 Lots of Halloween merchandise available – here's just a few samples.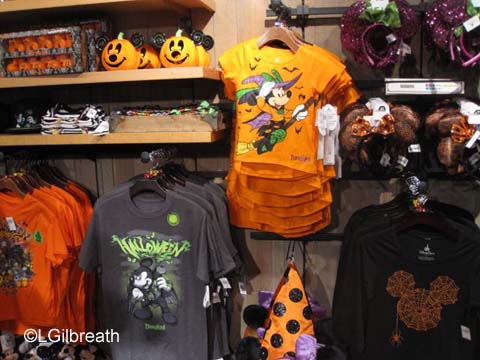 I used my Fastpass for Space Mountain Ghost Galaxy. I didn't notice anything new about it this year, and I found it not nearly as exciting and immersive as Hyperspace Mountain. I hope that will return…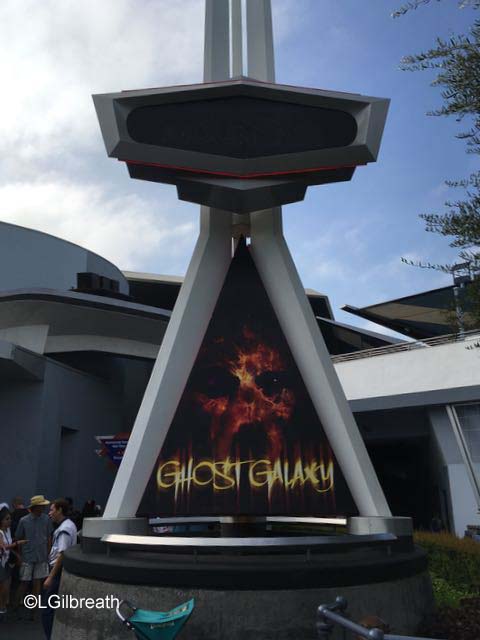 In Town Square some of the characters were out in their Halloween costumes. They always seem to have the same costumes every year – don't they get tired of them? 🙂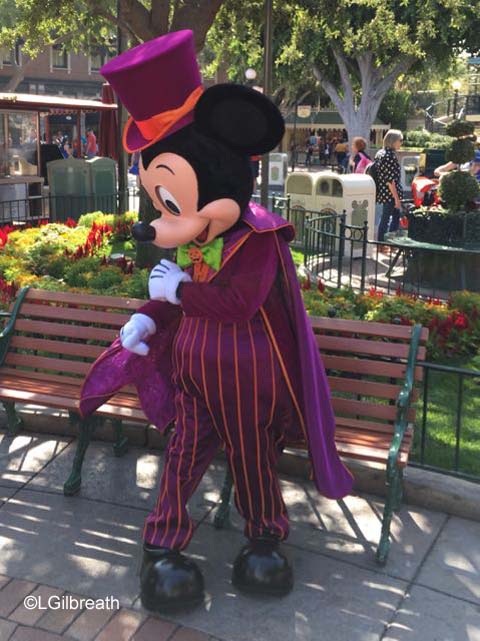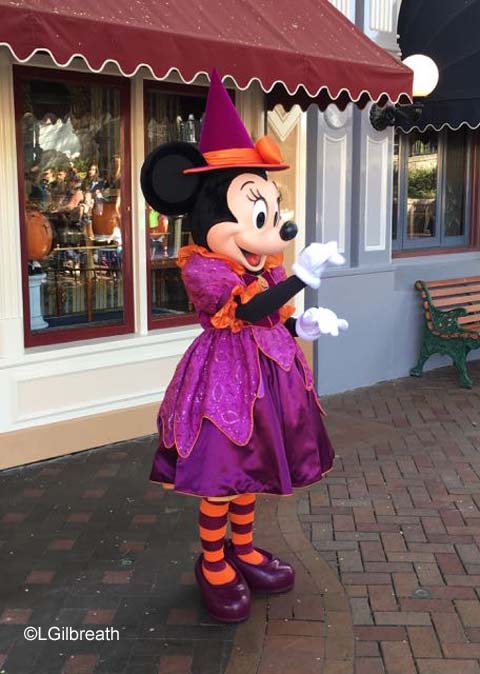 Bibbidi Bobbidi Boutique is offering a Halloween Minnie makeover for the season.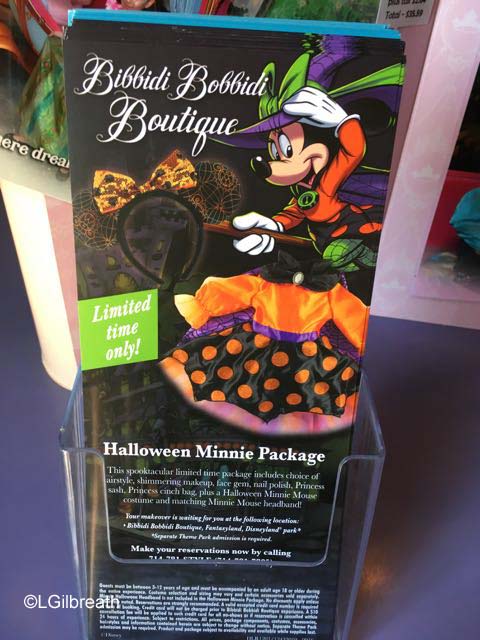 The entrance to Toontown has some Halloween decorations.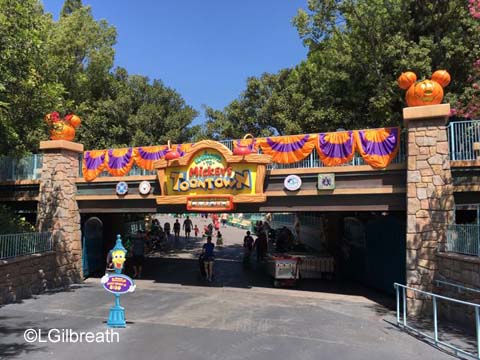 New maps and Times Guide in Disney California Adventure. The classic World of Color show has returned to replace the Celebrate! version.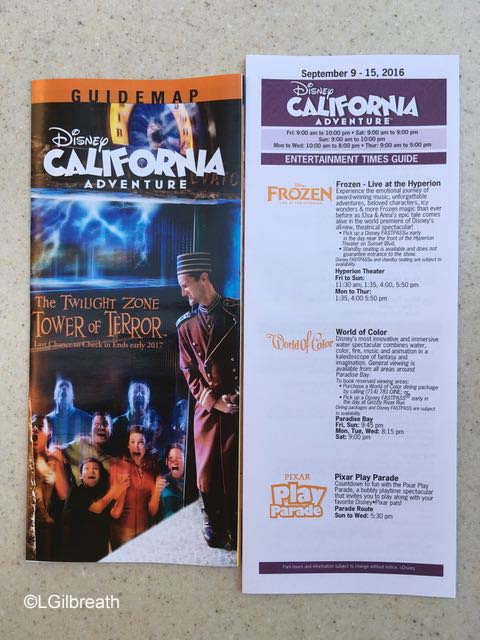 AP Days, a special event for Annual Passholders, has begun, and will run through October 31.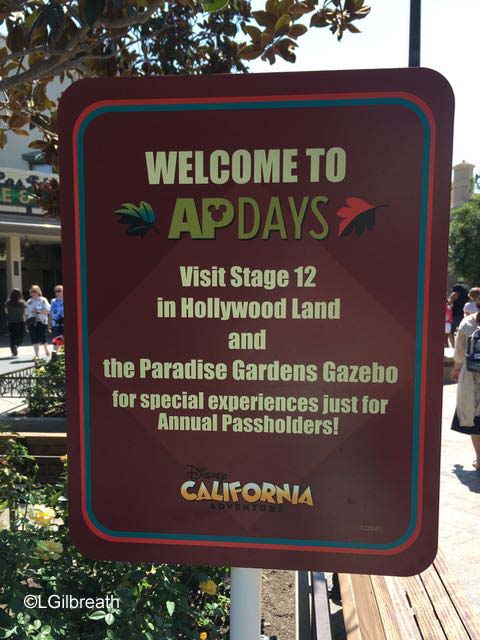 There are activities for Annual Passholders in two different areas of the park. In Hollywood Land, the AP Days Showcase is at Studio 12 (which was the Tron arcade).
Outside were a few tables where kids (or adults) could color some Halloween-themed drawings. Inside was a special character meet and greet.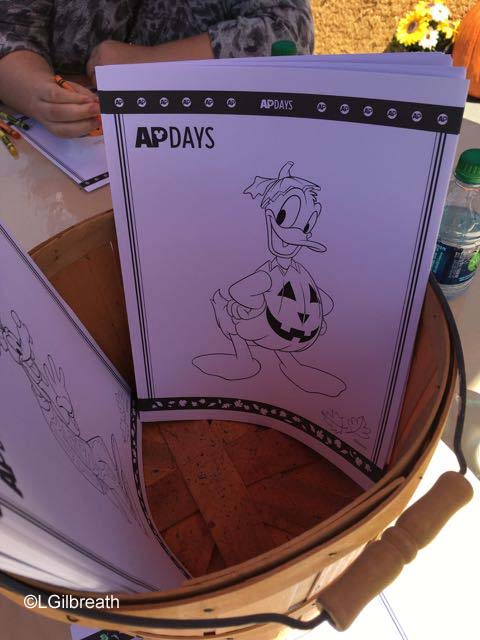 This area looks like it recycled a lot of props and decor from the Scare-dy Crow shack at the former Big Thunder Ranch area.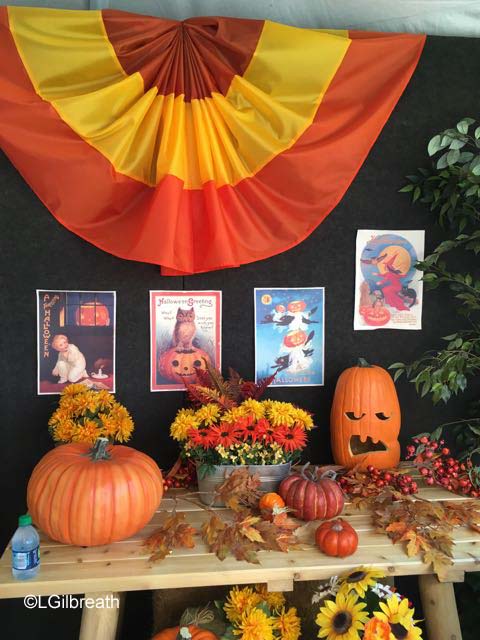 There's a different AP button each week – they change on Mondays. My AP was scanned when they gave me a button, so it seems like they are limiting the buttons to one per passholder. They also gave me a small bottle of water.
There were some benches outside a small demonstration kitchen – apparently there are food demonstrations that take place a couple of times a day. I wasn't around for any of that, though. The displays outside have descriptions of some of the seasonal food offerings around the resort.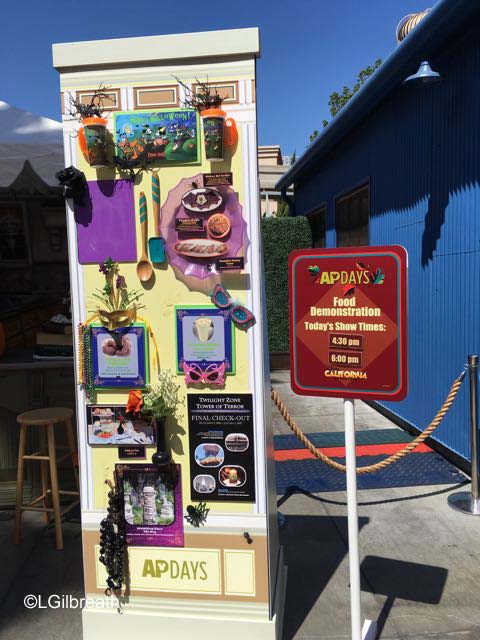 One of them is a seasonal smoothie at Schmoozies – a caramel apple smoothie. I tried it. It has apple pureed in it, and a hint of cinnamon. But most of what I tasted was sweet – too sweet for me.
The second location for AP Days is in the Paradise Gardens area. Mainly an AP Days photo opportunity.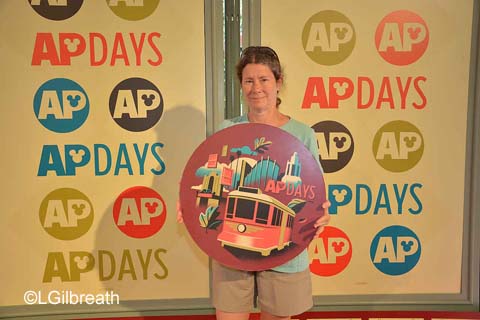 There was a scavenger hunt-type of activity available. I don't know if the activity changes each week, but this week it was solving a word phrase. The letter clues asked questions about which was more or less, e.g. "Which is MORE? The number of gas pumps at Flo's V8 Cafe or the number of animal spirits within the Spirit Cave at Redwood Creek Challenge Trail?" There's a different letter choice for each answer. No prize for solving it – just the satisfaction.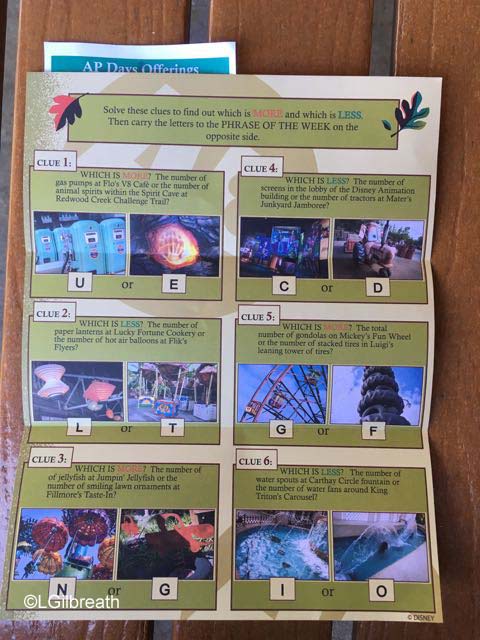 There are several special things going on at the Tower of Terror during its final Halloween season. The Silver Lake Sisters – also known as Fiddler, Fifer, and Practical (they own the cafe on Buena Vista Street) perform throughout the day in the lobby. Unfortunately you have to actually be in line to see them. I thought that was odd. At night there's Late Check Out, where the Tower of Terror ride takes place in total darkness. I didn't stay late enough to try that. There's also special merchandise available in the shop.
Outside the Tower is a new PhotoPass location with a few props.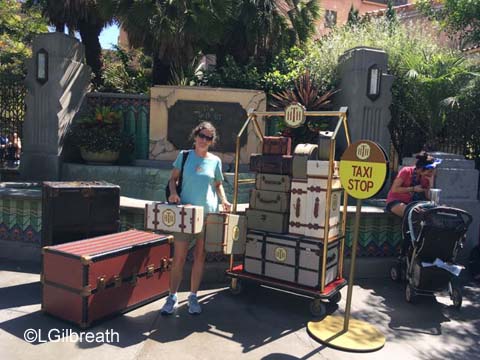 Trader Sam's at the Disneyland Hotel also has a seasonal item – a drink called "This Chilling Challenge" available with a souvenir Hitchhiking Ghosts Tiki Mug. They are $30 each. I went over there to see if I could get one. The line wasn't too bad (apparently it had been very long earlier in the day), but I could sit outside on the patio and order there right away. So I ordered the chicken lettuce wraps and the drink. The drink was a stronger than I expected it to be. It was made with pineapple juice and spiced rum, I think – not sure what else.
And here's the mug. There was a limit of two per person, yet these still sold out on Friday. The Parks blog reports that another shipment will arrive closer to Halloween. I continue to be amazed at how poorly Disney estimates the demand for these sorts of items.
Downtown Disney had a couple types of Halloween banners.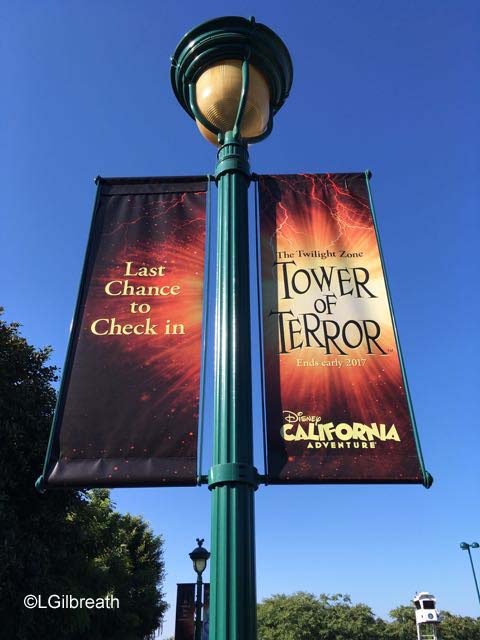 When I went back to DCA around 5:00 the bag check line on the Downtown Disney side was really long. It stretched back into the tram area on one side, and past the entrance to Downtown Disney on the other. Wow. I'd like to see them implement a "no bags" line like they do at Disney World. That wouldn't have helped me at all, but it might help things move along faster overall.
There are lots of new seasonal food items for the Halloween season. The Disney Parks blog posted this list.
Here are a few of them. Cupcake from Jolly Holiday Bakery Cafe: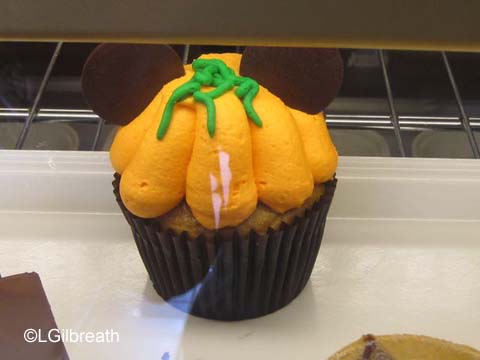 These poison apple mugs were first released last year, but they must have sold out quickly. They are EVERYWHERE this year – I think I saw them at most of the quick service locations in Disneyland (and some in DCA), and even at Mortimer's Market, which is more of a fruit stand. Depending on where they are purchased, they are available with a beverage, ice cream, or fruit.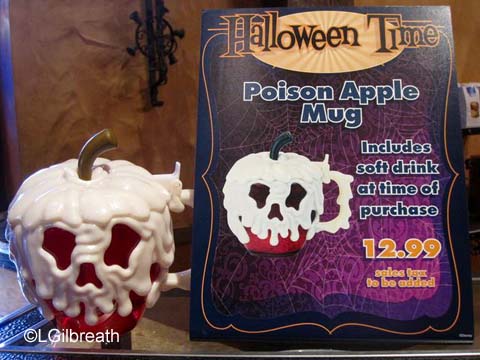 The French Market has this multi-layer Cookies and Cream Mousse Coffin Cake.
It seemed to me as though a number of the food items were not yet available – I didn't see signs posted like I usually do. Except for the Poison Apple mugs – did I mention that those were EVERYWHERE? 🙂
I had a really good day. Crowds were not too bad, and I got to ride Haunted Mansion Holiday four times!