I fell in love with Disneyland during my 4 year residence in Ocean County. Each time I walked through the tunnel I discovered something new and wonderful. At some point, a friend took me to the Golden Horseshoe to see a show starring a magician, Dana Daniels, and his parrot, Luigi. I loved it and saw the two perform their act countless times.
On another occasion, I found myself at the Golden Horseshoe watching Billy Hill and the Hillbillies perform mountain-men versions of well-known songs with some classical high-brow music thrown into the mix. With their fascinating take on it's a small world audio animatronic dolls, I was hooked.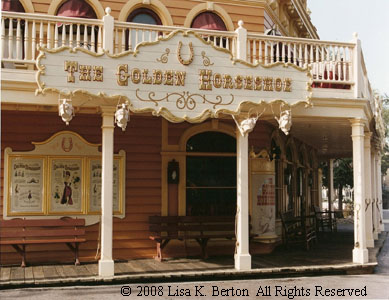 One day, word came that Disneyland's upper management or "suits" as us locals called them, decided not to renew Daniels' contract. I was not happy with the suits and filed a complaint in City Hall. It didn't matter, they had made up their minds.
Now we've all been given the news that Billy Hill and the Hillbillies will perform their final show on January 6, 2014. Disneyland's suits have once again decided to take away some of my joy. I don't know why; I didn't do anything wrong. In fact, Disneyland should reward me and keep the Hillbilies. In the few years I lived in California, never more than 30 minutes from 1313 S. Harbor Blvd in Anaheim, I calculated that I persuaded no less than 11 people into buying annual passes. All of them became fans of Billy Hill and the Hillbillies. Add to that another 6 (at least) friends and co-workers (with single or multiple day tickets) who I introduced to the boys' comedic bluegrass entertainment. Everyone who went with me loved the show.

Billy Elvis aka Kirk Wall
When possible, I planned the day so we could have lunch or dinner at the Golden Horseshoe just prior to the show. By arriving early I secured a table in the first row or better yet, the alluring box seats on either side of the stage. Great seats made the experience even more exciting and funnier. Billy Elvis (Kirk Wall) hit on my friend Jen when we sat up front. She got a wink and a god look at his pros-teeth-sis. He flashed those not-so-pearly whites at me during Puddle Prance when I sat in the box seats and nearly blinded him with the camera flash. Heck, Billy Elvis saw me at every show, then again, I always aimed a 75-300mm lens at him and his brothers.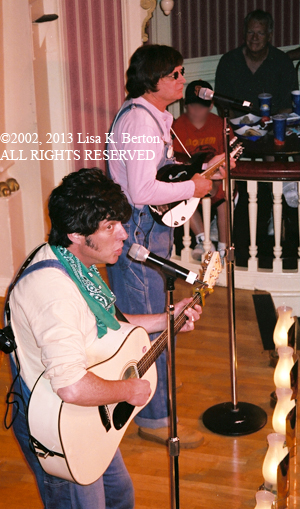 The Billys take on The Beatles.
The only fiddler I have met is Billy Fiddle (Dennis Fetchet). I overheard people say he was going to come out and meet a group of devoted fans after the show. I hung around and waited for him to finish his visit with them and then moved in for a photo. Score! Sorry, I meant to say, "Whoo whoo!"
If only I had enough smarts to buy the CD they offered up for sale during the beginning of my fandom, I wouldn't have black and blue marks from kicking myself to this very day. *ouch* By my account, there are 4 CDs that have been released over the years; the first 2 are titled Billy and the Hillbillies, the 3rd is The Billys: I Want u 2 Want Me and the 4th is The Billys: Live! I have half the collection. How popular and cherished are the recordings? No one is auctioning off their copies on eBay. That's right, while a slew of Disneyana sells daily on eBay, fingers are gripped around The Billys' audio collection with no release in sight.

Billy Fiddle aka Dennis Fetchet
If I could swing it, I'd hop a plane to Santa Ana and hunker down at Big Thunder Ranch where the guys currently perform, and watch an entire day's worth of total awesomeness. From what I've read, I'm not the only one with that dream and I applaud those who are able to applaud the guys in person.
Thank you to every Billy who has ever graced the stage in Frontierland for making me laugh, hoot 'n holler, clap, and stomp my feet. You made my grayest days bright and cheery. Oh, and one last note, I'm still missing a rubber band that wrapped around a wad of cash.
Come on over and "Like" my Facebook page or follow me on Twitter, my handle is lisano1.