December 2018 Walt Disney World Bits and Bites
Feature Article
This article appeared in the November 27, 2018 Issue #1001 of ALL EARS® (ISSN: 1533-0753)
Editor's Note: This story/information was accurate when it was published. Please be sure to confirm all current rates, information and other details before planning your trip.
= = = = = = = = = = = = = = = = =



STEP BACK IN TIME
= = = = = = = = = = = = = = = = =
by Joan L. Feder
AllEars® Staff Writer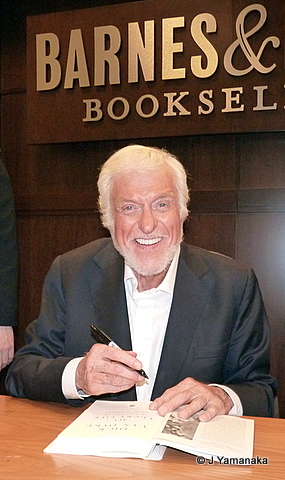 Join us on our monthly journey into the past as we explore the history of Walt Disney World and the Walt Disney Company. This time we celebrate the December 13 birthday of Disney Legend, Dick Van Dyke.
Born in West Plains, Missouri in 1925, Van Dyke grew up in Danville, Illinois. He left high school to enlist in the Air Force during World War II, where he spent time as a radio announcer, and entertainer for the troops. After the war, he worked in radio, but achieved big-time success on Broadway. Despite never studying acting, singing or dancing, Van Dyke got the lead role in Bye Bye Birdie in 1960. He was then cast as Rob Petrie in The Dick Van Dyke Show, which aired from 1961 to 1966.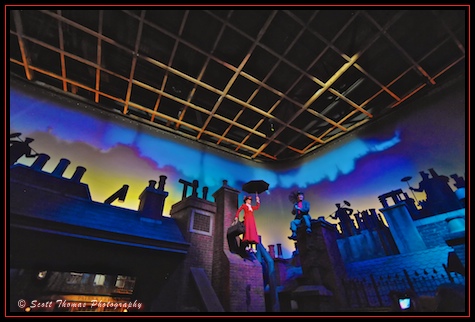 About the same time, Van Dyke's film career took off. He started by reprising his role from Bye Bye Birdie. That same year, he was cast in two roles in Walt Disney's Mary Poppins. Everyone knows he played Bert, the chimney sweep, but did you know he also played Mr. Dawes, Sr., the chairman of the Fidelity Fiduciary Bank? The credits read "Navckid Keyd" but unscramble at the end of the movie to reveal it was really Dick Van Dyke.
Van Dyke went on to play many roles for Disney. He was in the 1966 film, Lt. Robin Crusoe USN, and in 1968's Never a Dull Moment with Edward G. Robinson. He played dirty district attorney, D.A. Fletcher in 1990's Dick Tracy. More recently, he played himself in 2014's Alexander and the Terrible, Horrible, No Good, Very Bad Day. He was also in several Disney television shows including the Golden Girls, as one of Dorothy's boyfriends, and as the voice of Goofy's granddad, Captain Goof-Beard on the Mickey Mouse Clubhouse. He even was the celebrity narrator at Disneyland's Candlelight Processional in December 2012.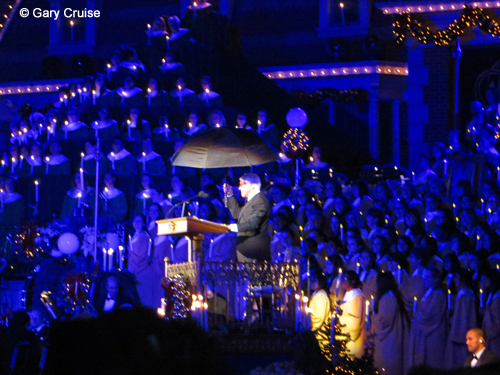 Dick Van Dyke has had many non-Disney roles as well. He played Caractacus Potts in Chitty Chitty Bang Bang and was a night security guard (along with Mickey Rooney) in the Night at the Museum franchise. He also had a second hit television show in the 1990s with Diagnosis: Murder, which ran for eight seasons.
During his seven decades in show business, Dick Van Dyke has received a multitude of awards, including five Primetime Emmys, a Tony, and for his performance on the soundtrack to Mary Poppins, a Grammy. In 1995, he was inducted into the Television Hall of Fame, and in 1998 named a Disney Legend. He has a star on the Hollywood Walk of Fame, and received the Screen Actors Guild's Life Achievement Award in 2013. His hand- and footprints were memorialized in cement in front of the Great Movie Ride back in 1989, when he visited Disney's Hollywood Studios.
This month, Dick Van Dyke returns to the Disney fold with his appearance in Mary Poppins Returns. He again plays the chairman of the bank, but this time he is Mr. Dawes Jr., son and successor to his cameo in the original. Mary Poppins Returns opens December 19. Getting to experience Dick Van Dyke's performance is one big reason why I'll be there opening weekend.
RELATED LINKS
Dick Van Dyke and the Vantastix at the 2011 D23 Expo
Celebrity Hand- and Footprints in front of the Great Movie Ride
Mary Poppins Returns — New Teaser, Tickets On Sale Now
= = = = = = = = = = = = = = = = =



HIDDEN MICKEYS ALERT
= = = = = = = = = = = = = = = = =
Steve Barrett, author of the Hidden Mickeys Field Guide books and webmaster of HiddenMickeyGuy.com, highlights some Hidden Images at Disney's Hollywood Studios. They're worth checking out!
1. Backlot Express restaurant. Stacks of paint cans are on top of the drink station near the exit door facing Star Tours. In a stack of cans next to a pillar, a yellow paint splotch classic Mickey is on the second can up, and a smaller blue paint splotch classic Mickey is on the fourth can up. The Hidden Mickeys are on the side of the cans facing the exit door.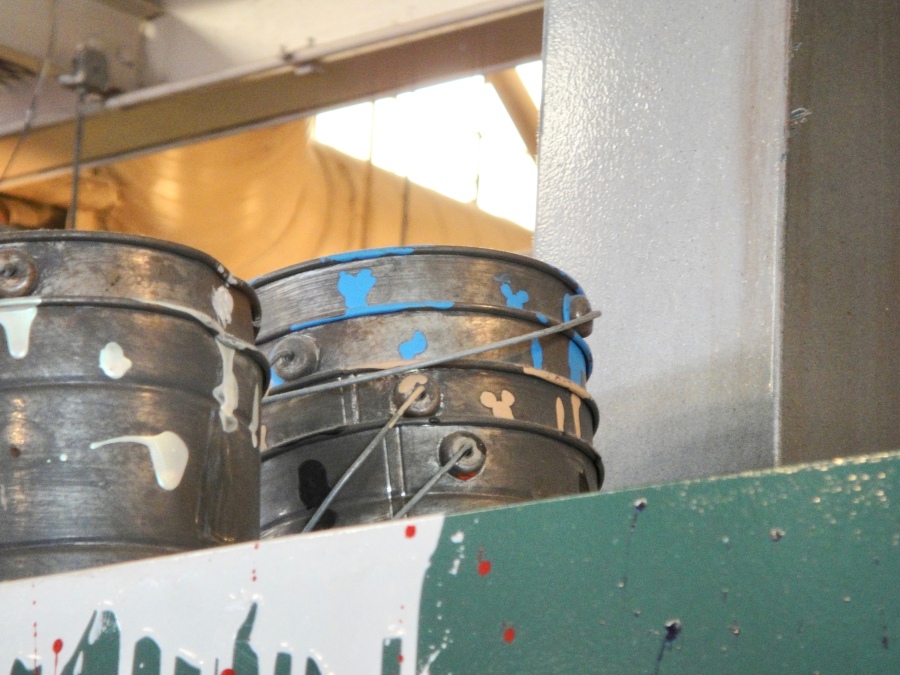 2. MuppetVision 3D. After the cannon shoots holes in the theater, a person holding a plush Mickey Mouse walks left to right in front of the crowd outside. In the smoke of the cannon shot explosion, you can make out Mickey's yellow shoes to the left of middle in the photo. (Decent photos from 3D movies are difficult to get!)
3. MuppetVision 3D. At the end of the movie, as the fire truck backs out, Pluto shows up at the right side of the screen. You can also spot Mickey balloons in these two Muppet movie photos.
=-=-=-=-=-=-=-=-=-=-=-=-=-=-=-=
You can find an archive of past Hidden Mickey Alerts HERE.

And check out our latest Searching Disney with Steve blog.
= = = = = = = = = = = = = = = = =



MONTHLY REMIND-EARS
= = = = = = = = = = = = = = = = =
Through Dec. 21: Mickey's Very Merry Christmas Party on select dates.
Through Dec. 31 : Epcot's Festival of the Holidays, including the Candlelight Processional.
Through Jan. 6: Flurry of Fun at Disney's Hollywood Studios, including Jingle Bell Jingle BAM! and Sunset Seasons Greetings.
Dec. 31: New Year's Eve
Check our Events page for a full schedule of upcoming events.
-=-=-=-=-=-=-=-=-=-=-=-=-=-=-=-=-=-=-
Resort-Wide
Disney Skyliner construction: Walt Disney World is in the process of creating a new transportation system, Disney Skyliner, which will give you a bird's-eye view of the resort while traveling via gondolas. During this time, construction noise will be seen or heard throughout the resort, but noise should not be heard from Disney hotel rooms between dusk and 9 a.m. It was recently announced that the Skyliner will open in Fall 2019.

The Walt Disney World Monorail system is undergoing ongoing refurbishment. As a result, normal service and/or routes may be modified. Alternative transportation options will be available during this time.
Rafiki's Planet Watch temporarily closed on October 20. It is scheduled to reopen in Spring 2019.
Star Wars: Galaxy's Edge — Work is underway on the 14-acre Star Wars-themed land at Disney's Hollywood Studios that was announced during the 2015 D23 EXPO. Galaxy's Edge will open at Walt Disney World in Late Fall 2019.
Liberty Square Riverboat closed for refurbishment on January 8, 2018. No reopening date has been announced.

Tom Sawyer Island in Frontierland is closed for refurbishment. No reopening date has been announced.

Walt Disney World Railroad will close December 3, to make way for construction of the new TRON attraction.
The entire resort is undergoing a major room refurbishment that will continue until late 2018.
Art of Animation Resort is currently undergoing some general refurbishment projects. During this time, the resort will be in full operation with all amenities available, including dining, merchandise and recreation locations. It is possible that construction may be seen or heard, but noise should not be heard from guest rooms between dusk and 9 a.m. No end date for these projects has been announced as yet.
A small portion of Stormalong Bay Pool is closed now through Fall 2018 to make way for new cabanas. The remainder of the area is open.
The resort room "hard goods refurbishment" at Coronado Springs has been extended to continue throughout summer 2019.

The Dig Site, home to The Lost City of Cibola Pool, volleyball court, playground, Iguana Arcade and Siestas Cantina, is being refurbished now through mid-December 2018. While this work takes place, the resort's three leisure pools, dining and merchandise locations, and other amenities are available.

A new on-the-water bar and grill will open at Disney's Coronado Springs resort in 2019, along with the previously announced new 15-story Gran Destino tower that is currently under construction.
Disney's Old Key West Resort is undergoing a wholesale refurbishment, which is expected to be completed in 2019. You can see some photos of refurbished rooms HERE.
The leisure pools at Alligator Bayou will be undergoing refurbishment through Fall 2018. During this time, while one pool is closed, the feature pool, Ol' Man Island, and four other leisure pools will be available.

Also, the rooms at Port Orleans Riverside are being refurbished now through early 2019.
Artist Point Restaurant closed November 11 to make way for a new character dining experience. It will reopen on December 16.
The Yacht and Beach Club Convention Center is undergoing expansion and renovation throughout 2018. No end date has been specified.
Blizzard Beach closed Oct. 28 for its annual refurbishment. It is scheduled to reopen Jan. 5, 2019, at which time Typhoon Lagoon will close for its refurbishment.
-=-=-=-=-=-=-=-=-=-
A complete list of known rehabs can be found HERE.
= = = = = = = = = = = = = = = = =



MAGICAL MOMENTS
= = = = = = = = = = = = = = = = =
Each month, we like to share a few heart-warming Magical Moments brought to us by the amazing Disney cast members!
Carolyn: We were due to stay at Disney's Port Orleans Riverside resort for 14 nights at the end of October 2018, but within an hour of us arriving there (from the UK), we received a telephone call from our family to say that our mother had been taken seriously ill and we would have to return. We had no idea where to start, so went to Guest Services to seek assistance. The manager of the resort was utterly incredible, he whisked us off to one side and helped us to sort out return flights, before offering to cancel all our FastPasses and reservations for us… Cast members there were so lovely, and so helpful, they made us feel a lot better about things. Sadly, Mum died before we were able to get back to her, but the Walt Disney Travel company were just wonderful — they refunded almost all of our money… This is why we will be going back again next year. Disney's guest service is second to none and they made us feel so comforted by not having to argue with anyone or explain ourselves repeatedly. A massive thank you goes to the Walt Disney Company and in particular, the manager of Port Orleans Riverside resort — we unfortunately did not remember his name, but we will certainly remember his actions.
Sarah R.: Our 3-year-old has many medical issues and has spent a lot of time in and out of hospitals. Inside Out was her first favorite movie and even though we had to play it over and over again, it got it us through some difficult situations and lots of long days. When we went to meet Joy and Sadness in Epcot, my daughter was in heaven and I started crying. I told the cast member there why and she must have said something to Joy and Sadness. They came over to hug me and just held me while I sobbed like a baby. And I really needed that. Meeting them probably meant more to my husband and me than it did to our daughter, and I will cherish this memory, and the pictures, forever!
Teresa A.: I just got a DNF (Did Not Finish) in the Wine & Dine Half-Marathon, yet it turned out to be a memorable experience, even perhaps, a Magical Moment! I'm an older runner who doesn't handle heat well, and for whatever combination of reasons, I started feeling dizzy around the middle of the race. At about mile 10.5, which was right outside the Studios, another runner asked me if I was OK (so I must have looked bad!). When I admitted I was woozy, she pulled my arm through hers and said cheerfully, "We're going to get you some help!" She flagged down a couple cast members at the Studios gate and told them to bring me to the first aid office. These poor guys were not affiliated with runDisney, nor were they medical personnel (I think they were custodians), but they held me upright and got me through the entrance and to the first aid office, where I promptly fell over a chair. James, the RN on staff, then took care of me for about an hour, supplying me with water, Powerade, wet washcloths, and conversation until I felt well enough to make my way back to the resort and my concerned family. I very much appreciated the kindness of all these strangers!
-=-=-=-=-=–=-=-=-=-=-=-=-=-=-=
EDITOR'S NOTE: Did you know that you can turn the tables and create a Magical Moment for your favorite cast member on Twitter? Simply send a tweet to @WDWToday or @DisneylandToday with the hashtag #castcompliment and they'll make sure your cast member gets some special recognition for making your day Magical!
We just bet you have a story to tell about an unforgettable moment during your Disney vacation! Please send your favorite memory for inclusion in a future AllEars® via our Contact Us page. Thank you all for sharing!