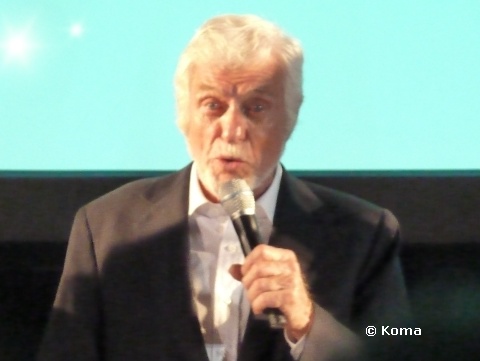 As most of my friends know, Mary Poppins is my very favorite Disney movie, and the Practically Perfect in Every Way nanny is my heroine. One of my earliest memories is seeing the 1964 film at the drive-in when I was about 4 years old, and I've subsequently seen it more times than I can count (not to mention the Broadway show a few times, as well). When I saw that my very favorite chimney sweep, Dick Van Dyke, who played Bert in the film version, would be performing with his a cappella singing group the Vantastix at this year's D23 Expo, I knew I could not miss him.
Luckily for me, I was able to get in to see his overwhelmingly popular performance last night, which was no mean feat. Some people waited for more than three hours for the program, and many, many more were turned away, as the venue it was held in had a capacity of less than 1000.
After a lot of waiting, and a long delay in getting everyone seated, the show finally started a half-hour late at 9 p.m. (And to their credit, I have to say that Disney cast members made every effort to be sure that every seat was filled, to turn away as few fans as possible.) To say that Van Dyke and the other "Vantastix" (Bryan Chadima, Eric Bradley, and Mike Mendyke) received an enthusiastic greeting is an understatement.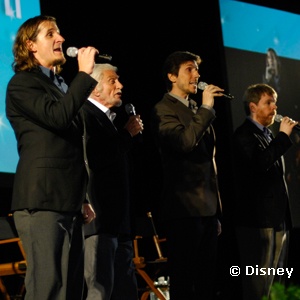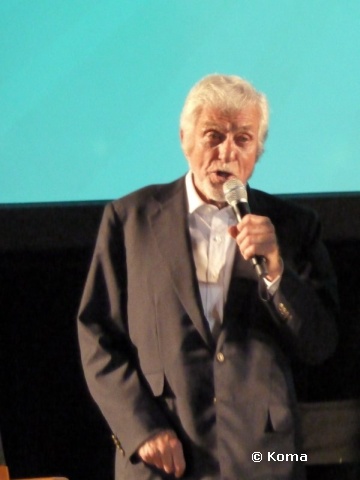 The program was filled with familiar tunes, many from the nearly 86-year-old Van Dyke's long career, interspersed with anecdotes and reminiscences. Some of the tunes the audience went wild for: The Ol' Bamboo and the title track from Chitty Chitty Bang Bang, and a medley of Sesame Street songs, including a touching rendition of It's Not Easy Being Green. The group also touched on old standards like Accentuate the Positive, Swing on a Star, and Put on a Happy Face, and, of course, a number of Disney classics, such as You've Got a Friend in Me and The Bare Necessities.
Van Dyke looked great, even though he occasionally seemed to flub the words — he more than made up for it with his charm and famous smile, and quickly recovered. Though he swore that they had no set program, they moved from song to song effortlessly, and knew exactly what their Disney fan audience wanted to hear. They even managed to stump the audience with a Disney trivia question — who was the "actor" credited with playing Mr. Dawes Senior in Mary Poppins. Correct answer? Navckid Keyd, an anagram for Dick Van Dyke, who actually played the part. (An audience member who came close to the right answer got an autographed Vantastix CD.)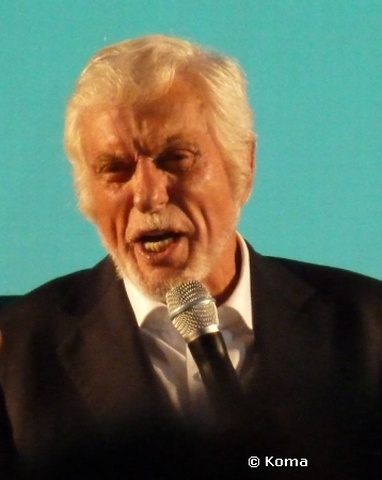 Taking a seat about midway through the show, the foursome talked about how they formed (seems it all started when Van Dyke met Mendyke in a Starbucks in 2000 by chance and the two discovered their common interest in a cappella music). The group has since performed at many charity events, at Ford's Theater before President Obama for the 4th of July, even at the installation of the star on the Hollywood Walk of Fame for Van Dyke's costar in the sitcom "The Dick Van Dyke Show", Rose Marie, who was actually in the audience. (Also in the audience was composer and Disney Legend Richard Sherman, who co-wrote the music for Mary Poppins.)
After about an hour, the program drew to a close, but not before Van Dyke and the Vantastix were presented with D23 certificates, and made official D23 members. Van Dyke was also given a gift of a signed painting commemorating his performance in Disney's Mary Poppins.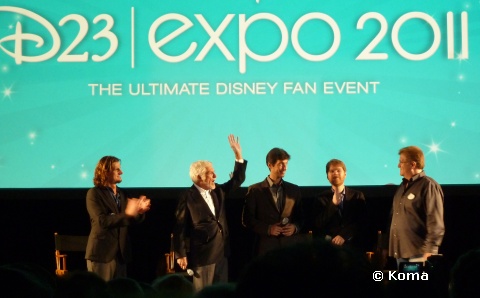 Of course, no one wanted the night to end, least of all me, so we were all thrilled when the group agreed to an encore — a very fitting medley of tunes from Mary Poppins, ranging from an energetic version of Supercalifragilisticexpialidocious that saw Van Dykes dancing very nearly like a spry 20-something again, to a rap version of A Spoonful of Sugar that had the audience rolling with laughter. (I apologize for the poor quality of the video below, but the place was so packed I couldn't get a good view of the stage, and the screen just did not record well, but I wanted to share at least a snippet of the evening with you.)
As I hope you can see, it was really a fabulous event — and I am so happy I was able to attend. Now, if I can only manage to see Julie Andrews in person, my life will indeed be Practically Perfect in Every Way!