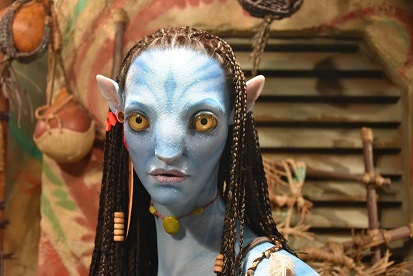 The head of a Na'vi was on display near the Windtraders souvenir shop inside Pandora: The World of Avatar. [Cavrel Silvera]

With the opening of Pandora: The World of Avatar, all eyes are on Disney's Animal Kingdom theme park. And well they should be. The new land is everything it was hyped to be … and so much more.
After walking through the totally immersive land recently … after seeing the magnificent floating mountains; experiencing the frenetic, almost free-falling excitement of Avatar Flight of Passage, as well as the serene, colorful and mystical Na'vi River Journey … Disney's creative staff has finally fulfilled the promise it made more than 20 years ago when the park was first conceived.
It has given us a land devoted to the world of mythical creatures … while reaffirming its commitment to all animals great and small, as well as the environment.
I remember the first time I learned about Animal Kingdom. It was during a break between shows on The Disney Channel. The year was 1995 and the announcer told us about a fourth Disney park in Florida that was due to open in 1998. At the time, they called it Wild Animal Kingdom. This new park would tell us the story, as only Disney can, of the intriguing world of animals … be they living, extinct or mythical.
Little did I know then that Disney's creative team had been exploring the concept of this new park for more than five years. Little did I know how much work, how much research, how much thought was going into the planning of what would become perhaps the most unique theme park on the planet. It would be zoo-like, but definitly nah-ta-zuh.
Beginning in 1990, a small team of Disney Imagineers, headed up by the incomparable Joe Rohde, traveled the world on a number of expeditions in an all-out effort to craft a park that was real, that was unique and that was authentic. The team included landscape architect Paul Comstock; concept show writer Kevin Brown; designer Zofia Kostyrko; associate producer Patsy Tillisch; concept architect Tom Sze; show designer John Shields and show producers Kelley Forde and Ann Malmlund.
Giraffe and zebra roam freely on the savannah at Disney's Animal Kingdom right after the park's opening in 1998. Zebras have since been moved to another section of the park. [Walt Disney World]

Comstock, Animal Kingdom's principal landscape architect, visited 37 states in America and 28 foreign countries in his quest to bring back rare seeds and plants, foliage that would create lush forests and a stunning savannah, as well as feed and nourish the permanent residents of the park. In total, Rohde and his small band visited Kenya, Tanzania and Zanzibar in 1990; Thailand and Nepal in 1993; Bali, India and Bhutan in 1994; Mexico in 1995, and East Africa in 1996.
The backbone of Disney's Animal Kingdom was and always will be, animals. But dealing with live animals is an arduous task, one that's labor-intensive and requires a complete and total level of commitment. When your average theme park closes at the end of the day, the lights are turned off, the gates are locked and everyone goes home. The hundreds of animals living at Animal Kingdom need care and attention 24/7, 365 days a year. Where other theme parks employs street sweepers and technical personnel overnight, Animal Kingdom has that, plus veterinarians and animal caretakers tending to everything from hippos to elephants to crocodiles.
From the beginning, Disney was committed to doing this new park the right way. An advisory board of renowned animal experts and zoologists was formed, giving Disney's creative team a decided edge when it came to attaining that goal.
"A lot of people out there tried to stick a knife and make a hole in [the park], trying to point a finger at the Mouse," Comstock said about those early days during the park's development. "We had to be clean and above board on everything."
They also had to learn a lot about animals, plants and the environment. For instance, some plants can be toxic to some animals. "There was a tree that grew naturally on the Animal Kingdom property that could kill a black rhino, even if he ate just a few leaves," Comstock said. Needless to say, those trees were removed.
About a year before Animal Kingdom opened, it began acquiring animals from accredited zoos around the country. They were brought to the property to familiarize them with their new surroundings. During that time, just about every species was taught to respond to certain sounds, which means when an animal hears his or her sound, they dutifully return to their specific backstage area.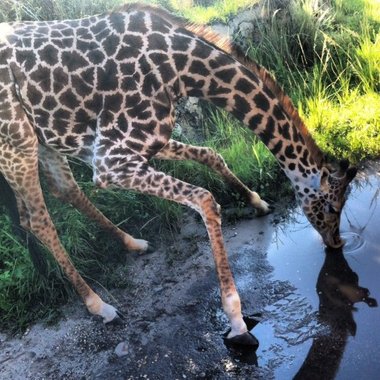 A giraffe "splays" its legs as it drops down to get a drink of water. [Dorene Splitstone]

Once there, they receive food, care and, if needed, all-important medical attention.
Dr. Scott Terrell, who is director of Animal and Scientific Operations for Disney, has been on staff at Animal Kingdom since 1997. He's an expert on every animal on property; talking to him is educational and reveals an incredible level of commitment shown by the park's behind-the-scenes staff. We had the pleasure of chatting with him in Harambe Village during the recent Pandora press event. He possesses an encyclopedia knowledge of the animals, as well as a compassion and commitment to their well being.
"Zebras require a lot of attention, especially their hoofs," he said. "They're basically horses, so we have to make sure their hoofs are really pristine, so they get a lot of attention. In order to work with them, we have to anesthetize them. They take a lot of work, as do our rhinos. Rhinos are so critically endangered, especially our black rhinos.
"We're not in a breeding situation right now, but we pay a lot of attention to our female rhino, particularly if she were to breed someday. There are so few left, maybe 5,000 black rhinos and 20,000 white rhinos remaining in the world. The poachers have almost decimated their populations, all for the horns. A typical horn cost about $80,000 U.S., on the black market, so that's several years' income for a lot of people. There was a tragedy in Paris several months ago where several criminals broke into a zoo and took the rhino. There have been incidents where people have broken into museums and stolen the horn. We have pretty good security here, though."
Indeed, Animal Kingdom, all 500-plus acres, is the ultimate gated community. "The entire park is fenced in," Dr. Terrell said, "in large part to keep out predators, both animal and human. We also have cameras on all the fences."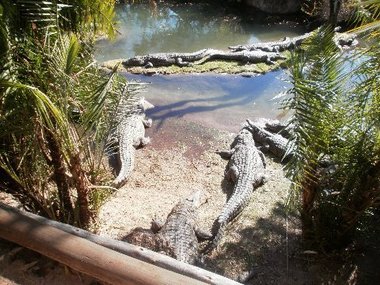 There are 23 crocodiles on property at Disney's Animal Kingdom … all boys, according to Dr. Scott Terrell. [Chuck Schmidt]

Staffers who work with the permanent residents of Animal Kingdom have to be on their toes at all times. "There's always something new going on. We have a little social issue with our crocs going on right now," Dr. Terrell said. "They're all boys. We have 23 boys, and boys will be boys. They're always fighting. They actually have features so they can be self-identified. When they came to us they were all about four feet long, now they measure up to 11 feet long and weigh about 750 pounds. They're trained to shift backstage as well and we have an area that they voluntarily go in to so we can treat them. We have a CAT scan that's big enough that they can fit in it. They get as good care as we get, sometimes better."
As we talked with Dr. Terrell, several birds flew overhead. "Those are our macaws. They're free flight and occasionally, they go on 'vacation,' but most of the time they do come back and they get a reward when they return. That's really the way zoos should be going, where animals display natural behaviors."
Breeding is a welcomed byproduct of caring for the animals in the park.
"Tigers can be very difficult to breed," Dr. Terrell said. "If a male and a female don't get along, they've been known to fight with one another, sometimes to the death. Fortunately, our male and female tigers are on pretty good terms.
"We recently had a baby elephant born here. Stella is up to 600 pounds, but she can't quite feed herself yet. She actually won't feed herself for about two years because she's practicing using her trunk. She'll be on mom's milk until she's about 5, but she's always practicing how to use her trunk. She was about 240 pounds when she was born on Dec. 14. She's been a pistol.
"And we just had 40 baby otters born on Discovery Island. Their big thing is to learn how to swim. The moms love water, but the dads don't, so every time the moms put the babies in the water, the dads pull them out. Otters don't know how to swim, they have to be taught by their parents."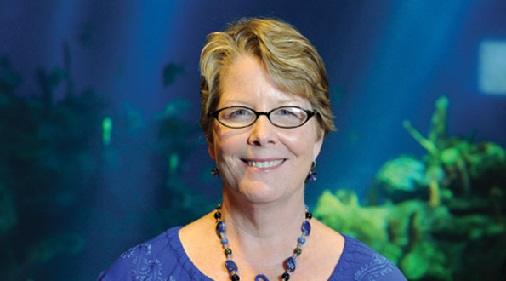 The real Dr. Jackie Ogden, who recently retired as vice president of Animal Sciences at Animal Kingdom. [Walt Disney World]

Dr. Terrell let us in on a little secret about the Avatar Flight of Passage attraction in Pandora.
In the queue, "you'll see a scientist whose name is Dr. Jackie Ogden. That's actually an homage to the woman who was vice president of Animal Sciences here for many years who recently retired. When they took Jackie to Flight of Passage and walked her through the queue and she heard her name, she actually broke down and cried."