Today's blog is about the attraction, "It's Tough to be a Bug" located beneath the Tree of Life. This funny, scary, silly, and informative show never fails to delight and educate. It's Disney magic through and through.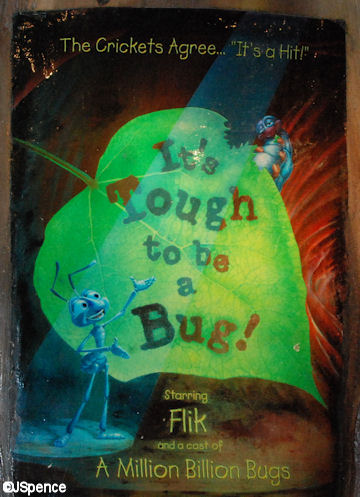 In last week's blog, I mentioned that initial plans called for a restaurant to be built beneath the Tree of Life. However, early on in the design phase of the project, this idea was abandoned in favor of a show. But the Imagineers struggled with what type of show should be presented here. After all, the Tree of Life was going to be the icon for the Animal Kingdom. Whatever idea was selected to be showcased here had to represent the ideas of nature and conservation.
One proposal featured a film extolling the "Wonders of Nature." Another featured a fable told by the characters of the Lion King. However, this second idea had already been used in the Land Pavilion with a film titled "Circle of Life: An Environmental Fable." Here are two concept drawings depicting these two possible shows.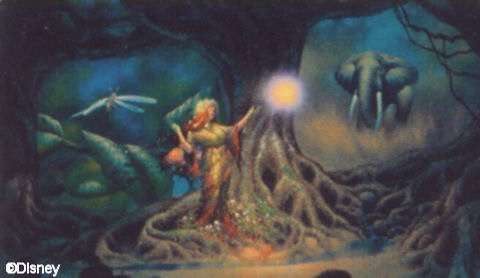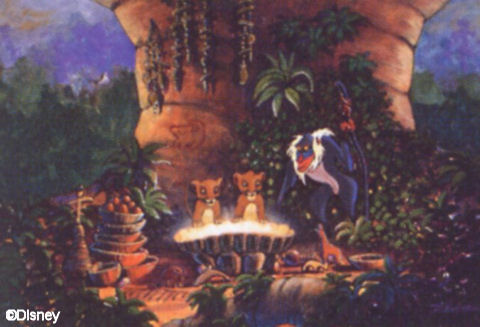 Other ideas continued to be examined, but none of them seem to satisfy all the requirements the Imagineers had laid out. In the end, it was Michael Eisner that suggested a show about insects. After all, bugs are a part of the animal kingdom and many live beneath the ground and within the roots of plants and trees. In addition, Eisner suggested the Imagineers tie the show into the Pixar movie currently under development, "A Bug's Life."
Ultimately, this idea took root and this show became one of four Disney attractions with a movie tie-in to open before the film. "It's Tough to be a Bug" began entertaining audiences when the Animal Kingdom opened on April 22, 1998. "A Bug's Life" premiered in theaters on November 25th of that same year. So for seven months, audiences had no idea who Flik and Hopper were other than performers in a show.
The other three attractions to open before their corresponding films are as follows:
In 1957, the walk-through diorama in Sleeping Beauty Castle at Disneyland opened two years before "Sleeping Beauty," the animated feature film.
At the Disney-MGM Studios (now Disney's Hollywood Studios), the giant bee prop from the movie "Honey, I Shrunk the Kids" was added to the Studio Backlot Tour one month before the movie was released.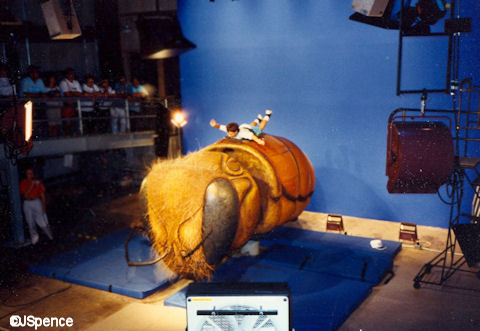 And in April of 1998, the "Countdown to Extinction" (now "DINOSAUR") attraction opened two years prior to the release of the animated film "Dinosaur."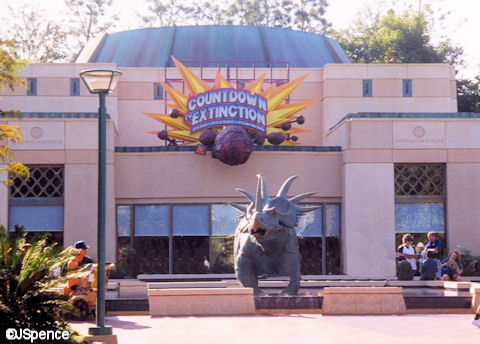 Before we discuss the "It's Tough to be a Bug" show, let's start by examining the queue. Located across from the Disney Outfitters shop, this attraction has a rather unassuming entrance. In fact, it is easily missed if you're not paying attention.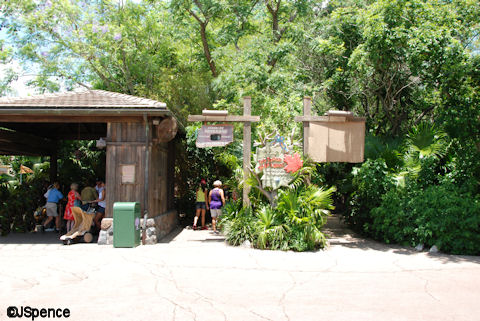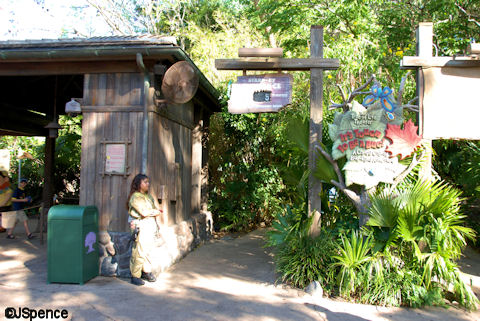 Up until recently, "It's Tough to be a Bug" featured FastPass. However, it was determined that this time-saver really wasn't needed for this attraction and it was discontinued. Today, the area that once housed the FastPass machines is used for a Meet-&-Greet area.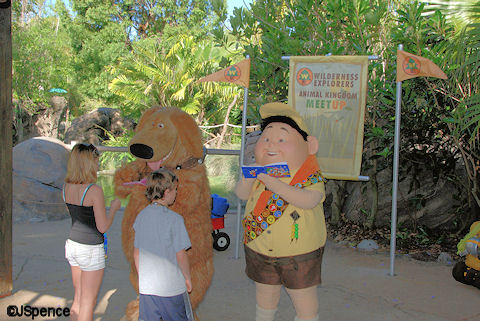 The first section of the queue meanders through a lush forest. Streams, plants, and trees line the pathway. When walking through this area, it's fun to remember that before the Animal Kingdom was built, this was flat pastureland. Every hill, creek, and plant was added by Disney. In fact, the landscaping department brought in 4.4 million cubic yards of dirt and planted over 4 million bushes and trees to make the park the verdant paradise it is.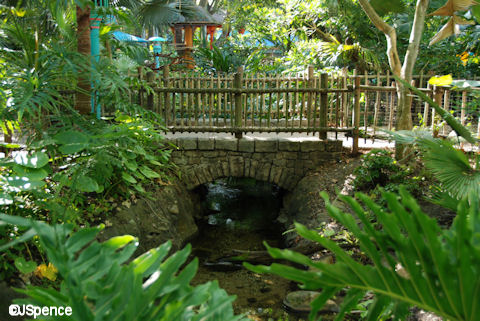 Further along the trail, you will be asked to surrender your strollers as they are not allowed in the theater. Cast members park strollers in a designated lot and they will be there waiting for you at the show's conclusion.
The queue for "It's Tough to be a Bug" also affords views of the Tree of Life and some of the animal carvings that cannot be seen from any other vantage point.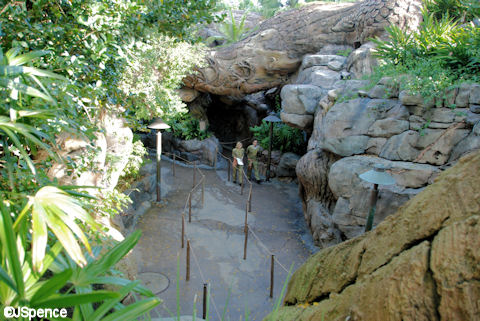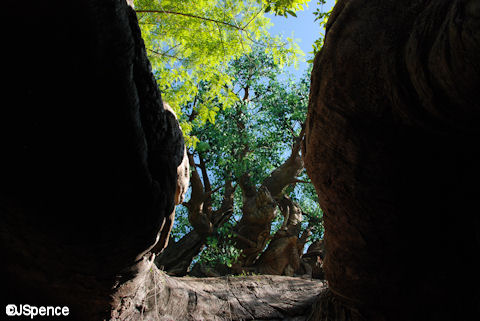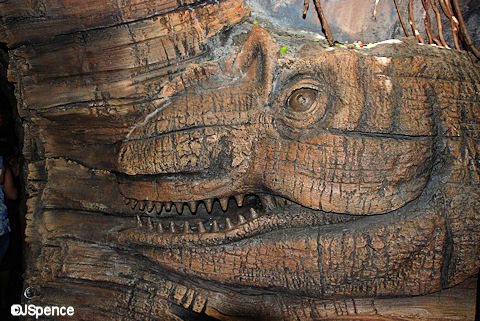 The queue is designed to make you believe you are shrinking as you travel further and further along the trail. The idea is that you're becoming bug-sized. Part of this effect is achieved by taking you through tunnels, or the passageways of subterranean insects. Everything seems to tower above you and the roots of the Tree of Life are becoming enormous.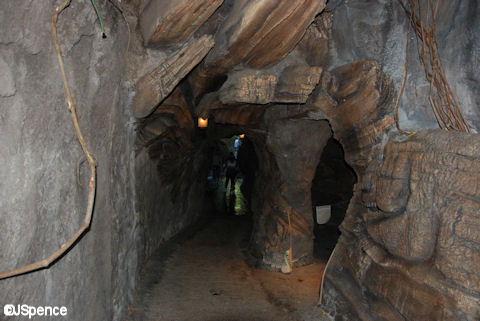 One section of the queue passes by a number of posters that introduce the stars of the "It's Tough to be a Bug" show. Unfortunately, most people race by these and never take the time to read the small print.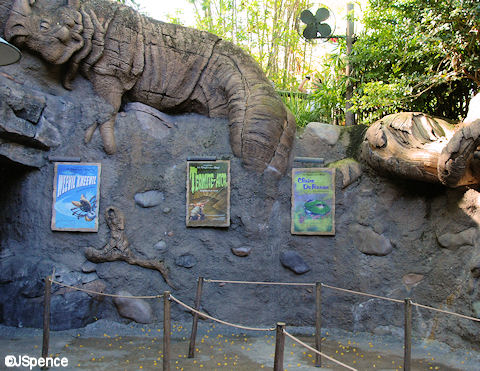 Today, I'm going to help you out and let you know just what you're missing. The first poster reads:
Weevil Kneevil
the acrobatic Acorn Weevil
"You'll go nuts over his act."
– Mai T. Oak
The Acorn Street Journal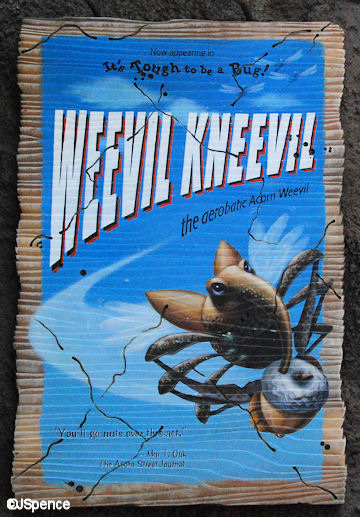 Termite – ator
the explosive Soldier Termite
"He's armed and ready for action."
– Tim Burr
The Hollow Wood Reporter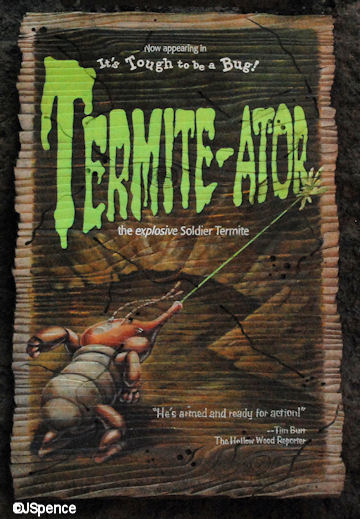 Claire De Room
the scent-illating Stinkbug
"Her performance is a real gas!"
– Wilton Flowers
The Odor-Lando Scent-inel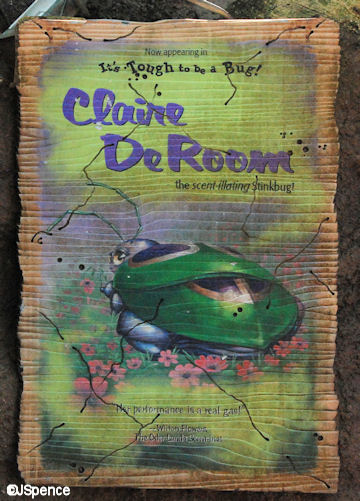 Chili
the deadly Chilean Tarantula
"When it comes to throwing quills, he's a hit."
– Harry Arachnid
The Tarantula Observer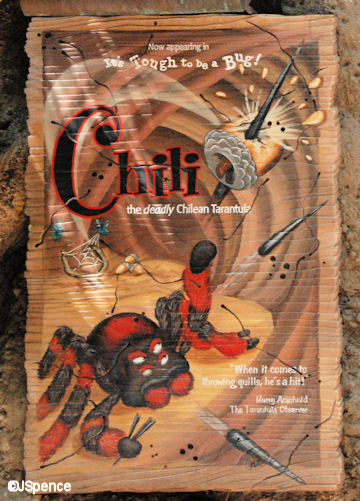 The Dung Brothers
a dynamic "doo doo" duo
This well balanced pair of performers were born for these rolls!"
– Eater's Digest
Jane Goodall was one of the park advisors when the Animal Kingdom was being built. Her contributions to Disney and humanity are honored near the entrance to the theater lobby. Here you'll find a carving of one of her famous chimpanzees and a plaque describing her accomplishments.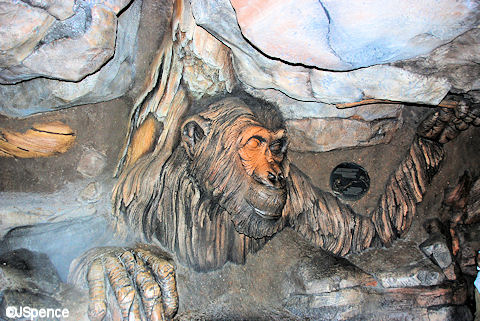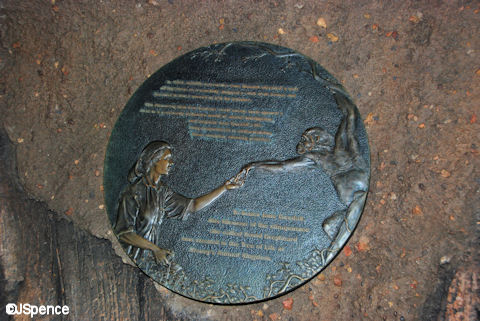 The plaque reads:
In 1960, wildlife researcher Jane Goodall observed a wild chimpanzee as it carefully stripped a stick of its leaves and inserted it into a mound to fish for termites.
This discovery that non humans could create tools opened a door to a previously unknown world of animal intelligence and inspired Jane Goodall's lifelong commitment to understanding these complex, amazing primates.
To honor Jane Goodall, this likeness of the chimpanzee she called David Greybeard was created in the Tree of Life at Disney's Animal Kingdom.
As you enter the lobby, notice the overhead theater marquee was created by termites eating out a log.
You are now within the root system of the Tree of Life. This area is full of details if you take the time to look. For example, there is a giant ball of dung just waiting to be examined. Wow! Don't worry. It's odor free. And be sure to read the plaque.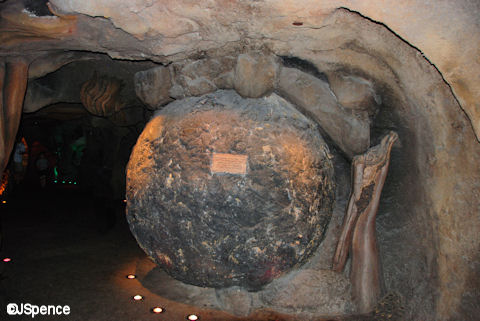 As you explore the lobby further, you will notice roots everywhere and the telltale signs of insects.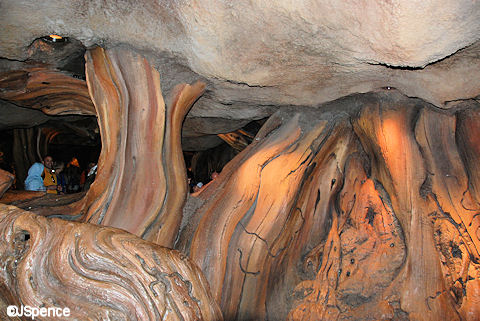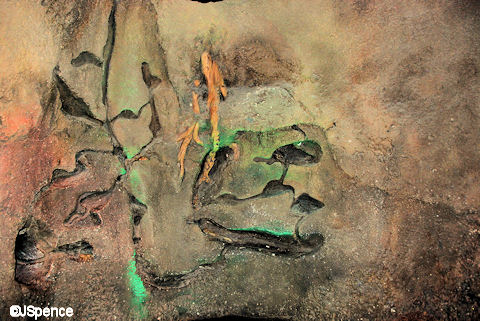 But for me, the best aspect of the lobby is the playbills from past performances of the "Tree of Life Repertory Theater." These humorous takeoffs of actual theatrical productions are clever and humorous. In addition, they offer some interesting facts about the insect world. These playbills offer parents a wonderful opportunity to teach their children about bugs in a lighthearted way. Some of the playbill titles include, "A Grass Menagerie," "My Fair Ladybug," and "Barefoot in the Bark." I strongly encourage you to read these playbills next time you see this show.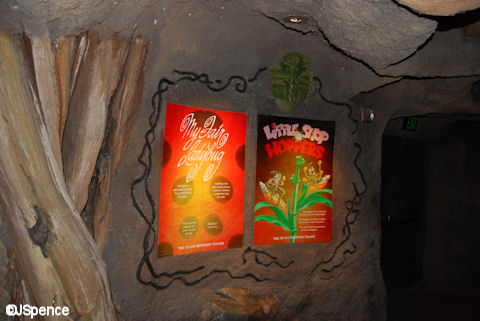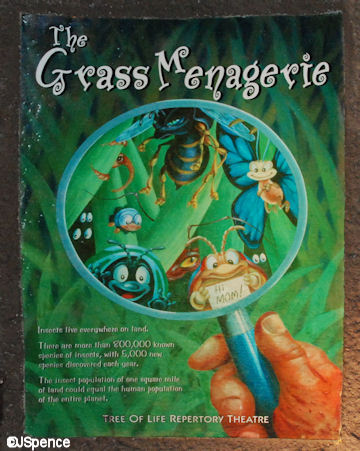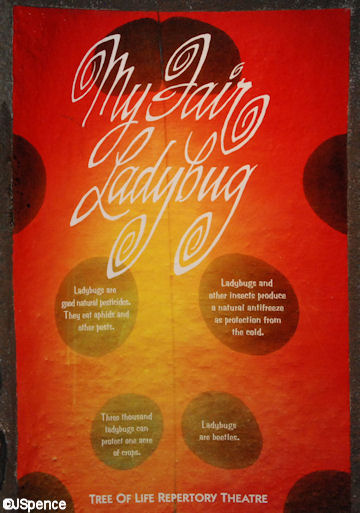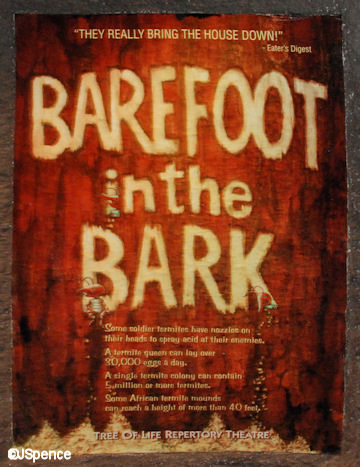 In keeping with the "Broadway" atmosphere, songs from various musicals are played in the background. However, the instrumentation is unique. You see, it's bugs making up the orchestral sounds (probably kazoos). And if you listen carefully, some of the harmonies are wonderful. Here is a complete list of the tunes played:
"One" – from "A Cockroach Line" or in reality "A Chorus Line"
"Beauty and the Bees" – from "Beauty and the Bees" or in reality "Beauty and the Beast"
"Tomorrow" – from "Antie" or in reality "Annie"
"I Feel Pretty" – from "Web Side Story" or in reality "West Side Story"
"Hello Dung Lovers" – from the "Dung and I" or in reality "The King and I"
"Tonight" (with "Flight of the Bumblebee" counterpoint) – from "Web Side Story" or in reality "West Side Story"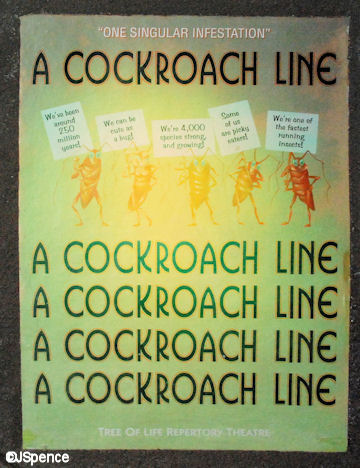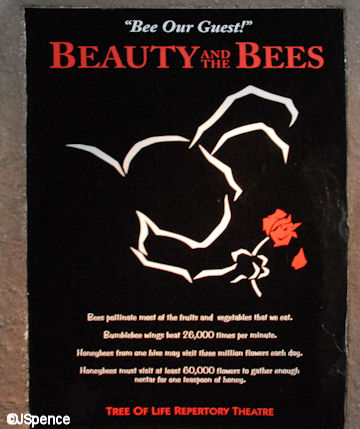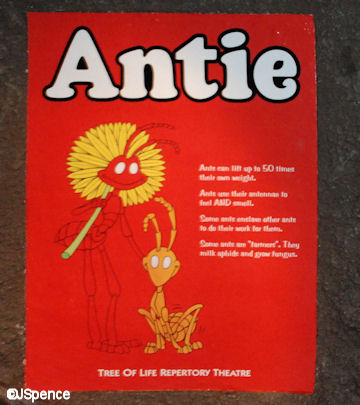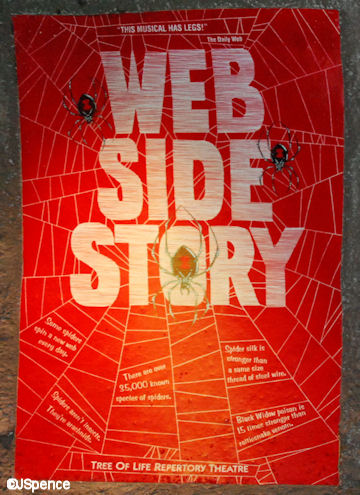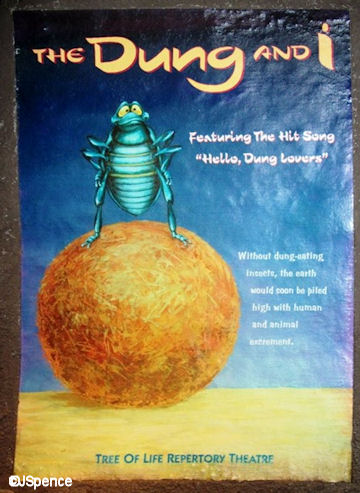 The "It's Tough to be a Bug" show is only around 9 minutes long, so once you enter the lobby, the wait for the next performance is never too extensive.
The theater holds 430 people. For most Disney theatrical shows, I will tell you that it really doesn't matter where you sit, but in the case of "It's Tough to be a Bug" I did experience a bad seat recently. I was in the front row, end seat. Being this close to the screen and so far off at an angle, many of the 3D effects were not in focus. But other than this one occasion, I've never had a bad experience in this theater.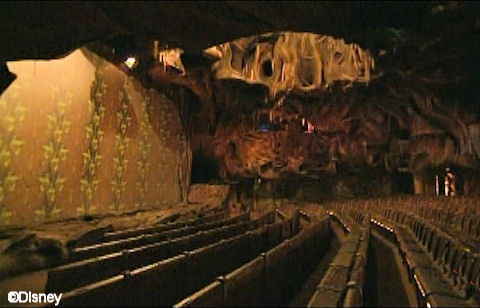 "It's Tough to be a Bug" combines 3D animation with AudioAnimatronics in a fast paced, action packed show. Flik is the master of ceremonies and introduces the audience to an array of insects with special talents. Of course, things go wrong and everyone is in for a few surprises.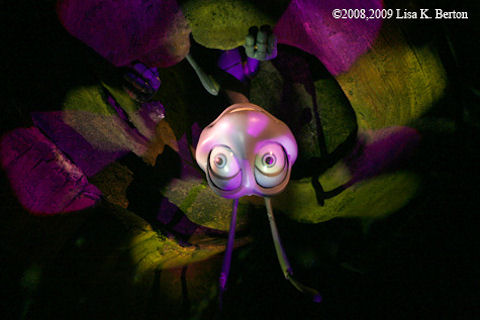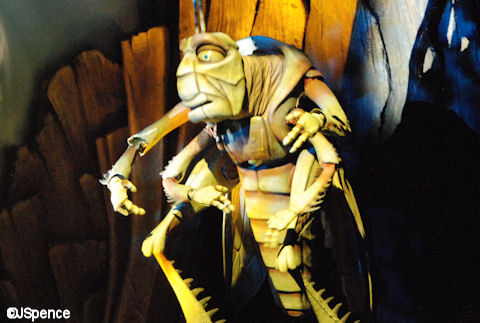 I do want to warn parents who have not seen this show to be wary if they have easily frightened children. "It's Tough to be a Bug" can be scary. Portions of the show are dark, loud, and filled with large spiders. This can be terrifying for some children. But for everyone else, this show is fantastic and full of laughs. People scream with delight during most of the performance.
In case you're wondering who voices the various characters, here is a partial list:
Narrator – Corey Burton
Flik – Dave Foley
Hopper – I have read conflicting reports. IMDB states that Kevin Spacey voiced Hopper for both the movie "A Bug's Life" and the "It's Tough to be a Bug" attraction. However, I have seen other accounts that say that Andrew Stanton voiced Hopper for the attraction as Spacey had it written into his contract that he would not be required to reprise his role for any "A Bug's Life" toys or theme park rides. IMDB states that Andrew Stanton voice Hopper for "A Bug's Life" video game, but makes no mention of the "It's Tough to be a Bug" attraction. This makes be believe that Kevin Spacey can be heard voicing Hopper at the Animal Kingdom.
Chili – Cheech Marin
Termite-ator – French Stewart
Dung Beetles – Tom Kenny
Unnamed bug – Jason Alexander
The theater exit is a good distance from the attraction entrance. If some of your party does not wish to see the show, they should wait for you near the bridge that leads from Discovery Island to Asia.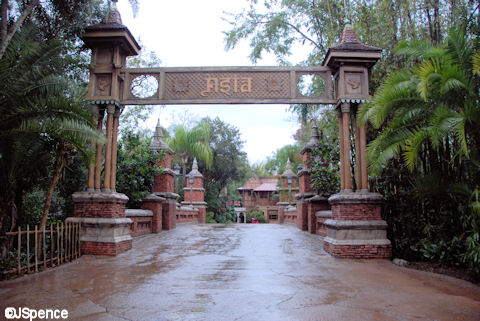 "It's Tough to be a Bug" can also be seen at Disney's California Adventure. It opened on February 8, 2001 and can be found in the "a bug's land" section of the park.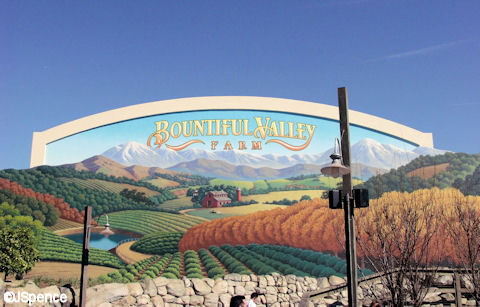 I would like to end this blog with one final thought. Remember, magnifying glasses are for looking at little things, not for burning little things.