Walt Disney World Chronicles: The Epcot Space Pavilion
by
Jim Korkis
Disney Historian
Feature Article
This article appeared in the February 5, 2019 Issue #1011 of ALL EARS® (ISSN: 1533-0753)
Editor's Note: This story/information was accurate when it was published. Please be sure to confirm all current rates, information and other details before planning your trip.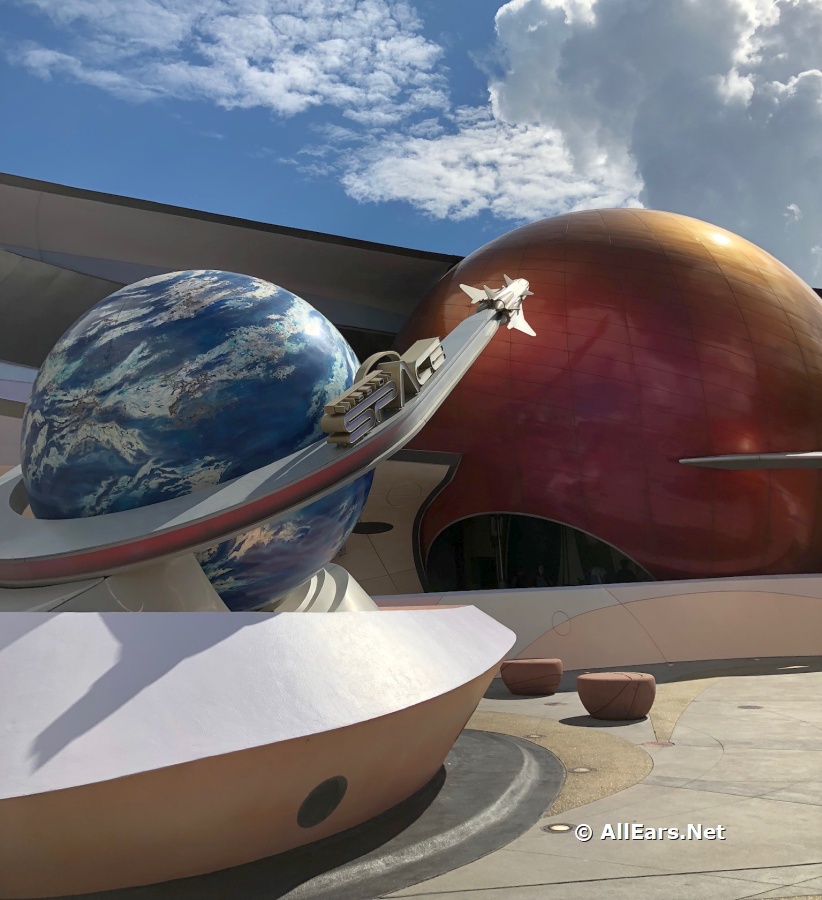 As we all wait with eager anticipation for the opening of Star Wars: Galaxy's Edge at Disney Hollywood Studios, it is important to remember that there was always a plan to have an outer space experience at Walt Disney World.
That outer space experience was not the fabled Flight to the Moon attraction that opened in the Magic Kingdom in 1971. That was merely a clone of a similar attraction from Disneyland that tried to mimic a trip in outer space that circled the moon and returned to a spaceport in record time. The planned outer space experience was to be a totally immersive pavilion with multiple adventures.
Of course Star Wars: Galaxy's Edge will also have multiple adventures that will take place in the Black Spire Outpost, which Disney describes as "the largest settlement on the planet and is known as being a hive of scum and villainy, where traders, adventurers, and smugglers traveling around the Outer Rim and Wild Space can stay off the beaten path; this outpost has become a haven for the galaxy's most colorful — and notorious — characters."
It is important to remember that the Star Wars universe is not science-fiction but science-fantasy, not based on the hard technologies and philosophies that will influence actual space exploration, but a more fanciful storytelling akin to fictional adventure tales. Walt himself was interested in what he termed "science factual" and for Epcot Center it was that more realistic approach that was intended.
It is important to remember that Epcot Center was meant to be "complimentary not competitive" with the Magic Kingdom. Early publicity stated: "In one sense, you can think of the pavilions in EPCOT Center, and the Future World in particular, as a new kind of 'thrill' ride. But unlike the mere physical thrill of the up, down and around of a roller coaster, EPCOT is designed to thrill a person's most 'thrillable' sense –the imagination."
The original Space Pavilion for Epcot's Future World was going to be called "Century 3" (spelled "Century III" on some documents). Just a few years after the United States Bicentennial in 1976, people were looking forward to what would happen in America's third century, so that was the inspiration for the title of the pavilion.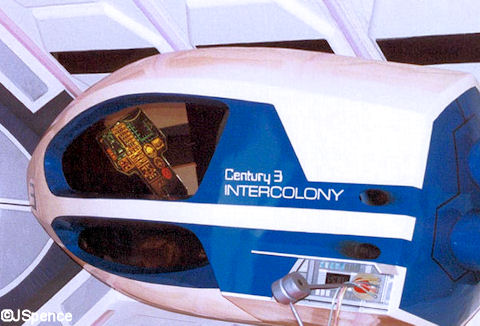 Objections were raised that the name would not resonate with foreign guests who weren't familiar with the name's connection to U.S. history, so the pavilion was temporarily named "Futureprobe." Disney quickly discovered when they did surveys that name called to mind some type of unpleasant medical procedure or instrument.
Imagineer Claude Coats talked with the editor and publisher of Orlando magazine, Edward Prizer, about the proposed Epcot pavilion in 1981:
"We're going to use a ride device with cars that hang from an overhead rail. It will move 1.8 feet per second. We'll make guests feel they're celebrating the nation's tri-centennial, looking back over the last 100 years.
"You will make a two-minute ascent to Future House through thoughts about the future from the past. Then you'll enter a theater for a probe of the future. The screen is more than eight-stories high — the biggest screen ever.
"It will curve over above the audience to give a planetarium effect. The audience will get views of outer space and inside the molecule. We're taking people to places they've never seen before. Like inside an electron microscope. Into living cells. Out to the rings of Saturn. Along the DNA life chain. There'll be many blow-ups of microscopic stuff.
"It's a celebration of the good times ahead of us. We'll show future urban development. A family celebrating their 100th wedding anniversary, which will be a common thing. We'll show a complete new lifestyle. And robot mining. An undersea habitat. Underground homes. Desert farming. Hobbies, cooking, music as they will be in the future.
"We'll end up going into a space habitat. We'll show work and health activity in space. Manufacturing. Mining of minerals from planets or asteroids.
"At the end of the experience, we'll tie the whole thing into the family unit."
Guests would have then left the show while still in their ride vehicles to be taken into a polling area. Lights would illuminate on the dashboard of their vehicles and they then could push buttons to indicate their feelings about what they just saw. The results would be instantly tabulated so guests could compare their reactions against those of others who experienced the attraction.
Obviously, some of these elements showcasing the world of the future through the story of one family made their way into the Horizons pavilion that opened October 1, 1983.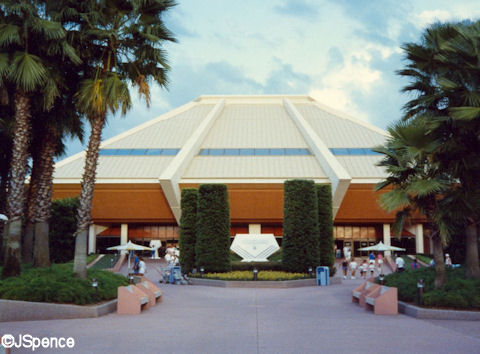 "Tom Fitzgerald was the main story person as the Horizons project got rolling," Imagineer George McGinnis said. "Tom added the warmth of story to scenes I was designing and modeling in small scale."
In fact, Fitzgerald appeared in the attraction. "Tom II," the submarine-repairing boyfriend, was an audio-animatronics figure that looked just like Fitzgerald. However, Horizons was just one attraction. Imagineering wanted an entire pavilion devoted to outer space.
Horizons closed in 1999 and on the same location Mission: Space opened in 2003 with a simulated space flight. The Horizons logo is on display at the center of the rotating "gravity wheel" in the queue of the new attraction.
Tad Stones, who worked at Imagineering with Tim Delaney, described one later proposed version of an entire Epcot Space Pavilion: >"Joe Haldeman, the Hugo Award-winning science fiction author wrote a script for a pavilion. You're inside a giant ball that is rotating, and the idea was you took a 360-degree theater and turned it vertically so you're looking up and down as opposed to side to side.
"Down below are audio-animatronics of the crew and robots. The idea is that you go through an excursion through the solar system with characters interacting and providing entertainment as well as knowledge about all of this.
"We found that it was unnatural to turn the theater vertically because things like looking at a planet now become distorted because of the curved perspective of the screen. The theater was mostly 'bad seats' in terms of experiencing all of this. There were very few seats that would have provided the optimum view that would have made it all work. You would be standing on a balcony. It would have been hugely expensive and the show would have lasted eight minutes."
Much like the iconic image at the entrance of the 1939 New York World's Fair devoted to the World of Tomorrow, the pavilion would resemble a giant sphere with a tall obelisk next to it. The concept was so massive that no one company could afford to finance the entire thing.
In addition, as development progressed, it became apparent it might take up to eight minutes to get the sphere up to the proper speed for an eight-minute show and that there was a huge possibility that it would continually break down.
One of the designs that got as far as a three-dimensional model was the work of Imagineer Larry Gertz that was pitched in 1986. It was a white-domed model to simulate a base located on an asteroid orbiting the moon where mining was taking place. It was supposedly a makeshift affair built of a used space station and parts of old space craft.
The "traveler" would arrive aboard a simulated spacecraft. When the guest stepped off the vehicle onto a ramp, he would leave the noises of flight behind him and find himself in utter silence.
The ramp would lead the guest to a staging area and from there allow him to enter the base itself.
The four main elements in the dome would be the space station, the asteroid honeycombed with great caverns and mine shafts, an astronaut training thrill ride, and a children's playscape.
"You'll be able to wander at will through the asteroid," Gertz said. "It will be a visceral experience of space. You can follow catwalks through the caves."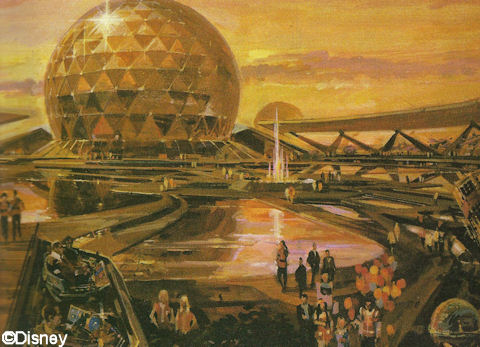 One of the thrill rides would be a simulator. The vehicles would represent devices down in a gaping excavation, bobbing and probing into the rock like huge, spidery mining machines.
On the lower level would be the astronaut training facility. It was actually a modified roller coaster where guests would get into a mining car. A catapult would propel the vehicle from a standing stop to 60 miles per hour in four-and-a-half seconds, putting three G's of pressure on the passengers. The vehicle would rocket three times around the asteroid on tracks.
"We've tried to create something that feels like a mining town," explained Gertz. "We've also created something that might resemble the living environment in a space station. There is a general store selling all kinds of space stuff. And we've put in a sales lot for used space craft. You'll see satellite communications in operation, too. Lots of education in this."
The station pavilion would have been 300 feet in diameter and 110 feet high. In comparison, Space Mountain at Walt Disney World was 200 feet in diameter and 90 feet high.
What stalled this project from developing further was again the lack of a corporate sponsor to foot the bill. So, like all the other Imagineering plans for an Epcot Space Pavilion it was put back on the shelf.
So is an Epcot Space Pavilion just another of the many impossible lost dreams of Walt Disney World, like Thunder Mesa in Frontierland, Beastly Kingdom at Disney's Animal Kingdom, or Muppet Studios land at Disney's Hollywood Studios?
When I talked to Imagineer John Hench about plans for Epcot, he loved pulling out the quote of American rocketry pioneer Robert Goddard, who said, "It is difficult to say what is impossible, for the dream of yesterday is the hope of today and the reality of tomorrow."
Certainly elements from all these proposals made their way in some form into attractions Disney World guests enjoy today. A few might even end up at the edge of the galaxy or in Epcot's proposed space-themed restaurant next year.
============
RELATED LINKS
============
>Other features from the Walt Disney World Chronicles series by Jim Korkis can be found in the AllEars® Archives.
= = = = = = = = = = = = =
ABOUT THE AUTHOR
= = = = = = = = = = = = =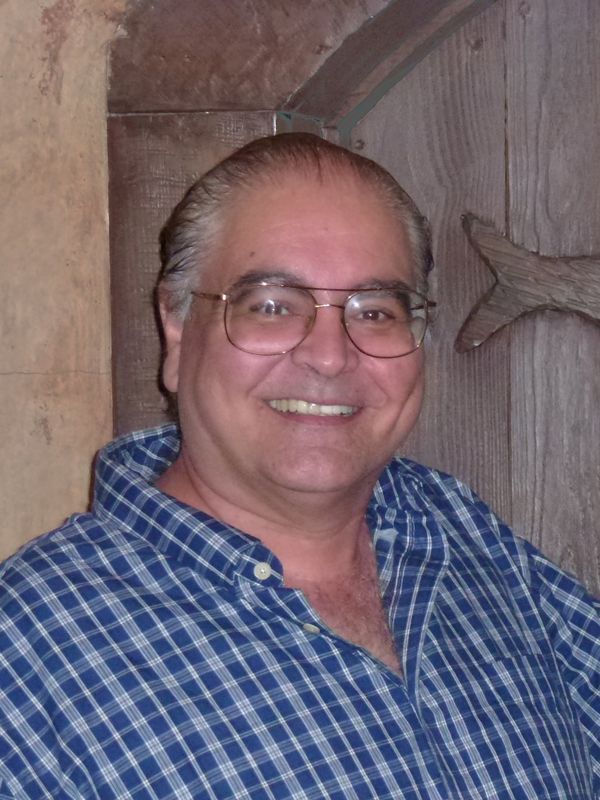 Disney Historian and regular AllEars® Columnist Jim Korkis has written hundreds of articles about all things Disney for more than three decades. As a former Walt Disney World cast member, Korkis has used his skills and historical knowledge with Disney Entertainment, Imagineering, Disney Design Group, Yellow Shoes Marketing, Disney Cruise Line, Disney Feature Animation Florida, Disney Institute, WDW Travel Company, Disney Vacation Club and many other departments.
He is the author of several books, including his latest, Vault of Walt Volume 7: Christmas Edition. This book is filled with nothing but holiday stories of Walt, the parks, animation, comic books and more and is available in both paperback and Kindle versions. Coming this spring Korkis will release The Unofficial Walt Disney World 1971 Companion, covering the development of Walt Disney World from 1958 when Walt commissioned the first studies through the opening fiscal year 1971-72. Filled with lots of anecdotes from the folks who worked on the project, the book includes a foreword by Tom Nabbe and an afterword by Sully Sullivan.