Taking a Spa Break
by Joan L. Feder
AllEars® Guest Columnist
Feature Article
This article appeared in the May 9, 2017 Issue #920 of ALL EARS® (ISSN: 1533-0753)
Editor's Note: This story/information was accurate when it was published. Please be sure to confirm all current rates, information and other details before planning your trip.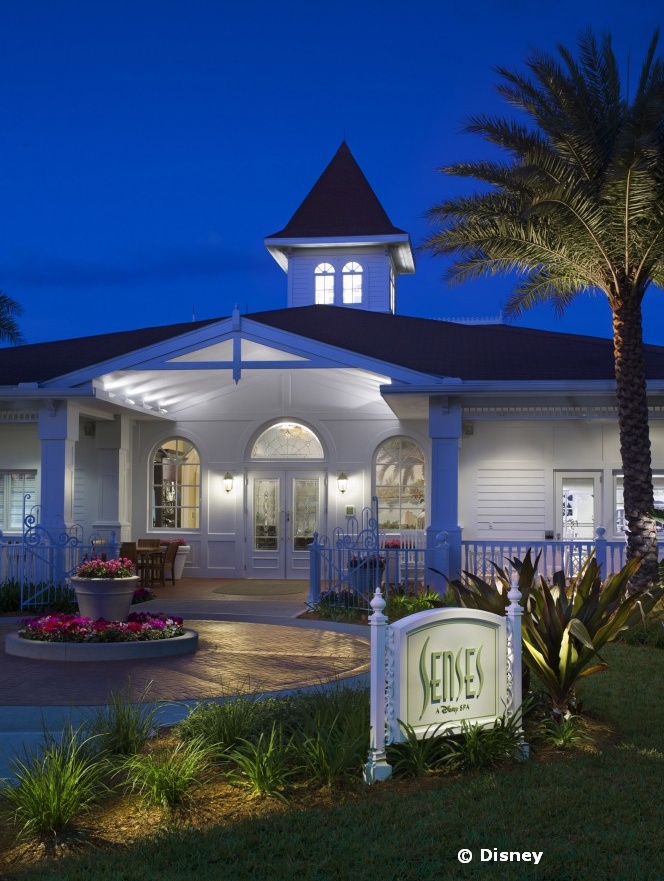 What do you think about when you think of a Walt Disney World vacation? Family fun? Great attractions? How about miles of walking? What if I told you that there is another side to enjoy: deep relaxation, pampering and serenity. A couple of weeks ago, my daughter and I had a chance to experience just that. We finally took time out of the parks and gave Senses Spa at the Grand Floridian a try. Boy, am I glad we did.
Disney's Grand Floridian is the crown jewel of the Disney resorts. It has a Victorian theme throughout, and the spa is no exception. Senses is a full-service spa and fitness center located near the Wedding Pavilion. They have a wide variety of treatments available, including massages, facials, body therapies and nail services. You can upgrade some spa experiences with special enhancements. For example, you can choose Disney Nail Art designs to elevate your manicure or pedicure to the next level. Note that guests must be 18 years and over to use the spa without supervision. There are special manicures and pedicures available for kids ages 4 to 12, but they must be accompanied at all times by an adult.
We made our reservations, by phone, about 60 days in advance to be sure we got the date we wanted. When we made the appointments, we were told that if we needed to cancel, we had to call at least four hours before the appointment to avoid being charged the full price of the services. The cast member also suggested that we get to the spa about 30 minutes before our appointment so we could take our time checking in and enjoying the amenities. There were several pedicure options available. Based on our other plans, we both chose the basic Spa Pedicure which lasted 50 minutes and cost $75. Our appointments were confirmed by email, and then again a couple of days before our pedicures by phone.
We were greeted warmly by the cast member at check-in, and given a tour of the facilities. Behind the front desk there is a mural of old Florida, which is a perfect introduction to the overall ambiance of the spa. Everything is done in warm earth tones and soothing greens, accented by soft lighting. After a brief walk past the treatment rooms, we reached the women's lounge. It is comfortably furnished with a plush sofa, stuffed armchairs, and a row of recliners, separated by drapes that could be drawn for privacy or pulled back if you wanted to chat. The counter was stocked with snacks, Twining's teas and a choice of two chilled, infused spa waters (for our visit, cucumber or citrus).
Just past the lounge is the locker room. Each guest gets her own locker, which is secured with a four-digit code of her own choosing, much like the electronic safes in the resort rooms. The facilities include everything you would expect from a spa of this caliber. There is a steam room and sauna, of course, but the whirlpool area is something special. There are glorious heated beds made of tile off to one side. The gleaming tiles of the wall mosaic were imported from Italy, as were the gorgeous chandeliers. If you choose to use this "wet relaxation area," note that a swimsuit is required.
The bathroom has everything needed to get ready before, or touch up after, a treatment. The showers are stocked with shampoo, conditioner and shower gel. There are a variety of toiletries and tools available, including curling irons, hair straighteners, disposable combs/ brushes, lotion, mouthwash and even Guerlain perfume.
When you are ready, take a seat in the lounge and relax while waiting for your treatment. When it is time, the technician or esthetician will come and escort you to your treatment room. The nail room had a bank of manicure stations, and two rows of pedicure chairs, including a special smaller one just for kids. The pedicure chairs have remotes that can be used to adjust the seat as well as pick from several automated back massages.
We decided on our nail colors and settled in to soak our feet in warm, bubbling water. We were offered a choice of beverage, including a glass of wine or champagne, and given a square of Ghirardelli chocolate to nibble on while we relaxed. The pedicure started with a light exfoliation, and then a moisturizing mask was applied. Our feet and lower legs were wrapped in hot towels and then massaged. It was delicious. This was followed by buffing, nail shaping and finally polish. By the time we were done, our feet looked like new; no small task given the amount of walking we had been doing.
Our technicians gave us each a gift bag containing a file, buffer and a small bottle of nail color so that we could maintain our pedicures throughout our trip. We relaxed in the lounge, sipping herbal tea and chatting, while our toes dried. When we were ready, we headed back out to the front desk to take care of business.
Payment can be made via MagicBand or most major credit cards. Gift cards can also be used, but must be presented at the time of check-in. A 20 percent gratuity is included in the bill; anything more is at your discretion. When we visited, there were discounts available for DVC members, Annual Passholders and Disney Visa cardmembers, so be sure to ask.
The whole experience was a true delight, both relaxing and rejuvenating. Needless to say, I've already made my next appointment, and this time I'm splurging on Disney nails! To make your reservation, call (407) WDW-SPAS or (407) 939-7727. Reservations are highly recommended.
= = = = = = = = = = = = =
RELATED LINKS
= = = = = = = = = = = = =
Spas, Salons and Fitness Centers at Walt Disney World
Senses Spa on the Disney Dream
= = = = = = = = = = = = =
ABOUT THE AUTHOR
= = = = = = = = = = = = =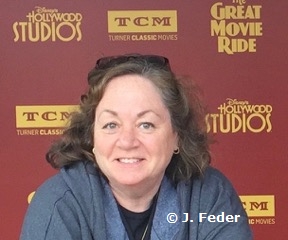 Joan Feder is a lifelong Disney lover and aficionado. She is a writer who loves to cook, read and travel. Her favorite spot to visit is Walt Disney World, where you can find her several times a year drinking a Dorma Nesmond at the Hollywood Brown Derby.
-o-o-o-o-o-o-o-o-o-o-o-
Editor's Note: This story/information was accurate when it was published. Please be sure to confirm all current rates, information and other details before planning your trip.