Summer Nightastic!
Summer Nightastic!, new in 2009, lights up the night in a whole new way from June 12 through August 23. This special summer event includes an all-new fireworks show, a hot new dance club, a chance to step into the nighttime enchantment of the pixies' world and the return of two favorites – Fantasmic! and Disney's Electrical Parade – both with all new show elements and spectacular state-of-the-art special effects.
In this new fireworks show, choreographed fireworks burst over and around the castle to a medley of songs from classic Disney movies like Pinocchio, Dumbo, and Mary Poppins. Tinker Bell flies around the castle to open and close the show, but one of the show's signature moments occurs when Dumbo the flying elephant appears in his first Disneyland fireworks show, and takes his own flight around the castle.
Called "A Pyrotechnic Symphony in Five Movements", Magical's five sequences celebrate "The Magic of Childhood" (music from Peter Pan), "The Magic of a Wish" (music from Pinocchio), "The Magic of Imagination" (music from Mary Poppins), "The Magic of a Mother's Love" (music from Dumbo), and "The Magic of Love's First Kiss" (love themes from the Princess movies). It concludes with the all-new song "It's Magical". Broadway star Eden Espinosa is the featured soloist.
Magical runs nightly from June 12-September 7.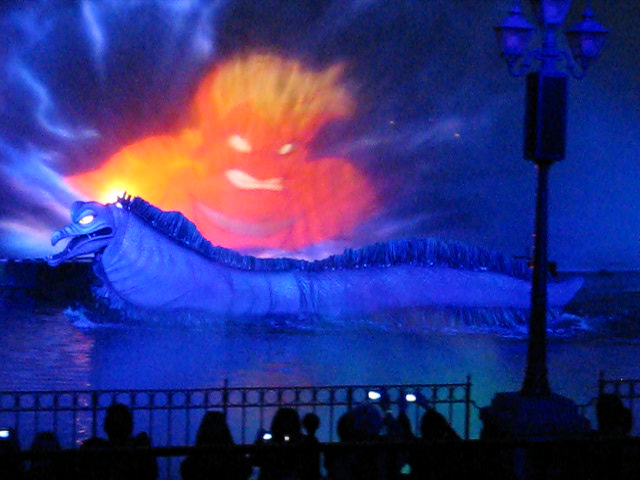 Fantasmic!
Fantasmic! returns to Disneyland's Rivers of America with new high-definition digital projectors, new special effects and several new cast members. New to the show are Flotsam and Jetsam, Ursula's pet eels, who slither menacingly across the water. New high-tech animation features added to Captain Hook's crocodile allow him to snap his jaws at the tasty morsel he pursues.
Later this summer (projected date is sometime in July), the new fully-animated 3-D dragon will make her Fantasmic! debut. Maleficent's 40-foot-tall alter ego will rise to her full height as she breathes fire across the Rivers of America.
Fantasmic! runs nightly from June 12-August 23, then on weekends through September 7.
Pixie Hollow Enchantment
The Pixie Hollow area, home to Tinker Bell and her pixie friends, will be transformed in the evenings as the fairies create an iridescent light show. Pixie dust sparkles in the trees and ponds, and sprightly pixie music fills the air. Every 15 minutes after dark Pixie Hollow comes to life with animated twinkling lights in the trees and landscape and a brilliant and colorful enchanted water show.
Pixie Hollow Enchantment takes place in nightly shows every 15 minutes from June 12 through August 23.
TLT Dance Club
The TLT Dance Club at the Tomorrowland Terrace features entertainment 7 nights a week, with dance club DJs Monday-Thursday and live Top-40 bands Friday-Sunday. In addition to dancing to the hottest dance tunes, guests can play trivia games, send text "shout-outs" which will appear on the big screen displays, and snag giveaway items. There's something for everyone, with activities to appeal to teens, tweens, and families.
Scheduled Entertainment:
June 12 to 13 – Suburban Legends
June 15 to 18 – 102.7 KIIS-FM
June 19 to 20 – Reunion
June 22 to 25 – Star 94.1 San Diego
June 26 to 27 – Tomasina
June 29 to July 2 – Latino and La Raza
July 3 to 4 – Suburban Legends
July 6 to 9 – 104.3 MYfm
July 10 to 11 – The Bolts
July 13 to 16 – POWER 106
July 17 to 18 – Tomasina
July 20 to 23 – Super Estrella
July 24 to 25 – Reunion
July 26 – Instant Replay
July 27 to 30 – 102.7 KIIS-FM
Aug. 3 to 6 – Channel 933 San Diego
Aug. 10 to 13 – 104.3 MYfm
Aug. 14 to 15 – Reunion
Aug. 17 to 20 – POWER 106
Aug. 21 to 22 – Tomasina
Disney's Electrical Parade
Disney's Electrical Parade returns to Disney's California Adventure with new and updated floats, enhanced with new LED lighting technology and more intricate choreography. The all-new Tinker Bell float leads off the parade, as Tinker Bell floats in a balloon over an enchanted fairy garden. Floats such as Alice in Wonderland, Captain Hook's pirate ship, and Pete's Dragon have been updated with new lighting that make them more vibrant and detailed than ever.
Two floats are returning to the parade with updated versions: the Seven Dwarfs diamond mine and the Pinocchio Pleasure Island float. They were last a part of the parade 13 years ago.
Disney's Electrical Parade runs nightly at 8:45 p.m. from June 12-August 23.
Note: Due to the on-going construction in Disney's California Adventure there is less parade viewing area available in the Paradise Pier area.
If you have comments or tips to share with others about touring the Disneyland Resort, please email us. Thank you.