Cuisine Scene: Finding Middle Ground Once More
by Debra Martin Koma
AllEars® Senior Editor
Feature Article
This article appeared in the May 8, 2012 Issue #659 of ALL EARS® (ISSN: 1533-0753)
Readers often ask me if I ever eat at any of the less fancy restaurants at Walt Disney World. And if you read through the reviews on the site, I guess that it could seem that I only eat at bluezoo, California Grill and Victoria and Albert's whenever I'm in Orlando. Ha! I wish! It's true that one of my favorite ways to end the day after long, grueling hours of touring the Disney Parks for extensive "research" (hey! someone's gotta do it!) is with a terrific meal in a nice atmosphere, but it's also true that my budget has its limits. That's why every once in a while I try to cover some of the more moderately priced restaurants and counter service spots, looking for that "middle ground."
Over the last few months, I've visited (and revisited) a few of these more modest restaurants and thought I'd share some of the highlights (and lowlights) with you.

= = = = = = = = = = = = = = =
BOATWRIGHTS
= = = = = = = = = = = = = = =
Boatwrights, the homey table service restaurant in Port Orleans Riverside, was a pleasant surprise for me. Can you believe that I had never eaten there until a few months ago? Somehow it had escaped getting crossed off my list, but I've remedied that, and been back a few more times since. I had low expectations going in. After all, it's a moderate restaurant, it's theme is sort of "folksy" and the menu seemed to be rather uninspired. I was happy to be proven wrong.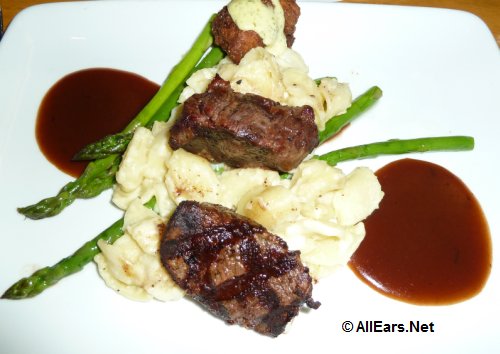 The atmosphere IS folksy and very welcoming. The decor is rustic, with the ribs of an under-construction ship hovering overhead, bearing out the location's name. But don't let such humble surroundings fool you. Boatwrights succeeds at giving you much more than than you're expecting.
On my first dinner at Boatwrights, I was greeted by a basket of fresh-baked cornbread, a warm homespun start to the meal. I enjoyed the Grilled Tenderloin Medallions, which were served with a sophisticated red wine Demi-glace ($27.49). The tender beef, perched atop a bed of creamy macaroni and cheese, was pink and juicy inside as requested, and the medallions were accompanied by several pencil-thin spears of perfectly cooked young asparagus. The crayfish beignet accenting the dish was a savory surprise, and the sauce was seasoned perfectly.
On another outing at Boatwrights I went vegetarian and tried the Pasta with Shrimp — without the shrimp. The dish featured a surprising array of fresh elements: spinach, peas, eggplant, shallots and sun-dried tomatoes tossed in a light and lightly seasoned sauce with ear-shaped orecchiette pasta ($16.99 as a vegetarian entree; with shrimp $19.99; with chicken $18.99). With so many filling vegetables, I didn't miss the shrimp in the least, and the cornbread was perfect for sopping up the extra sauce.
Each visit, the service at Boatwrights has been friendly and thorough without being intrusive. And awww, look, they even shaped a Mickey head in the foam on top of my cappuccino. Even if you're not staying at Port Orleans, a trip to Boatwrights would be well worth your time.
Boatwrights is open for dinner.
= = = = = = = = = = = = = = =
THE WAVE…
OF AMERICAN FLAVORS
= = = = = = = = = = = = = = =
The last time I wrote about The Wave, located on the lower level of the Contemporary Resort, I had been there only for dinner — which I rated very highly. Since then, I've been back to the restaurant numerous times, not just for the evening meal, but for breakfast and lunch as well.
If you've never been to the Wave, you may be surprised to realize that it has no windows. (It's located on the lower floor of the resort, where the game arcade used to be.) Still, the atmosphere here is rather airy and spacious, and the decor is, well, contemporary, with natural fabrics and earthtones. You enter through a blue, illuminated "tunnel", a space-agey effect that reminds me of the launch point of Space Mountain every time I see it.
On recent visits to the Wave's breakfast, I've forgone the buffet, which friends exalt for its stellar cheesy grits and sweet potato pancakes. Instead, on one recent occasion, I tried the Eggs Benedict, a high cholesterol weakness of mine. The Wave's version features two "Naturally Raised" poached eggs topped with Key Lime Hollandaise ($10.99). Having sampled this dish around the World, I think I can safely say that the Wave's takes the cake — err, the egg! The eggs were done perfectly, not too runny, and not too hard, and they sat on two halves of a lightly toasted English muffin. I stress the "lightly toasted" part, as elsewhere I have occasionally had to destroy my plate while sawing through a super-crusty muffin! The lime zest garnishing the eggs added just the right hint of citrus to the dish, which was supplemented with a healthy portion of home-fried potatoes.
On another breakfast occasion I tried the much-touted Signature Sweet Potato Pancakes, which came with pecan-honey butter ($9.99). A little on the sweet side for me, but I can certainly understand why folks love them. And the slightly spicy chicken sausage that accompanied the dish was a pleasant change from the usual greasy bacon or sausage patties that many restaurants serve up. Other favorite breakfast choices here include Spinach, Tomato, and Feta Cheese scrambled eggs with breakfast potatoes and a biscuit ($8.99) and the Egg White Frittata with spinach, onions, mushrooms, potatoes, and cheddar ($10.99). And of course the buffet ($18.49), with the aforementioned cheesy grits and sweet potato pancakes, as well as biscuits and gravy, steel cut oatmeal and more, is extremely popular.
Lunch at the Wave is an oasis of quiet, away from the hustle and bustle of the nearby Magic Kingdom. In the past, it's been one of my favorite spots for a midday break, but a recent menu change is causing me to rethink that choice. The new bill of fare reflects many of today's current health-conscious trends — there's a sustainable fish, bison burger, multigrain pasta, Asian chicken salad. Obviously, those changes in and of themselves are not a bad thing.
But, on a recent visit, I tried the Vegetarian Cuban Sandwich, which is topped with sundried tomato pesto, and is served on a dry grain bread ($11.99). The flavor of the veggies was good, and the sandwich size quite generous, but the bulgur wheat salad served on the side was sweet to the point of inedibility. Our server indicated it had been sweetened with honey — whoever had the heavy hand really needs to back off. No one at our table could finish more than a bite or two of that sickeningly sweet side dish. Another diner tried the restaurant's new bison burger and found it dry and unappetizing. Oh well. Perhaps some fine-tuning is in order. I like the spot well enough that I'm willing to give it another try soon — I'll just skip the side salad.
The Wave is open for breakfast, lunch and dinner.
= = = = = = = = = = = = = = =
COUNTER SERVICE
= = = = = = = = = = = = = = =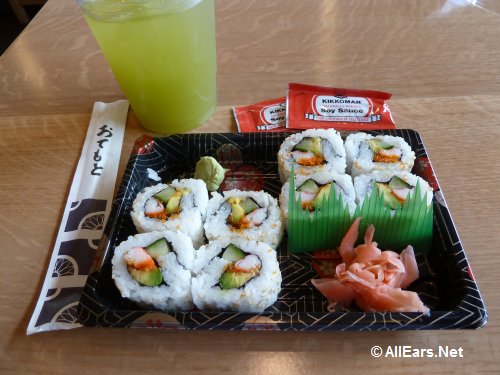 There have been a few changes in the fast food arena at Walt Disney World lately, and I've been attempting to make the rounds. I'm looking forward to the new Tutto Gusto in Epcot, for example, and I hear there have been menu changes at some old favorite stops. Slowly but surely, I'll get there.
I had the chance to try the Katsura Grill in Epcot's Japan pavilion (the renovated Yakitori House) several weeks ago, and, if you are fond of Asian cuisine, I highly recommend it. The restaurant's new decor is brighter, the service line has been streamlined, and there's a little more seating, making the entire experience more enjoyable. And top it all off, the food is pretty good, too. The California Roll comes with eight pieces of surprisingly fresh sushi ($8.50). Presented prettily on a plastic tray with chopsticks, fresh ginger, wasabi and soy sauce packets, the tasty morsels make a nice, light lunch, one that less hearty appetites might want to share. Try it with a tall glass of refreshing Iced Green Tea ($2.59) as I did, and enjoy the recently renovated Katsura Gardens outside, with its entertaining family of ducks.
Over in the Magic Kingdom, Sleepy Hollow, located at the entrance to Liberty Square, has been getting some attention for the introduction of a line of waffle sandwiches, both sweet and savory. The ham, prosciutto and Swiss waffle sandwich sounded like a too-safe choice to me, so I recently tried the Sweet and Spicy Chicken Waffle Sandwich ($6.99) and found it to be an unexpected treat. With some effort I could fold the fresh baked waffle over and just barely managed to eat it like a sandwich, but the combination of flavors was surprisingly good. The waffle, light and crispy on the outside, tender on the inside, was slightly sweet, and the sauce had just a little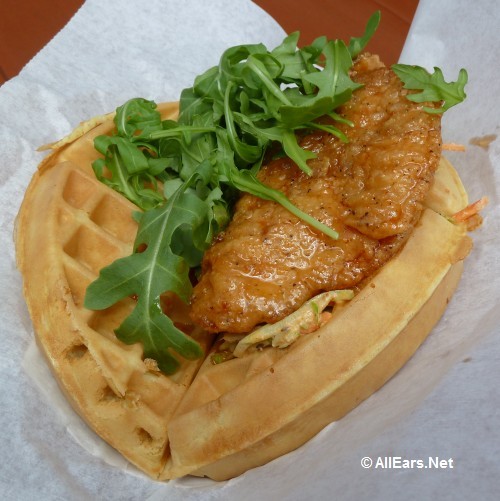 spice to it. The sandwich was so large, I could easily have shared it with someone and still had plenty — but since I was alone I savored every bite. Next time I visit this spot, I have my eye on the dessert waffle sandwich — a combo of the hazelnut-chocolate spread Nutella with Fresh Fruit ($5.99)!
Finally, I've found myself at Mara, the counter service spot over at Animal Kingdom Lodge, several times lately, and have had the chance to sample a number of lunch and dinner items there. While the atmosphere leaves something to be desired (it's a typical fast-food joint with a TV blasting in one corner, and lots of pool patrons flip-flopping in and out nonstop), and the service tends to be on the slow side, the food is fairly good, with a touch of the Animal Kingdom Lodge's trademark exoticism. I'd recommend the curry-tinged African Stew ($7.99), which until recently came in a fresh bread bowl, and any of the flatbreads (which many of you may recognize as "pizza"). My favorite is the vegetable flatbread, which comes with olives and cheese, but the chicken, with corn, mozzarella and zough drizzle ($8.79), is quite good, too. Finish the meal off with a selection from the bakery — the white chocolate chunk macadamia nut cookie is a personal favorite, but don't forget you can also pick up a package of small zebra domes, those chocolatey good desserts that are so popular at the Lodge's Boma buffet. Put it all together and you have a fairly reasonably priced meal. As an added bonus, you are in a prime position for some post-prandial animal viewing — take a walk outside of Mara and visit one of the resort's overlooks to see what's strolling around the savanna. With any luck, voila! You'll have dinner and a show!
So you see that I truly don't only dine at the expensive, upscale restaurants — I like to look around a bit, as everyone does, searching for that middle ground, and dining well while doing it!
= = = = = = = = = = = = = = =
RELATED LINKS
= = = = = = = = = = = = = = =
Menus:
http://allears.net/menu/menus.htm

Restaurant Photo Gallery:
http://allears.net/din/gall_res.htm
See what AllEars.Net Readers think of these eateries, or submit your own thoughts, in our very active Rate and Review Section:
http://land.allears.net/reviewpost
= = = = = = = = = = = = = = =
ABOUT THE AUTHOR: Debra Martin Koma, AllEars.Net's Senior Editor, fell in love with Walt Disney World on her first visit there — when she was 35! She's lost count of how often she's returned to her Laughing Place in the ensuing years, but knows that she still isn't tired of it. (And doubts she ever will be.) Read more of her writings for AllEars® here:
http://allears.net/btp/dkoma.htm
-o-o-o-o-o-o-o-o-o-o-o-
Editor's Note: This story/information was accurate when it was published. Please be sure to confirm all current rates, information and other details before planning your trip.