Welcome to 2009! Here's your first calendar for the new year. I thought I'd start us off with a trip to Europe. This is the Disneyland Hotel and the entrance to the Disneyland Resort Paris. Again this year, each month I'll post a new calendar that you can print off to use at home or work. Hopefully, they will bring a little Disney magic everyday!
You will need to have Adobe Reader on your computer to download the calendar(s). Just click on the photo to download the calendar you want.
This one prints out at 8.5″ x 11″. It's handy if you need a calendar that you can write on.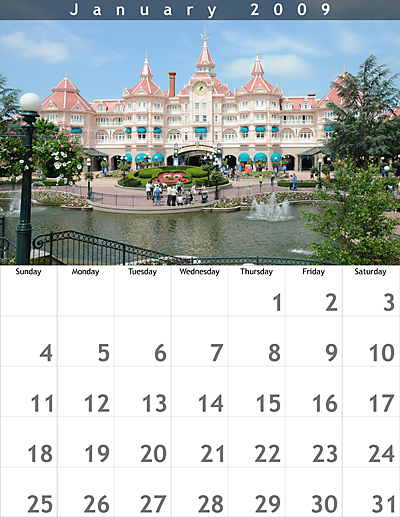 This one prints out at 4.75″ x 4.75″, the perfect size for a CD Jewel Case frame.