Expedition EVEREST Live Reports from the Previews
Saturday, 1/28/06 Photos and Reports
Seating Photos | Queue Photos | Ride Photos | Slide Show
***WARNING: RIDE DETAILS/SPOILERS AHEAD ***
***WARNING: RIDE DETAILS/SPOILERS AHEAD ***
January 28, 2006
AllEarsNet.com "FAMILY OF THE DAY"

Even guests can help create Magic at Walt Disney World. Deb Wills obtained FastPasses and then went off to the AllEarsNet.com Meet and Greet. There she met the Dawkins family, who were visiting from the UK. When asked if they had ridden Everest, Dorothy told Deb they didn't have Annual Passes and weren't DVC members so they'd have to wait another 2 or 3 years until they were able to return to Florida. Deb, a DVC member who could bring in 3 guests and already had FastPasses, invited them to join her on her next ride.

Adam – "The giant Yeti was just amazing. I knew we were going to go backwards, but I didn't expect what we did."

Jeana – "Amazing, breathtaking! The Yeti was just brilliant. From beginning to end, spot on!"

Dorothy – "It was fabulous. I was a bit shaky when I got off though. Couldn't stop laughing the whole way through. The exhilaration was just brilliant."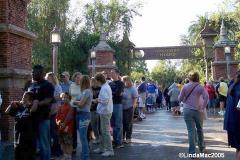 Lines continued to grow as the day went on. Lines just to enter Asia to show your ID backed up to Discovery Island!
Jean and George Miller – New Jersey

Jean – "I liked the ride very much, but don't think I'll do 2 in a row. I loved the theming that was the best part, going through the museum and looking at the artifacts."

George – "It's very easy for people to get on and off the ride, very level, nice smooth ride. I'm sure everybody will enjoy it."

Barbara Paulson – Florida

"We didn't know what to expect. Going backwards, the drop and the Yeti were just fabulous. It is SO smooth, you don't jerk, jerk! We've got our FastPasses and are ready to go again!"

Chad and Kerry Wilson – Florida

"Our favorite part was when you see the Yeti."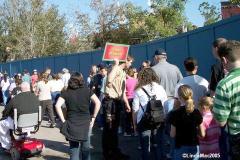 Cast Members had portable signs, as the lines for FastPass Distribution, Stand by and Gift Redemption moved around the area depending on crowds.
Ken and Alicia from Virginia

Alicia – "We rode Everest twice, 2 thumbs up!"

Ken – Roller Coaster Enthusiast – "I love this ride, one of the best coasters I have ever ridden. I would definitely go on this ride again."

Hope from Boston

"We're Annual Passholders and came down to do the ride. Loved it. I was a little concerned about the going backwards part but there was enough sensory input that I wasn't really aware I was going backwards. And I loved the mist."

Noreen and Tim Rachuba
Shayna Maleski and Cindy Neumeyer, Pittsburgh, PA

Noreen: "Favorite part is backwards in the dark."

Tim: "I'd wait all day long for the ride, it was that much fun!"

Shayna (13 years old): "I loved the going backwards part!"

Cindy: "It's quick, fun and exciting! It was actually worth waiting in line."

Virginia, Rhode Island

"We just rode 3 times, it was a lot of fun and great to be there with everyone else. We didn't wait long at all. The going up was kinda scary but also cool because you can see the other parks!"
By 10am or thereabouts, Cast Members began handing out FastPasses to those in line. I saw another Cast Member handing out Single Rider line tickets. As I left the area shortly after 10am, the line stretched all the way back to the Drinkwallah building! Whoa!
And then before 11am, all the FastPasses for the day were all given out.
At 9:15am we headed to Expedition Everest via the pathway from Tarzan Rocks. We made a very good choice to enter this way as the lines weren't too bad. However, we could see the mass of people closer to the attraction. When I tell you lines were huge, it is not an understatement. Before 10:00am, lines just to GET a FastPass were more than 20 minutes long Again, they used strange thinking and had folks who ONLY wanted the free lanyard/pin gift also get in the FastPass lane. What confusion.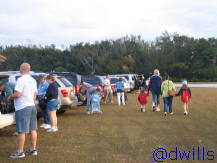 Not since opening day April 1998, has Animal Kingdom seen the kinds of crowds it saw today! We arrived shortly before 8am (Lou Mongello invited me to breakfast with Donald) to find cars being directed to grassy areas to park. Wow! Lou and I looked at each other and nodded silently, knowing the day would see near record crowds!