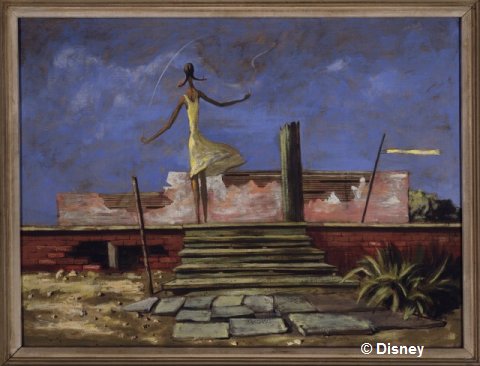 LAKE BUENA VISTA, Fla. (Feb. 20, 2014) – Walt Disney World Resort guests visiting The American Adventure pavilion at Epcot will see exciting updates as part of an expansion of "Re-Discovering America: Family Treasures from the Kinsey Collection" this spring. Additional images, artwork and artifacts related to watershed moments in American history will soon be on display.
Walt Disney Imagineers, along with philanthropists Bernard, Shirley and Khalil Kinsey, have begun to add several new artifacts and display cases to the popular cultural exhibit and will continue to do so in coming months.
"The Kinsey Collection shares the powerful and previously untold stories of those who dared to dream," said Erin Youngs, vice president of Epcot. "Representing more than 400 years of African-American achievement and history, the Kinsey Collection showcases the best of the American spirit with a nod to ingenuity and innovation. We are delighted to expand the exhibit and bring even more of these treasures to Epcot guests."
Themed to hope, belief, courage, imagination and heritage, the exhibit provides empowering stories of American history from voices that are not commonly seen or heard. Art and artifacts pay homage to African Americans who helped build and transform a nation. Their stories of determination and courage, from the nation's early days to the present, are at the heart of the exhibit.
New objects joining the exhibit this spring include:
— Distribution of Population in New York, 1801 – At the Philadelphia Convention of 1787, states with smaller populations voiced their concern about representation at the federal level. This resulted in the Three-Fifths Compromise stating that only three-fifths of the slave population would be counted in the census. The Distribution of Population in New York, 1801 was one of the first few census calculations done by the state of New York following the compromise.
— Noon Wash by artist Jonathan Green – Passionate about promoting cross-cultural fine art, Green reflects an inherent sense of history and place as he shares the story of the southern experience. His work with acrylic and oil paints reflect the hope of African Americans throughout history. A number of his works are inspired by his upbringing in the Gullah community of coastal South Carolina.
— Slave Songs of the United States – Published in 1867, this original collection of African American music was the first of its kind. Northern abolitionists William Francis Allen, Charles Pickard Ware and Lucy McKim Garrison collected 136 songs from the slaves of Southern plantations, phonetically recording them as they heard them, in an effort to preserve the unique and powerful art form.
— Tintype Photographs – Popularized in the mid-1850s, tintypes were easier to produce than previous methods and made photographs accessible to more people. Though their names have been lost to history, the subjects of the tintype portraits included in the exhibit continue to share their stories of courage .
— Carte de Visite – Following a similar printing process as tintypes, carte de visite photographs were easier and more economical to produce, with the image printed on a high quality paper. The carte de visite photographs being added to the Courage portion of the exhibit feature African American soldiers from both sides of the Civil War
The Kinsey family's private collection features rare art, documents, books and artifacts and has been displayed throughout the U.S., including the Smithsonian National Museum of American History. Since opening at Epcot on March 8, 2013, approximately 40 pieces have been on display at the interactive exhibit where guests are able to use touch screens to further explore the art, artifacts and history. Guest-activated lanterns also help bring the history to life with narration provided by celebrity narrators including Academy Award winner Whoopi Goldberg ("The View") Diane Sawyer ("ABC World News with Diane Sawyer"), actress Kerry Washington ("Scandal") and more.
Many notable visitors have experienced the exhibit including actor Blair Underwood, NBA Champion John Salley and R&B legends Boyz II Men.