The Great Water Park Dilemma
by
Everett Stephens
AllEars® Guest Columnist
This article appeared in the November 14, 2017 Issue #947 of AllEars®
(ISSN: 1533-0753)
Editor's Note: This story/information was accurate when it was published. Please be sure to confirm all current rates, information and other details before planning your trip.
A recent trip to Walt Disney World gave our family the first opportunity to visit a Disney water park. We purchased the Water Parks & More option with our Park Hoppers and we wanted to get the best value for our money. Quite a bit of information about both water parks is available, including some very well-written comparisons between the two parks. With our 14- and 12-year-olds in mind, I wanted to approach the issue from a slightly different angle… Which would be better for US?
For those new to Walt Disney World, the resort has two water parks — Typhoon Lagoon and Blizzard Beach. Typhoon Lagoon is located near Disney Springs and is themed around a fictitious typhoon that struck and caused mayhem, resulting in a topsy-turvy tropical theme. Both hardscape and softscape elements create a totally immersive and lush environment. Tube water slides such as Keelhaul Falls and Mayday Falls complement slides like Humunga Kowabunga and the Storm Slides. Crush 'n' Gusher, a collection of three water coasters, entertains along with a massive wave pool.
The newer of the two water parks, Blizzard Beach, is located near Animal Kingdom. It is themed to resemble a ski resort built as the result of a fictional freak snowstorm. As the story goes, ultimately the snow melted and left all the snow attractions in place. Toboggan slides became water slides and the ski lift became a novel way to reach the top of the water slides. The melted water collected at the bottom of the mountain to become a lazy river. The ski jump became Summit Plummet which, at 120 feet tall, is one of the tallest and fastest body slides in the U.S. Hardscape snow is scattered around the park slides and pathways.
Both parks are well-executed and a joy to explore, with each offering twists on the traditional water attractions, such as timed multiple tube slide races, an attraction with multiple water coasters launching from the same tower, and of course, Summit Plummet. Blizzard Beach also offers a unique way to access the slides — a ski lift! You catch the lift and ride it up Mt. Gushmore. The lift chairs even have skis that pop down on the ride up.
So how did I decide which water park was right for us? I asked myself a series of questions, the same sort of questions you would probably ask.
Why should we even go and waste precious vacation days at a water park? I have a water park at home!
Yes, they are water parks, but they are Disney water parks, and they are a hoot for many reasons. Both are incredibly themed and decorated with the typical Disney attention to detail. Both have exciting attractions and both even have multiple sand-covered areas to relax with chairs and chaises. I think if you can spend at least four hours at the water park, you will have an enjoyable time and it is a good value.
Is there a parking fee at either water park? No.
Do the parks have height requirements for the slides?
Yes. This is what caused us to delay visiting a water park. We wanted to wait so that both children could enjoy all the attractions and no feelings would get hurt. A big benefit of this is that now both children are very comfortable in the water (our 14-year-old is even a certified diver!), which made the wave pool at Typhoon Lagoon a major attraction.
What about kids who don't meet the 48" height requirement?
Both parks have areas for little kids. At Typhoon Lagoon it's Ketchakiddee Creek, at Blizzard Beach Tikes Peak fits the bill. Children under 10 will have to be supervised by an adult. Both areas are wonderfully themed and would not be a deciding factor in which park to visit, in my opinion.
Is there a "best time" of year to visit either water park? Or a best time of day?
Well, it does get cold in Florida, but this is more common in December, January, and February. We visited in October and were quite comfortable (even hot) in the 92F sun. The water is heated (all 3 million gallons!) to help buffer those colder days. One park is usually closed during winter for refurbishment. As far as best time of day, after a lot of research on this question, I came up with this answer: Go EARLY. Be at the gates 15 minutes before the park opens. There are differing opinions on whether weekdays are better than weekends. Summers are busiest, especially when kids are in school. Early to mid-fall or spring are good times to visit.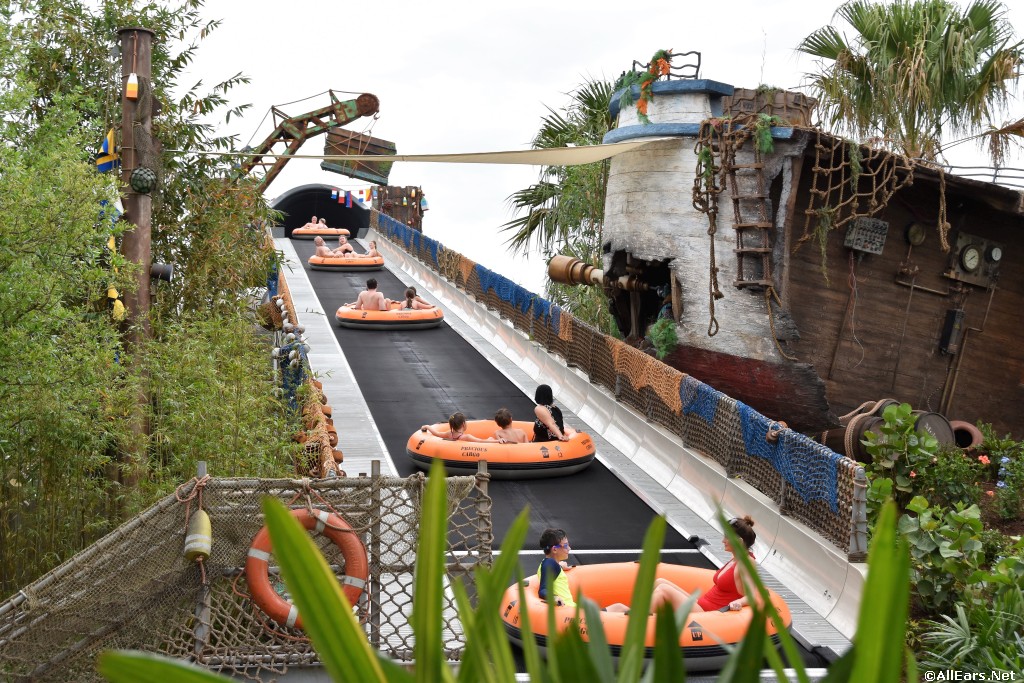 Is there FastPass at either water park?
Not exactly, but there are virtual queues for some of the big attractions at each water park.
Do you need your MagicBand?
If you have your admission tickets, including the Water Parks and More option, on your MagicBand, then you will need it for admission. Once inside the water parks, you can charge food or other purchases to your room if you have set that option up through your Disney resort. Otherwise, you will not need your MagicBand.
Do you need to bring towels?
You can rent towels at either park for $2, or bring your own. Towels can be rented at Singapore Sal's or at High 'N Dry Rentals at Typhoon Lagoon or at Beach Haus and Snowless Joe's in Blizzard Beach. Both parks also offer locker rentals.
Can you bring in food?
You can bring food into the park, as you can any Disney park. No glass or alcohol is allowed.
Speaking of, how is the food? Is one park better than the other?
Multiple kiosks serve food throughout both parks, and several quick dining options are available. All serve common theme park food, from sandwiches to salads and wraps. Quality is fair to good. Two things merit comment. The Sand Pail, a smaller version of the Kitchen Sink available at Beaches 'n' Cream, is a more manageable-sized ice cream sundae, and it's still big enough to share. The best offering is the mini-doughnuts available at both parks. They are freshly made, and not to be missed!
Is there shopping? A sundries shop is available at both Typhoon Lagoon and Blizzard Beach for sunscreen and other need-it-now items.
Are the refillable mugs worth it?
In my opinion, no. The mugs are $9.99 for all-day soda refills, so the equivalent of three or four soda purchases. But they are only good for one day-visit. Remember, the quick-service counters will give you ice water, which is all you need to stay hydrated. If you drink a lot of soda, it may be worth it. At lunch time, you will likely want to have your own drink, so sharing a mug is possible but it may not be as practical.
Is either water park handicapped accessible?
Common (non-aquatic) areas in both parks are easily accessible. Chairs are usually located in a sandy area which can play havoc with and potentially damage motorized scooters. Wheelchairs will have trouble with these sandy areas. The lazy rivers have stair-stepped loading areas with handrails, which can make gradually descending into the river easier. Some strength and balance abilities are still required. Water depths seemed approximately 36" at Typhoon Lagoon and 30"-36" at Blizzard Beach. I don't consider the slides accessible at either location.
Are there any particular restrictions on swimsuits? What about water shoes?
Swimsuits with metal are not allowed, nor are wetsuits (neoprene) or jeans. Water shoes are allowed, but you may be asked to remove them for certain slides.
What if it rains? Do I get a revisit?
Even if it rains, you can still play in the water parks — unless there's lightning or a very bad storm. If they do ask you to evacuate the water due to lightning, you can still eat or shop while awaiting reopening. Disney does have an Inclement Weather Policy at the water parks that allows revisits if the attractions are closed in your first four hours and do not reopen. Check the current policy when you arrive at the park.
So after all that, what's the answer to the original question? Which park is better: Typhoon Lagoon or Blizzard Beach?
This is still a tough one to answer. We ended up visiting both and discovered that they are both wonderful. In fact, visiting either may spoil you for visiting non-Disney water parks. Both feature very long lazy rivers, fun slides, and raft rides. Both feature great kids' areas as well as family areas. Both have body slides that are smoother than what you're likely used to. You won't go wrong with either one.
For us, though, Typhoon Lagoon was the winner. Our 14- and 12-year-olds enjoyed it the most — the wave pool won them over. Miss Adventure Falls was a really neat family raft ride, but we spent most of our time in the Surf Pool, a wave pool that features huge waves about every two minutes. They are large enough that you should watch weaker swimmers and smaller children even though there are lifeguards present. Even in the shallower areas the wave is considerable and can knock over the young (and the young at heart!). Both our children are good swimmers and they were comfortable playing in the big waves as well as the deeper waters. I believe that if they were smaller or weaker swimmers, they may have ranked Blizzard Beach higher, but both seemed to like the tropical theming of Typhoon Lagoon slightly better. The ski lift at Blizzard Beach was really neat but not enough to put Blizzard Beach over the top.
Whichever way you go, though, I bet you'll have a blast. Visiting Typhoon Lagoon or Blizzard Beach certainly isn't a waste of time. In fact, I highly recommend either (or both)!
EDITOR'S NOTE: Current one-day admission to either park is $66. It includes water park-hopping privileges if both parks are open. (Blizzard Beach is now closed for its annual rehab until January 7, 2018. Typhoon Lagoon will close at that time for its annual rehab until March 18, 2018.) Annual Passholders are eligible for a discount, and discount tickets may be available from other ticket outlets, such as AllEars.Net's preferred ticket vendor Maple Leaf Tickets.
= = = = = = = = = = = = =
RELATED LINKS
= = = = = = = = = = = = =
Reader Reviews of Typhoon Lagoon
Reader Reviews of Blizzard Beach
Other AllEars® features by Everett Stephens:
Comparing the Disney Fantasy and Disney Magic
= = = = = = = = = = = = =
ABOUT THE AUTHOR
= = = = = = = = = = = = =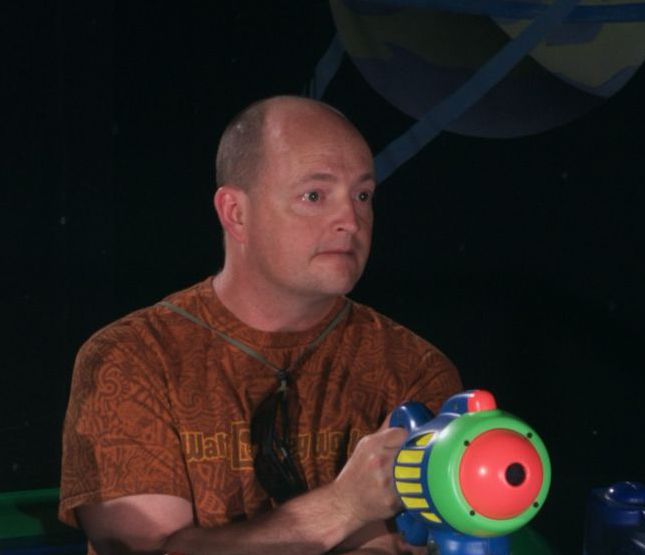 Everett Stephens lives in Southern Indiana with his wife and two children. They enjoy escaping to the World as much as possible, preferably to the Polynesian. And after all these years they still take their Buzz Lightyear Space Ranger Spin scores waaaay too seriously.
-o-o-o-o-o-o-o-o-o-o-o-
Editor's Note: This story/information was accurate when it was published. Please be sure to confirm all current rates, information and other details before planning your trip.