Another Take on Shopping at Walt Disney World
by Kristin B. Ford
AllEars® Staff Writer
Feature Article
This article appeared in the May 16, 2017 Issue #921 of ALL EARS® (ISSN: 1533-0753)
Editor's Note: This story/information was accurate when it was published. Please be sure to confirm all current rates, information and other details before planning your trip.
EDITOR'S NOTE: A few months ago, we ran a piece on shopping at Walt Disney World (How and Where to Shop at Walt Disney World, AllEars® Issue #912). We had such a great response, we thought we'd like to do a follow-up feature — who knew so many of you were such ardent shoppers?! This week, our family blogger Kristin Ford shares her best shopping advice, and further in the issue we feature comments from our readers responding to a query about buying plus-size Disney clothing. Shop 'til you drop!
————

Just about everyone, I would think, who visits Walt Disney World wants to bring home a little piece of the magic. And lucky for them, the resort offers plenty of shopping opportunities.
Many experienced Disney park-goers will tell you to schedule a half-day at Disney Springs and do all your souvenir shopping there. You might save time and money with this method because the stores in the shopping and dining complex carry a lot of what is available in the parks. And that advice might work for some visitors, but not for those like me and my family, who really enjoy shopping and looking for unique gifts.
For us, browsing through the shops during the day at a theme park is just as much fun as going on a ride, so I think the time is well-spent. I may or may not buy something, but I always enjoy seeing what's for sale. And there are a lot of unusual souvenirs throughout the resort. (Remember that you can have your packages sent to the front of the park and held for you so that you do not have to lug them around all day. And if you are staying at a Walt Disney World hotel, you can have your packages taken directly to the hotel.)
Epcot
So, what makes shopping at Walt Disney World so special? Of course, you can buy the obligatory vacation T-shirt, but there is so much more and the merchandise is always changing. Epcot is, perhaps, the most versatile of all the parks when it comes to shopping. In addition to the huge Mouse Gear store, which sells quite a variety of Disney merchandise, there are 11 pavilions in World Showcase and each features authentic items from the actual country it represents. From perfume in France and pub-themed gifts in the United Kingdom to silver jewelry and soccer jerseys in Mexico, visitors are sure to find unique souvenirs at Epcot. But I would guess that the most loved store in World Showcase is Mitsukoshi Department Store in the Japan pavilion, which offers extensive Pokemon and Hello Kitty collections, as well as a jewelry counter where guests pick their own pearls and settings, among many, many other cool gifts.
In addition, Epcot now hosts three annual festivals — Festival of the Arts, Flower & Garden and Food & Wine – and each comes with its own shopping opportunities. There are, of course, logo souvenirs for each festival and then there are booths throughout the promenade displaying more unique items. One seller that I have admired for years is the Prop Duster Dept., formed by two Florida sisters who have created the Disney fairy houses and other displays made from natural materials for the Epcot International Flower & Garden Festival. On the other hand, my 12-year-old daughter loved the hand-painted Disney-themed designs on the TOMS shoes at the recent arts festival.
Magic Kingdom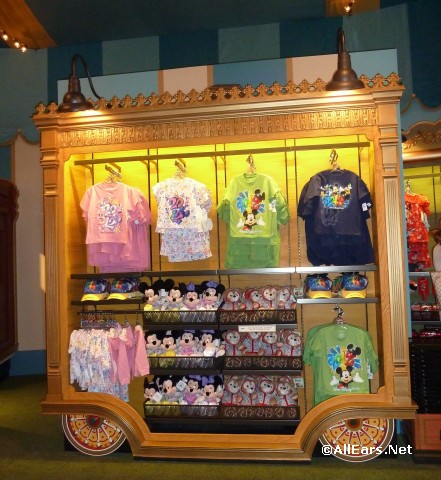 The Magic Kingdom has always featured gift shops specific to its rides, but a few offer more unique shopping than others. For example, the Memento Mori shop near the Haunted Mansion debuted in the fall of 2014, and it sells exclusive attraction merchandise, as well as a unique portrait experience. Guests can have their photos made in an old-fashioned studio and then they are presented with lenticular images of their "spirit sides."
The Pirates of the Caribbean attraction exits through the Plaza del Sol Caribe Bazaar shop, which has the best selection of pirate merchandise at Walt Disney World. It's also adjacent to The Pirate's League, where guests can schedule pirate makeovers. When my family and I were planning Disney Cruise vacations, we shopped regularly at this store, looking for costumes and accessories for Pirates IN the Caribbean night onboard the ship.
For little girls who dream of a princess makeover, there is the Bibbidi Bobbidi Boutique located on the first floor of Cinderella Castle. The popular salon often is booked solid, but parents without reservations may be able to thrill their little girls with a trip next door to Castle Couture. This store carries everything a Disney Princess for the day will need with the largest selection of princess costumes and accessories. Plus, there's a portrait studio staffed by Disney PhotoPass. You can take your own photos there and also see the professional photos before you decide whether you want to purchase them. And, be on the lookout for the fairy godmothers-in-training who sprinkle pixie dust on shoppers.
The Magic Kingdom hosts two holiday parties — Mickey's Not-So-Scary Halloween Party and Mickey's Very Merry Christmas Party — and both require separate admission to attend. As such, one of the perks is access to exclusive and collectible merchandise sold only to party guests.
Hollywood Studios and Animal Kingdom
Both Hollywood Studios and Animal Kingdom theme parks are great for shopping if your preferred souvenirs are collectibles. At Hollywood Studios, guests actually can purchase autographed photos and props from films, including the Star Wars franchise. In a few short years, Hollywood Studios will be THE destination for Star Wars fans when the new land opens, and with that, I'm sure, will come some amazing souvenirs.
At Animal Kingdom, guests can immerse themselves in African culture and choose art, collectibles and safari merchandise to take home. Plus, if your little one is enthralled by dinosaurs, he or she will love the selection of souvenirs — in addition to all the dinosaur-themed attractions. Beginning May 27, guests can select gifts from the planet Pandora, as well. Some of the most popular items are sure to be the pet banshees and the clothing and accessories that light up at night and reflect light in the bioluminescent forest and on the attractions.
High-end Disney-themed bags and jewelry are very popular souvenirs with women visiting Walt Disney World. Three of the most well-known manufacturers of Disney bags – Vera Bradley, Dooney & Bourke and Harveys Seatbeltbags – have been staples at Walt Disney World, Disneyland and Disney Cruise Line for years now. (Although still very popular, Harveys bags are no longer sold in the parks. So, unless you live near a store in California, you'll need to order online. Some Harveys lines, such as the new 101 Dalmatians collection, are only released online anyway.)
Disney Dooney & Bourke bags are sold at Walt Disney World, Disneyland and Disney Cruise Line plus they can be ordered online at DisneyStore.com and through the Shop Disney Parks app. Annual pass and Disney Vacation Club discounts can be applied to purchases in the theme parks and on the app. Periodically, DisneyStore.com and the Shop Disney Parks app offer additional discounts, and sometimes consumers will find different stock online and on the app, so be sure to check both. Disney Vera Bradley bags are sold in the same physical and online locations.
For many runDisney races, Dooney & Bourke releases a new runDisney-specific pattern on three silhouettes of bags. Runners often are invited to pre-order the bags, but they also sell them at the Health & Fitness Expo before each event. The expos are open to public and you do not have to be running to enter.
As for jewelry, Pandora has released exclusive lines of bracelets and beads that only can be bought in the Disney Parks and on Disney Cruise Line ships (plus DisneyStore.com and the Shop Disney Parks app). They typically commemorate attractions and events, and the Disney Parks Blog just previewed the Spring 2017 collection. It includes Duffy and Shellie May bears, Dumbo, the Carousel, a Mad Tea Party teacup and more. Pandora also has a Disney collection that is sold by authorized retailers, but it does not include the Disney Parks or DCL beads. (By the way, the DCL charms are only available to purchase on the ships.)
Disney Springs
If you haven't been to Disney Springs in a while, you will be amazed by all the shopping options. The renovation has transformed the entertainment district into one that has more than 100 name-brand and Disney-specific stores. While many of the stores are well-known retailers, others are unique to Disney Springs. World of Disney, the largest store with Disney merchandise, is still an anchor, and beloved Disney specialty stores still can be found in the Marketplace. Once Upon a Toy is a fantastic toy store with interactive play areas and an entire room dedicated to Star Wars merchandise. At Disney's Days of Christmas, shoppers can pick out personalized souvenirs for the holidays, selecting from the walls — yes, I said "walls" — of Disney ornaments. Kids can peruse and play at the Lego Imagination Center. Plus, the Co-op houses fun marketplaces dedicated to high-end Disney bags, Disney dishes and kitchenware, sophisticated men's Disney-themed clothing, customized D-tech items, Disney travel goods and even select Disney Cruise Line merchandise. On the West Side, action fans will find stores dedicated to Star Wars and Marvel super heroes.
Official Walt Disney World Outlets
Let's face it: Souvenirs sold at Disney Parks and on Disney Cruise Line ships are expensive. And although the merchandise on property sometimes gets marked down when it is being discontinued, it's not like shoppers can count on sales. But there is one way around the high prices, if you are not looking for specific items: the official Walt Disney World outlet stores.
Disney's Character Warehouse stores are located at the Orlando Premium Outlet (8200 Vineland Avenue, Orlando, FL 32821) and Orlando Premium Outlet International (4951 International Drive, Orlando, FL 32819). These stores carry merchandise that was (and is) carried in the theme parks, and most of it is discounted because it is out of season or being discontinued. The selection can change daily, depending on sales and shipments.
Shopping From Home
Who hasn't left a vacation place and realized she forgot to go back and get a souvenir? If you remember your omission in time, you might be able to find what you're missing at one of two official Walt Disney World stores at Orlando International Airport. The stores carry a lot of the most popular merchandise from the resort.
Once you're home, there is, of course, the Shop Disney Parks app and DisneyStore.com, which carries a selection of Disney Parks merchandise. Another official, albeit slower, resource is the Merchandise Mail Order department. The cast members in this department, which is open 9 a.m. to 5:30 p.m. ET Monday through Friday, will work diligently to track down merchandise from your description. If it is possible to find, it is then mailed to you. The process sometimes can take up to three weeks to receive your item. The toll-free number to call is 877-560-6477.
So, whether you are looking for a unique souvenir, a collectible or even just a keychain that makes you smile each day, Walt Disney World has it all. With the amazing selection of merchandise, you truly will be able to find something for everyone on your list.
= = = = = = = = = = = = =
RELATED LINKS
= = = = = = = = = = = = =
Shopping at a Glance:
— Animal Kingdom
— Disney's Hollywood Studios
— Epcot
— Magic Kingdom
— Disney's Boardwalk and Epcot Resort Area
— Disney California Adventure
Walt Disney World Merchandise Mail Order
Disneyland Merchandise Mail Order
Summary of WDW Shopping Discounts
Tips for Buying Special Disney Bags
= = = = = = = = = = = = =
ABOUT THE AUTHOR
= = = = = = = = = = = = =
Kristin Ford is a freelance writer who lives in Orlando. She wrote about The Walt Disney Co. during many of her 17 years as a journalist at the Orlando Sentinel, before joining the AllEars.Net staff. Kristin writes about Disney news from a parent's perspective, covering Walt Disney World, Disney Cruise Line, Disney Channel, Disney Publishing and Disney Interactive and more. You can follow her adventures through the parks with her husband and two children here and on Twitter and Instagram @Kristin_B_Ford.
-o-o-o-o-o-o-o-o-o-o-o-
Editor's Note: This story/information was accurate when it was published. Please be sure to confirm all current rates, information and other details before planning your trip.